Gerry Feehan takes us to North America's Oldest European Settlement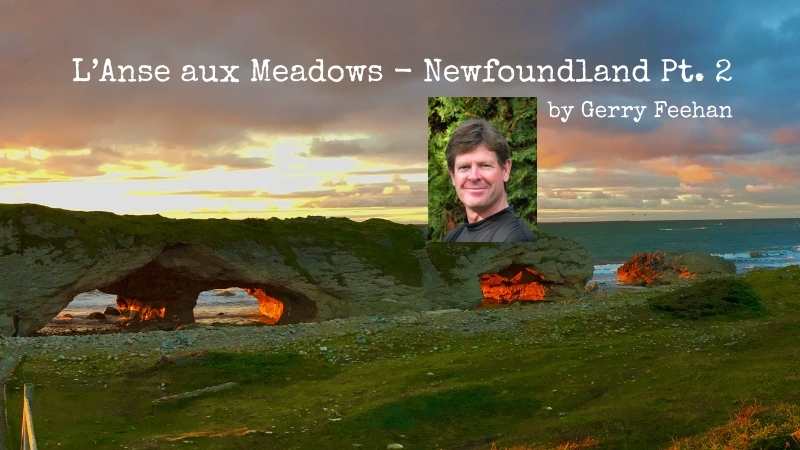 By Gerry Feehan
This is the second in the Newfoundland series. Scroll down to find Part 1, Gros Morne. 
On a lonely highway in a tempest on Newfoundland's remote Northern Peninsula, we finally spotted our first moose. Luckily, before moose met grill, the big bull stepped off the road into the ditch and I was able to keep the rig down the centerline, avoiding the frigid Gulf of St. Lawrence to our left and a frightfully deep fen to our right.
We had set out that morning from Gros Morne National Park, 350 km south 'up' the coast. The night before had been clear and 7 degrees. By early morning it was rain and 17. This was the muggy aftermath of Hurricane Irma, which long after devastating Key West, was now bringing high winds and warm rain to remote—and distinctly non-tropical—Newfoundland.
We were bound for L'Anse aux Meadows, on the extreme tip of northwest Newfoundland where lie the remains of North America's oldest European settlement. It was October so, although we arrived before 5 p.m., twilight was nigh as we settled in at the Viking RV Park. We were the only campers. The office was closed. In the morning I deposited cash in the "off-season/$25 per night" bucket by the abandoned office and drove the remaining few km to the National Historic Site.
One of the advantages to a late fall motorhome trip is that, with darkness extant by suppertime, it's early to bed—and early to rise. (The healthy wealthy and wise part I won't comment on.) So, uncharacteristically, we arrived at L'Anse aux Meadows first thing in the morning, just as the park gates were being unlocked.
"…Both are horrible!" said the Leif look-alike…"
Leif Ericsson, a Norse explorer, together with his small group of intrepid fellow Viking seafarers, landed here around 1000 AD. They strategically chose this spot near the Straight of Belle Isle, within sight of Labrador. They called the place Vinland, the land where wild grapes grow. Setting up a sturdy encampment of turf-walled buildings, they explored for hardwood lumber, iron ore and arable land.
From the visitor center we followed a Parks Canada interpreter down the winding boardwalk toward the sea. He showed us the faint remains of the original sod buildings: the Leader's Hall, labourer's quarters, a women's workshop and the smelting hut where a charcoal kiln produced iron from bog ore. But the terrain was unwelcoming—as perhaps was the indigenous native population—and after only a decade or two, the Vikings abandoned the site, burning everything as they departed.
"….I die at you, she said laughing…."
The interpreter's talk ended at the ruins and, with somber thoughts, we continued down the trail to where the National Park service has artfully reconstructed a series of replica sod huts by the cold sea. The Norse may have been fierce warriors but they couldn't have been very tall—I had to stoop as we entered the longhouse. The room was dimly lit by a smoky peat fire. When our eyes adjusted to the low yellow light, we noticed a man and a woman clad in Viking attire seated by the comfortable fire. The man, a Leif Ericsson doppelganger, whittled a talisman while the young woman wove fabric on a traditional loom. They explained in detail how the first Viking explorers had lived, eaten, slept and toiled here 1000 years ago, eking out a meagre existence on this inhospitable shore by the frigid north Atlantic.
Newfoundlanders are the friendliest, most outgoing of people, so when I asked the young woman if she lived nearby, her Parks Canada persona evaporated like 'tick fog' and the talk immediately turned to the upcoming weekend, her two hard-earned days off and fall berry-picking. "I was born just over that side of the 'arbour. My father ran trawler 'til the fish ran out." (In Newfoundland 'fish' means cod. Everything else, haddock, flounder, plaice, etc. is known by its usual name.) She winked and said, "Growing up, it was always cold in the house. In winter me mom would open the fridge to warm the place."
I then inquired about the merits of partridgeberry vs. bakeapple jam. We had been looking for souvenir gifts and both berry varieties were available at the Dark Tickle Chocolate store just down the road. "Both are horrible!" said the Leif look-alike, unable to resist joining in. Our new lady-friend disagreed and told him so in no uncertain terms. "Oh me nerves, he's got me drove." Apparently, partridgeberry-picking was number one on her weekend agenda.
In an effort to segue the subject I asked whether the town of Quirpon or Great Brehat—each just down the coast—were worth a visit. She and Leif chuckled at my accent. "I die at you," she said laughing. Nothing will more quickly label you a tourist in Newfoundland as the mispronunciation of local place names. Quirpon is 'Car-poon.' Great Brehat is pronounced 'Great Bra'. Happily, I didn't inquire about the town of Ferryland.
"Where are youse from?" our Viking-ess asked. "Alberta," we replied. "Alberta," she continued. "I've got a brother in Ft. McMurray." (I can report that we didn't meet a single Newfoundlander who did not have at least one family member working out west. But, no matter where a Newfie might live, a trip 'home' is always in the works. Famously, it is a 63-hour drive from Ft McMurray to the Rock.)
I tried to get her back on Viking track—but to no avail. All pretense of the 11th century Norsewoman was abandoned. She continued, talking about her husband, the small family garden, the incessant rain. "And there was himself last night," she continued. "Luh, standing in a downpour, coat wide open, staring at lord knows what, sopped to the skin and stunned as me arse." Then she politely adjusted her bonnet and resumed weaving.
CBC radio had gravely informed us that morning that the Doomsday Clock had been moved to two minutes before midnight. The world was closer to self-destruction than it had been at any time since the Cold War. I asked her if she was worried.
"Why, not a bit. After all, with the half-hour time change here on the Rock, us Newfies got 'til 12:30."
I love Newfoundland.
Gerry Feehan, QC is an award-winning travel writer and photographer. He lives in Kimberley, BC.
Special thanks to Kennedy Wealth Management for supporting this series.
Tranquility and Transformation – ATMA Journey Centre Expands to Costa Rica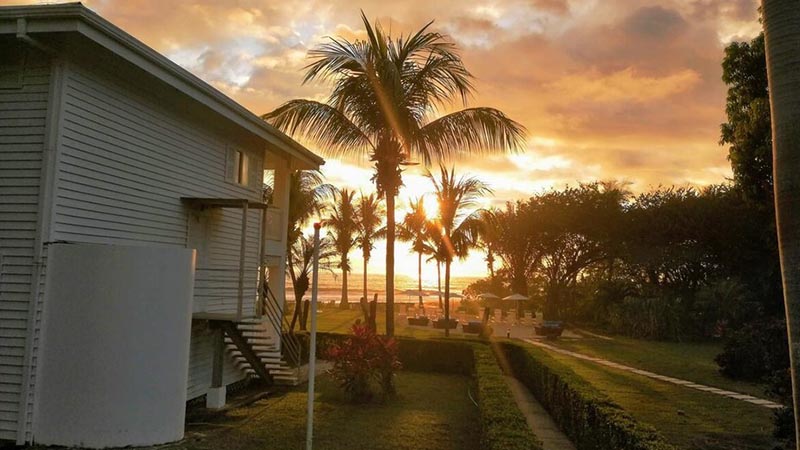 From advocacy to relief, the Calgary-based ATMA Journey Centre has had a busy few months. Published on March 8th through Newswire, ATMA announced international expansion, opening a second location for administering legal psychedelic-assisted therapies and other plant medicines in Costa Rica. Thus allowing for the migration and commonality of experiences to be shared with their community across borders. 
The new facility, named "Azul Journey Centre" will be situated in an oceanfront property along the Nicoya Peninsula in Costa Rica. This location offers the ability to legally administer certain plant medicines that are unavailable to Canadians, such as Ayahuasca, Ibogaine and Huachuma (San Pedro cactus), as well as more common psychedelics and healing modalities. One can only imagine the healing properties of being situated close to the ocean in Costa Rica could offer on their own, let alone a retreat-style therapeutic adventure.
Noted in the press release, Co-CEO of ATMA, Vu Tran is quoted on his thoughts about the new Costa Rica facility,
"Azul Journey Center in Costa Rica marks the next step of our plans to develop a network of international Journey Centers which will allow us to provide safe and comprehensive access to clients seeking mental health and wellness services that are currently unavailable in Canada."
As a community grows, so do resources and education. Evident from the team at ATMA Journey Centre and the SYNTAC Institute here in Calgary, since their first patient was exempted and administered psychedelic-assisted therapy on January 1st, they have received hundreds of applications for a Section 56 Exemption.
Noted in the release, Co-CEO of ATMA David Harder expresses his thoughts on their continued work for both the scientific researchers and prospective patients seeking a Section 56 Exemption for alternative care with entheogens:
"…we have received hundreds of applications from Canadians across the country seeking our assistance for them to obtain a Section 56 Exemption. They are desperately seeking support with a range of difficult and debilitating mental health conditions, and Health Canada is simply not keeping pace with the demand or the need that Canadians have for help."
Recently, ATMA Journey Centre announced the opening of their Calgary-based facility, a 5,000 square foot private wellness centre approximately 2 hours outside of both Calgary and Edmonton. Aptly named "Creekside Journey Centre", will provide clients with an opportunity to experience a range of healing and transformational modalities as part of multi-day experiences, ceremonies, and retreats.
Noted in the February press release, Mr. Harder states that the transformational events that could occur with a client ingesting psychedelics and deep-diving inward are far better suited in a home-style environment rather than a professional health clinic or psychiatric hospital, to which arguably most people with comparable experiences would agree.
"Our philosophy is that these deep inner medicine sessions are not best suited in a clinical appointment where only a few hours are allotted in the midst of a busy day and lifestyle."
They're not done yet. Set for May 11th, 2021, the event management company "Catalyst Presents" is hosting the world's largest online psychedelic conference in the world. The event brings together researchers, mental health practitioners, regulators and an array of thought leaders in the space. 
Speaking at the event will be renowned psychedelic researchers and top scholars in the scientific community involved in this new form of treatment. The event will host noted speakers such as Paul Stamets, Dr. Rick Doblin, Dr. Julie Holland, Dr. David E. Nichols and ATMA's very own Chief Medical Officer Dr. Ravi Bains. 
In association with the Canadian Psychedelic Association, the Catalyst Summit 2021 will offer both avid researchers and strangers an opportunity to understand where we are in this realm. Learn more by visiting the conference website here. 
If you would like to learn more ATMA Journey Centre Inc, their work to offer alternative treatments to treat mental health in Canada and to follow their international growth, check out their website or via their social media below.
For more stories, visit Todayville Calgary
Germany reaches to younger audience with viral Covid-19 public service campaign
Sometimes in the tsunami of news coming from south of the border, we forget there are other countries fighting wars, having elections, and trying to win the battle against a pandemic that is wreaking havoc with their people and their economies.
Germany has been a leader in this since the start and after a summer of relatively low infection rates, is now facing a far bigger second wave. They've been leaders in testing and tracing initiatives and while its caseload climbed in the early stages, the number of deaths remained lower than many countries hardest it. Now the country is seeing its second wave and it's much more dramatic with nearly four times as many infections.
A series of public service announcements have been produced to help convince the population to stay at home, and they're funny.
The humorous campaign focuses on the idea of "Coronavirus Heroes".  It's shot in a documentary style and features older people reflecting on how they fought the pandemic when they were young. The three clips are featured below and they all contain English sub-titles.  Enjoy!
Click to read more on Todayville.com