For CFL fans the last refuge is always hope
The best thing Randy Ambrosie has done for the CFL is create headlines.
Which makes it interesting that, in many ways, the worst thing he has done for Canada's struggling professional football league is create headlines.
It's amazing that the former offensive lineman with the Toronto Argonauts, Edmonton Eskimos and Calgary Stampeders, appointed in 2017 has been commissioner for barely more than three years.
Among his first stated projects was a "world-wide CFL," complete with athletes from almost anywhere in the world. In most league centres, trials were pooh-poohed as ridiculous, but at least one German player — no previous grid experience — won a spot on last year's Grey Cup champion Winnipeg Blue Bombers. Ambitious plans for 2020 fell apart after a promising start: coronavirus interfered, no surprise.
At that time, a national uproar developed when Ambrosie designed a pitch for $150 million in federal funds to make sure the aged league could stay alive for the 2020 season and several years into the future. Many spoke out that the league's noble Canadian tradition deserved support but it was hard to imagine, and still is, that megabuck owners such as David Braley of the B.C. Lions,  Bob Young of the Hamilton Tiger-Cats and Roger Greenberg of the  Ottawa Redblacks should be handed major federal aid while many other Canadians were suddenly facing dire emergencies.
Small wonder that the original appeal got only cursory notice from Ottawa and other government levels. Then, later, came a bid for a loan of $44 million. Followed by the newest request: only $30 million, interest-free, of course.
Details have not been fully released but Ambrosie has said the money would be used for player salaries, COVID-19 tests and the startup costs required to play in a "hub city" situation at Winnipeg, proposed by Manitoba Mayor Brian Pallister. It is also known that the government has asked — maybe for the first time — about a potential repayment plan.
Word circulated last week that a meeting between CFL brass and government officials is due within a few days. There have been indications — nothing official, of course — that this smaller request has been receiving positive attention.
When and if the funds are provided, work will begin in earnest. Players who have been objecting to lack of info from their league and team employers can finally expect some serious attempts to communicate. How the funds will be split among the league's teams is also up for grabs: most successful at the box office are community-based western organizations who have been harmed as much as their wealthier league brethren by the general economic and social shutdown.
For fans, the last refuge is always hope. Today, at least, it seems there is some chance we'll get back to games on the field rather than behind closed doors.
Fingers crossed, everyone.
Was the quick evolution of Draisaitl from prospect to standout THE biggest on-ice element in this positive building project?
Alberta Opposition calling for Olymel Outbreak Inquiry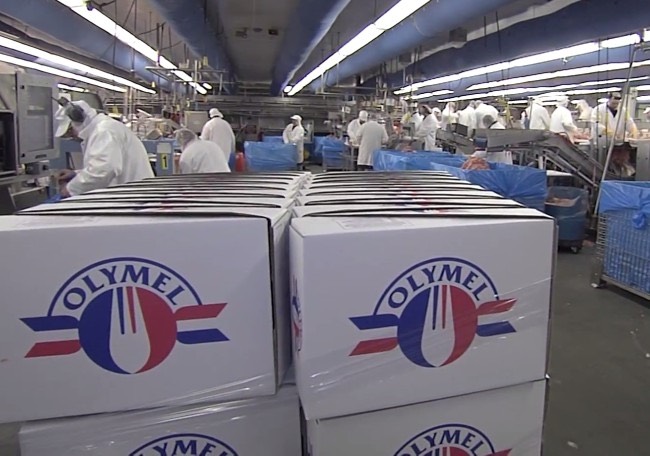 From the Alberta NDP
NDP DEMANDS PUBLIC INQUIRY INTO OLYMEL OUTBREAK,  CALLS FOR PROTECTION FOR WORKERS, NOT CORPORATIONS
Alberta's NDP is demanding an immediate public inquiry into the mishandling by both the UCP government and Olymel of a deadly COVID-19 outbreak at a meat-processing plant in Red Deer, and is seeking a commitment from the Minister of Justice that he will not intervene with legislation to protect potentially negligent corporations from lawsuits launched by victims' families.
As of Wednesday, at least three Olymel employees had died as a result of the outbreak, which began in November and has seen more than 500 cases of COVID-19 confirmed to date. The NDP has also learned that three employees are currently fighting for their lives in intensive care. The Government of Alberta ignored calls for the plant to be closed, even as cases skyrocketed.
"We need to get to the bottom of who is responsible for these senseless, tragic deaths," said NDP Leader Rachel Notley. "People with no choice but to continue working in unsafe conditions have gotten sick and died. We need to hold those responsible accountable and develop new practices to prevent tragedies like this in the future."
During a town hall meeting Tuesday night, UCP Minister of Health Tyler Shandro said Minister of Justice Kaycee Madu was working on legislation to eliminate liability in relation to COVID-19 illness and death for corporations and businesses
"This Government should focus on preventing workers from further injury and death, not covering up the negligence that's already occurred around these tragedies," Notley said. "We call on the UCP Government to reverse these plans."
The NDP is also demanding an inquiry into the Olymel outbreak and the overall history with respect to worker safety in the meat-processing industry during the COVID-19 pandemic.
The Olymel outbreak is now the deadliest linked to a meat-processing plant in Alberta during the pandemic. The outbreak at High River's Cargill plant last year saw two workers die and more than 1,500 cases of COVID-19 confirmed — it remains the largest since in Canada during the COVID-19 pandemic.
"Overall, while meat-packing plants have occurred in several other provinces, only in Alberta have people died, with the number currently standing at six," Notley said.
The NDP is also supporting the call from the United Food and Commercial Workers that the Olymel plant not reopen as planned Thursday and remain closed until worker representatives are satisfied that enhanced health and safety protocols have been put in place to prevent further spread of COVID-19.
"We find ourselves in the same crisis as we were with Cargill," said NDP Labour Critic Christina Gray. "Albertans should remember that the UCP's own Agriculture Minister lied to those workers and told them the plant was safe just days before the operator shut it down,"
MLA Gray previously called for a formal inquiry into the Cargill outbreak and another at the JBS plant in Brooks that saw more than 650 workers infected and one die. To date, the call for an inquiry has been ignored by the UCP.
"Clearly Jason Kenney and the UCP don't care about the workers in these plants," Gray added. "We know that a survey of Olymel workers found three quarters feel nervous or scared to return to work and do not trust the employer to keep them safe. As well, over half of the workers surveyed said they didn't trust the UCP Government to keep them safe.
"How does this Premier possibly justify allowing this plant to reopen when he hasn't done a thing to reassure these workers that they won't become sick or potentially die?"
The NDP will also be drafting a letter to Minister of Justice Kaycee Madu that demands he rule out legislative protection for Olymel, Cargill and JBS. A class-action lawsuit has already been launched against Cargill.
"The UCP wants to let these massive, profitable corporations wash their hands of these horrific incidents and, meanwhile, grieving families of lost loved ones will see nothing but more pain and suffering," Notley said. "This government has a long track record of backing wealthy CEOs and screwing over workers. Enough is enough."
In the U.S., 16 states have brought in legislation or immunity provisions to protect businesses and corporations from liability related to the pandemic.
Why some Infectious Disease experts say COVID-19 will soon be behind us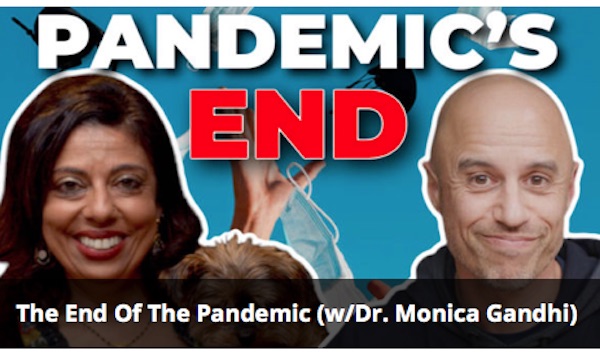 The common belief seems to be the COVID19 pandemic is going to be with us at least until the end of this year and possibly well into 2022.  But some infectious disease experts are making much more aggressive predictions.  In fact Dr. Monica Gandhi (bio below) is already beaming with joy over the data pouring in showing the vaccines spreading throughout the world are working incredibly well.  Enjoy this interview.  It will absolutely help you feel better about the state of our battle against COVID-19.
A UCSF (University of California, San Francisco) infectious disease doctor is convinced this pandemic is ending, and sooner than you think…here's why.
Dr. Monica Gandhi is a professor of medicine at UCSF and here are our other episodes together.
And here's her latest study in the Lancet.
An excerpt from the following video: "So we have tons of PhD epidemiologists who are painting gloom and doom pictures everywhere. Well, you know, first it was this. And then, you know, okay, now we have a vaccine but you know what, the variants are coming. So we're probably gonna have to wear seven masks and stay shut down. And by the way, don't even think about opening schools. Why are you thinking about opening schools? Oh, by the way it's your bad behavior that caused all this death, and so we're gonna shame you. And on top of that, it's never gonna get better. So expect 2023, before we get back to a semblance of what will be a new normal, which will be we'll all be in bubbles. So get those guys out of the picture and go with actual physicians who touch patients. What's your thinking right now? Where are we in this mess?
Dr. Gandhi:  We are just facing like complete dawn of hope and light and love. Like it's gonna be so great. It is getting so great. So what happened, right? Like March 11th was the day that the WHO declared this a worldwide pandemic. November 9th, we got the first press release from the first vaccine. Phase three clinical trial, that fast. And then we've had seven phase three clinical trials. So we have seven vaccines in circulation around the globe that work. And they work exactly using the same protein in different ways using that protein, and they work beautifully, and they all work beautifully against preventing what even made us notice on January 31st, 2019 or December 31st, 2019 that something terrible was happening, which is severe disease. They all work almost 100% to prevent… 100% for hospitalizations. And then like in the 90s to prevent you not even feeling well at home. So they're amazing."
The interviewer is Dr. Zubin Damania.   Trained at Stanford and the University of California, San Francisco, Dr. Damania is the founder of Turntable Health, an innovative primary care clinic and model for Health 3.0.  He produces videos and live shows under the pseudonym "ZDoggMD" which have collected nearly a billion views.
Click play to watch.