"Excessive Risk Aversion" Red Deer South MLA calls for less fear and more freedom and hope in the battle against COVID19
A message from Red Deer South MLA Jason Stephan
This week I stood in the Alberta Legislature making a Member Statement sharing the sentiments of many constituents in Red Deer which I share.
Lockdowns and shutdowns destroy livelihoods, undermining long term mental and emotional health. Young adults and our children, generally at lower risk from COVID, can be particularly vulnerable, and need to see less fear and excessive risk aversion and more freedom and hope.
The statement:
Please find attached the full text of the Member Statement with the references to the Speaker removed. The video of the member statement is available here:
I am blessed to be the father of two adult sons and a teenage daughter who I love.
Like many parents, I am concerned about the impact health orders are having on the mental health of our children.
I feel job watching my sons become independent of their parents, to seek happiness as the individually see fit.
Yet, like many parents, I see the work and effort of young adults threatened by calls for lockdowns with devastating economic consequences.
This ought not to be.  Some of the loudest voices calling for lockdowns, will not lose a penny of pay, while those impacted may lose it all.
COVID should be respected; but children are low risk – not a single school age child has died from COVID in Alberta.  Yet, there is excessive risk aversion – a single positive COVID case in a high school should not result in 118 other students sent home to isolate, just because they were in the same class, notwithstanding physical distancing is respected, with good health and no symptoms.
School sports, colleges and universities are too shut down.
There is excessive risk aversion and fear – with negative long-term health impacts for children and young adults at low risk from COVID.
There needs to be a principled vision of hope.
The WHO defines health as a state of complete physical, mental and social well-being, and not merely the absence of disease or infirmity.
Orders, lockdowns and shutdowns are not healthy – imposing long term physical, mental and social health costs, especially on our children.
Click this link to see this statement as it was made in the Alberta Legislature: https://www.facebook.com/JasonStephanMLA/videos/137607104371116/
Stars and RCMP chopper combine to rescue fallen ice climber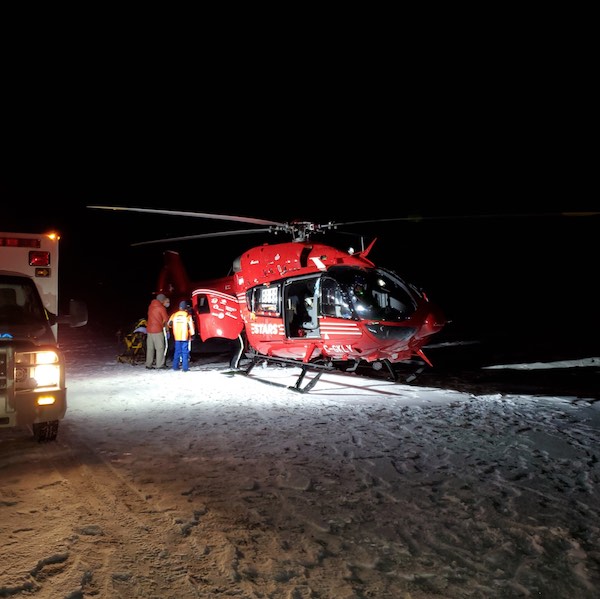 From Alberta RCMP media relations
Rocky Mountain House RCMP assist in ice climber rescue
On Jan. 15, 2021 at approximately 2:30 p.m., Rocky Mountain House RCMP received a dispatch of a fallen ice climber who was in need of medical assistance. A SOS beacon was received locating the fallen ice climber at the south end of Abraham Lake. Reports indicate the climber fell approximately 12 meters.
RCMP, EMS, Search and Rescue (SAR), STARS air ambulance and Alstrom Helicopters assisted in the rescue. The 28 year old injured male was long line rescued from his location by Alstrom Helicopters, with the assistance of Rocky Mountain House SAR. STARS was waiting nearby and further transported the injured male to a Calgary hospital.
The rescued male suffered serious but non life threatening injuries as a result of his fall.
Everyone who assisted in this rescue should be commended for their professional, swift and incredible work. Well done!
Oilers place goalie Mike Smith on long-term injured reserve
EDMONTON — The Edmonton Oilers have placed goaltender Mike Smith on long-term injury reserve, and have re-assigned Olivier Rodrigue to the club's taxi squad, pending quarantine protocols. 
Edmonton announced both transaction on Friday, but did not elaborate on Smith's injury.
Smith was supposed to start Thursday's game at home against the Vancouver Canucks but was declared inactive, forcing Mikko Koskinen into back-to-back starts. 
Smith and Koskinen were expected to split duties in the Oilers net this season. Edmonton re-signed the 38-year-old Smith to a one-year contract in the off-season. 
Rodrigue had been with the Graz99ers of the Austrian National League.
The 20-year-old Rodrigue was drafted 62nd overall by Edmonton in 2018.
This report by The Canadian Press was first published January 15, 2021.
The Canadian Press