Equalization Program grows to record $20.9 Billion – Fairness Alberta looking to Ontario and BC for support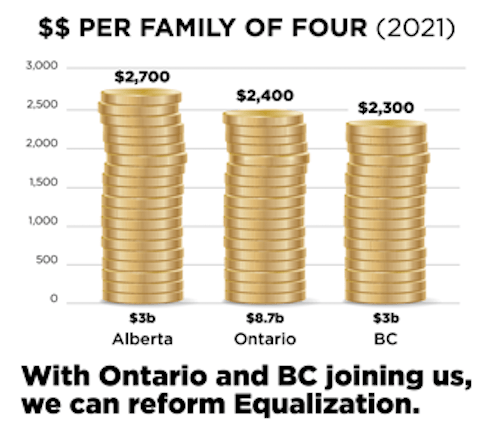 FAIRNESS ALBERTA: RECORD EQUALIZATION PAYMENTS IN BUDGET ARE UNFAIR, UNAFFORDABLE, AND UNNECESSARY
Fairness Alberta has released an analysis highlighting how this year's federal budget allocates a record $20.9 billion to the Equalization program and plans to hike payments to so-called 'have not' provinces by 20% over the next four years.
Fairness Alberta Executive Director Dr. Bill Bewick is calling on Canadians in British Columbia and Ontario in particular – who will pay roughly $2,400 per family of four this year into payments for others – to join Albertans in demanding Equalization reform.
"The $20 billion-and-growing price tag for Equalization payments to 30% of the country is not just unaffordable, it is totally unfair and unnecessary given how much the gap between the 'have' and 'have not' provinces shrunk since 2015," said Dr. Bewick. "When you consider the higher costs and budget struggles in places like Ontario, B.C., and Alberta, it is unacceptable to take so much from them to fund other provinces' budgets, and outrageous that this would increase by 20% over the next four years."
Fairness Alberta used the most recent Library of Parliament breakdown of federal revenues by province to estimate the share of Equalization funding that comes from each province, and broke it down to a per capita basis.
Alberta families are contributing about $2,700 to cover this year's record Equalization payments, and Ontario and B.C. families are on the hook for about $2,400 each at a time when every provincial government is under tremendous strain.  Fairness Alberta recently called for a rebate to contributing provinces until a new formula is worked out or Equalization is scrapped altogether.

"The 67% of Canadians in the contributing provinces were struggling with their own provincial services even before COVID-19," said Dr. Bewick.  "Given the collapse of the wealth gap between provinces, the 'have' provinces should get the share of Equalization that came from their taxpayers rebated until serious reforms are made."

As Dr. Bewick outlined recently in the National Post, even a 50% rebate would mean a bump to provincial budgets of $4 billion in Ontario, and $1.5 billion being returned to B.C. and Alberta as provincial responsibilities like health care come under strain.

Fairness Alberta is a grassroots, non-partisan, and non-separatist association of concerned citizens, aiming to increase awareness across the country related to Albertans' major contributions to Canada, while also providing clear, factual information on unfair federal policies that are anticipated to undermine the prosperity of Alberta and other contributing provinces further.
Fairness Alberta previously released analysis and recommendations for reforms to Equalization and the Fiscal Stabilization program, with an overview of fiscal federalism as well at fairnessalberta.ca.
Our previous releases, interviews, columns, and presentations to the House of Commons Standing Committee on Finance can be found in the NEWS section of our website. For more information on Fairness Alberta, its mandate, and future plans, please visit our website at www.fairnessalberta.ca.
For further information or to arrange interviews, please contact:
Bill Bewick, Ph.D.
Executive Director
Fairness Alberta
Cell: (780) 996-6019
Email: [email protected]
Background Calculations:
Ben Eisen and Milagros Palacios recently published a reportshowing the "Great Convergence" in provincial fortunes since the 2015 energy downturn.  While the gap between the median 'have' and 'have not' fell from $5000 per person in 2015 to only $1600 now, Equalization payments grew by 23%. This year's $20.9 billion windfall to 5 provinces with one-third of the population is budgeted for $25.1 billion in 4 years.
Using the contribution rates to federal revenues by province last updated here we broke down Equalization funding per capita as follows:
Alberta paleontologists find dramatic change in bite force as tyrannosaurs matured
Tyrannosaurs are well known as having been ferocious predators at the top of the food chain millions of years ago, but a study led by an Alberta-based researcher shows the reptiles didn't start out life that way.
François Therrien, curator of dinosaur paleoecology at the Royal Tyrrell Museum in Drumheller, Alta., said the study focused on tyrannosaur teeth and their dramatic change as they matured. 
He collaborated with Darla Zelenitsky and Jared Voris of the University of Calgary, as well as Kohei Tanaka of the University of Tsukuba in Japan.
For the study, published this week in the Canadian Journal of Earth Sciences, the researchers examined the lower jaws from the Albertosaurus and Gorgosaurus, types of tyrannosaurs commonly found in Canada that predated the T. rex by millions of years.
"Our fossil records for those two species of tyrannosaurs is excellent," Therrien said about the collection at the museum.
"We have so many specimens of those … that represent a full growth series from very young individuals that were probably three or four years of age all the way to fully grown adults that were over 20 years of age."
By examining a wide range of fossils, the researchers were able to see a significant change in tooth size and jaw force once the tyrannosaurs reached about 11 years of age.
Feeding behaviour did not appear to change during the lifespan of the tyrannosaurs, because their jaws were adapted to capturing and seizing prey with their mouths, probably because the forelimbs were too short to grasp food, Therrien said. 
"Tyrannosaurs were truly unique when you look at all the theropods," he said. "They were atypical … because their bite and their skulls were their main weapon for killing prey."
But what did change, he said, is the size of their teeth and their bite force.
A tyrannosaur at about three years of age was still a deadly predator, but it had smaller blade-like teeth that could only slice through flesh. The bite force, Therrien added, was about 10 per cent that of a fully grown alligator.  
That means younger tyrannosaurs ate smaller prey and had to compete with other like-sized predators such as the Velociraptor. 
Once tyrannosaurs turned 11, Therrien explained, they went through a growth spurt in which their teeth became larger and wider. By the time the reptiles were fully grown, their bite force was eight times more than that of an alligator. 
And that meant their diets also changed. 
"These teeth were better adapted for resisting twisting stresses either associated with biting of big prey or even crushing bone."
Therrien said his study shows that young tyrannosaurs were distinct predators that occupied different ecological niches.
"Young tyrannosaurs were not just scaled-down versions of the mature parents," he said. "They were creatures that actually had their own lifestyles."
This report by The Canadian Press was first published June 23, 2021. 
Daniela Germano, The Canadian Press
Construction begins on new Alberta solar farm, Amazon to purchase power
CALGARY — Amazon announced Wednesday it will purchase power from a massive new solar farm in Alberta, marking the e-commerce giant's second renewable energy investment in Canada.
Construction began Wednesday on Travers Solar, a $700-million, 465-MW project southeast of Calgary, which its developers say will be the largest solar photovoltaic project in Canada and one of the largest in the world.
Privately held Greengate Power Corp. of Calgary says the solar farm will consist of 1.3 million solar panels and will provide enough electricity to power more than 100,000 homes by 2022.
Amazon, which has signed a deal to buy up to 400 MW of electricity from the project, previously announced plans to purchase power from an 80-MW solar farm in southern Alberta as part of its commitment to being fully powered by renewables by 2030.
Renewable electricity companies have credited Alberta's unregulated electricity market for a recent boom in solar projects in the province.
Other projects include the 300-MW Blackspring Ridge Wind Project, which is now owned by French firm EDF EN and Enbridge Inc. of Calgary, and the proposed 130-MW Claresholm Solar project, a joint venture between Capstone Infrastructure and Obton, a Danish investment company.
This report by The Canadian Press was first published June 23, 2021.
The Canadian Press