Equalization Program grows to record $20.9 Billion – Fairness Alberta looking to Ontario and BC for support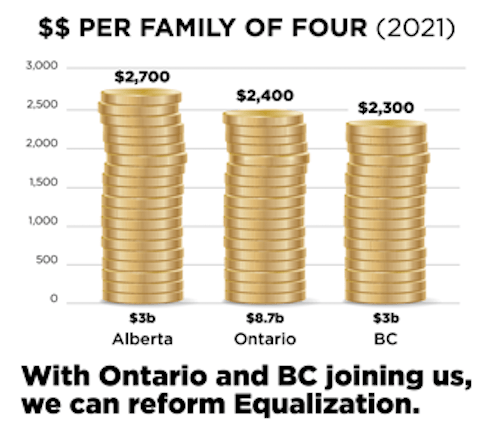 FAIRNESS ALBERTA: RECORD EQUALIZATION PAYMENTS IN BUDGET ARE UNFAIR, UNAFFORDABLE, AND UNNECESSARY
Fairness Alberta has released an analysis highlighting how this year's federal budget allocates a record $20.9 billion to the Equalization program and plans to hike payments to so-called 'have not' provinces by 20% over the next four years.
Fairness Alberta Executive Director Dr. Bill Bewick is calling on Canadians in British Columbia and Ontario in particular – who will pay roughly $2,400 per family of four this year into payments for others – to join Albertans in demanding Equalization reform.
"The $20 billion-and-growing price tag for Equalization payments to 30% of the country is not just unaffordable, it is totally unfair and unnecessary given how much the gap between the 'have' and 'have not' provinces shrunk since 2015," said Dr. Bewick. "When you consider the higher costs and budget struggles in places like Ontario, B.C., and Alberta, it is unacceptable to take so much from them to fund other provinces' budgets, and outrageous that this would increase by 20% over the next four years."
Fairness Alberta used the most recent Library of Parliament breakdown of federal revenues by province to estimate the share of Equalization funding that comes from each province, and broke it down to a per capita basis.
Alberta families are contributing about $2,700 to cover this year's record Equalization payments, and Ontario and B.C. families are on the hook for about $2,400 each at a time when every provincial government is under tremendous strain. Fairness Alberta recently called for a rebate to contributing provinces until a new formula is worked out or Equalization is scrapped altogether.

"The 67% of Canadians in the contributing provinces were struggling with their own provincial services even before COVID-19," said Dr. Bewick. "Given the collapse of the wealth gap between provinces, the 'have' provinces should get the share of Equalization that came from their taxpayers rebated until serious reforms are made."

As Dr. Bewick outlined recently in the National Post, even a 50% rebate would mean a bump to provincial budgets of $4 billion in Ontario, and $1.5 billion being returned to B.C. and Alberta as provincial responsibilities like health care come under strain.

Fairness Alberta is a grassroots, non-partisan, and non-separatist association of concerned citizens, aiming to increase awareness across the country related to Albertans' major contributions to Canada, while also providing clear, factual information on unfair federal policies that are anticipated to undermine the prosperity of Alberta and other contributing provinces further.
Fairness Alberta previously released analysis and recommendations for reforms to Equalization and the Fiscal Stabilization program, with an overview of fiscal federalism as well at fairnessalberta.ca.
Our previous releases, interviews, columns, and presentations to the House of Commons Standing Committee on Finance can be found in the NEWS section of our website. For more information on Fairness Alberta, its mandate, and future plans, please visit our website at www.fairnessalberta.ca.
For further information or to arrange interviews, please contact:
Bill Bewick, Ph.D.
Executive Director
Fairness Alberta
Cell: (780) 996-6019
Email: [email protected]
Background Calculations:
Ben Eisen and Milagros Palacios recently published a reportshowing the "Great Convergence" in provincial fortunes since the 2015 energy downturn. While the gap between the median 'have' and 'have not' fell from $5000 per person in 2015 to only $1600 now, Equalization payments grew by 23%. This year's $20.9 billion windfall to 5 provinces with one-third of the population is budgeted for $25.1 billion in 4 years.
Using the contribution rates to federal revenues by province last updated here we broke down Equalization funding per capita as follows:
Province wants everyone in Alberta to get a third shot
Expanding COVID-19 booster to all Albertans 18-plus
Expanded availability of third doses of COVID-19 vaccine will help Albertans increase their protection against COVID-19.
Starting Dec. 2, all Albertans aged 60 and older can book appointments for a booster dose of mRNA vaccine six months after receiving their second dose. First appointments will be available beginning Dec. 6.
All other Albertans aged 18-plus will be notified when the next age group is able to book appointments. Additional age groups will be announced as quickly as possible.
"I am pleased that we can offer booster doses to more Albertans. Millions of Albertans have rolled up their sleeves to have their best protection against COVID-19. While two doses continues to provide strong protection against severe outcomes, we will continue to push the federal government for supply to ensure all Albertans can receive their third doses to continue limiting COVID-19 infection and transmission."
"With the winter season increasing transmission risks, and more Albertans approaching the six-month milestone since receiving their second dose, the evidence supports expanding booster doses to add an additional layer of protection. Vaccines continue to be our best protection against COVID-19, and I continue to encourage Albertans to book their first, second and third doses as soon as they are eligible."
Current evidence indicates that vaccine effectiveness against COVID-19 infection appears to wane over time. While individual protection against severe outcomes remains strong after two doses for most people, there are still many in our communities who are completely unprotected, and third doses will help boost population protection and limit the spread of COVID-19.
Expansion of booster dose eligibility was informed by the advice of the Alberta Advisory Committee on Immunization.
Booking for booster doses
Effective Dec. 2, eligible individuals can book appointments for third doses online with participating pharmacies by using the Alberta vaccine booking system. Albertans can also call 811, participating pharmacies or participating physicians' offices. The first appointments will be available starting Dec. 6.
Booster eligibility is based on birth date. Albertans who are 59 turning 60, and First Nation, Métis or Inuit individuals who are 17 turning 18, are asked to not book appointments before their birthday.
Albertans who were previously eligible for third doses continue to be able to book their appointments.
Albertans eligible for additional doses
Albertans eligible for additional doses now include:
Eligible at least six months after receiving their second dose:
Albertans aged 60-plus
First Nations, Métis and Inuit people aged 18-plus
Health-care workers providing direct patient care and who received their second dose less than eight weeks after their first dose
Individuals who received two doses of AstraZeneca or one dose of Janssen vaccine
Eligible at least five months after receiving their second dose:
Seniors living in congregate care
Eligible at least eight weeks after receiving their second dose:
Individuals with eligible immunocompromising conditions
Quick facts
To date, 378,507 Albertans have received a third dose of COVID-19 vaccine.
84.1 per cent of eligible Albertans 12 years of age and older have received two doses of COVID-19 vaccine while 88.8 per cent have received at least one dose.
Cargill, union reach tentative deal that could avert strike at High River meat plant
CALGARY — The union representing workers at the meat-packing plant that was the site of one of Canada's largest COVID-19 outbreaks says it's reached a tentative deal with Cargill Inc., just days before a looming strike deadline.
The United Food and Commercial Workers Union Local 401, which represents about 2,000 workers at the Cargill meat-packing plant in High River, Alta., said Wednesday it is recommending its members accept the latest contract offer from the company.
In a statement on its website, the union said the new contract offer, if ratified on Saturday, would be the best food processing contract in Canada.
"It is a dramatic improvement from the offer that union members saw last week and will significantly improve Cargill workers' lives," the statement said.
In an email, Cargill spokesman Daniel Sullivan said the company is offering a six-year collective agreement that includes retroactive pay, signing bonuses, a 21 per cent wage increase over the life of the contract and improved health benefits.
"We remain optimistic we can [ratify the] deal before the strike deadline and encourage employees to vote on this offer," Sullivan said.
Cargill and the union have been at loggerheads for some time over issues related to wages as well as health and safety. Workers voted 98 per cent last week against Cargill's previous offer, and the union had said workers would strike on Monday if a contract agreement couldn't be reached.
In addition to a significant wage increase, the proposed deal being recommended now also offers workers a $1,000 signing bonus and a $1,000 "COVID-19 bonus," the union said Wednesday. It also contains "significant contract provisions to facilitate a new culture of health, safety, dignity, and respect in the workplace."
In May of 2020, Cargill's High River plant was the site of a major workplace-related outbreak of COVID-19. More than 900 workers tested positive for the virus, and three deaths were linked to the outbreak.
The Cargill High River plant processes 35 per cent of Canada's beef production.
This report by The Canadian Press was first published Dec. 1, 2021.
Amanda Stephenson, The Canadian Press