Major drug haul; ALERT seizes $3 million in drugs and cash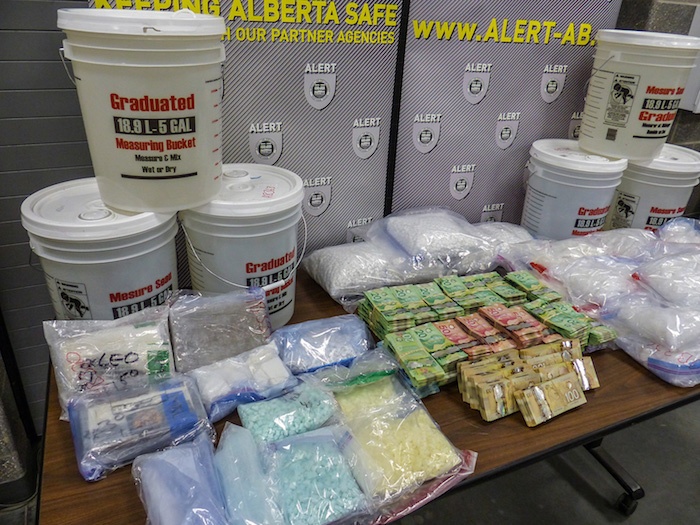 Post submitted by Alberta Law Enforcement Response Team (ALERT)
Three million dollars' worth of drugs and cash was seized from two Calgary homes, including what is believed to be the province's largest seizure of gamma-hydroxybutyrate (GHB).
On April 27, 2021 ALERT Calgary's organized crime and gang team concluded a short-term investigation with a record drug haul. ALERT seized enough methamphetamine, fentanyl, cocaine, and GHB to equal an estimated 100,000 doses.
The GHB seizure of 113.5 litres is believed to be the largest seizure of its kind in Alberta.
Meanwhile, the amount of methamphetamine and fentanyl pills seized ranks amongst ALERT Calgary's biggest busts.
"The totality of what was seized is staggering, and represents a high degree of community harm. Behind so many doses are crimes committed to feed that addiction; be it property crimes, thefts, frauds, and robberies, and all feeding into social disorder," said Supt. Dwayne Lakusta, ALERT CEO.
In total, ALERT seized roughly $3 million worth of drugs and cash:
113.5 litres of GHB;
22.3 kilograms of methamphetamine;
18,000 fentanyl pills;
1.5 kilograms of fentanyl;
4.1 kilograms of cocaine; and
$386,220 cash.
GHB is colourless and odourless, and is commonly referred to as the "date-rape drug" but is usually abused as a club drug. In July 2013 Edmonton Police Service seized 106 litres of GHB, which at the time, was believed to be Alberta's largest seizure.
ALERT's investigation is ongoing and additional charges are being contemplated. To date, 14 drug-related charges have been laid against three suspects:
Ashley Stanway, 30-year old from Calgary;
Rayann Blackmore, 22-year old from Calgary; and
Harmandeep Tiwana, 28-year old from Calgary.
ALERT began its investigation just a month prior after receiving information about suspected drug trafficking activity in the Calgary region.
Members of the public who suspect drug or gang activity in their community can call local police, or contact Crime Stoppers at 1-800-222-TIPS (8477). Crime Stoppers is always anonymous.
ALERT was established and is funded by the Alberta Government and is a compilation of the province's most sophisticated law enforcement resources committed to tackling serious and organized crime.
WHL extends contract of commission Ron Robison for three years
CALGARY — The Western Hockey League's board of governors has extended the contract of commissioner Ron Robison for three years.
Robison's 22nd season as commissioner in 2021-22 will make him the longest-serving ahead of Ed Chynoweth's 21 years between 1973 and 1979, and 1980 and 1985. 
Robison of Indian Head, Sask., joined the WHL in 2000 after 20 years as a Hockey Canada executive. His contract extension runs through the 2023-24 season.
The WHL has expanded by four teams during Robison's tenure. 
The WHL and its Ontario and Quebec major junior league counterparts in the Canadian Hockey League were defendants in a lawsuit in 2020.
The CHL agreed to a settlement with players who argued they were professionals when they played in those leagues and sued for back wages and benefits.
Robison guided the WHL through the COVID-19 pandemic and delivered a shortened 2020-21 season.
"Over 21 years, Ron has done a tremendous job of continually elevating the Western Hockey League, including guiding the WHL through the COVID-19 pandemic and ensuring all clubs were able to deliver a development season for WHL players," WHL board chairman Bruce Hamilton said Friday in a statement.
"As we emerge from the challenges of the COVID-19 pandemic, Ron's continued leadership will be vital for the WHL to maintain its standing as a world leader in hockey development, player experience, and hockey scholarships."
The WHL is comprised of 22 clubs from Manitoba to B.C., and in two U.S. states,
This report by The Canadian Press was first published June 18, 2021.
The Canadian Press
RCMP search for armed man in northern Alberta after police dog shot and killed
EDMONTON — RCMP in Alberta say they are searching for an armed and dangerous man near a provincial park in northern Alberta after he allegedly shot and killed a service dog during a police chase.
Officers tried to stop Lionel Grey, who was wanted by police, as he was driving yesterday near High Prairie, Alta.
They say Grey fled during the traffic stop, but his vehicle got stuck in mud near Winagami Provincial Park and he ran away on foot.
Cpl. Deanna Fontaine says a police service dog named Jago was shot during the pursuit.
She says officers have evacuated the provincial park and have Grey confined in the area.
Mounties are asking people to stay away from the park and say they will provide more details this afternoon.
This report by The Canadian Press was first published June 18, 2021.
The Canadian Press