Whistle Stop Cafe Owner arrested and taken into custody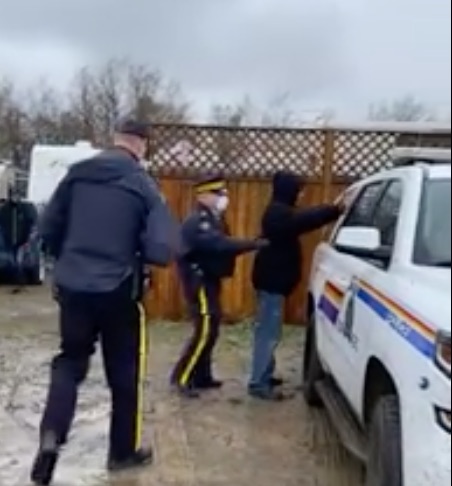 This was posted to the Facebook page of The Whistle Stop Cafe at about 5:30 Saturday, May 8.
It's been a cool rainy day at the Whistle Stop Cafe at Mirror, Alberta.  Supporters of the anti-lockdown message are gathered partially just because they want to gather.. but also to hear anti-lockdown speakers while showing support for the embattled cafe owner.  Chris Scott has emerged at the forefront of business owners who've been forced to shut down due to covid restrictions.  Like the two Alberta Pastors who've now been arrested for refusing to abide by covid restrictions, Scott predicts his own arrest will take place within days.  He was right.
Minutes before his arrest, Chis Scott posted a video wrapping up his thoughts as the afternoon was coming to an end. This video is essential viewing.  Not so much for supporters of Chris Scott and The Whistle Stop Cafe.  Those supporters have likely heard this message already over the last number of weeks as Scott has posted many videos to his Facebook page. This video should be seen by those who do not know much about Chris Scott and the Whistle Stop Cafe.  In this address Scott does a fantastic job of summing up his feelings during this incredible time in history.
WHL extends contract of commission Ron Robison for three years
CALGARY — The Western Hockey League's board of governors has extended the contract of commissioner Ron Robison for three years.
Robison's 22nd season as commissioner in 2021-22 will make him the longest-serving ahead of Ed Chynoweth's 21 years between 1973 and 1979, and 1980 and 1985. 
Robison of Indian Head, Sask., joined the WHL in 2000 after 20 years as a Hockey Canada executive. His contract extension runs through the 2023-24 season.
The WHL has expanded by four teams during Robison's tenure. 
The WHL and its Ontario and Quebec major junior league counterparts in the Canadian Hockey League were defendants in a lawsuit in 2020.
The CHL agreed to a settlement with players who argued they were professionals when they played in those leagues and sued for back wages and benefits.
Robison guided the WHL through the COVID-19 pandemic and delivered a shortened 2020-21 season.
"Over 21 years, Ron has done a tremendous job of continually elevating the Western Hockey League, including guiding the WHL through the COVID-19 pandemic and ensuring all clubs were able to deliver a development season for WHL players," WHL board chairman Bruce Hamilton said Friday in a statement.
"As we emerge from the challenges of the COVID-19 pandemic, Ron's continued leadership will be vital for the WHL to maintain its standing as a world leader in hockey development, player experience, and hockey scholarships."
The WHL is comprised of 22 clubs from Manitoba to B.C., and in two U.S. states,
This report by The Canadian Press was first published June 18, 2021.
The Canadian Press
RCMP search for armed man in northern Alberta after police dog shot and killed
EDMONTON — RCMP in Alberta say they are searching for an armed and dangerous man near a provincial park in northern Alberta after he allegedly shot and killed a service dog during a police chase.
Officers tried to stop Lionel Grey, who was wanted by police, as he was driving yesterday near High Prairie, Alta.
They say Grey fled during the traffic stop, but his vehicle got stuck in mud near Winagami Provincial Park and he ran away on foot.
Cpl. Deanna Fontaine says a police service dog named Jago was shot during the pursuit.
She says officers have evacuated the provincial park and have Grey confined in the area.
Mounties are asking people to stay away from the park and say they will provide more details this afternoon.
This report by The Canadian Press was first published June 18, 2021.
The Canadian Press