DISTINGUISHED & EMERGING ARTIST AWARDS JUNE 2022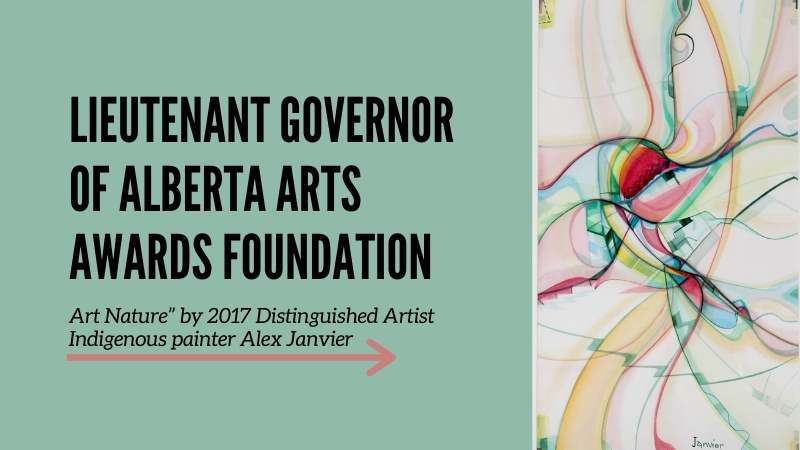 Lac La Biche County and Portage College have been making plans for a community celebration to honour three new 2021 Lieutenant Governor of Alberta Distinguished Artists. Given the ongoing COVID-19 related challenges of convening in person, Portage College, Lac La Biche County, and the Lieutenant Governor of Alberta Arts Awards Foundation have moved the celebration to June 11, 2022.
This change has provided a new opportunity: for the first time in the Awards' history, the host community of Lac La Biche County will celebrate both the 2021 Distinguished Artists and up to 10 new 2022 Emerging Artists.
Her Honour Salma Lakhani, Lieutenant Governor of Alberta, says she is looking forward to honouring the Distinguished and Emerging Artists next summer in Lac La Biche.
"I appreciate the tremendous work that the community has already invested into this special celebration, and I know that the 2022 awards will be well worth the wait. In the meantime, I offer my heartfelt thanks to all of the artists, administrators and patrons across Alberta for everything that you are doing to keep the arts a vibrant part of our lives and our communities during this extraordinary time."
The organizers look forward to hosting this prestigious event and showcasing Alberta's diverse arts scene. Their June 2022 plans include opportunities to chat with artists, outdoor community celebrations featuring an Art Walk and Market, art classes and demonstrations, an artist retreat, and a celebratory awards gala.
Click to learn more about the Foundation.
Alberta's chief medical officer says most of 11 Omicron COVID cases were vaccinated
EDMONTON — Alberta's total number of Omicron variant COVID-19 cases remains at 11, but the province's chief medical officer of health expects that number to grow.
Dr. Deena Hinshaw also says seven of the 11 people were fully vaccinated, two were partially vaccinated and two were unvaccinated.
Alberta Health is still gathering data on the effects and spread of Omicron, but Hinshaw says early indications are those who contract the variant can avoid severe outcomes if vaccinated.
She also reported 240 new cases of COVID-19 for a total of about 4,100 active cases.
There are 373 people in hospital with the illness, including 76 in intensive care.
Hinshaw says more than 60,000 youngsters between the ages of 5 to 11 have received a first dose of the COVID-19 vaccine.
This report by The Canadian Press was first published Dec. 7, 2021
The Canadian Press
Calgary researcher to lead study on E. coli infection in children
CALGARY — A University of Calgary researcher will lead a North American study examining a new way to treat E. coli infections that can cause kidney failure in children.
Professor and pediatrician Stephen Freedman will oversee the 26-site project, set to include more than 1,000 kids and run six years beginning in September 2022.
The university says the U.S.-based National Institutes of Health is providing more than $11 million for the investigation, meant to stop disease from progressing from bloody diarrhea to kidney shutdown and neurologic complications.
The Alberta Children's Hospital Research Institute is also providing funds.
The study will focus on Shiga-toxin producing E. coli, or STEC, which is commonly found in cattle and can spread to humans. The University of Calgary says Alberta has one of the highest rates of STEC infection in the world given its abundance of cattle, sloped terrain, food crops and use of well water.
Freedman says the study will be the first in 20 years to evaluate a treatment focused on stopping disease progression.
He says it will consider the value of "early and aggressive intravenous rehydration," a rarity in early stages of the illness. The approach calls for large volumes of intravenous fluids early-on in a bid to maintain blood flow to the kidneys.
Infected children in the study will be hospitalized before any complications occur, even if they appear relatively well, Freedman said Tuesday in a release.
"What often happens is infected children will recover from the diarrhea and may look well but in nearly 20 per cent of children, unbeknownst to their parents and sometimes doctors, their kidneys are in the process of failing," Freedman said.
The Centers for Disease Control and Prevention estimates that nearly 100,000 high-risk STEC infections occur annually in the United States.
More than 60 per cent of these infections are in children, half of whom are younger than five years old. Young children are at the highest risk of complications, which can include renal failure, strokes and in rare cases, death.
This report by The Canadian Press was first published Dec. 7, 2021.
The Canadian Press