Updated: Cpl Courtney McKinley is first female soldier from 41 Signal Regiment to deploy from Red Deer in four decades
Correction: Cpl McKinley is the first female soldier from "41 Signal Regiment (2 Sqn)" in Red Deer to deploy overseas. There have been as many as 5 female soldiers from Red Deer that have deployed since 1979/80. In the original version of this article I incorrectly stated that Cpl McKinley was the first female to deploy in 4 decades. She is the first female "signaller" to deploy in that time. My apology.
What follows is the original article, updated for accuracy.
As we go about our busy lives in Red Deer, rarely do we think of the soldiers that work, live, and train in our city. The reality is that we have a growing group of soldiers here, members of 41 Signal Regiment (2 sqn) and 78th Field Battery, a unit of the 20th Field Artillery Regiment.
Given our lack of knowledge at what goes on inside Cormack Armoury and the military in general, it's fair to say many of us wouldn't realize that it's very rare for a female soldier from Red Deer to deploy on an international operation. Forty years ago this past month Cheryl Bolander, Connie Kaastrup, Karen Russel, Bev Scott and Joan Verbonic returned from deployment to Germany. In the ensuing years, there have been as many as 5 deployments of female soldiers from the city.
Those numbers were bolstered recently when Cpl Courtney McKinley Of 41 Signal Regiment took up the call and volunteered for deployment to Latvia in July 2019 for six months. McKinley returned recently to resume her studies in political science at the U of A.
Operation Reassurance in Latvia is part of NATO's assurance and deterrence measures ained to reinforce NATO's collective defence and shows the strength of solidarity of our Allied forces.
The CAF support to NATO helps make Central and Eastern Europe more secure and stable. It also shows that the CAF is a professional force that is ready for any task.
I got together recently with Cpl McKinley to talk about her unique experience.
The interview appears below, lightly edited for brevity.
How long have you been a member of the Armed Forces and what led you down that path?
McKinley: I've been a member for about 3 years. I grew up in Wainwright, and as you know, that's a military town. It really influenced me and I've always thought it was a really cool thing for people to do, and I appreciated it myself, and it's proven to lead me into some very cool experiences.
What was your role there and why did you want to do deploy?
McKinley: Well, Canada has been deploying an increasing amount of troops to Latvia the past several years as part of NATO's Enhanced Forward Prescence in the Balkins with Canada being the Framework Nation for Latvia so many of my colleagues from the Regiment and from the Brigade in general had previously deployed and I heard alot of positive feedback. It's not a combat tour, but it's more of an exercise-based mission and it really allows members to hone in on the roles of their trade and really become professional soldiers. As a Reservist, it allowed me to take my theoretical knowledge and apply it to real world situations. What led me to deploy is I wanted to put my training to a practical use to become a better soldier in the future.
What was your role?
McKinley: Being a Signaller in the Canadian Army means that you are responsible for establishing all types of communications systems. Further you need to be able to track what is going on in the battle and relay that information from the elements in the field back up to the Commanders. You are responsible for everything regarding communications in a military situation.
What did you learn from soldiers from other countries?
McKinley: We worked with militaries from approximately 9 different countries. When you form an international NATO battle group, it's an amazing dynamic because all of these different militaries are expert in some things, but not necessarily everything, Canada included. We were all able to learn from each other and bring that knowledge back to our countries and now work with our peers to advance our own skills. Montenegro for instance, is a very small country and their troops are getting some pretty extensive training on how NATO operates as a whole, and Montenegro, being the newest member of the alliance, is gaining significant knowledge and experience. In my case, I don't think I'm exceptional, but I did have the flexibility in my life, and was readily available, and I really wanted to do it.
What did this experience do for you personally?
McKinley: I guess I gained the knowledge of how other countries perceive Canada and our fighting force. And the ability to make friends with people who do not speak a common language using google translater. And learning that everyone has the same problems and challenges. One example would be, when you supply a mass amount of equipment to a group like this, there are problems – with your leadership, officers, and just personal things. One thing that really stood out for me was at Christmas. We were all away from home, it was the end of the mission, we were all tired of being away, but being able to spend time with our peers and newly-found friends was pretty awesome.
You're studying Political Science at the U of A. Do you intend to continue with your military career and does your education align with this?
McKinley: I have no plan to leave my military life. Me studying politics plays more into the nature of my curiousity in the world around me and my interest in the military, and why I wanted to deploy in the first place.
What would you say to an employer about why a reservist would be a great asset to their company or organization?
McKinley: I would say that throughout my time in the reserves, what I have learned is alot of practical skills. And that goes from how to work with people from different nationalities, down to vehicle mechanics, and how those all play into a working environment. In the military you are taking policy put in place by NATO, really taking political theory and applying it right down to maintaining the equipment needed to make sure that mission succeeds. As a troop on the ground you're part of the gears that are actually working to a successful mission and feel like I've seen all levels of that in my brief military career. The values you see in the military would be working together on a team and working towards a common goal with that team. It's not about the individual. That's probably the biggest lesson I've learned from my military career that can transcend into my civilian work. And trusting in leadership to take you where you need to be in order to be successful.
The military has made diversity a priority over the past few years. What would you say to someone, a female particularly, who is considering a career in the forces?
McKinley: It's important for them to know that all members of the army are treated equally and are all held to the same standard. I can only speak for myself, and in my experience, yes it is a male-dominated field but I've never felt at any point that I was less than because I was a woman, and I guess I'd encourage them to join if they're students or looking for practical skills development. You will have the same expectations if you are a man or a woman, and I've never experienced any objectification in my threee years. I'd encourage women to experience for themselves and listen to the experiences of women who have been in the forces. I think women are starting to realize that the military is very much a field for women as well.
Background:
In June 2017, the CAF deployed about 540 Canadian Army members to Latvia. They are leading a NATO battlegroup comprising military members from several nations, including:
Albania
Canada
Czech Republic
Italy
Montenegro
Poland
Slovakia
Slovenia
Spain
This battlegroup works as part of the Latvian Land Forces Infantry Brigade. It is based at Camp Adazi, Latvia.
Mission timeline
April 29, 2014 – the CAF sent its first CF-188 Hornet Air Task Force to Europe. Since then, the CAF had periodically sent air task forces to Central and Eastern Europe.
May 3, 2014 – the CAF sent a Land Task Force to Central and Eastern Europe, based in Poland.
May 13, 2014 – the CAF sent a Maritime Task Force of one frigate to Central and Eastern Europe.
June 19, 2017 – Canadian-led NATO enhanced Forward Presence battlegroup Latvia was stood up during a ceremony at Camp Adazi, Latvia.
August 17, 2017 – The Land Task Force in Poland completed its final deployment.
July 10, 2018 – The Prime Minister of Canada announced the renewal of Canada's contribution to NATO's enhanced Forward Presence until March 2023. The CAF will also increase the number of members deployed to Latvia from 455 to 540.
Past Deployments
CAF members have continuously supported NATO assurance and deterrence measures since 2014.
To date, seven different ships have contributed to this operation; three of them have deployed twice.
From May 2014 to August 2017, over 1000 soldiers deployed in eight rotations to Europe. Based at Drawsko Pomosrkie Training Area, Poland, they regularly took part in exercises with allies and partners.
The CAF has sent an air task force to three different countries: Romania (four times), Iceland, and Lithuania.
If you've enjoyed this article, please share it. Here's a link to a documentary from 2017 that highlights Alberta soldiers who have deployed overseas.
Premier Danielle Smith sent this letter to PM Justin Trudeau today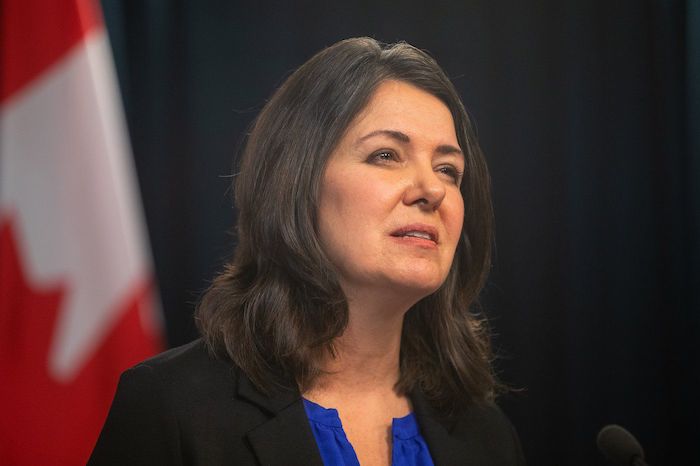 An alternative to Just Transition: Premier Smith
Alberta Premier Danielle Smith invites Prime Minister Justin Trudeau to work with her to develop "Sustainable Jobs" legislation as an alternative to the proposed "Just Transition" legislation.
Dear Prime Minister:
I am writing to once again raise Alberta's serious concerns with the proposed federal 'Just Transition' legislation. The world needs more Canadian energy, not less. It would be premature and ill-advised to signal the end of a vibrant, thriving industry that has the ability to reduce Canada's and the world's emissions through technological innovation and increased exports of LNG and other clean burning fuels the world so desperately needs. It is also critical to the security of our nation and allies to lessen dependence on fuel sources from unstable, undemocratic and dangerous countries with atrocious environmental records.
Simply put, the world needs more Canadian energy and technology, not less, and as the owner of the world's third largest oil and gas reserves and the most advanced environmental technology on the planet – we need to signal our intention to provide substantially more of both.
According to your government's own predictions, the federal Just Transition initiative alone will risk a full 25 percent of Alberta's economy and 187,000 jobs in Alberta, while also causing major disruptions and displacement to 13.5 percent of Canada's workforce. At a time when Canadians are struggling to afford basic services and goods, Canada's oil and gas sector offers some of the highest wages in Canada, which translates to strong business and community support across the country. Signalling a move away from these types of high paying jobs, threatens the national economy, and the livelihoods of hundreds of thousands of workers across the country at a time when good jobs are needed the most. It also creates a chilling effect on investors considering large scale investments in the Alberta and Canadian energy sector.
Prime Minister, we are at a crossroads in Alberta's relationship with the Federal Government. We can continue with the endless court challenges, legislation to protect jurisdictional rights and inflammatory media coverage over our disagreements, or, as is my strong preference, Alberta and Ottawa can work in partnership on a plan that will signal to all Canadians and investors from around the world that our governments have cooperatively designed a series of incentives and initiatives intended to achieve the following objectives:
Substantially decreasing Canada's and Alberta's net emissions;
Accelerating private and public investment in projects and infrastructure that utilize and develop Carbon Capture Utilization and Storage (CCUS), Bitumen Beyond Combustion, Geothermal technology, petrochemicals, hydrogen, lithium, helium, zero-emissions vehicles and nuclear technologies;
Attracting and growing a larger skilled workforce to fill positions in both the conventional energy sector as well as emerging industries using the technologies cited above; and
Significantly, and through the lens of global emissions reduction, increasing the export of LNG and other responsibly developed conventional oil and natural gas resources to Europe, Asia and the United States.
Prime Minister, all of the above objectives need to be clearly articulated and integrated into any Federal legislation or policies your government seeks to implement in the coming months, or that legislation will face irrepressible opposition from Alberta. I genuinely do not want to see that happen.
Further, this proposed legislation must be developed through cooperative discussions with affected provinces – namely Alberta. I would therefore invite you to meet with me in February on this matter, after which I would propose we have our appropriate ministers and officials meet repeatedly in the coming months with the goal of coming to a joint agreement on the key items to be included in your contemplated legislation so that it can be introduced and passed by the end of Spring.
Further, I request that you take to heart, and acknowledge publicly, the following items, in an extension of good faith to Albertans:
Immediately drop the verbiage of "Just Transition". Accordingly, rename the "Just Transition Act" to the "Sustainable Jobs Act";
Vow that all provisions of any forthcoming legislation will be designed to incentivize investment and job growth in both the conventional energy sector as well as in emerging industries utilizing Carbon Capture Utilization and Storage (CCUS), Bitumen Beyond Combustion, petrochemicals, hydrogen, lithium, helium, geothermal, zero-emissions vehicle and nuclear technologies;
Demonstrate that no provision of the Act will be designed to phase out or reduce Alberta's conventional oil and natural gas sector and workforce (as we are already experiencing a workforce shortage in this sector);
Commit your Government to actively partnering with Alberta to expand LNG exports to Asia and Europe as part of our nation's overall emissions reduction strategy; and
Promise that you and your Government will work with Alberta in partnership to set reasonable and meaningful emissions reductions targets and will not unilaterally impose such targets on Alberta's energy, agriculture and other industrial sectors on a go forward basis.
Investments by Alberta's oil and natural gas industry are driving the creation of the very clean technologies needed to bring emissions down both in Canada and around the world. Oil and natural gas companies representing the majority of production in Canada are investing $24 billion on projects to help reduce annual GHG emissions from operations by 22 million tonnes by 2030, and have committed to emission neutrality by 2050. Putting an end to or hampering this important work, and continued tepid support for increased LNG export, is the best way for your government to fail in its goal of reducing our nation's and the world's emissions. It would be the ultimate example of scoring on our own net.
The Alberta energy sector has grown and thrived through innovation, providing good paying jobs for thousands and contributing billions of dollars in tax revenue for all levels of government. They will continue to evolve and adapt to new technologies in search of new low to zero-emitting fuel sources like hydrogen and provide new, high-paying skilled jobs for decades to come. It is essential that the federal government stands shoulder to shoulder with Alberta to reduce emissions and continue to develop our oil and natural gas and future energy sources responsibly, while also positioning Canada as the optimal solution to global energy needs and security.
Prime Minister, we can and must work together. Operating in political silos, as adversaries on this issue, is getting us nowhere, and I believe all Canadians are tired of seeing it. Canada should be the world's greatest energy superpower. It can be, if we come together collaboratively in pursuit of that objective. There is no limit to our nation's potential.
Let's turn the page starting with a meeting between us next month followed by a dedicated effort to craft "Sustainable Jobs" legislation that a vast majority of Albertans and Canadians will welcome and support. The consequences of missing this opportunity will be dire for the Canadian and Alberta economies, workforce and environment.
I look forward to your prompt reply.
'Not true': Justice minister denies crying or yelling during doctor confrontation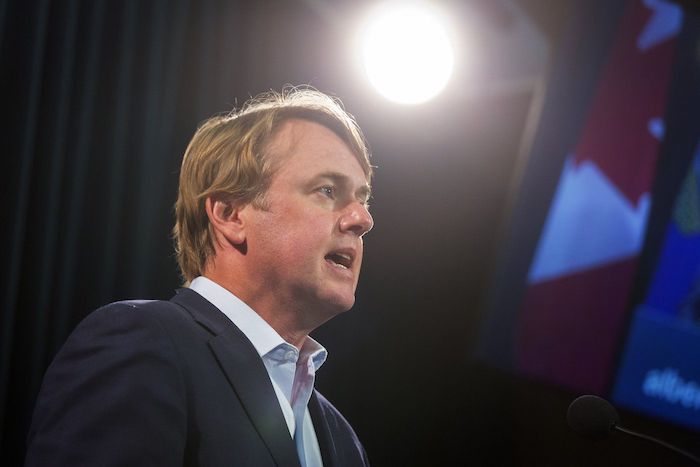 By Bill Graveland in Calgary
Alberta's justice minister said he felt sad and disappointed when he discovered someone he considered to be a friend was behind a social media post targeting him and his wife.
The Law Society of Alberta is in the final day of a hearing into allegations Tyler Shandro violated the profession's code of conduct. The three complaints date back to his time as the provincial health minister early in the COVID-19 pandemic.
Dr. Mukarram Zaidi, who had posted a photo on social media of Shandro with a caption related to privatizing health care, told the hearing the minister and his wife visited his home in March 2020. He said it occurred during fractious negotiations between the government and the Alberta Medical Association over fees.
The photo of Shandro, with a thought bubble caption, said: "So every Albertan that I can kick off health care is another client we can sign up for Vital Partners. We're going to be RICH." Shandro's wife, Andrea, is the co-founder of Vital Partners, a health insurance agency.
Shandro said Thursday his spouse alerted him to the post earlier in the day, when there had been up to a thousand threats made against the couple.
"I recognized the account being someone I considered a friend and who lived around the corner," Shandro said under questioning by his lawyer.
"The irony is that this is a fellow who had often engaged with me to discuss the importance of being careful with words, with online posts and what that could result in."
The doctor testified earlier this week that he went outside of his home to meet Shandro and described the minister as being highly upset as he demanded the doctor remove the post immediately because his family was being subjected to death threats.
"I see Shandro and his wife standing at the sidewalk. He was crying, he was emotionally charged. His wife was holding him," Zaidi said.
"He said: 'You can't do this to us. We're getting death threats.' I think I asked him: 'What do you want me to do?' And he said: 'Delete your post."'
Shandro said he walked over to Zaidi's home by himself and asked the doctors' children to send out their father. He said the conversation was over in a matter of minutes.
"I said: 'Mukarram, why wouldn't you have just asked me if you had questions? We know each other. You know me. You know Andrea. You know this isn't true.' And then I asked him: 'Do you know this conspiracy theory is resulting in Andrea getting death threats?'" Shandro said.
"He said softly: 'What do I do? Do I delete the post?' I specifically did not take him up on that offer. I said: 'Look, you have to decide that for yourself.'"
Shandro's lawyer, Grant Stapon, asked his client what he had to say to Zaidi's description of him crying and yelling while being held by his wife during the discussion.
"It's not true. It isn't true at all. Andrea was not there and if she really was there, it doesn't benefit me to say she wasn't there. If anything, it would be helpful to have her be there to corroborate," Shandro replied.
"I definitely did not yell at him."
Shandro said his wife did show up at the end of the conversation.
"She was emotional. She did have red eyes. She was crying earlier. She said: 'Don't talk to him. He's not interested in us. He's only interested in money.'"
Shandro said at that point they returned home.
Andrea Shandro is expected to testify later Thursday afternoon.
This report by The Canadian Press was first published Jan. 26, 2023.