Updated: Cpl Courtney McKinley is first female soldier from 41 Signal Regiment to deploy from Red Deer in four decades
Correction: Cpl McKinley is the first female soldier from "41 Signal Regiment (2 Sqn)" in Red Deer to deploy overseas. There have been as many as 5 female soldiers from Red Deer that have deployed since 1979/80. In the original version of this article I incorrectly stated that Cpl McKinley was the first female to deploy in 4 decades. She is the first female "signaller" to deploy in that time. My apology.
What follows is the original article, updated for accuracy.
As we go about our busy lives in Red Deer, rarely do we think of the soldiers that work, live, and train in our city. The reality is that we have a growing group of soldiers here, members of 41 Signal Regiment (2 sqn) and 78th Field Battery, a unit of the 20th Field Artillery Regiment.
Given our lack of knowledge at what goes on inside Cormack Armoury and the military in general, it's fair to say many of us wouldn't realize that it's very rare for a female soldier from Red Deer to deploy on an international operation. Forty years ago this past month Cheryl Bolander, Connie Kaastrup, Karen Russel, Bev Scott and Joan Verbonic returned from deployment to Germany. In the ensuing years, there have been as many as 5 deployments of female soldiers from the city.
Those numbers were bolstered recently when Cpl Courtney McKinley Of 41 Signal Regiment took up the call and volunteered for deployment to Latvia in July 2019 for six months. McKinley returned recently to resume her studies in political science at the U of A.
Operation Reassurance in Latvia is part of NATO's assurance and deterrence measures ained to reinforce NATO's collective defence and shows the strength of solidarity of our Allied forces.
The CAF support to NATO helps make Central and Eastern Europe more secure and stable. It also shows that the CAF is a professional force that is ready for any task.
I got together recently with Cpl McKinley to talk about her unique experience.
The interview appears below, lightly edited for brevity.
How long have you been a member of the Armed Forces and what led you down that path?
McKinley: I've been a member for about 3 years. I grew up in Wainwright, and as you know, that's a military town. It really influenced me and I've always thought it was a really cool thing for people to do, and I appreciated it myself, and it's proven to lead me into some very cool experiences.
What was your role there and why did you want to do deploy?
McKinley: Well, Canada has been deploying an increasing amount of troops to Latvia the past several years as part of NATO's Enhanced Forward Prescence in the Balkins with Canada being the Framework Nation for Latvia so many of my colleagues from the Regiment and from the Brigade in general had previously deployed and I heard alot of positive feedback. It's not a combat tour, but it's more of an exercise-based mission and it really allows members to hone in on the roles of their trade and really become professional soldiers. As a Reservist, it allowed me to take my theoretical knowledge and apply it to real world situations. What led me to deploy is I wanted to put my training to a practical use to become a better soldier in the future.
What was your role?
McKinley: Being a Signaller in the Canadian Army means that you are responsible for establishing all types of communications systems. Further you need to be able to track what is going on in the battle and relay that information from the elements in the field back up to the Commanders. You are responsible for everything regarding communications in a military situation.
What did you learn from soldiers from other countries?
McKinley: We worked with militaries from approximately 9 different countries. When you form an international NATO battle group, it's an amazing dynamic because all of these different militaries are expert in some things, but not necessarily everything, Canada included. We were all able to learn from each other and bring that knowledge back to our countries and now work with our peers to advance our own skills. Montenegro for instance, is a very small country and their troops are getting some pretty extensive training on how NATO operates as a whole, and Montenegro, being the newest member of the alliance, is gaining significant knowledge and experience. In my case, I don't think I'm exceptional, but I did have the flexibility in my life, and was readily available, and I really wanted to do it.
What did this experience do for you personally?
McKinley: I guess I gained the knowledge of how other countries perceive Canada and our fighting force. And the ability to make friends with people who do not speak a common language using google translater. And learning that everyone has the same problems and challenges. One example would be, when you supply a mass amount of equipment to a group like this, there are problems – with your leadership, officers, and just personal things. One thing that really stood out for me was at Christmas. We were all away from home, it was the end of the mission, we were all tired of being away, but being able to spend time with our peers and newly-found friends was pretty awesome.
You're studying Political Science at the U of A. Do you intend to continue with your military career and does your education align with this?
McKinley: I have no plan to leave my military life. Me studying politics plays more into the nature of my curiousity in the world around me and my interest in the military, and why I wanted to deploy in the first place.
What would you say to an employer about why a reservist would be a great asset to their company or organization?
McKinley: I would say that throughout my time in the reserves, what I have learned is alot of practical skills. And that goes from how to work with people from different nationalities, down to vehicle mechanics, and how those all play into a working environment. In the military you are taking policy put in place by NATO, really taking political theory and applying it right down to maintaining the equipment needed to make sure that mission succeeds. As a troop on the ground you're part of the gears that are actually working to a successful mission and feel like I've seen all levels of that in my brief military career. The values you see in the military would be working together on a team and working towards a common goal with that team. It's not about the individual. That's probably the biggest lesson I've learned from my military career that can transcend into my civilian work. And trusting in leadership to take you where you need to be in order to be successful.
The military has made diversity a priority over the past few years. What would you say to someone, a female particularly, who is considering a career in the forces?
McKinley: It's important for them to know that all members of the army are treated equally and are all held to the same standard. I can only speak for myself, and in my experience, yes it is a male-dominated field but I've never felt at any point that I was less than because I was a woman, and I guess I'd encourage them to join if they're students or looking for practical skills development. You will have the same expectations if you are a man or a woman, and I've never experienced any objectification in my threee years. I'd encourage women to experience for themselves and listen to the experiences of women who have been in the forces. I think women are starting to realize that the military is very much a field for women as well.
Background:
In June 2017, the CAF deployed about 540 Canadian Army members to Latvia. They are leading a NATO battlegroup comprising military members from several nations, including:
Albania
Canada
Czech Republic
Italy
Montenegro
Poland
Slovakia
Slovenia
Spain
This battlegroup works as part of the Latvian Land Forces Infantry Brigade. It is based at Camp Adazi, Latvia.
Mission timeline
April 29, 2014 – the CAF sent its first CF-188 Hornet Air Task Force to Europe. Since then, the CAF had periodically sent air task forces to Central and Eastern Europe.
May 3, 2014 – the CAF sent a Land Task Force to Central and Eastern Europe, based in Poland.
May 13, 2014 – the CAF sent a Maritime Task Force of one frigate to Central and Eastern Europe.
June 19, 2017 – Canadian-led NATO enhanced Forward Presence battlegroup Latvia was stood up during a ceremony at Camp Adazi, Latvia.
August 17, 2017 – The Land Task Force in Poland completed its final deployment.
July 10, 2018 – The Prime Minister of Canada announced the renewal of Canada's contribution to NATO's enhanced Forward Presence until March 2023. The CAF will also increase the number of members deployed to Latvia from 455 to 540.
Past Deployments
CAF members have continuously supported NATO assurance and deterrence measures since 2014.
To date, seven different ships have contributed to this operation; three of them have deployed twice.
From May 2014 to August 2017, over 1000 soldiers deployed in eight rotations to Europe. Based at Drawsko Pomosrkie Training Area, Poland, they regularly took part in exercises with allies and partners.
The CAF has sent an air task force to three different countries: Romania (four times), Iceland, and Lithuania.
If you've enjoyed this article, please share it. Here's a link to a documentary from 2017 that highlights Alberta soldiers who have deployed overseas.
Province orders dismissal of Chestermere Mayor, three councillors, and all three CAO's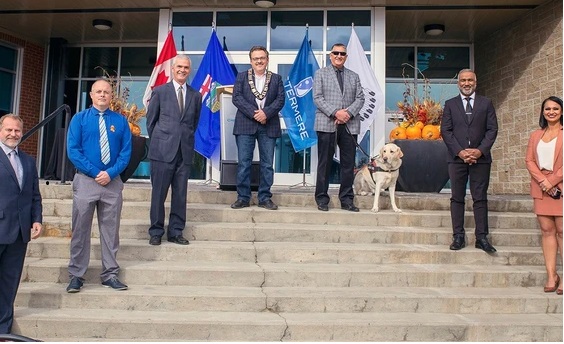 City of Chestermere/Facebook)
City of Chestermere councillors and senior staff dismissed
Minister of Municipal Affairs Ric McIver has issued a ministerial order dismissing four of the City of Chestermere's municipal councillors and all three chief administrative officers (CAOs).
After the city failed to comply with the supervision of the official administrator and some of the minister's directives that have been in place since March 15, 2023, Minister McIver has dismissed Mayor Jeff Colvin, Coun. Mel Foat, Coun. Blaine Funk and Coun. Stephen Hanley, as well as the three CAOs.
The directives, intended to restore good governance to the City of Chestermere, were issued following a municipal inspection. Since then, the city has continued to be managed in an irregular, improper and improvident manner.
"The directives issued by my predecessor are not onerous and represent the bare minimum that citizens ought to expect from their municipal government. However, after undertaking all reasonable efforts to have the city comply with its obligations, it has failed to do so. I am profoundly disappointed that it has come to this, but the people of Chestermere deserve better. This community should be able to have trust in its local elected government."
While the minister determined that the city has failed to comply with its obligations, he has also determined that dismissal of Coun. Shannon Dean, Coun. Sandy Johal-Watt and Coun. Ritesh Narayan was not justified given their efforts to hold council to account and attempt to move council in a more positive direction toward proper governance practices and compliance with legislation.
Councillors Dean, Johal-Watt and Narayan remain as elected councillors but will have no role in the governance of the city until a byelection is held and council quorum is restored.
The ministerial order dismissing Chestermere council members and senior administration is effective Dec. 4. An official administrator and interim CAO are in place to oversee the City of Chestermere's governance and operations until a byelection is held to elect new councillors for the vacant positions at a date to be determined in 2024.
Quick facts
A municipal inspection was ordered by the minister of Municipal Affairs under the Municipal Government Act (Section 571) in May 2022.
The independent inspection, which concluded in September 2022, found the City of Chestermere to be managed in an irregular, improper and improvident manner.
An official administrator was appointed in September 2022 to supervise the municipality and its council.
On March 15, 2023, the minister of Municipal Affairs issued 12 binding directives through a ministerial order requiring the City of Chestermere to take action to address key areas of concern.
On Oct. 18, the minister of Municipal Affairs issued to the City of Chestermere a notice of intent to issue a ministerial order which would dismiss all seven council members from office, as well as all three CAOs.
Premier Smith reacts to Liberal Government's announcement on new methane reduction targets at COP 28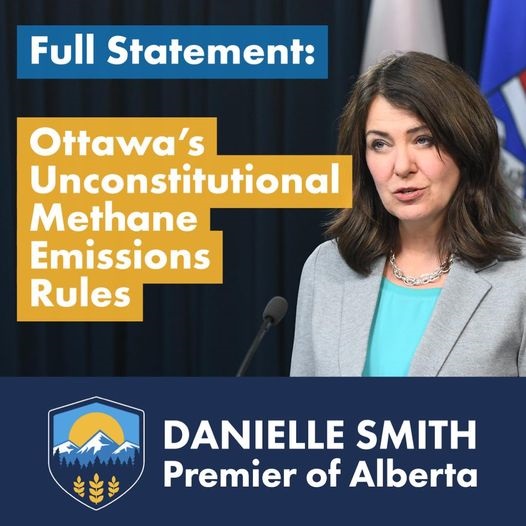 Federal methane emissions targets: Joint statement
"Once again, the federal government is setting unrealistic targets and timelines. Infrastructure can only be updated as quickly as technology allows. For example, Alberta will not accept nor impose a total ban on flaring at this time, as it is a critical health and safety practice during production. Any regulation that completely prohibits this is putting lives at risk"
Premier Danielle Smith and Minister of Environment and Protected Areas Rebecca Schulz issued the following statement on the federal government's proposed methane emissions regulations:
"The federal government has unilaterally established new methane emissions rules and targets to help win international headlines. Instead of building on Alberta's award-winning approach, Ottawa wants to replace it with costly, dangerous and unconstitutional new federal regulations that won't benefit anyone beyond Environment and Climate Change Minister Steven Guilbeault's post-office career.
"Managing emissions from Alberta's oil and gas industry is our constitutional right and responsibility, not Ottawa's, and we are getting the job done. Using a province-led approach, Alberta has already reduced methane emissions from the oil and gas sector by 45 per cent – hitting our target three years early – and we're just getting started.
"Meanwhile, not only is it illegal for Ottawa to attempt to regulate our industries in this manner, Ottawa also hasn't even hit one of its past arbitrary and unscientific emissions targets largely because it has little to no credible expertise regulating the natural resource, agricultural and other industry sectors in this space.
"Ottawa could have helped us keep reducing emissions with joint incentive programs in line with Alberta's Emissions Reduction and Energy Development Plan. It could have listened to the Supreme Court's declaration that the Impact Assessment Act was unconstitutional and abandoned this kind of arrogant and ineffective scheme. Instead, these new regulations threaten our successful province-led approach and impede good work that's already underway.
"Once again, the federal government is setting unrealistic targets and timelines. Infrastructure can only be updated as quickly as technology allows. For example, Alberta will not accept nor impose a total ban on flaring at this time, as it is a critical health and safety practice during production. Any regulation that completely prohibits this is putting lives at risk. A total ban would also be costly, resulting in shut-ins and loss of production.
"This approach will also cost tens of billions in infrastructure upgrades, yet Ottawa has provided virtually no financial support to do so. Thousands of Albertans could be put out of work in the coming years due to these costly regulations. A federal government willing to invest $37.7 billion into just three battery plants in Ontario and Quebec cannot credibly refuse to provide tax credits and financial incentives for producers in Alberta and Saskatchewan to assist with achieving a carbon-neutral economy by 2050.
"For years, Alberta, not Ottawa, has done the hard work and achieved results. We strongly support reducing methane emissions and have invested tens of millions into developing these technologies. Minister Guilbeault must work with us, and not against us, to keep cutting methane emissions and charting a course for carbon neutrality by 2050.
"Given the unconstitutional nature of this latest federal intrusion into our provincial jurisdiction, our government will use every tool at our disposal to ensure these absurd federal regulations are never implemented in our province."