Central Alberta Child Advocacy Centre 50/50 Cash Lottery is Back!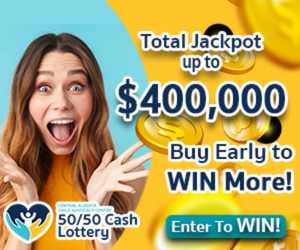 The highly anticipated Central Alberta Child Advocacy Centre 50/50 Cash Lottery is back with even more chances to win!
This year, the jackpot is set to $400,000, with the winner taking home half! Plus, the Central Alberta CAC has added an additional early bird drawing, bringing the early bird prize total to four all-cash prizes of $1,000, drawn weekly in December. All in if purchased before the first Early Bird deadline, entrants have 4 chances at $1,000 dollars, PLUS a chance at the Grand Prize Draw with a sell-out take-home winnings of $200,000!. Tickets start at just $10.
Early Bird Deadlines: December 2, 9, 16, 23.
The Central Alberta Child Advocacy Centre's 50/50 Cash Lottery raises much-needed funds to support their services and programs; supporting our community's most vulnerable. Each year, the Centre supports hundreds of children from across Central Alberta who have experienced abuse. The Central Alberta CAC provides a safe space for these children, a place with the goal for a child to only have to share their story once – eliminating the chance of revictimization and helping them through their journey of healing one step at a time.
Mark Jones, the CEO of the Central Alberta Child Advocacy Centre, is once again thanking Albertans for their generosity, and for facilitating strong partnerships over the years.
"Through the Loyalty campaign, we've been able to raise over $100,000 already! The success of last years' lottery allowed us to help more children and families from across Central Alberta. To date, we've helped nearly 1800 children, and our advocacy team has worked tirelessly to protect and support the youths that come forward. From disclosure to triage and court appearances, our advocacy team has been working around the clock. This year has been especially difficult, with October and November being some of the busiest months with the most extreme and complex cases we have yet to see. So, we hope people will consider buying a ticket to help us help these kids." – Mark Jones, CEO
Tickets are available online at www.cacac5050.ca and will be emailed to the purchaser. You can also call the Centre directly to purchase tickets at 587-272-2233. Lottery license number: 578482.
The CACAC 50/50 Cash Lottery final deadline is February 4th, 2022 at 11:00pm and the draw will take place on February 10th, 2021 at 11:00am.
Together, we can end child abuse. Purchase your ticket today to support the CACAC and the children of our community.
The Central Alberta Child Advocacy Centre is also looking for opportunities to sell their 50/50 Cash Lottery Tickets on location. If you have an event or location you would like to host the CACAC at, please contact Jodie at [email protected] or call 587-272-2233.
About CACAC: The Central Alberta Child Advocacy Centre is a not-for-profit organization rooted in the protection and recovery of today's most innocent and vulnerable – our children. The Centre is comprised of a collective that is driven by the courage to support children, youth, and their families affected by abuse, enabling them to build enduring strength and overcome adversity.
We work in a collaborative partnership with the Central Region Children's Services, Alberta Health Services, Alberta Justice, Alberta Education, the Central Alberta Sexual Assault Support Centre and the RCMP. Together we harness our collective courage to provide children with supported recovery.
For more information on CACAC, please visit: centralalbertacac.ca
Local artist records original song for Remembrance Day with video showcasing Red Deer's military history
Editor's note: This article was published in 2020. It was extremely popular in the Central Alberta region so we wanted to circulate it again this year, now even more poignant with the war in Ukraine. The video uses many images that are familiar to Central Albertans and pays tribute to Central Alberta soldiers who have deployed internationally over the years.
This spring, a singer and songwriter friend of mine from Red Deer, Shelly Dion, came to me with a song idea that had, in her words, been "knocking around in my head for the past 30 years". She said that she really wanted to pay her respects to the people who sacrificed their lives and livelihoods to go to war.
The song is called "Lay Me Down", and it's a very fitting song for this time of year. We decided to get together and record a simple version of the song. Then I sent her off to see musical wizard, Red Deer's Heath West of Medodius Design. Heath came up with some excellent improvements and we recorded it in his studio this fall.
As Honorary Colonel of 41 Signal Regiment in Alberta, I'm always looking for opportunities to promote the military, our Regiment's members, and of course at this time of year, to acknowledge the sacrifice made by the men and women who serve in the Canadian Armed Forces. "Lay Me Down" hit all the right notes.
With some help from Counsellor Michael Dawe, long-time archivist for the City of Red Deer, I gained access to some wonderful historic photos that helped me to tell some of the stories of Red Deer's military history. At the same time, I wanted to help the members of our Regiment honour the many local members who have volunteered to put their lives and careers on hold to deploy internationally to places like Afghanistan, Golan Heights, Bosnia-Herzegovina, Croatia, and more recently Ukraine and Latvia. This project allowed me to both profiles some local history and recognize our more modern history. Thanks to WO Drew Adkins of 41 Signal Regiment for his help in coordinating photos from our wall of fame inside Cormack Armoury.
The above video is the result. Take some time to learn about our local military history. Do you know who Cormack Armoury is named after? You'll also learn about local members of 41 Signal Regiment (2 Sqn), many of whom actively serve in the Armed Forces today. You may even know some of them as neighbours, friends, and co-workers. Please take a moment to acknowledge their service, and on November 11th, attend a service, and at the very least, take a moment at 11 AM to be silent and consider how lucky we are to be at peace in our country.
"Lay Me Down" is written and performed by Shelly Dion and produced and engineered by Heath West. Musicians: Bagpipes Glenn MacLeod, acoustic guitar Heath West, electric guitars Lloyd Lewis, drums Phil Liska, Bass Doug Gagnon.
Click to read more on Todayville.
Test of Halloween candy at Rocky Mountain House reveals Fentanyl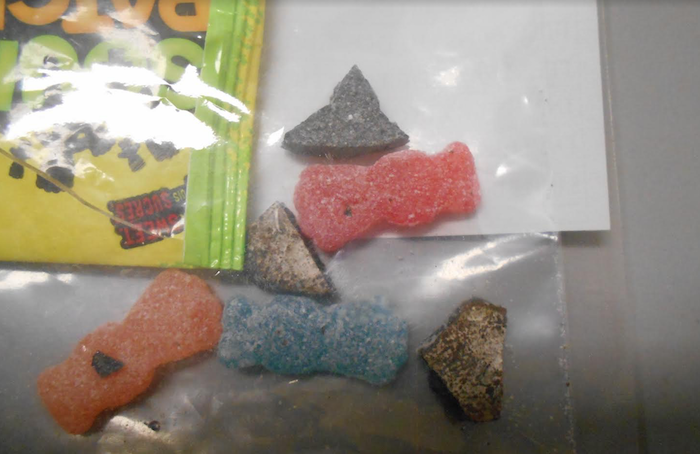 From Rocky Mountain House RCMP News Releases
While examining Halloween candy this week, a parent in Rocky Mountain House discovered an open package with three pieces of a dark substance that looked suspicious.
Concerned, the parent turned over the package to Rocky Mountain House RCMP. Early tests from the Alberta RCMP Forensic Identification Section have identified the presence of Fentanyl.
The substance has been sent to the RCMP Lab for further tests. While Rocky RCMP try to discover the source of the package, they're reminding parents to take extra precaution in examining their children's Halloween candy. Remember that any unsealed candy should be thrown away immediately.
If you find anything suspicious in your candy, contact your local Police.