"…Canadians do not understand the importance of the Oil and Gas industry…"
Producers Note:
Just a beautiful piece of scenery here. We're so lucky to be in a part of the country where within an hour we can get to the mountains and experience such a beautiful gift that Mother Nature has given us; the Rocky Mountains. Could there be anything more beautiful than white snow, green trees, rich dark grey rocks and blue sky. Thank you, Harry for inviting us out to Canmore to lean on you for your expertise.
"…The conversation around energy and climate, particularly here in Canada has become polarized I think because Canadians … Canada's an odd country, Canada's a very large country, from sea to sea to sea, and Canadians don't really appreciate the importance of the Oil and Gas industry. The Oil and Gas industry is Canada's largest export industry. It is the backbone of the whole Canadian economy. That's understood in Alberta and British Columbia and parts of Saskatchewan but it's not really understood in many parts of Canada.  And this is in contrast to countries like Norway. In Norway everyone understands that their prosperity is based on the the Oil and Gas industry. Everyone knows in Norway that the reason they have great healthcare and great education systems is because of their Oil and Gas industry.  They are also a progressive European country that is a signatory to the Paris Agreement is working toward a lower carbon ecomony, but, they're doing so in a way that maintains their oil and gas industry…"  Harrie Vredenburg, Professor, U of C Suncor Energy Chair
Read more stories from We Maple on Todayville.
Alberta supports the development of Small Modular Nuclear Reactors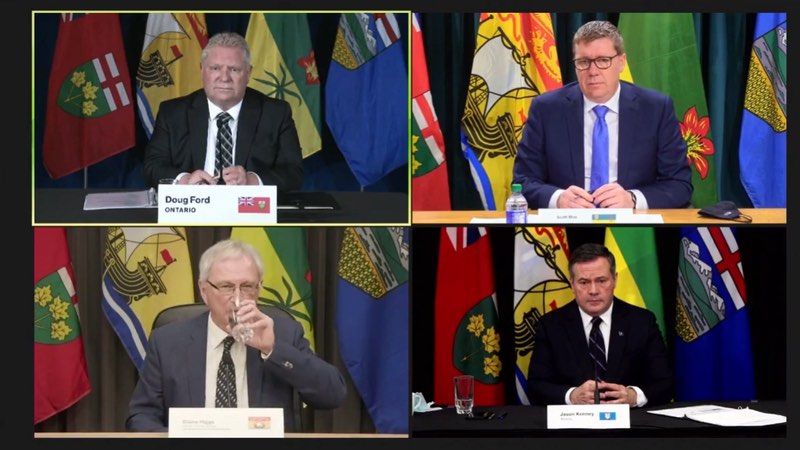 Alberta signs small modular nuclear reactor MOU
Alberta has signed a memorandum of understanding (MOU) with New Brunswick, Ontario and Saskatchewan to support the development of small modular nuclear reactors (SMRs).
Premier Jason Kenney signed the MOU, previously signed by the three other provinces, on April 14. He joined New Brunswick Premier Blaine Higgs, Ontario Premier Doug Ford and Saskatchewan Premier Scott Moe at a virtual event where the premiers shared the findings of a study that examined the feasibility of SMRs in Canada.
"Alberta has always been committed to clean, affordable energy. Small modular reactors are an exciting new technology that could be used in the future to significantly cut greenhouse gas emissions, for example by generating power for Canadian oilsands producers. Nuclear is the cleanest form of electricity production, and with SMRs is now more affordable and scalable for industrial use. We are excited to be part of this group that will help develop Canadian SMR technology."
"Today's announcement confirms the commitment of our provinces to advancing SMRs as a clean energy option, leveraging the strength and knowledge of each of our jurisdictions. This study confirms the feasibility of small modular reactors in Canada and outlines a path forward to deploy this new clean, safe, reliable and competitively priced power. This new technology will help attract investment, create high-skilled jobs and contribute to our growing economy."
"Our government believes the best way to ensure that Canada becomes a leader in advanced small modular reactor development and deployment is through continued engagement and partnerships. New Brunswick has already attracted two tremendous vendors in ARC Clean Energy Canada and Moltex Energy who are now developing their capacity and generating local economic development in the province. New Brunswick is well-positioned to be a world leader in the SMR field."
"It is important that our provinces take these next steps together to continue leading the development of cutting-edge small modular reactors for the benefit of future generations. Ontario is home to a world-class nuclear industry, which we will leverage as we continue our critical work on this innovative technology in order to provide affordable, reliable, safe and clean energy while unlocking tremendous economic potential across the country."
With the addition of Alberta to the MOU, all provinces involved have agreed to collaborate on the advancement of SMRs as a clean energy option to address climate change and regional energy demands while supporting economic growth and innovation.
The SMR Feasibility Study, formally requested as part of the MOU in December 2019, concludes that the development of SMRs would support domestic energy needs, curb greenhouse gas emissions and position Canada as a global leader in this emerging technology. SMRs are nuclear reactors that produce 300 megawatts of electricity or less. They can support large established grids, small grids, remote off-grid communities and resource projects.
The study, conducted by Ontario Power Generation, Bruce Power, NB Power and SaskPower, identifies three streams of SMR project proposals for consideration by the governments of Ontario, New Brunswick and Saskatchewan.
Stream 1 proposes a first grid-scale SMR project of approximately 300 megawatts constructed at the Darlington nuclear site in Ontario by 2028. Subsequent units in Saskatchewan would follow, with the first SMR projected to be in service in 2032.
Stream 2 involves two fourth generation advanced small modular reactors that would be developed in New Brunswick through the construction of demonstration units at the Point Lepreau Nuclear Generating Station. By fostering collaboration among the various research, manufacturing, federal and provincial agencies, an initial ARC Clean Energy demonstration unit plans to be ready by 2030.
Moltex Energy Inc.'s waste recycling facility and reactor is preparing to be ready by the early 2030s. Through ongoing support and collaborations, these advanced technologies could start being deployed as early as 2030 in support of the industrial needs in areas like Saskatchewan, Alberta and around the globe.
Stream 3 proposes a new class of micro-SMRs designed primarily to replace the use of diesel in remote communities and mines. A five-megawatt gas-cooled demonstration project is underway at Chalk River, Ont., with plans to be in service by 2026.
The report identifies the potential for all three streams to create employment and economic growth benefits for Canada, as well as opportunities to export technology and expertise to address global issues such as climate change and energy reliability.
The next action identified in the MOU is the development of a joint strategic plan, to be drafted by the governments of Alberta, New Brunswick, Ontario and Saskatchewan. The plan is expected to be completed this spring.
The partner provinces will continue to work together and across the nuclear industry to help ensure Canada remains at the forefront of nuclear innovation while creating new opportunities for jobs, economic growth, innovation and a lower-carbon future.
John Furlong pitches a broader B.C. bid for 2030 Winter Games
CALGARY — A 2030 Winter Olympic and Paralympic Games that encompasses more of B.C. than the Lower Mainland and a ski resort town will be part of John Furlong's pitch to the Vancouver Board of Trade on Friday.
The legacy venues and operational know-how that remain from the 2010 Winter Games in Vancouver and Whistler, B.C., would equip a host organizing committee to extend transformation beyond those hubs into other communities in the province, Furlong told The Canadian Press.
Furlong and the late Jack Poole led the successful bid for the 2010 Winter Games. Furlong was president and chief executive officer of the Vancouver organizing committee (VANOC).
"B.C. is not small. This is Germany, France and England combined. It's a very big area," Furlong said.
"The idea is to let the whole province become members of one team, to let communities be all on the same team, all pulling in the same direction and feel like they are part of something grand as opposed to being spectators of something grand that's happening five hundred miles south of them."
The 2010 Games broke even financially, according to VANOC. They cost roughly $4 billion when the expansion of the Sea-to-Sky highway from Vancouver to Whistler is included.
The B.C. government's spending on a downtown rail line to the airport and a convention centre which were completed for those Games brought the total to $7.7 billion.
A drag on VANOC's financial preparations for 2010 was the ballooning cost of security to over $900 million.
The host Canadian team won 26 medals in 2010 to rank third among countries. 
Canada's 14 gold was a record for the most by any country at a single Winter Olympics, since matched by Germany and Norway in 2018.
Furlong says the cost of bidding for 2030 would be a fraction of the $36 million spent on the 2010 bid because the former wouldn't be as labour intensive. 
A 2030 Games themselves would cost less because there are venues and facilities are still in place from 2010, which would free up resources for other regions of the province to participate, he added.
"Vancouver 2030 is not going to petition government for capital investment," he said. "We believe the facilities are there. 
"There is the potential for us to spread out and do more. The question of how we bring all this together is a question communities need to solve."
Calgary contemplated a bid for the 2026 Winter Games.
The estimated cost of hosting was $5.1 billion, but 56 per cent of those who voted in a 2018 plebiscite said 'no' to pursuing a bid.
A joint Italian bid from Milan-Cortina beat out Sweden's Stockholm-Are for 2026.
Calgary was the first Canadian city to host the Winter Olympics in 1988. 
Furlong believes, and says polls indicate, there is confidence in B.C.'s capacity to stage another Winter Games that wasn't there before 2010.
"We have an educated province in the sense that people have lived it before, so you can't really hoodwink anybody," he said. 
"The general feedback from the community has been good, whereas in 2010 I think for a long time we felt we were defending the project."
The bidding landscape has changed dramatically since Vancouver and Whistler vied with seven other cities for the right to be 2010 hosts.
Beijing won a two-horse race for the 2022 Winter Olympics just 14 years after hosting the Summer Games.
With fewer cities interested in bidding for and hosting Olympic Games, the IOC has tried to make it easier and less costly to do so under an Agenda 2020 program that says essentially "reduce, re-use and recycle."
This report by The Canadian Press was first published April 14, 2021
Donna Spencer, The Canadian Press