Alberta production Pipe Nation seeking to tap musical talent for soundtrack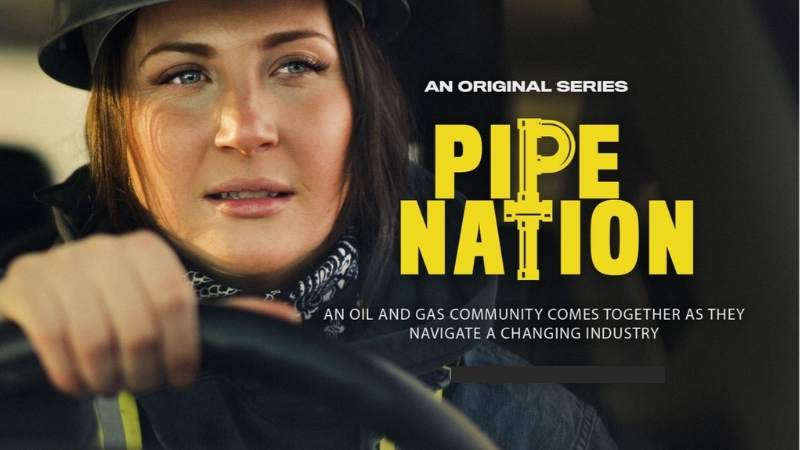 Here are the details.
January 13, 2021
Edmonton-AB, CANADA-​One of the largest independently funded tv-series in Canada, Pipe Nation, is seeking talented musicians to round out its soundtrack as the pilot episode nears completion.
The director, Raoul Bhatt, and executive producer, Dan Svedberg, are seeking submissions from Canadian and American artists to collaborate on the show's soundtrack.
The dramatic series is told through the experiences of a single mother working in the male-dominated, oil and energy industry. The pilot was filmed in August and September of 2020 in the picturesque mountains of Canada and the Edmonton area. 18 scenes and 180 takes were captured in Sundre, Alberta, which was transformed into the fictitious town of Hardwell. A great deal of effort has been put into this pilot including a $300,000 built for the show pipeline, a medical helicopter, and a long list of heavy equipment worth $180 million.
The scenes are now in editing, where the crucial process of pairing beautiful scenes with dramatic music is underway. Several genres of music including, rock, blues, country, electronic dance music, and classical will be used in the series. The show's soundtrack will be released on Apple Music, Amazon, Spotify and Google Play Music in the coming months. Director, Raoul Bhatt and his team have been in post-production for the last three months​. ​The pilot tv-series is expected to be complete by February 2021.
Musicians, labels, bands looking to collaborate or submit their work, please contact Executive Producer & Sound Designer, Daniel Svedberg, and Director, [email protected]
Read more on Todayville.
Mark Simpson, Adam Ruzicka both score twice, Heat down Marlies 8-1
CALGARY — Mark Simpson and Adam Ruzicka each had a pair of goals as the Stockton Heat downed the Toronto Marlies 8-1 on Friday in American Hockey League action.
Martin Pospisil scored once and set up two more for the Heat (2-2-0), who also got goals from Matthew Phillips, Luke Philp and Emilio Pettersen.
Dustin Wolf made 26 saves for the Calgary Flames' AHL affiliate.
Timothy Liljegren found the back of the net for the Marlies (4-4-0), AHL affiliate of the Maple Leafs.
Toronto's Andrew D'Agostini stopped 18-of-26 shots in two periods of work before giving way to Kai Edmonds, who stopped all three shots he faced in relief.
—
This report by The Canadian Press was first published February 26, 2021.
The Canadian Press
Homan remains in top spot after stealing point in 10th end for win over Carey
CALGARY — Ontario's Rachel Homan kicked off play in the championship pool Friday with a 7-6 victory over Chelsea Carey of Team Wild Card One at the Canadian women's curling playdowns.
Carey, who's filling in at skip for Tracy Fleury this week, had hammer in the 10th end but gave up a steal of one when she barely missed a runback double-takeout attempt.
The top-seeded Homan improved to 8-1 along with Canada's Kerri Einarson, who defeated Saskatchewan's Sherry Anderson 10-6.
In other early games at the Markin MacPhail Centre, Alberta's Laura Walker needed an extra end to get by Quebec's Laurie St-Georges 7-6 and Manitoba's Jennifer Jones posted a 12-8 win over Beth Peterson of Team Wild Card Three.
Another draw was scheduled for Friday night and three more draws were set for Saturday.
Homan, a three-time Hearts champion, started slowly by settling for singles in three of the first five ends. Carey, who edged Homan in the 2019 Scotties final, picked up deuces in the second and fourth before giving up a steal in the sixth.
Carey tried to blank the seventh end but her stone hung around for a point. Homan was a tad wide on an up-weight raise attempt in the eighth, allowing Carey to steal for a two-point cushion.
A Homan deuce tied the game but Carey couldn't take advantage of hammer coming home.
Jones, meanwhile, who's aiming for a record seventh national title, stole five points in the 10th end to improve to 7-2. Saskatchewan, Alberta and Quebec were tied in fourth place at 6-3 and the remaining wild-card teams were at 5-4.
The top three teams in the eight-team pool will advance to the playoffs Sunday.
The second- and third-place teams will meet in an afternoon semifinal for a berth in the evening final against the first-place team.
The Hearts winner will return as Team Canada at the 2022 national playdowns in Thunder Bay, Ont. The champion will also earn a berth in the Olympic Trials in November at Saskatoon.
The men's national championship — the Tim Hortons Brier — starts March 5 at the same Canada Olympic Park venue. The Hearts is the first of six bonspiels to be held at the arena through late April.
This report by The Canadian Press was first published Feb. 26, 2021.
Follow @GregoryStrongCP on Twitter.
The Canadian Press