Police organized crime team takes down trafficking network supplying drugs to inmates at Bowden Institution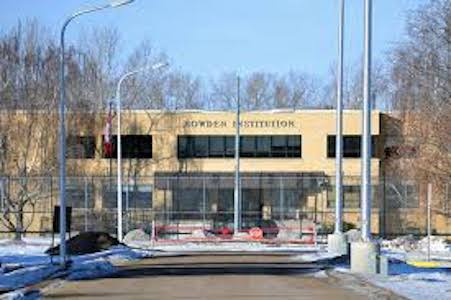 From ALERT – Alberta Law Enforcement Response Team
Project Evolve Dismantles Drug Trafficking Network
Eleven people have been arrested for their alleged role in a drug trafficking network, which operated in the Edmonton area and extended into the Bowden Institution.
Project Evolve was a lengthy and multi-faceted investigation led by ALERT's Edmonton's organized crime team, with the assistance of Correctional Service Canada, St. Albert RCMP, Morinville RCMP, Innisfail RCMP, Edmonton Police Service, and Winnipeg Police Service.
"I want to sincerely thank law enforcement for their incredible job in disrupting a significant drug trafficking network within Alberta's correctional system," said Kaycee Madu, Alberta Minister of Justice and Solicitor General. "ALERT has done a remarkable job partnering with federal, provincial and municipal law enforcement to remove deadly drugs like fentanyl from our prisons. This kind of organized criminal activity has no place in the correctional system."
A total of 60 criminal charges have been laid against 11 suspects allegedly involved in trafficking drugs in the Edmonton area. ALERT alleges the network conspired to smuggle drugs into the prison system and had established connections to Bowden Institution.
Project Evolve resulted in the seizure of drugs and cash worth an estimated $300,000. Search warrants were executed at homes in St. Albert and Edmonton, with the following evidence being seized:
35 grams of fentanyl;
88 grams of methamphetamine;
620 grams of cocaine;
1,341 grams of a cocaine buffing agent;
1,745 grams of cannabis;
a handgun with its serial number removed; and
$206,000 cash.
"This was a very well-organized, well-coordinated group. Their drug activities jeopardized community safety and hurt communities big and small," said Staff Sgt. Blayne Eliuk, ALERT Edmonton. "And by introducing drugs into the prison system, this substantially put the health and safety of not only inmates, but also corrections staff and officers, at risk."
"Organized crime groups who traffic in illicit drugs destroy lives, homes and communities. Drugs and drug addiction contribute to spinoff crimes such as theft and break-and-enters, which result in citizens feeling less safe. Investigations such as this are a positive step towards reducing crime in St. Albert and keeping the community safe," added Const. M-J Burroughs, St. Albert RCMP.
"I'd like to thank ALERT and my team at Bowden Institution for their combined efforts on Project Evolve. Partnerships such as this one between ALERT and Correctional Service Canada demonstrate intergovernmental departments working together to keep Canadians safe," said Lawrence Hartigan, Warden of Bowden Institution.
Project Evolve concluded on December 17, 2020, with several arrests:
David Klassen, a 31-year-old man, currently incarcerated;
Nicolas Moores, a 29-year-old man from Edmonton;
Garreth Curry-McCallum, a 23-year-old man from St. Albert;
Jesse Riedlhuber, a 23-year-old man from Morinville;
Brendan Baer, a 23-year-old man from St. Albert;
Tyler Kemps, a 25-year-old man from Edmonton;
Nolan Arndt, a 24-year-old man from St. Albert;
Tyler Willimont, a 24-year-old man from Edmonton;
Jessa Brianne Ivicak, a 23-year-old woman from Edmonton;
Kolby Gordon, a 23-year-old man from St. Albert; and
Chayce Anthony Krause, a 26-year-old man, currently incarcerated.
Both Klassen and Krause were incarcerated at Bowden Institution during the course of the investigation. Moores is currently serving a federal sentence under the jurisdiction of the Correctional Service Canada as the result of a conviction from a previous and unrelated ALERT investigation.
A full list of charges is available for download here.
Project Evolve began in June 2019.
Members of the public who suspect drug or gang activity in their community can call local police, or contact Crime Stoppers at 1-800-222-TIPS (8477). Crime Stoppers is always anonymous.
ALERT was established and is funded by the Alberta Government and is a compilation of the province's most sophisticated law enforcement resources committed to tackling serious and organized crime.
CP NewsAlert: Alberta lifts some COVID-19 economic restrictions, delays others
EDMONTON — Alberta is lifting more economic restrictions tied to COVID-19 while delaying others.
Premier Jason Kenney says low intensity group activities, like Pilates, can resume in fitness centres, and libraries can open at 15 per cent capacity.
But he says loosening measures for retail shops, hotels and community centres can't happen yet.
He says COVID-19 cases have plummeted in long-term care homes and hospitalizations have dropped, but cases of the variant are worrisome.
Some medical experts, including the Edmonton Zone Medical Staff Association, warned the province last week against loosening public-health measures.
This is Stage 2 of a four-stage plan to reopen the economy announced by Kenney a month ago.
In Stage 1, restaurants were able to reopen for dine-in service, gyms were allowed to resume one-on-one fitness training and some restrictions were lifted on youth sports.
The Canadian Press
Women provide successful test of Calgary's curling bubble ahead of Brier
CALGARY — All systems are go for the Canadian men's curling championship after the women proved elite curling can happen in a pandemic.
Curling Canada says no one tested positive for the COVID-19 virus during the Scotties Tournament of Hearts which concluded Sunday in Calgary.
In an arena with no spectators, Kerri Einarson's team from Gimli, Man., claimed a second straight title.
"We said at the start of the week if we sent everybody home healthy, then we did our job," said Curling Canada's Nolan Thiessen, who among his many titles is director of event presentation, innovation and athlete liaison.
"The women that came and participated did amazing. They took everything seriously. They just did whatever they needed to do to make sure they could compete. 
"Proof of concept. They've shown it can be done. It's on everybody else who descends into the bubble to do what we need to do."
About 500 on-site tests were conducted during the Hearts with no positive tests, Thiessen said Monday
The Hearts was the first of four Curling Canada events relocated to Calgary in a hub-city model walling participants off from the general public.
The men start arriving Tuesday in Calgary for the men's national championship, the Tim Hortons Brier, opening Friday at WinSport's Markin MacPhail Centre.
The 35-team field for the national mixed doubles March 18-25 will be announced Tuesday. The men's world championship follows April 3-11. 
A pair of Grand Slams, which are Rogers Sportsnet's properties, are also scheduled for Calgary in April.
The women were confined to the arena and their hotel on either side of Trans-Canada Highway in Calgary's west end, and drove themselves back and forth in rental cars.
They bought into testing and self-isolation before and after arrival in Calgary, regular temperature checks, mandatory masks off the ice, and no socializing at the hotel with other teams with nary an eye roll or sigh, Thiessen said.
The women accepted Curling Canada needed to do what Alberta Health required so they could curl.
"There were times when they were like 'oh, what are we supposed to be doing here?' but not in a bad way," Thiessen said. 
"We have a chief medical officer on site and they are responsible for that piece of it. It wasn't a curling person making a medical decision.  
"Any time we told them anything health and safety related, they knew it was us passing on the information."
Northwest Territories third Jo-Ann Rizzo's bout of food poisoning on the first night of the tournament was a test run of some pandemic protocols.
While the CMO was convinced it was a stomach bug, Rizzo was tested anyway. She and her teammates isolated in their rooms all day awaiting the result.
N.W.T.'s game against Canada that day was postponed two days to what was a morning off for all teams.
"It definitely showed a good reason why we kept a draw open in the middle of the week," Thiessen said. "It showed a good reason for what our protocols were and why we put safety first.
"We're not expecting to go this whole thing with every day going exactly according to plan and there's no health issues. That hasn't been the case with any sport."
This report by The Canadian Press was first published March 1, 2021.
Donna Spencer, The Canadian Press