A Response To: An Open Letter To Canadians From Oil And Gas Workers

A letter in response to this:
https://business.financialpost.com/opinion/an-open-letter-to-canadians-from-oil-and-gas-workers
Dear Albertan oil executives,
Canada's oil and gas workers need your help. For decades, we have been asking you to diversify our economy and look for ways to avoid the boom and bust cycle. We are now in a perfect storm with oil prices falling and workers in isolation from a deadly virus. We need your leadership more than ever.
Unfortunately for us, you've chosen the least imaginative path possible: stay the course. In your April 6th Op-Ed in the Financial Post, you argued that the fossil fuel industry needs federal support in order to maintain a skilled workforce. For a province that prides itself on hard work and innovation, don't you think we can do better?
The underlying assumption that you have made is that oil prices will return to a level that's profitable for Alberta. But the historical trend doesn't support your argument.
When you look at the historical price of WTI, Alberta's golden years came from a bubble. In 2008 analysts all over the province were claiming oil would climb to $200 and Alberta would become the crown jewel of Canada. That turned out to be wishful thinking. You have dusted off that same playbook, claiming that oil will keep going up in price. The more likely scenario is that prices will return to their historical average.
We cannot rely on high oil prices for our economic survival.
(The picture was taken from https://tradingeconomics.com/commodity/crude-oil But any 30-year graph will do. )
I agree with you that we need to ensure that we can maintain our workforce. It's essential that Alberta has skilled people working in our province so that we can develop our resources. Canada as a whole needs to maintain our skilled labour force and keep our economy functioning so that we can rebound once the pandemic is over. But putting those 200,000 people back to work into fossil fuels is a terrible idea.
So what do we do with hundreds of thousands of unemployed people and billions of dollars of idle equipment?
My suggestion is we find markets outside of oil and gas that require very similar skill sets. We leverage our existing infrastructure, supply chains, and experience to build new industries here in Alberta.
I've got three examples.
Geothermal Energy
Geothermal energy needs the same drilling rigs that the oil service industry has sitting idle. You can use your existing geologists, roughnecks, pipefitters, and welders to drill geothermal wells instead of oil wells. The end result is clean baseload power that can replace coal in this province and all over the world. The added benefit of developing geothermal is that we repurpose orphan wells into sources of heat and electricity. Companies like Eavor and DEEP have already started.
Battery Manufacturing
As we move to cleaner energy sources, batteries will become more important to the sustainability of our economy. Batteries need a lot of material to be manufactured and companies like E3 Metals are developing extraction techniques to create a lithium industry here in Alberta. There are plenty of technicians, engineers, and fabricators in our energy community that are entirely capable of working on projects like this.
Nuclear Power
While we are brainstorming ideas, let's think big. If we are serious about providing clean, low carbon, environmentally friendly energy we have to look at nuclear. The folks at Terrestial Energy have designed a modular reactor that's small, safe, and could absolutely be manufactured here in Alberta. I bet the mod yards would be jumping at the chance to have a backlog of work.
I agree with you that we absolutely need to support our workforce. However, I don't think keeping our oil industry limping along can be the full answer for our skilled and versatile workforce. Our talented population needs options.
Please stop looking in the rearview mirror and start building for the future.
This article was originally published on April 8, 2020.
Trudeau shows no interest in compromising with Meta, Google over online news bill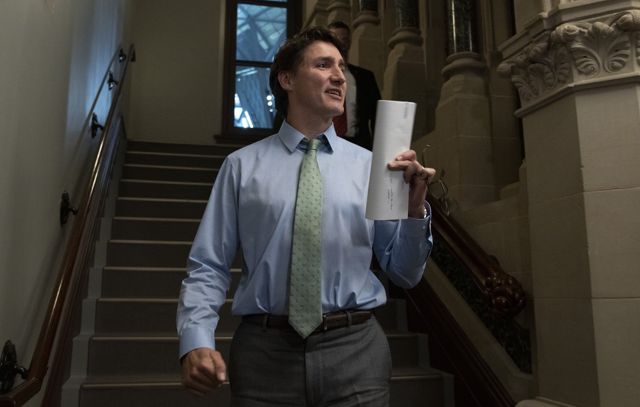 Prime Minister Justin Trudeau speaks briefly with reporters as he makes his way to a cabinet meeting, Wednesday, June 7, 2023 in Ottawa. Prime Minister Justin Trudeau is showing no interest in compromising with Meta and Google over their online news bill that would make tech giants pay for journalism created by others that helps those companies generate revenue. THE CANADIAN PRESS/Adrian Wyld
By Mickey Djuric in Ottawa
Prime Minister Justin Trudeau is showing no interest in compromising with Meta and Google over a Liberal bill that would make them pay for Canadian journalism that helps the companies generate revenue.
Trudeau said Wednesday that Meta and Google's bullying tactics will not work with his government, which he says is ensuring those companies do not weaken Canada's democracy by threatening its domestic media industry.
Meta announced last week it will test blocking access to some news for a small percentage of Canadian users of Instagram and Facebook.
The company says it is prepared to permanently end access to news content in Canada if Parliament passes Bill C-18, which would require tech giants to pay publishers for linking to or otherwise repurposing news content.
Google ran a similar test earlier this year, restricting access to news on its search engine for less than four per cent of its Canadian users. It says it is looking for a compromise with the Liberal government.
"The fact that these internet giants would rather cut off Canadians' access to local news than pay their fair share is a real problem, and now they're resorting to bullying tactics to try and get their way. It's not going to work," Trudeau said at a news conference.
"We will continue to make sure that these incredibly profitable corporations contribute to strengthening our democracy, not weakening it."
Big publishers have told a Senate committee currently studying the bill that they could lose millions of dollars should their content be blocked by Google and Meta.
The online news bill already passed in the House of Commons and could be approved by the Senate as early as this month.
If it becomes law, both companies would be required to enter into agreements with news publishers to pay them for news content that appears on their sites if it helps the tech giants generate money.
Both companies have argued that news doesn't generate much revenue for their companies, and are considering ending local news on their platforms altogether.
Meta says news makes up about three per cent of the content that's on Facebook feeds, and Google says less than two per cent of searches have to do with news, because people care more about recipes than articles.
Still, each company has proposed amendments in the Senate, including changes to the section of the bill that deals with arbitration and tweaks that would create more certainty around which publishers they would have to enter into agreements with.
For example, Google says that as the bill is currently written, it would have to enter into agreements with community and campus broadcasters, even if they do not produce news content and have no obligation to adhere to a codes of ethics.
Spokesperson Shay Purdy said in a statement Wednesday that the company has come to the table with "reasonable and pragmatic solutions" that would increase the company's investment in Canadian news.
"We're very concerned about the path we're on and we're doing everything we can to engage constructively and avoid a negative outcome for Canadians."
Heritage Minister Pablo Rodriguez has said that the bill is already balanced, and that Meta and Google have his phone number if they want to talk.
Rodriguez was expected to appear before a Senate committee on Wednesday evening.
Meta did not immediately respond to a request for comment about the prime minister's remarks.
This report by The Canadian Press was first published June 7, 2023.
———
Nevada revisits Oakland Athletics stadium plan in special legislative session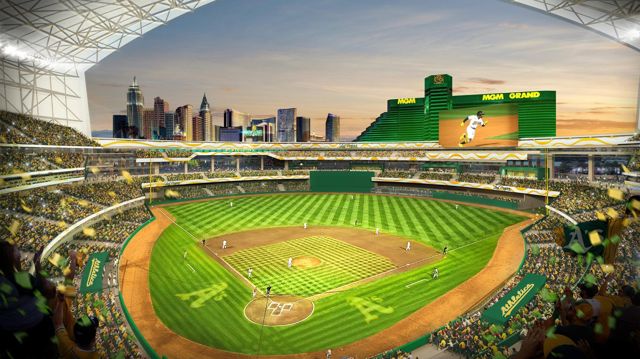 This rendering provided by the Oakland Athletics on May 26, 2023, shows a view of their proposed new ballpark at the Tropicana site in Las Vegas. The Nevada Legislature is set to convene Wednesday, June 7, for a special legislative session to consider whether to provide $380 million in public financing for a stadium that would host the Oakland Athletics on the Las Vegas Strip. (Courtesy of Oakland Athletics via AP, File)
By Gabe Stern in Carson City
CARSON CITY, Nev. (AP) — The Oakland Athletics' search for a new home has drawn Nevada lawmakers into a special legislative session Wednesday to weigh whether the state should cover $380 million of the $1.5 billion stadium planned for the Las Vegas Strip.
The public funding would mainly come from $180 million in transferable tax credits and $120 million in county bonds. Backers have pledged that the creation of a special tax district around the proposed stadium would generate enough money to pay off those bonds and interest. The plan would not directly raise taxes.
The A's would not owe property taxes for the publicly owned stadium. Clark County, which includes Las Vegas, would also contribute $25 million in credit toward infrastructure costs.
The proposed 30,000-seat stadium would be the smallest in Major League Baseball.
The Legislature adjourned Monday after its 120-day, biennial session with disputes over one of the five major budget bills that funds capital improvement projects. On Tuesday, Republican Gov. Joe Lombardo held a special legislative session to pass that bill.
Lombardo's office had introduced the stadium financing bill with less than two weeks left in the regular session. It is unclear how many days the second special session will last.
Special sessions are fairly common in Nevada's Legislature, which lasts for four months every other year. There have been seven since 2013 for a variety of reasons — pandemic protocols,statewide redistricting, budget disputes and approval for $750 million in public funding to help build Allegiant Stadium when the Oakland Raiders moved to Las Vegas.
The A's have been looking for a home to replace Oakland Coliseum, where the team has played since arriving from Kansas City for the 1968 season. The team previously sought to build a stadium in Fremont, California, as well as San Jose and finally the Oakland waterfront — all ideas that never materialized.
MLB Commissioner Rob Manfred has said that a vote on the Oakland Athletics' prospective move to Las Vegas could take place when owners meet June 13-15 in New York.
___
Stern is a corps member for the Associated Press/Report for America Statehouse News Initiative. Report for America is a nonprofit national service that places journalists in newsrooms. Follow Stern on Twitter: @gabestern326.