173 day long disaster in India ended by Piston Well Services of Red Deer
Burning since June 9, a well blowout at Baghjan, India had foiled all who were tasked with somehow stopping the flames.  Oil India Limited (OIL) tried regional companies and then it reached out internationally.  Now one was able to fix this well blowout until they called in Piston Well Services Inc.  The Red Deer based company was able to kill the well within days.
Alert Disaster Control (ALERT), with their well intervention service partner, Piston Well Services, have completed the critical well killing operation in Assam, India.
Piston Well Services mobilized a 142K Snubbing/Hydraulic Workover Unit and specialists to India to assist ALERT in the final phase of the well kill operation. Oil India Limited. officially designated the well as 'killed' on November 15 at 1400 hrs local time.
ALERT and Piston Well Services thank everyone that contributed and persevered through the unprecedented logistical challenges to support the operations. Oil India Limited's commitment to the successful conclusion of the operations, will continue to support the local community and ensure the ongoing protection of the sensitive adjoining wetland areas.
#canadianenergy #albertaenergy #teampiston
By RISHU KALANTRI
Tinsukia, Nov 15: Oil India Limited (OIL) on Sunday finally achieved success in killing the blowout well at Baghjan in Assam's Tinsukia district, almost five and a half months after the blowout occured on May 27.
The development came two hours after the "kill fluid" was pumped into the well at a depth of 3600 metres as part of the last phase of snubbing operation.
The good news comes in the evening
OIL tweeted at 5.35 pm on Sunday: "Baghjan blowout well successfully killed: The well has been killed with brine solution & under control now. Fire has been doused completely. There is no pressure in the well now & the same will be observed for 24 hours to check if there is any amount of gas migration & pressure build up."
Talking to NewsFileonline, OIL spokesperson Tridiv Hazarika said the process to inject the kill fluid started around 11 am on Sunday and soon positive results were visible. "However, it will take few more hours before achieving 100 per cent success," he said.
"Director (exploration and development ) P Chandrasekaran, director (operations) PK Goswami and resident chief executive BK Dad visited the Baghjan well site and had detailed discussions with the experts from Alert (Damage Control)  and OIL crisis management team (CMT)," said Hazarika, adding: "Further operations to abandon the well is in progress."
The way ahead
According to an OIL source involved with the operation, the next step would be to pull out the pipes which will be followed by cementing the well. "Once it is done and tested, the snubbing unit will be uninstalled, blowout preventer (BoP) will be removed and X-mas tree will be placed before the well is abandoned."
In August, OIL succeeded in capping the blowout well by installing BoP on the well head after two failed attempts on July 31 and August 10.
However, the kill-the-well operation failed following detection of a leakage at the casing well head and here's when the global experts from M/s Alert Damage Control decided to move in for snubbing operation and tied up with Alberta-based Piston Well Services to move in its snubbing unit alongwith four crew members.
The 60-ton snubbing unit was flown in from Canada's Calgary by the world's largest cargo aircraft — Antonov An-24, to Kolkata in the third week of October and it reached the blowout well site on November 4.
On September 13, OIL succeeded in diversion of the gas after a failed attempt and used the opportunity to start partial production from a well under blowout for the first time in OIL's history.
What is snubbing unit and the process?
A snubbing unit is a hydraulic rig that can do everything a rig can do in addition to its ability to perform under pressure in an under balanced live well state.
Snubbing operation is a type of heavy well intervention performed on oil and gas wells. It involves running the BHA on a pipe string using a hydraulic workover rig. Unlike wireline or coiled tubing, the pipe is not spooled off a drum but made up and broken up while running in and pulling out, much like conventional drill pipe.
In oil parlance, the well is killed at the bottom by inserting pipes and pumping mud through this new pipe. Killing entails injecting artificial mud into the well at very high pressure to fill up the well and stop the gas from rising to the surface.
Due to the large rigup, it is only used for the most demanding of operations when lighter intervention techniques do not offer the strength and durability. The first snubbing unit was primarily designed to work in well control situations to "snub" drill pipe and or casing into, or out of, a well bore when conventional well killing methods could not be used. Unlike conventional drilling and completions operations, snubbing can be performed with the well still under pressure (not killed). When done so, it is called hydraulic workover. It can also be performed without having to remove the Christmas tree from the wellhead.
Baghjan gas well No 5 — India's longest well on fire 
OIL has 22 producing wells, 18 oil wells and four gas wells at Baghjan Oil Field in Tinsukia district.
The "blowout" occured at the gas well No. 5 at Baghjan oilfield, in the proximity of Maguri-Motapung Beel and Dibru Saikhowa National Park, while workover operations were under way to produce gas from new sand (oil and gas bearing reservoir) at a depth of 3,729 metres. This caused natural gas and condensate oil gush to hundreds of feet in the air and spill all around.
The well caught fire on June 9 and has been raging for 160 days before finally getting doused today.
Alberta supports the development of Small Modular Nuclear Reactors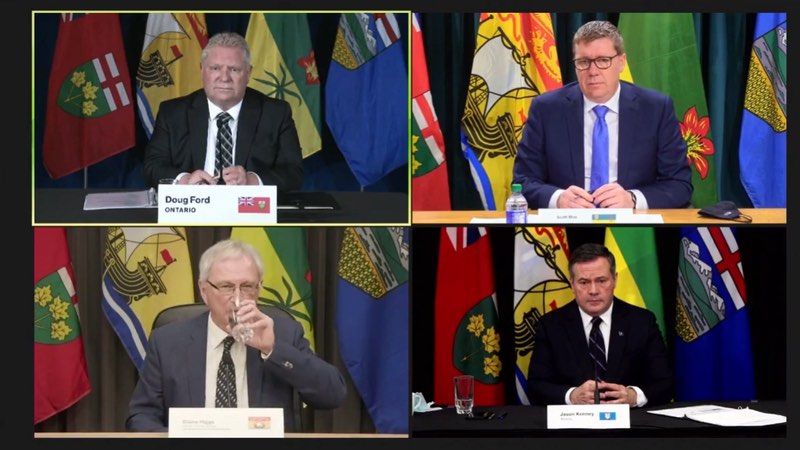 Alberta signs small modular nuclear reactor MOU
Alberta has signed a memorandum of understanding (MOU) with New Brunswick, Ontario and Saskatchewan to support the development of small modular nuclear reactors (SMRs).
Premier Jason Kenney signed the MOU, previously signed by the three other provinces, on April 14. He joined New Brunswick Premier Blaine Higgs, Ontario Premier Doug Ford and Saskatchewan Premier Scott Moe at a virtual event where the premiers shared the findings of a study that examined the feasibility of SMRs in Canada.
"Alberta has always been committed to clean, affordable energy. Small modular reactors are an exciting new technology that could be used in the future to significantly cut greenhouse gas emissions, for example by generating power for Canadian oilsands producers. Nuclear is the cleanest form of electricity production, and with SMRs is now more affordable and scalable for industrial use. We are excited to be part of this group that will help develop Canadian SMR technology."
"Today's announcement confirms the commitment of our provinces to advancing SMRs as a clean energy option, leveraging the strength and knowledge of each of our jurisdictions. This study confirms the feasibility of small modular reactors in Canada and outlines a path forward to deploy this new clean, safe, reliable and competitively priced power. This new technology will help attract investment, create high-skilled jobs and contribute to our growing economy."
"Our government believes the best way to ensure that Canada becomes a leader in advanced small modular reactor development and deployment is through continued engagement and partnerships. New Brunswick has already attracted two tremendous vendors in ARC Clean Energy Canada and Moltex Energy who are now developing their capacity and generating local economic development in the province. New Brunswick is well-positioned to be a world leader in the SMR field."
"It is important that our provinces take these next steps together to continue leading the development of cutting-edge small modular reactors for the benefit of future generations. Ontario is home to a world-class nuclear industry, which we will leverage as we continue our critical work on this innovative technology in order to provide affordable, reliable, safe and clean energy while unlocking tremendous economic potential across the country."
With the addition of Alberta to the MOU, all provinces involved have agreed to collaborate on the advancement of SMRs as a clean energy option to address climate change and regional energy demands while supporting economic growth and innovation.
The SMR Feasibility Study, formally requested as part of the MOU in December 2019, concludes that the development of SMRs would support domestic energy needs, curb greenhouse gas emissions and position Canada as a global leader in this emerging technology. SMRs are nuclear reactors that produce 300 megawatts of electricity or less. They can support large established grids, small grids, remote off-grid communities and resource projects.
The study, conducted by Ontario Power Generation, Bruce Power, NB Power and SaskPower, identifies three streams of SMR project proposals for consideration by the governments of Ontario, New Brunswick and Saskatchewan.
Stream 1 proposes a first grid-scale SMR project of approximately 300 megawatts constructed at the Darlington nuclear site in Ontario by 2028. Subsequent units in Saskatchewan would follow, with the first SMR projected to be in service in 2032.
Stream 2 involves two fourth generation advanced small modular reactors that would be developed in New Brunswick through the construction of demonstration units at the Point Lepreau Nuclear Generating Station. By fostering collaboration among the various research, manufacturing, federal and provincial agencies, an initial ARC Clean Energy demonstration unit plans to be ready by 2030.
Moltex Energy Inc.'s waste recycling facility and reactor is preparing to be ready by the early 2030s. Through ongoing support and collaborations, these advanced technologies could start being deployed as early as 2030 in support of the industrial needs in areas like Saskatchewan, Alberta and around the globe.
Stream 3 proposes a new class of micro-SMRs designed primarily to replace the use of diesel in remote communities and mines. A five-megawatt gas-cooled demonstration project is underway at Chalk River, Ont., with plans to be in service by 2026.
The report identifies the potential for all three streams to create employment and economic growth benefits for Canada, as well as opportunities to export technology and expertise to address global issues such as climate change and energy reliability.
The next action identified in the MOU is the development of a joint strategic plan, to be drafted by the governments of Alberta, New Brunswick, Ontario and Saskatchewan. The plan is expected to be completed this spring.
The partner provinces will continue to work together and across the nuclear industry to help ensure Canada remains at the forefront of nuclear innovation while creating new opportunities for jobs, economic growth, innovation and a lower-carbon future.
There's Resistance Everywhere To Building Anything. We Need Government Help
For more videos, see WeMaple.