RCMP looking for suspect in weapons investigation after disturbance at Sylvan Lake Beach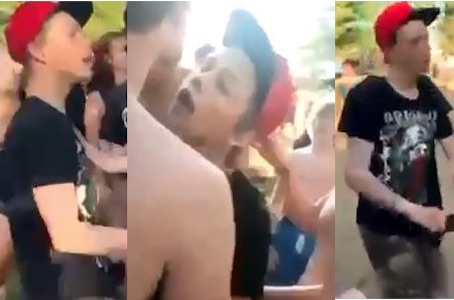 Sylvan Lake RCMP Investigate Weapons Offences
On June 2, 2021 at approximately 8 p.m., members of the Sylvan Lake RCMP detachment responded to numerous 911 calls regarding a large disturbance involving firearms and knives in the pier area of Sylvan Lake Beach
Approximately 200 people were in close proximity to the event, and the investigation has identified a smaller group and a person of interest.  Sylvan Lake RCMP are seeking the assistance of the public in identifying the subject of interest in the photographs.  The subject is described as follows:
Caucasian male
Slim build
Wearing red high top shoes with black laces,
Camouflage pants,
Red ball cap with flat brim
Black t-shirt with a masked skull logo.
Should you have any information regarding the subject of interest, please contact the Sylvan Lake RCMP Detachment directly at 403-858-7200 or via e-mail at [email protected] or CrimeStoppers at 1-800-222-TIPS (8477).
Calgary man faces 17 charges for alleged domestic abuse of multiple partners
CALGARY — Police in Calgary have laid 17 domestic-violence-related charges against a man involved with multiple partners over a 10-year period.
Investigators say a woman came forward in May to report serious violence from a previous relationship.
Police say she provided the names of two other women, who she believed had also been abused by the same man.
It is alleged the accused physically and sexually assaulted the women during those relationships.
Police say the violence was substantial and led to permanent physical ailments.
Daniel Walders, who is 39, has been charged with 11 counts of assault, four counts of sexual assault and two of uttering threats.
"The level of violence exhibited by the alleged offender is significant," said Staff Sgt. Vince Hancott with the Calgary Police Service's domestic conflict unit.
"Alberta has one of the highest rates of domestic violence in Canada, but help is available."
This report by The Canadian Press was first published July 23, 2021.
The Canadian Press
Woman assaulted in front of her children outside of their daycare
News release from Edmonton Police Service
Downtown Division officers arrest male during violent assault on woman outside of daycare
A 30-year-old man is facing various charges including aggravated assault in connection to a violent assault on a woman who was picking up her three children Wednesday afternoon from a central Edmonton daycare.
At approximately 3:45 p.m. Wednesday, July 14, 2021, the 39-year-old mother was standing outside of the daycare facility near 115 Street and 105 Avenue waiting for the front door to be unlocked, when she was approached by a male.
It was reported to police that the impaired male attempted to forcibly pull the backpack off her shoulders. The woman held onto the backpack, as the suspect male unzipped it and attempted to reach inside.
A struggle ensued and then the male allegedly grabbed the complainant's hair and threw her down, repeatedly smashing her head against the sidewalk.
Responding to a different call involving the same male allegedly trying to break into vehicles in the area, Downtown Division members quickly came to the woman's aid, as the suspect sat on top of the complainant while strangling her into unconsciousness.
"Two of our members spotted the male suspect choking the woman on the ground and rushed to her aid," said EPS Insp. Erik Johnson. "Another two minutes and we may have been talking about a homicide today.
"The incident in itself is extremely disturbing and was exacerbated by the fact two of her young children watched the entire incident through the front door of the daycare."
Paramedics treated and transported the woman to hospital with non-life-threatening injuries. She has since been released from hospital.
Rockie Rabbit, 30, has been charged with aggravated assault, choking to overcome resistance, robbery and breach of conditions.