Prime Minister refused to answer an english question in english in Quebec.
Prime Minister Trudeau would only answer in French, a question asked in English about finding English services in Quebec for mental health issues.
The Prime Minister would only speak French at a Quebec townhall meeting. He spoke French in all other provinces when a question was asked in French, why not English answers for English questions in Quebec? It reminded me of a time, while travelling in Quebec, stopping at a service station. The staff were talking amongst themselves in English, but when a person came in asking for assistance in English, they pretended they did not understand. They joked about it afterwards in English.
That did not leave a very good impression, and when someone who was elected to represent everyone in Canada, refuses to lower himself to the level of an English speaking Canadian in Quebec, speaks volumes.
A Prime Minister has to come to grips with the fact that many Canadians face problems, through no fault of their own, that he was luckily enough to be raised in privilege and never had to face. A person in crisis is not worrying about the language, nationality, gender or age of anyone offering aid. They would like aid.
A mother or father in distress, reaches out, please get down off your high horse, stop spouting platitudes, take their hand, and listen, really listen, to their plea. Don't worry about their language, their age, their gender, or their nationality, just worry about their pain.
I raised my children to be bilingual in Alberta, because I believed this was a bilingual country, including Quebec. When our Prime Minister refuses to answer questions, important questions, in English in Quebec, then do not condemn those who refuse to learn or speak French in the rest of Canada.
Prime Minister, you set the bar.
Danielle Smith says UCP government would prevent government from future tax hikes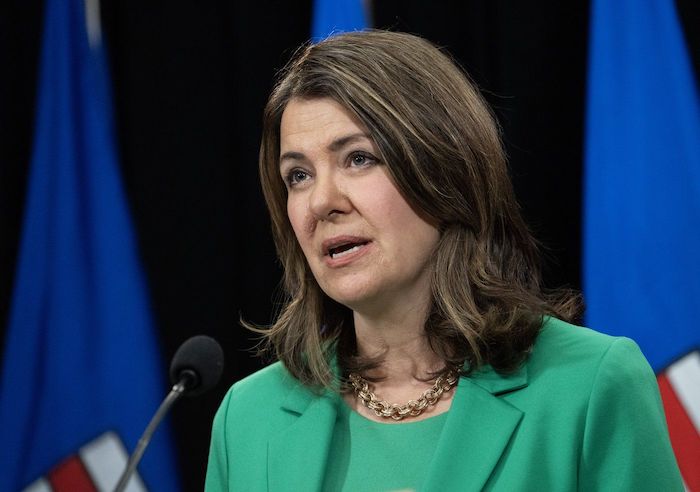 Alberta UCP Leader Danielle Smith holds a news conference during the provincial election in Calgary on Wednesday, May 24, 2023. THE CANADIAN PRESS / Todd Korol
Calgary
United Conservative Leader Danielle Smith says her party would bring in legislation to prevent government from increasing personal or business taxes without approval from Albertans.
Smith, at an event in Calgary ahead of Monday's provincial election, says the first bill would be the Tax Protection Amendment act.
Smith used the announcement to attack NDP Leader Rachel Notley's proposal to raise corporate taxes by three per cent as part of a three-year fiscal plan.
Smith says the NDP plan to increase those taxes from eight to 11 per cent would kill jobs, burden Alberta families and drive out investors.
She says Albertans have already seen the effect of NDP policies when Notley was elected premier in 2015.
"This election is a choice between a United Conservative Party that's lowered taxes, balanced the budget, and returned Alberta to its place as the economic powerhouse of Canada or the party that's done the opposite," Smith said Wednesday.
This report by The Canadian Press was first published May 24, 2023.
Edmonton Oilers hope last year's long playoff run greases their wheels in 2023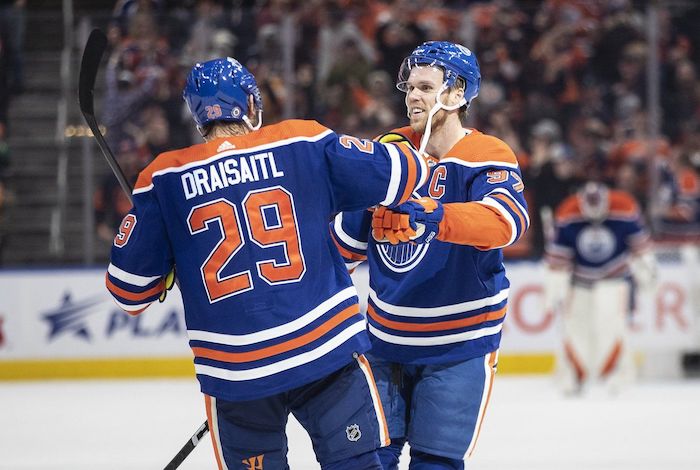 Edmonton Oilers' Connor McDavid (97) and Leon Draisaitl (29) celebrate a goal against the Arizona Coyotes during overtime NHL action in Edmonton on Wednesday March 22, 2023. THE CANADIAN PRESS/Jason Franson
By Donna Spencer in Edmonton
After their longest playoff run in 16 years in 2022, the Edmonton Oilers have the weapons to go further.
While there's currently no better one-two punch on the hockey planet than Oilers captain Connor McDavid and forward Leon Draisaitl, Edmonton's supporting cast is also deeper and more seasoned heading into the 2023 post-season.
"Being in a Canadian market in a place like Edmonton, with the group we have, it's exciting," Oilers forward Evander Kane said Sunday.
Edmonton kicks off another Stanley Cup quest against a familiar playoff opponent.
The Oilers versus the Los Angeles Kings starting Monday at Rogers Place is a rematch of last year's opening round between the two clubs.
Down 3-2 to the Kings, the Oilers won back-to-back games to advance to the second round.
Edmonton then dispatched Calgary in five games in the first playoff Battle of Alberta in 31 years.
The Oilers were swept in four straight by the eventual champion Colorado Avalanche in the Western Conference final.
"We've just kind of grown as a team from last year," Oilers forward Ryan Nugent-Hopkins said. "The little bit of a run we had last year helps us. Gives us some more confidence.
"At the same time, we understand how hard it is. Every single game in the playoffs is a battle and I think the more experience you have, the more you learn that."
The Oilers (50-23-9) finished second in the Pacific Division ahead of the Los Angeles Kings (47-25-10) in third.
They split the regular-season series, but the Oilers beat the Kings twice in the last three weeks by 3-1 and 2-0 scores.
"It'll be a tight-checking series for sure," Nugent-Hopkins said. "These guys always make it tough to get opportunities and chances, but especially the way we've been playing the last month, we make it tough too."
Game 2 in the best-of-seven series is Wednesday at Rogers, where the Oilers have gone 23-12-6 this season.
The Kings went 26-11-4 at Crypto.com Arena, which is the site of Friday's Game 3 and Sunday's Game 4.
If necessary, Game 5 is April 25, Game 6 is April 29 and Game 7 is May 1.
McDavid, winner of the Art Ross scoring trophy with 64 goals and 89 assists, and Draisaitl are coming in hot with a staggering 116 goals and 281 points between them in 2022-23.
The duo drive a lethal power play that operated at a league-record 32.4 per cent.
Should the Kings try to contain that tandem, the Oilers have other options to poke holes in a defence.
Nugent-Hopkins posting a career-high 37 goals and 67 assists made the Oilers the first team since the 1996 Pittsburgh Penguins to boast three 100-point men in a single season.
Zach Hyman produced a career-high 36 goals.
Kane, who missed 31 games midseason with a wrist slashed by a skate blade, is an X factor who brings both grit and goals.
"He's a warrior who is built for this time of year," Oilers head coach Jay Woodcroft said.
Both clubs will start goaltenders either untested or lightly tested in NHL playoffs.
Hometown product Stuart Skinner, 24, makes his post-season debut for Edmonton.
The Kings' Pheonix Copley also has no previous NHL playoff experience, but Joonas Korpisalo does.
The 28-year-old Finn, who was acquired just before March trade deadline in a goaltending swap that sent Jonathan Quick to Columbus, owns nine post-season starts.
The Kings won't be minus star defenceman Drew Doughty this time against the Oilers.
Doughty underwent season-ending wrist surgery a year ago.
TALE OF THE TAPE:
Regular-season series: 2-2
Goals for per game: Edmonton, 3.96 (1st); Los Angeles, 3.34 (10th).
Top points men: Edmonton, Connor McDavid, 153; Los Angeles, Anze Kopitar 74.
Starting goaltender: Edmonton, Stuart Skinner, 29-14-5, 2.75 GAA, .914 save percentage; Los Angeles, Joonas Korpisalo, 18-14-4, 2.87, .915/Pheonix Copley, 24-6-3, 2.64, .903
Power play percentage: Edmonton, 32.4 (1st); Los Angeles Kings, 25.3 (4th).
Penalty kill percentage: Edmonton, 77 (20th); Los Angeles Kings 75.8 (24th).
The Big Stat: McDavid and Draisaitl scored a combined 53 power-play goals; Adrian Kempe and Victor Arvidsson totalled 21 together for the Kings.
This report by The Canadian Press was first published April 16, 2023.