Whistle Stop Cafe owner challenging lockdown and authorities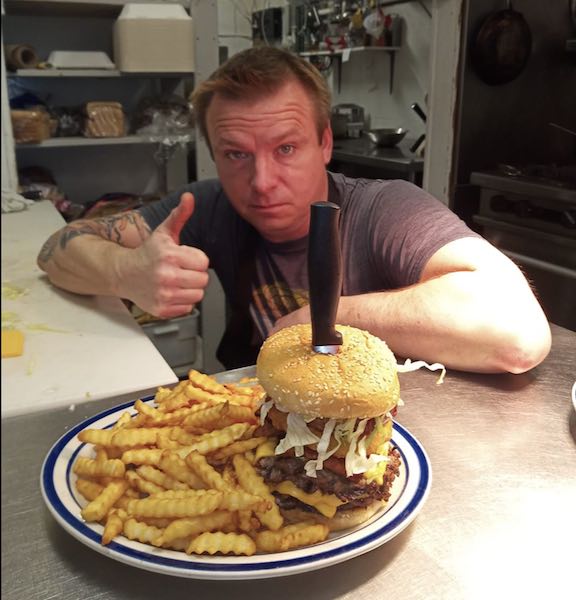 Just a few months ago Mirror, Alberta might have been referred to as UCP heartland.  But things seem to be changing quickly.  One of the hottest spots in the area is Chris Scott's Whistle Stop Cafe.  The owner, Chris Scott opened The Whistle Stop in the middle of Alberta's second lockdown back in January.  Still facing legal action from that lockdown, Chris didn't hesitate to announce he would also be defying Alberta's third lockdown of indoor dining as soon as that was announced.  Hundreds of supporters showed up on the weekend.  They were treated to music, a beer garden, as well as both outdoor patio, and indoor dining options.
As expected The Whistle Stop was visited by an AHS inspector and RCMP members who noted the violations and informed Mr. Scott of impending legal actions against The Whistle Stop Cafe.  All this hasn't slowed Scott down one bit.  As of Tuesday morning, the cafe is open and serving customers (who are warned by staff they could be charged for violating indoor dining restrictions) and Chris Scott is planning for another busy weekend.  Scott addresses his massive social media following daily.  His Tuesday morning address shows just how committed he remains despite the obvious impending showdown sure to take place in the coming days between Scott and AHS as well as the RCMP.
In his facebook post, the owner of The Whistle Stop Cafe almost seems to be daring Premier Jason Kenney to make a move:
Good morning everyone! It's been a busy, stressful couple days for us here. I'm not going into details as they're irrelevant to our vision of serving delicious food, to beautiful people
today could be a very big day for us here at the Whistle Stop Cafe in Mirror, Alberta. We've got a lot on the go including planning this coming weekends festivities here. Live music, karaoke, and wonderful food prepared with care and attention to detail. All of us here believe strongly in taking every precaution with the way we handle food. As a food "service," provider our number one priority is ensuring that what we serve its fresh and safe. We also believe in your choice to either venture out in this dangerous world or stay home and limit your exposure to the thousands of risks we encounter every day. Nobody here will ever judge you for making your own choice. As most of you know, Alberta Health Services suspended our food handling permit yesterday, via EMAIL. Now I could have ignored the email and said I didn't recieved it and made them come out here and deliver themselves, but I didn't. AHS inspectors are not well received these days. And I'm happy to consider them as human beings and keep them out of situations where they may be subject to abusive language and threats. So I accepted the email as it was written and acknowledge the suspension of my permit. However, as a man and a human being I have the right to engage in commerce. I have the right to Life, Liberty and security. These rights are not conditional on any agency "permitting," them. We continue to follow best practices in regards to purchase, storage, and preparation of our food. And we continue to maintain a clean environment in which to serve or consume said food. We will not continue to be bullied into submitting to garbage, harmful, baseless restrictions forced on the people of Alberta by those who will never suffer the consequences of their own actions. We are OPEN for business. And we have some great specials today!
Breakfast- Eggs Kenney served with a side of disobedience. 2 eggs poached one way, then changed to whatever we feel like making up at the time. We will give you ham, sausage, and bacon with your eggs Kenney but then we're going to take back half of it and tell you is for your own good. Comes with hashbrowns on the side, but only if you submit to our stupid rule of clapping three times and saying the word, "knee," (as in the Knights who say, knee. Because it's ridiculous and changes nothing.) $5.00 plus a fee of $7.95 for the permit to eat.
Lunch special today is a UCP burger. Our delicious classic burger! But like our government it will be served open and two-faced with an egg on its face. Comes with delicious freedom fries! $11.95
Soup today is Hinshaw chicken noodle. Chicken soup is good for you! And since Dr. Hinshaw seems to think she's the only person who knows what's good for us I figured it was an appropriate name.
Supper special is whatever you want. We will prepare you anything you like! Because what you put in your body, and where you choose to eat and do business is YOUR CHOICE!!! Keep in mind our kitchen is small so please don't go crazy
our supper special is FREE! And if you feel like donating to our cause we would be very happy to accept it. I heard something about "plague rats," so all donations will go towards cleaning supplies and a consultation with an exterminator because we want ALBERTA TO REMAIN RAT FREE!!!
We're looking forward to seeing you today!! We NEED YOU HERE. We need your support! We need to push back as hard as we can, knowing that we may get sick but doing OF OUR OWN ACCORD!!
Sending love and freedom from the Whistle Stop Cafe in Mirror
Pastor, candidate under restraining order arrested for allegedly breaking COVID laws
CALGARY — A Calgary mayoral candidate who is under a restraining order and a pastor both face charges for allegedly violating COVID-19 laws over the weekend.
The Calgary Police Service alleges Kevin J. Johnston was in violation of a court order when he attended an illegal gathering Saturday morning.
The injunction, obtained by the province's health delivery agency on May 6, mandates that event organizers comply with public health restrictions, including masking, physical distancing and attendance limits.
Police also say Pastor Tim Stephens was arrested Sunday afternoon for organizing a church service that was held earlier in the day at Fairview Baptist Church, which police allege did not comply with public health orders.
Police say they received repeated calls from concerned citizens about services at Fairview Baptist Church in recent weeks, and that Stephens was proactively served a copy of the May 6 order last weekend.
On Friday, Alberta Health Services said the Court of Queen's Bench imposed a restraining order on Johnston, requiring that he stay at least 100 metres away from health officers and must not publish any threats or hate speech directed at them.
Johnston is running in this fall's municipal election and has been a vocal supporter of anti-lockdown protests.
"We are at a critical point in our province's response to the pandemic and citizens must comply with public health orders in order to ensure everyone's safety and well-being," police said in a news release announcing Johnston's arrest.
They didn't say what event he allegedly attended.
Alberta Health Services has said Johnston has been aggressive and threatening towards two particular health workers as well as to the general AHS workforce.
Johnston appears regularly online, promoting far-right ideology.
Premier Jason Kenney tweeted Saturday that he was glad the restraining order was issued, calling Johnston a "nutbar."
Police, meanwhile, said they did not enter Fairview Baptist Church during Sunday morning's service, and that Stephens was arrested in the afternoon.
"The Pastor acknowledged the injunction, but chose to move forward with today's service, ignoring requirements for social distancing, mask wearing and reduced capacity limits for attendees," police stated in a news release.
This report by The Canadian Press was first published May 16, 2021.
The Canadian Press
Big third period lifts Vancouver Canucks to 4-1 victory over Edmonton Oilers
EDMONTON — Matthew Highmore scored twice in the third period Saturday as the Vancouver Canucks topped the Edmonton Oilers 4-1. 
Travis Boyd and Bo Horvat also had goals for the Canucks (22-28-3), and J.T. Miller registered a pair of assists.
Oilers defenceman Adam Larsson opened the scoring with his fourth goal of the season midway through the first period.  
Thatcher Demko had a big performance for Vancouver, stopping 31 shots, including a breakaway chance by Connor McDavid. Mikko Koskinen had 37 saves for Edmonton (35-19-2). 
The result ended a two-game losing skid for the Canucks, who linger at the bottom of the North Division standings with three games left to play. 
With their final playoff tune-up complete, the Oilers will turn their attention to Wednesday's first-round playoff series opener against the visiting Winnipeg Jets.
The Canucks broke the game open midway through the third period.
Highmore's second goal of the afternoon came with 6:33 left to play. He sent a backhand shot towards the Edmonton net from the top of the slot and Koskinen fumbled with the puck before it dribbled over the goal line.
The goal, the Vancouver forward's third of the season, sealed the score at 4-1. 
An odd-man rush saw Highmore blast a shot up and over Koskinen's glove 9:13 into the period. Just 16 seconds later, Boyd snapped a shot past the Edmonton netminder from the middle of the slot to make it 3-1.
The Canucks outshot the Oilers 17-5 in the final frame on Saturday. 
McDavid had a prime chance to add to his NHL-leading 105 points in the third period when he picked up a Canucks turnover in the neutral zone and sped away for a breakaway. 
The Oilers captain attempted to put a wrist shot in from the top of the crease but Demko made a blocker save.
The Canucks netminder kept the score tied at 1-1 with a stellar stop midway through the second period. 
The Oilers were awarded their second power play of the game when Zack MacEwen hauled down Joakim Nygard. Alex Chiasson's snapshot from the bottom of the slot nearly restored Edmonton's lead, but Demko swept it off the goal line with his right pad. 
Edmonton's first power play of the afternoon didn't go as planned. Vancouver's J.T. Miller was called for holding 1:12 into the second period and 15 seconds later, the puck was in the back of the Edmonton net. 
A shot by Leon Draisaitl went wide and was picked up by Tanner Pearson. He streaked up the ice and sent a backhanded pass across the top of the crease to Horvat, who popped it in to tie the game at 1-1. 
It was the Canucks' fifth short-handed goal of the season and Horvat's 18th goal of the year. 
Still stationed in the penalty box, Miller tapped his stick against the glass in appreciation. 
Edmonton was 0 for 3 on the power play and Vancouver went 0 for 2. 
Larsson opened the scoring 12:45 into the opening frame, blasting a slapshot past Demko from above the right faceoff circle. 
McDavid and Draisaitl had assists to extend their point streaks to eight games. McDavid has 21 points (five goals, 16 assists) over the stretch and Draisaitl has 17 points (7-10).  
Edmonton still won the 10-game season series with six victories over Vancouver. 
The Canucks will host the Calgary Flames on Sunday, kicking off a three-game series that will close out the season for both sides. 
Notes: Slater Koekkoek returned to the Oilers lineup after missing 20 games with a broken collarbone. … Canucks defenceman Jalen Chatfield turned 25 on Saturday. 
This report by The Canadian Press was first published May 15, 2021. 
The Canadian Press