Alberta supports the development of Small Modular Nuclear Reactors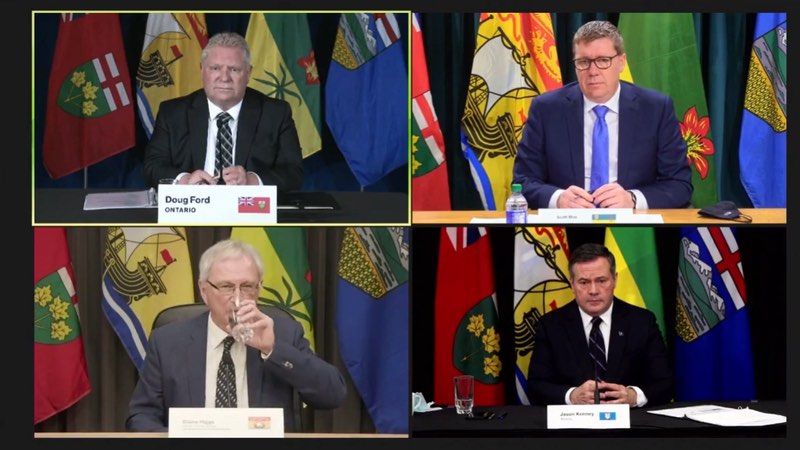 Alberta signs small modular nuclear reactor MOU
Alberta has signed a memorandum of understanding (MOU) with New Brunswick, Ontario and Saskatchewan to support the development of small modular nuclear reactors (SMRs).
Premier Jason Kenney signed the MOU, previously signed by the three other provinces, on April 14. He joined New Brunswick Premier Blaine Higgs, Ontario Premier Doug Ford and Saskatchewan Premier Scott Moe at a virtual event where the premiers shared the findings of a study that examined the feasibility of SMRs in Canada.
"Alberta has always been committed to clean, affordable energy. Small modular reactors are an exciting new technology that could be used in the future to significantly cut greenhouse gas emissions, for example by generating power for Canadian oilsands producers. Nuclear is the cleanest form of electricity production, and with SMRs is now more affordable and scalable for industrial use. We are excited to be part of this group that will help develop Canadian SMR technology."
"Today's announcement confirms the commitment of our provinces to advancing SMRs as a clean energy option, leveraging the strength and knowledge of each of our jurisdictions. This study confirms the feasibility of small modular reactors in Canada and outlines a path forward to deploy this new clean, safe, reliable and competitively priced power. This new technology will help attract investment, create high-skilled jobs and contribute to our growing economy."
"Our government believes the best way to ensure that Canada becomes a leader in advanced small modular reactor development and deployment is through continued engagement and partnerships. New Brunswick has already attracted two tremendous vendors in ARC Clean Energy Canada and Moltex Energy who are now developing their capacity and generating local economic development in the province. New Brunswick is well-positioned to be a world leader in the SMR field."
"It is important that our provinces take these next steps together to continue leading the development of cutting-edge small modular reactors for the benefit of future generations. Ontario is home to a world-class nuclear industry, which we will leverage as we continue our critical work on this innovative technology in order to provide affordable, reliable, safe and clean energy while unlocking tremendous economic potential across the country."
With the addition of Alberta to the MOU, all provinces involved have agreed to collaborate on the advancement of SMRs as a clean energy option to address climate change and regional energy demands while supporting economic growth and innovation.
The SMR Feasibility Study, formally requested as part of the MOU in December 2019, concludes that the development of SMRs would support domestic energy needs, curb greenhouse gas emissions and position Canada as a global leader in this emerging technology. SMRs are nuclear reactors that produce 300 megawatts of electricity or less. They can support large established grids, small grids, remote off-grid communities and resource projects.
The study, conducted by Ontario Power Generation, Bruce Power, NB Power and SaskPower, identifies three streams of SMR project proposals for consideration by the governments of Ontario, New Brunswick and Saskatchewan.
Stream 1 proposes a first grid-scale SMR project of approximately 300 megawatts constructed at the Darlington nuclear site in Ontario by 2028. Subsequent units in Saskatchewan would follow, with the first SMR projected to be in service in 2032.
Stream 2 involves two fourth generation advanced small modular reactors that would be developed in New Brunswick through the construction of demonstration units at the Point Lepreau Nuclear Generating Station. By fostering collaboration among the various research, manufacturing, federal and provincial agencies, an initial ARC Clean Energy demonstration unit plans to be ready by 2030.
Moltex Energy Inc.'s waste recycling facility and reactor is preparing to be ready by the early 2030s. Through ongoing support and collaborations, these advanced technologies could start being deployed as early as 2030 in support of the industrial needs in areas like Saskatchewan, Alberta and around the globe.
Stream 3 proposes a new class of micro-SMRs designed primarily to replace the use of diesel in remote communities and mines. A five-megawatt gas-cooled demonstration project is underway at Chalk River, Ont., with plans to be in service by 2026.
The report identifies the potential for all three streams to create employment and economic growth benefits for Canada, as well as opportunities to export technology and expertise to address global issues such as climate change and energy reliability.
The next action identified in the MOU is the development of a joint strategic plan, to be drafted by the governments of Alberta, New Brunswick, Ontario and Saskatchewan. The plan is expected to be completed this spring.
The partner provinces will continue to work together and across the nuclear industry to help ensure Canada remains at the forefront of nuclear innovation while creating new opportunities for jobs, economic growth, innovation and a lower-carbon future.
Somali-Canadian group says another woman wearing a hijab attacked in Edmonton
EDMONTON — The chair of a group representing Somali Canadians in Edmonton says there has been another local attack on a woman who was wearing a hijab.
Jibril Ibrahim alleges the Somali-Canadian woman was walking by herself in northeast Edmonton on Friday evening when an unknown man grabbed her by her neck and pushed her down to the sidewalk before fleeing the scene.
He says her face was bloodied, some of her teeth are loose and she spent Friday night in hospital.
Police said in an email they are investigating a report of a Black woman in her 50s who was walking in the area at around 9 p.m. when she was assaulted by an unknown suspect.
They said she received treatment for non-life-threatening injuries at a local medical centre and then reported the incident to police.
Ibrahim says the alleged attack, the latest in a spate of similar incidents, has left the woman badly shaken.
"She's traumatized," Ibrahim said in a phone interview after visiting with the woman on Sunday, noting she's afraid now to leave her home alone.
He said she wasn't up to being interviewed on Sunday, and was frightened to appear on camera.
Edmonton has seen a number of alleged attacks on Muslim women in recent months.
City police say two women wearing hijabs were sitting in a mall parking lot in December when a stranger shattered a window, assaulted the passenger as she tried to flee and then assaulted the second woman when she tried to help. A man faces charges of assault and mischief in that case.
In March, a man was charged after three allegedly hate-motivated attacks on women in Edmonton.
In the first, police said the Black victim was followed inside a convenience store on Jan. 18 and allegedly assaulted.
The second and third attacks took place on the same day in early February. One woman was wearing a hijab and the other wore a burqa.
A 44-year-old man faces three counts of uttering threats and three of assault in those incidents.
"What we are aware of is only what has been reported to police. There is more than that, and a lot of people are afraid to report it, afraid that someone is going to follow them to their house," Ibrahim said.
Police said in their email that their Hate Crimes and Violent Extremism Unit has been told about the most recent incident on Friday, but its Investigative Response Team is still handling the case.
The incidents, as well as the deaths of four members of a Muslim family in London, Ont., earlier this month, have many Canadian Muslims on edge.
Ibrahim says the most recent victim has been in Canada for 30 years, and while she's been harassed in shops and other places, she's never experienced such violence.
Alberta Premier Jason Kenney announced on Friday that groups that experience hate crimes will soon be able to apply for grants to pay for security upgrades.
Ibrahim is calling for the bar for hate crimes to be lowered.
"So far, it looks like more or less, our leadership from the prime minister to the mayor, they're hoping that these people will go away. But it doesn't work that way," he said.
This report by The Canadian Press was first published June 13, 2021.
Rob Drinkwater, The Canadian Press
Alberta launches COVID vaccine lottery with million-dollar prizes to encourage uptake
EDMONTON — Alberta is launching a multimillion-dollar lottery in a bid to encourage more residents to get a COVID-19 vaccine. 
Premier Jason Kenney unveiled some details of the "Open for Summer Vaccine Lottery" in a video posted to his Twitter account.
The video, shot at a mass immunization centre in Edmonton, shows Kenney lamenting the lack of crowds at the facility and opining that not enough Alberta residents are seeking protection against COVID-19.
The premier says the lottery will offer three prizes worth $1 million a piece, as well as other unspecified prizes. 
He says the first instalment will be open to Albertans 18 or older who get at least their first dose of vaccine within a week of the day the province partially immunizes 70 per cent of the population.
He says the first grand prize draw will take place the day the province enters Phase 3 of  its pandemic recovery plan, adding more details will be announced in the coming days.
"We need to just nudge those who haven't gotten around to getting their vaccines yet," Kenney said in the video posted Saturday.
"After all, we've had to spend billions of dollars in our health-care system and through supporting people through the past 16 tough months. So if we can just keep pushing up those numbers of people who are vaccinated, that will easily pay for itself in future savings."
As of Friday, the province said almost 69 per cent of those 12 and older had received at least one dose of vaccine. About 729,000 people have had two shots.
Alberta is not the first jurisdiction to unveil incentives to make residents roll up their sleeves for a vaccine shot. Earlier this week, Manitoba announced it would be holding two lottery draws this summer with $100,000 prizes and $25,000 youth scholarships
This report by The Canadian Press was first published June 12, 2021
The Canadian Press