UPDATE: Red Deer family found – safe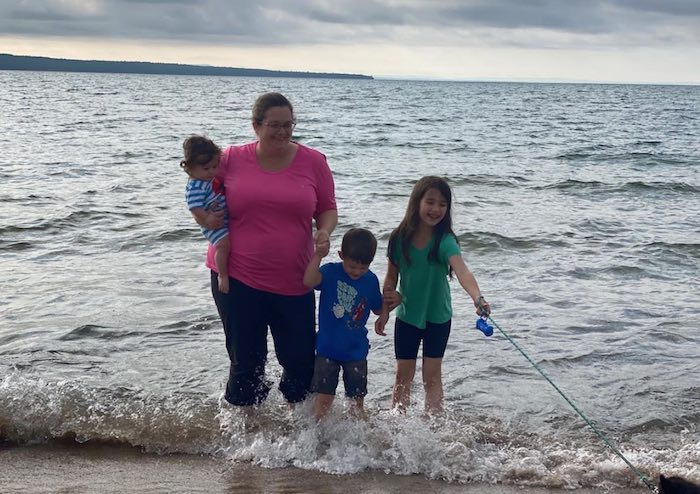 UPDATE!
RCMP are pleased to report that Susan, Deckard, Ryker, Emma, and Charlee have all been located safe. We would like to thank the public and media for their assistance.
Release from Red Deer RCMP
Red Deer RCMP request public assistance to locate missing mother with four children
On Dec. 5, 2022, Red Deer RCMP received a report from a concerned school representative that the whereabouts of a number of students from a family from Red Deer were unknown under concerning circumstances. The children were last seen in school earlier on Dec. 5, 2022.
Red Deer RCMP conducted an investigation and despite all efforts have been unable to locate Susan Lynn French (38) and her four children: Deckard French (11-months-old), Ryker French (3-years-old), Emma French (9-years-old) and Charlee French-Frank (12-years-old). Red Deer RCMP are concerned for their well-being. The family's current whereabouts are unknown.
Susan French is described as:
5'8" tall
240 lbs
Light complexion
Brown hair
Brown eyes
Deckard French (11 months) is described as:
Longer dark brown hair
Hazel eyes
Light complexion
Ryker French (3) is described as:
Short light brown hair
Blue eyes
Light complexion
Emma French (9) is described as:
Long dark brown hair
Brown eyes
Light complexion
Slim build
Charlee French-Frank is described as:
Long brown hair
Brown eyes
Light complexion
It is believed Susan may be driving a White 2014 Nissan Pathfinder bearing Alberta license plate CJS 5362.
Anyone with information concerning Susan or the children's whereabouts is asked to contact the Red Deer RCMP Detachment at 403-406-2200. If you want to remain anonymous, you can contact Crime Stoppers at 1-800-222-8477 (TIPS), online at www.P3Tips.com or by using the "P3 Tips" app available through the Apple App or Google Play Store.
Amid neck hold controversy, Ottawa questioned about methods it wants RCMP to outlaw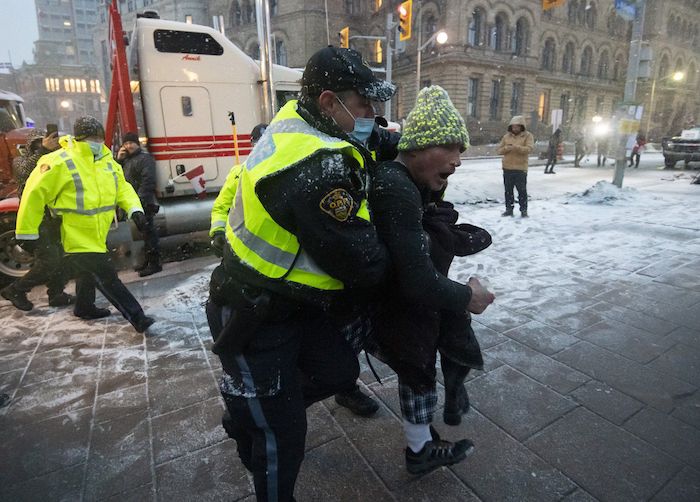 Ottawa – The federal government is facing questions about exactly what kind of force it is asking police to stop using, as the RCMP is criticized over its decision not to outlaw a controversial neck hold.
The RCMP says that it still allows officers to use the "carotid control" hold even though other forces, such as the Ontario Provincial Police, stopped using it three decades ago.
Public Safety Minister Marco Mendicino had directed Commissioner Brenda Lucki to bar police from using the method in a mandate letter last year.
He also asked RCMP to stop using two other tools — tear gas and rubber bullets — that have received less public attention.
Western University criminologist Michael Arntfield says the letter caused confusion because those are "outmoded" methods no longer used by police in Canada, and he is urging Mendicino to clarify whether he meant to ban less-lethal alternatives that the RCMP does use.
Mendicino's office has not responded to questions about the matter.
This report by The Canadian Press was first published Jan. 25, 2023.
New Brunswick man who killed three Mounties in 2014 files appeal of stiff sentence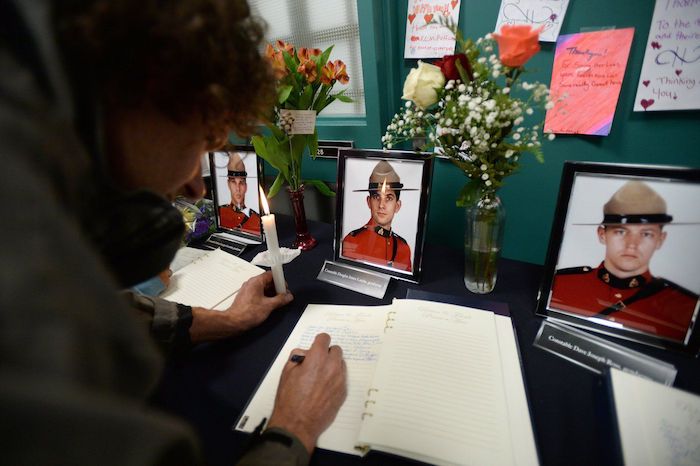 Fredericton – A New Brunswick man who fatally shot three Mounties eight years ago has applied to the province's highest court to have his precedent-setting sentence drastically reduced.
In 2014, Justin Bourque was sentenced to life in prison with no chance of parole for 75 years, which at the time was the harshest penalty imposed by a Canadian court since 1962 — the last time state-sanctioned executions were carried out.
In a notice of appeal filed last month, Bourque's lawyer cites the Supreme Court of Canada's decision in May to strike down a 2011 law that made it possible for judges to extend parole ineligibility periods beyond 25 years for people convicted of multiple murders.
In its decision last year, the Supreme Court said the Criminal Code provision violated the Charter of Rights and Freedoms because it amounted to cruel and unusual punishment for offenders who faced no realistic possibility of being granted parole before they died. The top court also declared the law was invalid retroactive to when it was enacted.
Bourque's lawyer, David Lutz, confirmed Thursday that the New Brunswick Court of Appeal will deal with the matter on Feb. 15, but he said there will be no oral hearing at that time. He declined to comment when asked if the proceeding will be just a formality, given the Supreme Court of Canada's earlier decision.
That unanimous ruling was in response to an appeal filed by Alexandre Bissonnette, who was sentenced to life in prison with no chance of parole for 40 years after he pleaded guilty to fatally shooting six people at a Quebec City mosque in 2017.
A judge found the parole ineligibility provision unconstitutional but did not declare it invalid. Quebec's Court of Appeal subsequently ruled the provision invalid on constitutional grounds. And it said the court must revert to the law as it stood before 2011, meaning parole ineligibility periods are to be served concurrently instead of consecutively, resulting in a total waiting period of 25 years in Bissonnette's case.
Bourque pleaded guilty to three counts of first-degree murder and two counts of attempted murder after targeting RCMP officers on the night of June 4, 2014.
An agreed statement of facts said Bourque's actions in Moncton, N.B., were "planned and deliberate" when he used a semi-automatic rifle to kill constables Dave Ross, 32; Fabrice Gevaudan, 45; and Douglas Larche, 40. Constables Eric Dubois and Darlene Goguen were injured in the shootings.
At his sentencing hearing, the court watched a videotaped statement from Bourque, who said he had wanted to encourage people to rise up against the "soldiers" that defend federal institutions and protect the rich from the poor. He mused about his strict Catholic upbringing, climate change, evolution, social engineering, class warfare, tyrants and threats posed by the Russians and the Chinese.
He was automatically sentenced to life in prison — a minimum 25-year term. As well, the judge decided that under the 2011 law, the 25-year parole ineligibility period required for each first-degree murder conviction would be applied consecutively, meaning Bourque would have to wait 75 years before he could apply for parole.
With the anticipated reduction in that sentence next month, Bourque — who was 24 at the time of the murders — should be able to apply for parole when he is 49 instead of 99.
In its decision, the Supreme Court of Canada said the Charter requires Parliament to leave a door open for rehabilitation. Chief Justice Richard Wagner, writing on behalf of the high court, said the 2011 law authorized the courts to impose "a sentence so absurd that it would bring the administration of justice into disrepute."
The 2011 legislation was called the Protecting Canadians by Ending Sentence Discounts for Multiple Murders Act. It was introduced by the Conservative government led by Prime Minister Stephen Harper.
This report by The Canadian Press was first published Jan. 5, 2023.
— By Michael MacDonald in Halifax.