Identical twins from Red Deer make their NHL debut together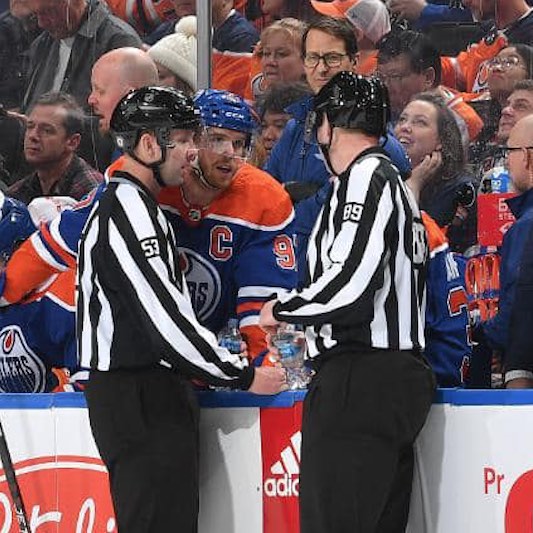 Thanks to their passion for hockey, identical twin brothers Cody and Chad Huseby have been able to spent a lot of time together. The brothers played hockey and baseball growing up in Rocky Mountain House. As teenagers they turned their passion into spending money, lacing up their skates as on-ice officials.
When the Husebys moved to Red Deer to go to college, they took their skates and their whistles with them. They reffed, and took courses, and the assignments came. Eventually both started professional careers in Red Deer. Cody is a teacher with Red Deer Catholic Regional Schools, and Chad is a banker with Servus Credit Union. They both married and have families. They both continued to ref hockey games. For the last 13 years they've been skating in the Western Hockey League and are regulars at Red Deer Rebels games.
Like anyone who laces up the skates, the Husebys have always thought of turning pro. Earlier this season they got their first taste, getting called up to the AHL to officiate some of the home games for the Calgary Wranglers. It looked like one day if they kept at it, they might get a shot at the NHL.
Then all of a sudden, in the matter of a few surprising hours, it happened. In this interview Cody explains how the last day of school before the Christmas break turned into a day he and Chad will never forget.
The Husebys don't just ref hockey, they help coach their kids too. Friends from Chad's team in Red Deer just happened to be at the game in Red Deer. Andrew Russell shared this video profile he took at Rogers Place last Friday night.
Family and friends gathered in various spots from Rocky Mountain House to Red Deer to watch the game Friday. Some tuned in to see the Oilers and were surprised. Others, on the southern side of the Alberta divide, tuned in specifically to see linemen. This feature was captured and shared by Gavin Heintz.
Cody and Chad thoroughly enjoyed their NHL debut and are looking forward to the "next" call up.
"Cook With Meg" creating community through online courses and camps for 3 years now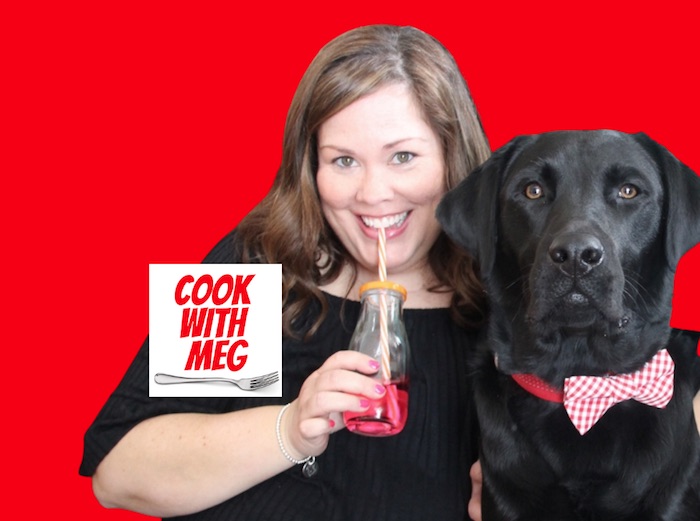 VIRTUAL COOKING SCHOOL THAT STARTED DURING PANDEMIC CELEBRATES 3 YEARS
On March 23, 2020, 27 families from across Canada connected via Zoom amidst the early days of lockdown to Cook with Meg. In this 4 day virtual cooking series, they made Picky Eater Sheet Pan Pancakes, Sticky Chicken Lo-Mein Noodle Bowls, Freaky Friday Fried Rice and That's A Lotsa Pizza D'oh using limited ingredients with former MasterChef Canada finalist Meg Tucker.
Many will remember when food products and ingredients were not readily available, so families used what they had, or what grocery stores click and collect services would provide. Through these daily cooking lessons, families not only cooked together, but formed friendships across the miles. Week after week, month after month, Cook with Meg grew to include families from Canada, USA, Mexico, Costa Rica, New Zealand and the United Kingdom.
Families became friends. We became a Cook with Meg Community.
Today, with over 6000 Zoom connections to thousands of families, the Red Deer and District Chamber of Commerce Small Business of the Year award and hundreds of five star reviews, Cook with Meg continues to thrive. Meg partners with the Egg Farmers of Alberta, Central Alberta Co-op, Alberta Pulse Growers, and Salton Canada to offer incredible experiences to families. She blends her years of experience and talents as a professional cook together by providing live and on-demand cooking classes and camps for families in six countries. Whether it's a class tackling some of the latest food trends, attending a virtual culinary summer camp, or an adult date night class, Meg's passion goes far beyond teaching people how to cook. It's building life skills, it's practicing patience, it's building kitchen confidence, strengthening family bonds and boosting self esteem.
No matter where you live, Meg says "everyone can connect through making and sharing food". To do that, Meg carefully designs her classes and camps in ways that help people to connect with their inner chef and the people around them.
A message from Meg: "To every person that has supported the Cook with Meg adventure. Whether you registered for a class, attended a class, liked a post on social, or shared us with your friends and family, THANK YOU. Thank you to all the families who continue to believe in the value of online learning, specifically in the kitchen. We often get asked if we will transition to "in person" classes, now that "life is getting back to normal". I have one simple answer. I always say we know that virtual and online learning was here before the pandemic, and it's definitely not going anywhere. I love it because for parents, you don't have to pack your kids in the car and drive them all over town. Your kids are getting to learn in YOUR kitchen, using your own appliances and tools. There is no learning curve, only a beautiful path to KITCHEN CONFIDENCE! So the answer is no. We are a virtual cooking school and will remain as such. This allows us to keep our costs low for you, to provide families with an amazing opportunity to learn and make friends all over the world, without boundaries!"
Head to cookwithmeg.com to register for one of our upcoming classes, and watch our social as Summer Camp registration officially opens May 1.
*******************
Meg Tucker has been creating shared experiences through media for over twenty years. Creator of the Shaw TV original kids cooking show Just One Bite, and a top twenty-five finalist on Masterchef Canada, Meg's catchy enthusiasm for life brings joy to everyone she meets in front of and behind her kitchen counter.
When the world shifted in March 2020, Meg made the ultimate pivot to build a food community called Cook with Meg..
Discover "Ultium" – the battery technology powering GM's EV fleet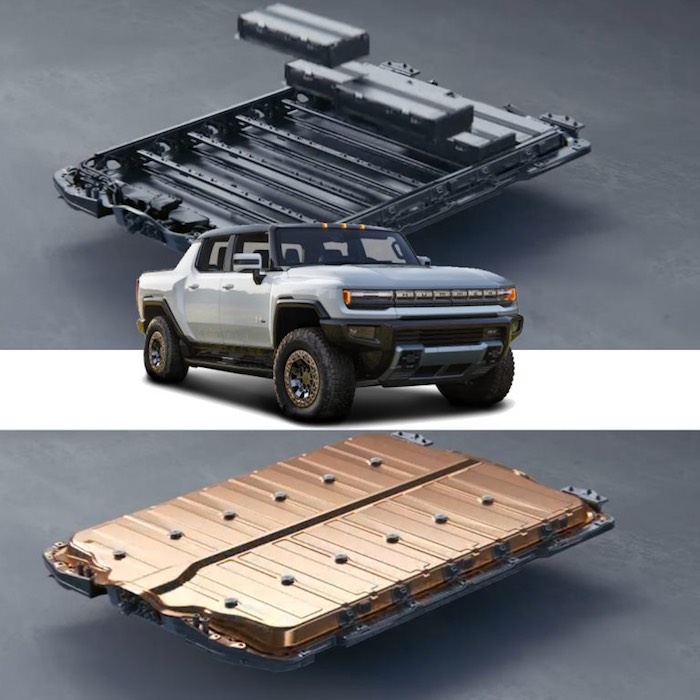 Electric vehicles (EVs) are becoming more popular around the world as people seek environmentally friendly transportation options. However, one of the key challenges facing the EV industry is the development of efficient and reliable battery technology. General Motors (GM), one of the world's leading automobile manufacturers, is taking on this challenge through its Ultium battery technology.
The Ultium battery is a cutting-edge battery system that GM has developed to power its next generation of EVs. This battery system is designed to be flexible, efficient, and cost-effective, making it an ideal solution for EV manufacturers. The Ultium battery is based on a modular design that can be scaled up or down depending on the needs of the vehicle. This means that the same battery system can be used in a wide range of vehicles, from small cars to large trucks.
The Ultium battery system features advanced chemistry that allows for a longer driving range and faster charging times. According to GM, the Ultium battery will be capable of delivering up to 643 kilometers of range on a single charge. This is a significant improvement over the current range of most EVs on the market today. In addition, the Ultium battery system can be charged at rates of up to 200 kW, which means that drivers can add up to 160 kilometers of range in just 10 minutes of charging.
Another key advantage of the Ultium battery system is its cost-effectiveness. GM has designed the battery system to use a minimal amount of rare earth materials, which are often expensive and difficult to source. By reducing its reliance on these materials, GM can reduce the cost of its battery systems, making EVs more affordable for consumers.
In addition to its technological advancements, the Ultium battery system is also environmentally friendly. GM has committed to using 100% renewable energy to power its Ultium battery factories, which will significantly reduce the carbon footprint of the manufacturing process. The company also plans to recycle up to 95% of the battery materials, reducing waste and further reducing the environmental impact of the battery system.
Overall, the Ultium battery system is a significant step forward for the EV industry. With its advanced technology, cost-effectiveness, and environmental sustainability, the Ultium battery system has the potential to revolutionize the way we think about electric vehicles. As more EV manufacturers adopt this technology, we can expect to see a significant increase in the adoption of electric vehicles, leading to a cleaner and more sustainable transportation future.