The West's Green Energy Delusions Empowered Putin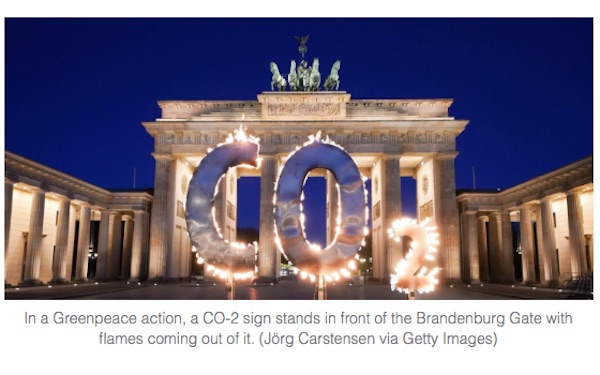 This article submitted by Michael Shellenberger
How has Vladimir Putin—a man ruling a country with an economy smaller than that of Texas, with an average life expectancy 10 years lower than that of France—managed to launch an unprovoked full-scale assault on Ukraine?
There is a deep psychological, political and almost civilizational answer to that question: He wants Ukraine to be part of Russia more than the West wants it to be free. He is willing to risk tremendous loss of life and treasure to get it. There are serious limits to how much the U.S. and Europe are willing to do militarily. And Putin knows it.
Missing from that explanation, though, is a story about material reality and basic economics—two things that Putin seems to understand far better than his counterparts in the free world and especially in Europe.
Putin knows that Europe produces 3.6 million barrels of oil a day but uses 15 million barrels of oil a day. Putin knows that Europe produces 230 billion cubic meters of natural gas a year but uses 560 billion cubic meters. He knows that Europe uses 950 million tons of coal a year but produces half that.
The former KGB agent knows Russia produces 11 million barrels of oil per day but only uses 3.4 million. He knows Russia now produces over 700 billion cubic meters of gas a year but only uses around 400 billion. Russia mines 800 million tons of coal each year but uses 300.
That's how Russia ends up supplying about 20 percent of Europe's oil, 40 percent of its gas, and 20 percent of its coal.
The math is simple. A child could do it.
The reason Europe didn't have a muscular deterrent threat to prevent Russian aggression—and in fact prevented the U.S. from getting allies to do more—is that it needs Putin's oil and gas.
The question is why.
How is it possible that European countries, Germany especially, allowed themselves to become so dependent on an authoritarian country over the 30 years since the end of the Cold War?
Here's how: These countries are in the grips of a delusional ideology that makes them incapable of understanding the hard realities of energy production. Green ideology insists we don't need nuclear and that we don't need fracking. It insists that it's just a matter of will and money to switch to all-renewables—and fast. It insists that we need"degrowth" of the economy, and that we face looming human "extinction." (I would know. I myself was once a true believer.)
John Kerry, the United States' climate envoy, perfectly captured the myopia of this view when he said, in the days before the war, that the Russian invasion of Ukraine "could have a profound negative impact on the climate, obviously. You have a war, and obviously you're going to have massive emissions consequences to the war. But equally importantly, you're going to lose people's focus."
But it was the West's focus on healing the planet with "soft energy" renewables, and moving away from natural gas and nuclear, that allowed Putin to gain a stranglehold over Europe's energy supply.
As the West fell into a hypnotic trance about healing its relationship with nature, averting climate apocalypse and worshiping a teenager named Greta, Vladimir Putin made his moves.
While he expanded nuclear energy at home so Russia could export its precious oil and gas to Europe, Western governments spent their time and energy obsessing over "carbon footprints," a term created by an advertising firm working for British Petroleum. They banned plastic straws because of a 9-year-old Canadian child's science homework. They paid for hours of "climate anxiety" therapy.
While Putin expanded Russia's oil production, expanded natural gas production, and then doubled nuclear energy production to allow more exports of its precious gas, Europe, led by Germany, shut down its nuclear power plants, closed gas fields, and refused to develop more through advanced methods like fracking.
The numbers tell the story best. In 2016, 30 percent of the natural gas consumed by the European Union came from Russia. In 2018, that figure jumped to 40 percent. By 2020, it was nearly 44 percent, and by early 2021, it was nearly 47 percent.
For all his fawning over Putin, Donald Trump, back in 2018, defied diplomatic protocol to call out Germany publicly for its dependence on Moscow. "Germany, as far as I'm concerned, is captive to Russia because it's getting so much of its energy from Russia," Trump said. This prompted Germany's then-chancellor, Angela Merkel, who had been widely praised in polite circles for being the last serious leader in the West, to say that her country "can make our own policies and make our own decisions."
The result has been the worst global energy crisis since 1973, driving prices for electricity and gasoline higher around the world. It is a crisis, fundamentally, of inadequate supply. But the scarcity is entirely manufactured.
Europeans—led by figures like Greta Thunberg and European Green Party leaders, and supported by Americans like John Kerry—believed that a healthy relationship with the Earth requires making energy scarce. By turning to renewables, they would show the world how to live without harming the planet. But this was a pipe dream. You can't power a whole grid with solar and wind, because the sun and the wind are inconstant, and currently existing batteries aren't even cheap enough to store large quantities of electricity overnight, much less across whole seasons.
In service to green ideology, they made the perfect the enemy of the good—and of Ukraine.
Take Germany.
Green campaigns have succeeded in destroying German energy independence—they call it Energiewende, or "energy turnaround"—by successfully selling policymakers on a peculiar version of environmentalism. It calls climate change a near-term apocalyptic threat to human survival while turning up its nose at the technologies that can help address climate change most and soonest: nuclear and natural gas.
At the turn of the millennium, Germany's electricity was around 30 percent nuclear-powered. But Germany has been sacking its reliable, inexpensive nuclear plants. (Thunberg called nuclear power "extremely dangerous, expensive, and time-consuming" despite the UN's International Panel on Climate Change deeming it necessary and every major scientific review deeming nuclear the safest way to make reliable power.)
By 2020, Germany had reduced its nuclear share from 30 percent to 11 percent. Then, on the last day of 2021, Germany shut down half of its remaining six nuclear reactors. The other three are slated for shutdown at the end of this year. (Compare this to nextdoor France, which fulfills 70 percent of its electricity needs with carbon-free nuclear plants.)
Germany has also spent lavishly on weather-dependent renewables—to the tune of $36 billion a year—mainly solar panels and industrial wind turbines. But those have their problems. Solar panels have to go somewhere, and a solar plant in Europe needs 400 to 800 times more land than natural gas or nuclear plants to make the same amount of power. Farmland has to be cut apart to host solar. And solar energy is getting cheaper these days mainly because Europe's supply of solar panels is produced by slave labor in concentration camps as part of China's genocide against Uighur Muslims.
The upshot here is that you can't spend enough on climate initiatives to fix things if you ignore nuclear and gas. Between 2015 and 2025, Germany's efforts to green its energy production will have cost $580 billion. Yet despite this enormous investment, German electricity still costs 50 percent more than nuclear-friendly France's, and generating it produces eight times more carbon emissions per unit. Plus, Germany is getting over a third of its energy from Russia.
Germany has trapped itself. It could burn more coal and undermine its commitment to reducing carbon emissions. Or it could use more natural gas, which generates half the carbon emissions of coal, but at the cost of dependence on imported Russian gas. Berlin was faced with a choice between unleashing the wrath of Putin on neighboring countries or inviting the wrath of Greta Thunberg. They chose Putin.
Because of these policy choices, Vladimir Putin could turn off the gas flows to Germany, and quickly threaten Germans' ability to cook or stay warm. He or his successor will hold this power for every foreseeable winter barring big changes. It's as if you knew that hackers had stolen your banking details, but you won't change your password.
This is why Germany successfully begged the incoming Biden administration not to oppose a contentious new gas pipeline from Russia called Nord Stream 2. This cut against the priorities of green-minded governance: On day one of Biden's presidency, one of the new administration''s first acts was to shut down the Keystone XL oil pipeline from Canada to the U.S. in service to climate ideology. But Russia's pipeline was too important to get the same treatment given how dependent Germany is on Russian imports. (Once Russia invaded, Germany was finally dragged into nixing Nord Stream 2, for now.)
Naturally, when American sanctions on Russia's biggest banks were finally announced in concert with European allies last week, they specificallyexempted energy products so Russia and Europe can keep doing that dirty business. A few voices called for what would really hit Russia where it hurts: cutting off energy imports. But what actually happened was that European energy utilities jumped to buy more contracts for the Russian oil and gas that flows through Ukraine. That's because they have no other good options right now, after green activism's attacks on nuclear and importing fracked gas from America. There's no current plan for powering Europe that doesn't involve buying from Putin.
We should take Russia's invasion of Ukraine as a wake-up call. Standing up for Western civilization this time requires cheap, abundant, and reliable energy supplies produced at home or in allied nations. National security, economic growth, and sustainability requires greater reliance on nuclear and natural gas, and less on solar panels and wind turbines, which make electricity too expensive.
The first and most obvious thing that should be done is for President Biden to call on German Chancellor Scholz to restart the three nuclear reactors that Germany closed in December. A key step in the right direction came on Sunday when Vice-Chancellor Robert Habeck, the economy and climate minister, announced that Germany would at least consider stopping its phaseout of nuclear. If Germany turns these three on and cancels plans to turn off the three others, those six should produce enough electricity to replace 11 billion cubic meters of natural gas per year—an eighth of Germany's current needs…
Subscribe to Michael Shellenberger to read the rest.
Become a paying subscriber of Michael Shellenberger to get access to this post and other subscriber-only content.
Collapse of major dam in southern Ukraine triggers emergency as Moscow and Kyiv blame each other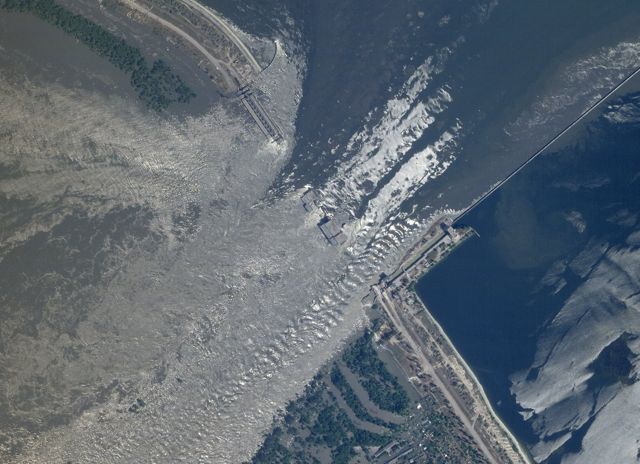 By Vasilisa Stepanenko And Susie Blann in Kherson
KHERSON, Ukraine (AP) — A major dam in southern Ukraine collapsed Tuesday, triggering floods, endangering crops in the country's breadbasket and threatening drinking water supplies as both sides in the war scrambled to evacuate residents and blamed each other for the destruction.
Ukraine accused Russian forces of blowing up the Kakhovka dam and hydroelectric power station on the Dnieper River in an area that Moscow has controlled for over a year, while Russian officials blamed Ukrainian bombardment in the contested area. It was not possible to verify the claims.
The environmental and social consequences quickly became clear as homes, streets and businesses flooded downstream and emergency crews began evacuations; officials monitored cooling systems at the Zaporizhzhia Nuclear Power Plant; and authorities expressed concern about supplies of drinking water to the south in Crimea, which Russia illegally annexed in 2014.
In the downstream city of Kherson, a woman who gave her name only as Tetyana waded through thigh-deep water to reach her flooded house and rescue her dogs. They were standing on any dry surface they could find but one pregnant dog was missing. "It's a nightmare," she kept repeating, declining to give her full name.
Both Russian and Ukrainian authorities brought in trains and buses for residents. About 22,000 people live in areas at risk of flooding in Russian-controlled areas, while 16,000 live in the most critical zone in Ukrainian-held territory, according to official tallies. Neither side reported any deaths or injuries.
A satellite photo Tuesday morning by Planet Labs PBC analyzed by The Associated Press showed a large portion of the dam's wall, more than 600 meters (over 1,900 feet), missing.
The dam break added a stunning new dimension to Russia's war, now in its 16th month. Ukrainian forces were widely seen to be moving forward with a long-anticipated counteroffensive in patches along more than 1,000 kilometers (621 miles) of front line in the east and south.
It was not immediately clear whether either side benefits from the dam's collapse, since both Russian-controlled and Ukrainian-held lands are at risk. The damage could also hinder Ukraine's counteroffensive in the south and distract its government, while Russia depends on the dam to supply water to Crimea.
Although Kyiv officials claimed Russia blew it up to hinder the counteroffensive, observers note that crossing the broad Dnieper would be extremely challenging for the Ukrainian military. Other sectors of the front line are more likely avenues of attack, analysts say.
Even so, Nigel Gould-Davies, a senior fellow for Russia and Eurasia at the International Institute for Strategic Studies, said the alleged Russian destruction of the dam "betrays a lack of confidence, a profoundly defensive measure, the lack of confidence in Russia's longer-term prospects" in the war.
Experts have previously said the dam was in disrepair, which could also have led to the breach. David Helms, a retired American scientist who has monitored the reservoir since the war began, said in an email that it wasn't clear if the damage was deliberate or simple neglect from Russian forces occupying the facility.
But Helms also noted a Russian history of attacking dams.
Underscoring the global repercussions, wheat prices jumped 3% after the collapse. It's unclear whether the surge in wheat prices was due to a real threat of floodwaters destroying crops. Ukraine and Russia are key global suppliers of wheat, barley, sunflower oil and other food to Africa, the Middle East and parts of Asia.
Authorities, experts and residents have expressed concern for months about water flowing through — and over — the Kakhovka dam. After heavy rains and snow melt last month, water levels rose beyond normal, flooding nearby villages. Satellite images showed water washing over damaged sluice gates.
Amid official outrage, Ukrainian President Volodymyr Zelenskyy convened an urgent meeting of the National Security Council. He alleged Russian forces set off a blast inside the dam structure at 2:50 a.m. (2350 GMT Monday, 7:50 p.m. EDT Monday) and said about 80 settlements were in danger. Zelenskyy said in October that Russia had mined the dam and power plant.
But Kremlin spokesman Dmitry Peskov called it "a deliberate act of sabotage by the Ukrainian side … aimed at cutting water supplies to Crimea."
White House officials were trying to assess potential impacts of the dam collapse and were looking to see what humanitarian assistance can be provided to Ukrainians who are being displaced, according to a U.S. official who spoke on condition of anonymity and was not authorized to comment publicly.
Both sides warned of a looming environmental disaster. Ukraine's Presidential Office said some 150 metric tons of oil escaped from the dam machinery and that another 300 metric tons could still leak out.
Andriy Yermak, the head of Ukraine's President's Office, posted video showing the flooded streets of Russian-occupied Nova Kakhovka, a city in the Kherson region where about 45,000 people lived before the war.
Ukraine's Interior Ministry urged residents of 10 villages on the Dnieper's right bank and parts of the city of Kherson to gather essential documents and pets, turn off appliances, and leave, while cautioning against possible disinformation.
The Russian-installed mayor of occupied Nova Kakhovka, Vladimir Leontyev, said it was being evacuated as water poured in.
Ukraine's nuclear operator Energoatom said via Telegram that the damage to the dam "could have negative consequences" for the Zaporizhzhia Nuclear Power Plant, which is Europe's biggest, but wrote that for now the situation is "controllable."
The U.N.'s International Atomic Energy Agency said there was "no immediate risk to the safety of the plant," which has been shut down for months but still needs water for its cooling system. It said that IAEA staff on site have been told the dam level is falling by 5 centimeters (2 inches) an hour. At that rate, the supply from the reservoir should last a few days, it said.
The plant also has alternative sources of water, including a large cooling pond than can provide water "for some months," the statement said.
Ukrainian authorities have previously warned that the dam's failure could unleash 18 million cubic meters (4.8 billion gallons) of water and flood Kherson and dozens of other areas where thousands live.
The World Data Center for Geoinformatics and Sustainable Development, a Ukrainian nongovernmental organization, estimated that nearly 100 villages and towns would be flooded. It also reckoned that the water level would start dropping only after 5-7 days.
A total collapse in the dam would wash away much of the broad river's left bank, according to the Ukraine War Environmental Consequences Working Group, an organization of environmental activists and experts documenting the war's environmental effects.
Mykhailo Podolyak, a senior adviser to Zelenskyy, said that "a global ecological disaster is playing out now, online, and thousands of animals and ecosystems will be destroyed in the next few hours."
Video posted online showed floodwaters inundating a long roadway; another showed a beaver scurrying for high ground.
The incident also drew international condemnation, including from German Chancellor Olaf Scholz and NATO Secretary-General Jens Stoltenberg, who said the "outrageous act … demonstrates once again the brutality of Russia's war in Ukraine."
Ukraine controls five of the six dams along the Dnieper, which runs from its northern border with Belarus down to the Black Sea and is crucial for the country's drinking water and power supply.
Ukraine's state hydro power generating company said the dam's power station "cannot be restored." Ukrhydroenergo also claimed Russia blew up the station from inside the engine room.
Ukraine and Russia have previously accused each other of attacking the dam.
___
Blann reported from Kyiv. Associated Press writer Danica Kirka in London contributed.
Europe OKs plan to tally cost of Moscow's war in Ukraine with eye toward future reparations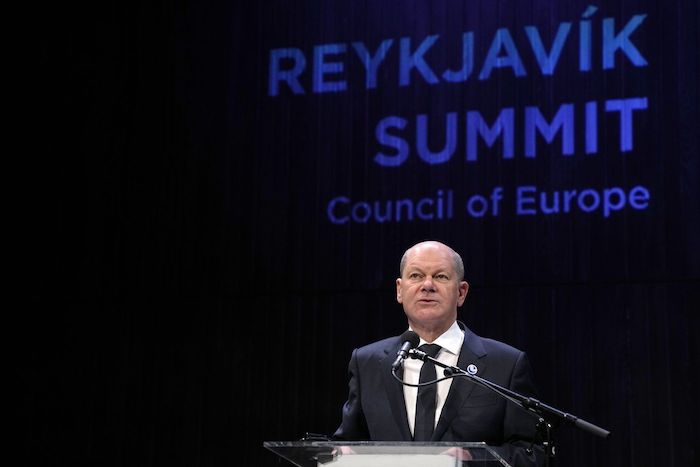 Germany's Chancellor Olaf Scholz speaks during a media conference at the Council of Europe summit in Reykjavik, Iceland, Wednesday, May 17, 2023. Leaders from across Europe were wrapping a two-day summit on Wednesday, putting the final touches on a system to establish the damage Russia is causing during the war in Ukraine, in the hopes it can be forced to compensate victims and help rebuild the nation once the conflict is over. (AP Photo/Alastair Grant)
By Molly Quell in Reykjavik
REYKJAVIK, Iceland (AP) — More than 40 nations agreed Wednesday to set up a system to tally the damage Russia has inflicted on Ukraine in the hope of getting reparations, adding to the international legal challenges the Kremlin is facing.
The register of damages, which will allow Ukrainian victims of war to catalog the harm they have suffered, found a plethora of support among the 46-nation Council of Europe summit in Iceland. Participants also discussed the details of a potential future tribunal where Russia would face charges for waging war.
"This Reykjavik summit shows clearly that Putin has failed with his calculations – he wanted to divide Europe and has achieved the opposite," said German Chancellor Olaf Scholz. "We stand closer together in Europe than ever before."
While leaders were at the waterside venue on the far-flung island nation for two days, the United Nations' top court announced it would hold hearings next month in a case between Russia and Ukraine. Kyiv claims Moscow is discriminating against minority groups in occupied Crimea and is financing terrorism in the region.
But even if Ukraine prevails at The Hague-based International Court of Justice, a ruling wouldn't make whole the millions of Ukrainians whose homes and lives have been torn apart by the conflict.
In theory, victims might have better luck at the Council of Europe's own court, the European Court of Human Rights, where Moscow is facing thousands of complaints of human rights violations, including three brought by Ukraine. The Strasbourg-based court can order countries to pony up restitution, but Russia's neighbor Georgia has been yet unable to collect for damages inflicted by Moscow when it invaded in 2008.
However, Russia was expelled from the council last year, in the wake of the full-scale invasion of Ukraine. And as long ago as 2015, it passed a law allowing it to overrule judgements from the ECHR.
Neither the court, nor the council, now has any channel of communication with the Russian authorities.
The damages register is seen as a first step toward justice in Ukraine. "Accountability is one of the topics that is of crucial importance," Marija Pejcinovic Buric, Secretary General of the Council of Europe, told the AP in an interview.
Compiling a comprehensive register of the destruction may be a first step: it's unclear what else might follow. The Council of Europe has made it clear that it will not assess the credibility of any claims, nor will it fund reparations payments. Those decisions will be left for other potential future institutions to determine.
Little wonder that Ukrainian President Volodymyr Zelenskyy, addressing the summit from Kyiv, reiterated his country's wish for such a court specifically for the prosecution of Russian aggression. In addition to military aid, another conference topic, he said his country needed "100% of justice, as there will be no reliable peace without justice."
While international institutions may be bogged down in overcoming legal hurdles to accountability, a group of squatters in Amsterdam has cut through the red tape – and the locks of the $3.5 million Amsterdam home belonging to one of Russia's sanctioned oligarchs.
A court in the Dutch city ruled on Wednesday that an anarchist group, who took over the Russian tech billionaire Arkady Volozh's house in October, could remain in the five-story, 19th-century mansion so long as they didn't annoy the neighbors.