THE HALFTIME REPORT News from the Alberta Sports Hall of Fame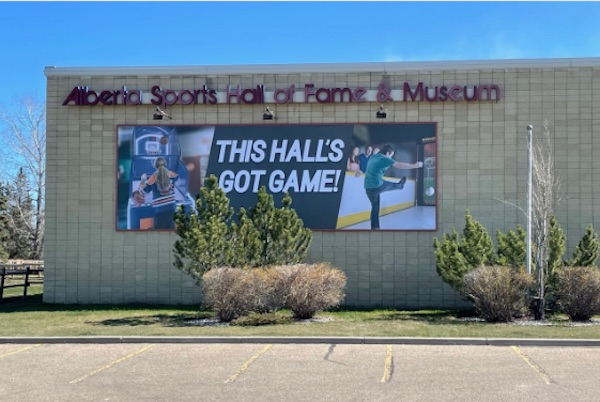 ASHFM Staff Supporting Their Favourite Alberta Teams
The Battle of Alberta was fantastic. Let's do this again soon! This is the first time the Edmonton Oilers and the Calgary Flames have met during the NHL Playoffs since 1991. The Alberta Sports Hall of Fame had a ton of fun creating a number of different ways for Albertans to learn about and participate in the rivalry.
We created a poll where visitors to the museum placed a sticker on our board to indicate which Albertan NHL team they cheer for. Those unable to stop in were encouraged to comment on our social media posts, telling us their team, so we could place the sticker for them. Both teams had over 200 votes, with the total climbing higher each day.
We also highlighted some of our honoured members who have played for, or been associated with either of these teams, such as Wayne Gretzky, Michael Vernon, Glen Sather, and Peter Maher.
Other initiatives include Jersey Day, where visitors who come in on a Battle of Alberta game day wearing a Flames or Oilers jersey get 50% off of their admission into the museum, highlighting iconic BoA moments through Youtube, and more!
This newsletter is sponsored by the RBC Foundation.
Honoured Member in Focus: Wayne Bowes and Bob Daku
Wayne Bowes and Bob Daku began playing racquetball together in 1969, after meeting at the Lethbridge YMCA. They dominated the Canadian Open Men's Doubles in racquetball from 1974 to 1982. Together, they won nine consecutive national titles.
Besides their national titles, this team won numerous Alberta crowns and competed at the 1974 World Amateur Racquetball Championships. They won two more titles, in 1984 and 1985, and then retired from competitive racquetball with eleven of thirteen national titles.
For more information about this team, please see their Honoured Member Profile, linked below.
Provincial Sport Organization: Alberta Racquetball Association
The Alberta Racquetball Association's vision is to make racquetball accessible to all Albertans and to be a national leader in programming, athlete development, and good governance.Its mission is to facilitate the participation and enjoyment of racquetball through the delivery of programs, access to resources, the development of coaches and officials, and support to clubs and affiliates.
They strive to build a strong future and legacy for racquetball by supporting competitive athletes, fostering lifelong participants and aim to increase involvement and accessibility at all levels through promotion, advocacy, and funding.
Artifact in Focus!

The artifact that we are highlighting is a racquetball racquet. The cover is made of faux, brown, leather.
Next time you're driving down the QEII you will notice the new billboard on our building! Our new billboard reads "This Hall's Got Game," and is visible from Highway 2.
Honoured Member Theo Fleury Visits ASHFM
Honoured Member Theo Fleury stopped by the Alberta Sports Hall of Fame recently to film a promotional video.
To learn more about Theo Fleury, please click on the link to his profile below.
Leave a legacy​
The Alberta Sports Hall of Fame needs your support to continue the ongoing preservation of Alberta's sports history and the development of museum exhibits. We are grateful and appreciative of the generosity of our supporters and friends. We would be happy to assist you in choosing how your personal legacy will be fulfilled and the many options available. Here is some information on donating shares to ASHFM and the benefits to you as a donor.
Copyright © 2021 The Alberta Sports Hall of Fame, All rights reserved.
Our mailing address is:
Alberta Sports Hall of Fame
#102 – 4200 Highway 2
Red Deer, AB T4N 1E3
(403) 341- 8614
[email protected]
Alberta to bring in another five million bottles of children's pain medication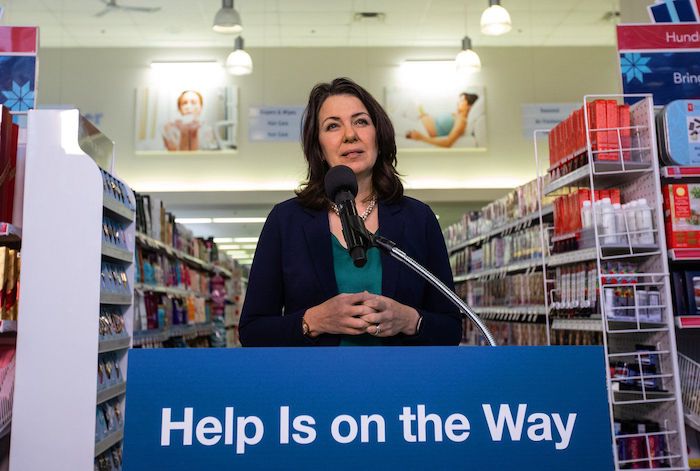 The Alberta government says it has secured another five million bottles of children's medication to manage fever and pain.
Premier Danielle Smith says the government is working with Alberta Health Services and Health Canada to bring in the pediatric acetaminophen and ibuprofen.
Parents across Canada have been scrambling to manage their children's fever and pain as rates of respiratory syncytial virus, or RSV, and influenza skyrocket amid a dire shortage of the medications.
Smith says overwhelmed parents can feel confident the government is moving as quickly as it can to bring in the medication and get it to pharmacies across the province.
The federal government also imported one million units of children's acetaminophen — commonly known as Tylenol — across the country late last month.
Health Canada has distributed the children's Tylenol to retailers and has also sent children's ibuprofen — commonly known as Advil — to hospitals.
This report by The Canadian Press was first published Dec. 6, 2022.
CannTrust CEO was warned over illicit pot growing: former compliance worker
TORONTO — A former director of quality and compliance at CannTrust Holdings Inc. says he warned the company's chief executive that Health Canada could levy penalties if the firm grew pot in unlicensed rooms at its Niagara, Ont. facility.
In the months leading up to Health Canada finding pot growing in unlicensed rooms, Graham Lee said Tuesday that he told Peter Aceto he couldn't say what the exact consequences could be, but knew the government regulator had previously issued warning letters and handed out penalties.
For example, Lee said Health Canada reviewed CannTrust's inventory more extensively after it discovered the company using a storage facility at its Vaughan, Ont. location contrary to licensing.
"In general, Health Canada was there every day checking up on the inventory," Lee recalled.
His comments were made at the Old City Hall courthouse in Toronto in response to questioning from Dihim Emami, a lawyer representing the Ontario Securities Commission (OSC) in a case aiming to prove Aceto and other former CannTrust executives are guilty of several offences related to unlicensed growing at the Niagara facility.
Aceto, former CannTrust chairman Eric Paul and former vice-chairman Mark Litwin have pleaded not guilty to fraud and authorizing, permitting or acquiescing in the commission of an offence.
Litwin and Paul are also facing insider trading charges, and Litwin and Aceto are charged with making a false prospectus and false preliminary prospectus.
The OSC and Royal Canadian Mounted Police allege Litwin, Aceto and Paul did not disclose to investors that about 50 per cent of the growing space at CannTrust's Pelham, Ont. facility in the Niagara area was not licensed by Health Canada. They say the men used corporate disclosures to assert that they were compliant with regulatory approvals.
They also allege that Litwin and Aceto signed off on prospectuses used to raise money in the U.S., which stated that CannTrust was fully licensed and compliant with regulatory requirements, and that Litwin and Paul traded shares of CannTrust while in possession of material, undisclosed information regarding the unlicensed growing.
The men no longer work for CannTrust and their lawyers are arguing their clients are all innocent.
Frank Addario, Aceto's lawyer, previously told The Canadian Press his client was hired because of his financial acumen and track record. Before his time at CannTrust, Aceto was the president and chief executive of ING Direct Canada.
Addario also pointed out that CannTrust was subject to inspections and financial audits that uncovered no material issues.
"The evidence will show Peter Aceto behaved legally and with integrity during his time at CannTrust," Addario said in an email.
However, Lee testified Monday that the growth of cannabis in unlicensed rooms was "very openly discussed" at the pot company.
"There was no hiding this. There was no denial of this," he said.
On Tuesday, he reinforced those allegations, describing how he brought up his concerns about unlicensed activity during at least one meeting in winter 2019 that he recalled Aceto attended.
"I noticed that no one in the room was referring to or cognizant of the fact that these were unlicensed areas, so I reminded them," Lee said.
This report by The Canadian Press was first published Dec. 6, 2022.
Tara Deschamps, The Canadian Press