Students Enjoy Authentic Learning At Father Henri Voisin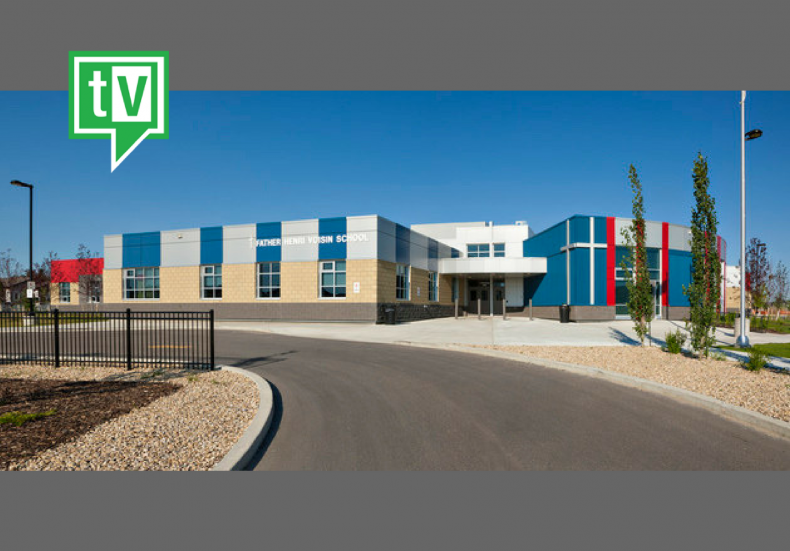 By Sheldon Spackman
Students at Red Deer's Father Henri Voisin School in Red Deer showcased their hard work with authentic learning this past year, during an "Exhibition of Learning" held at the Clearview Ridge school on Wednesday night.
In front of a packed house, the students in grades 1 – 5 kicked-off the evening with an innovative musical performance using buckets and basketballs done in the spirit of "Stomp", much to the crowd's delight.
However, soon afterwards the students enjoyed sharing their wide variety of project-based learning initiatives with family, friends and community members, including Red Deer City Councillor Frank Wong.
It was an evening of both pride and accomplishment felt by everyone who was there.
If You Stand Up In Defence Of Oil And Gas You Risk Looking Like A Climate Change Denier
For more videos, see WeMaple.
Hidden Valley and Valley Creek Schools Team Up for Traffic Safety with New Signage
March 31, 2021 – Calgary, AB
The Parent Council of both Hidden Valley and Valley Creek Schools have a new sign in place to show they care about the safety of our children. As part of an ongoing awareness campaign to promote traffic safety this new sign not only draws attention to the school zone, but lists traffic rules and fines to educate and serves as a reminder to drivers in the community.
For several years, in collaboration, the schools have been working hard to educate the students on traffic safety education and awareness. In 2019, Hidden Valley School Parent Council received a Traffic Safety Fund Grant from the Ministry of Transportation to help with this goal and they been continuing to inform the community and students since.
From in-class instruction by the Calgary Police Service, to Street Safe Activity Books and Hug N' Go flags in front of the school, the safety of students has been the number one goal. In order to alleviate some of the traffic congestion during bell times, the school hosts an annual walk/wheel week each spring to promote active school travel to students and their families.
Read more on Todayville.