Check Out The Progress On Red Deer's Newest Elementary School!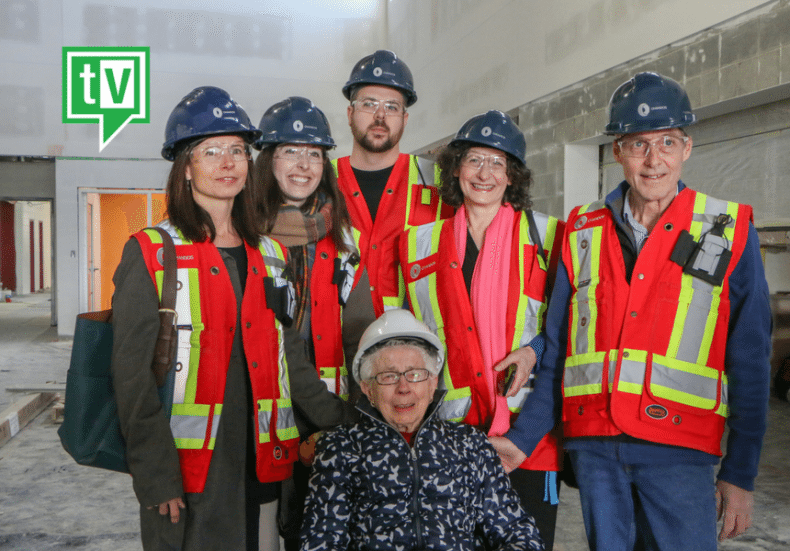 (Centre front – Millie Campbell  Back row left to right – Julie Hansen, Jessica Hartel, TJ Hartel, Jan Ludwig, Jeff Ludwig)
Written by Sheldon Spackman / Photos and Video by Lindsay Wiebe
Construction on Red Deer's newest elementary school is running on budget and ahead of schedule. That, according to Red Deer Public School District officials who say they will be able to take possession of the new building on May 2nd, well ahead of the first day of school in September.
It's anticipated 350 students will be there on opening day, with initial capacity to be 500 and room to grow with the help of portables from there. The school on Irving Crescent in Inglewood will serve students from that neighbourhood and Ironstone as well, plus the Vanier/Vanier East neighbourhoods.
Jan Ludwig is the late Don Campbell's eldest daughter and says her father would have been "Over the moon" if he were here to see the school. School Board Chair Bev Manning says Don Campbell Elementary will help alleviate crowding pressures currently being felt in other elementary schools. Principal Cam Pizzey says he known the Campbell family for decades and is honoured to be it's first Principal.
District officials are proud of  the school's amazing learning spaces, including 2 outdoor classrooms. A partnership with the City of Red Deer is also anticipated to provide space for community activities and events.
If You Stand Up In Defence Of Oil And Gas You Risk Looking Like A Climate Change Denier
For more videos, see WeMaple.
Hidden Valley and Valley Creek Schools Team Up for Traffic Safety with New Signage
March 31, 2021 – Calgary, AB
The Parent Council of both Hidden Valley and Valley Creek Schools have a new sign in place to show they care about the safety of our children. As part of an ongoing awareness campaign to promote traffic safety this new sign not only draws attention to the school zone, but lists traffic rules and fines to educate and serves as a reminder to drivers in the community.
For several years, in collaboration, the schools have been working hard to educate the students on traffic safety education and awareness. In 2019, Hidden Valley School Parent Council received a Traffic Safety Fund Grant from the Ministry of Transportation to help with this goal and they been continuing to inform the community and students since.
From in-class instruction by the Calgary Police Service, to Street Safe Activity Books and Hug N' Go flags in front of the school, the safety of students has been the number one goal. In order to alleviate some of the traffic congestion during bell times, the school hosts an annual walk/wheel week each spring to promote active school travel to students and their families.
Read more on Todayville.