Strongest earthquake in 20 years rattles Southern California
LOS ANGELES — The strongest earthquake in 20 years shook a large swath of Southern California and parts of Nevada on the July 4th holiday, rattling nerves and causing injuries and damage in a town near the epicenter, followed by a swarm of ongoing aftershocks.
The 6.4 magnitude quake struck at 10:33 a.m. Thursday in the Mojave Desert, about 150 miles (240 kilometres) northeast of Los Angeles, near the town of Ridgecrest, California.
Multiple injuries and two house fires were reported in the town of 28,000. Emergency crews were also dealing with small vegetation fires, gas leaks and reports of cracked roads, said Kern County Fire Chief David Witt.
He said 15 patients were evacuated from the Ridgecrest Regional Hospital as a precaution and out of concern for aftershocks.
Kern County District Supervisor Mick Gleason told CNN there were some structural issues with the hospital and some patients had to be moved from one ward to another and that others were taken to a neighbouring building.
Gleason did not say what the structural issues were.
Ridgecrest Mayor Peggy Breeden said that utility workers were assessing broken gas lines and turning off gas where necessary.
The local senior centre was holding a July 4th event when the quake hit and everyone made it out shaken up but without injuries, she said.
"Oh, my goodness, there's another one (quake) right now," Breeden said on live television as an aftershock struck.
Gov. Gavin Newsom declared a state of emergency for Kern County. The declaration means that the state will help the county and municipalities in it with emergency aid and recovery efforts.
Ridgecrest Mayor Peggy Breeden praised Newsom for declaring the emergency. She also noted at a news conference that other nearby governments have offered to help the recovery effort.
President Donald Trump said he was fully briefed on the earthquake and that it "all seems to be very much under control!"
Police and fire officials said at a news conference Thursday afternoon that they have enough resources so far to meet needs in the wake of the earthquake. Ridgecrest Police Chief Jed McLaughlin said at a news conference that "we have plenty of resources."
California Highway Patrol Lt. John Williams says officials have found cracks on several roads in the county, but overpasses and underpasses are in good shape.
A series of aftershocks included a 4.5 magnitude temblor, according to the United States Geological Survey.
"It almost gave me a heart attack," said Cora Burke, a waitress at Midway Cafe in Ridgecrest, of the big jolt. "It's just a rolling feeling inside the building, inside the cafe and all of a sudden everything started falling off the shelf, glasses, the refrigerator and everything in the small refrigerator fell over."
Video posted online of a liquor store in Ridgecrest showed the aisles filled with broken wine and liquor bottles, knocked down boxes and other groceries strewn on the floor. Flames were seen shooting out of one home in the community.
Lucy Jones, a seismologist with the California Institute of Technology's seismology lab, said the earthquake was the strongest since a 7.1 quake struck in the area on October 16, 1999.
"This has been an extremely quiet abnormal time," Jones said. "This type of earthquake is much more normal … The long term average is probably once every five or 10 years somewhere in Southern California."
Jones said that the 6.4 quake centred near the town of Ridgecrest was preceded by a magnitude 4.2 temblor about a half hour earlier.
She said vigorous aftershocks were occurring and that she wouldn't be surprised if a magnitude 5 quake hit but that they were striking in a remote area, sparsely populated area. "This is an isolated enough location that that's going to greatly reduce the damage," she said.
People from Las Vegas to the Pacific Coast reported feeling a rolling motion and took to social media to report it.
Local emergency agencies also took to social media to ask people to only call 911 for emergencies.
"We are very much aware of the significant earthquake that just occurred in Southern California. Please DO NOT call 9-1-1 unless there are injuries or other dangerous conditions. Don't call for questions please," the LAPD said in a statement published on Twitter.
There were no reports of serious damage or injuries in Los Angeles, the department said.
The quake was detected by California's new ShakeAlert system and it provided 48 seconds of warning to the seismology lab well before the shaking arrived at Caltech in the Los Angeles suburb of Pasadena but it did not trigger a public warning through an app recently made available in Los Angeles County.
USGS seismologist Robert Graves said the ShakeAlert system worked properly.
Graves said it calculated an intensity level for the Los Angeles area that was below the threshold for a public alert. The limits are intended to avoid false alarms.
Ashleigh Chandler, a helicopter rescue EMT at Fort Irwin, California, said the quake happened as she was getting ready for a July 4th party.
"I was just in the living room getting everything ready, we start to feel the shaking, so then I look up and then the wine bottles start rattling and I thought, 'They're going to fall.'
"My stepson was in the house and my dog, so we just got everyone outside and then it ended. It was like 15, 20 seconds, maybe. It was pretty good shaking, so I'm out of breath."
"Everyone's OK."
Glenn Pomeroy, the head of California's Earthquake Authority, said the earthquake is "an important reminder that all of California is earthquake country."
Pomeroy urged the estimated 2,000 people in the region hit by the quake who have California Earthquake Authority insurance policies to contact their residential insurance agencies as soon as possible. Information on how to file a policy claim is on the agency's website: EarthquakeAuthority.com, he said.
___
Rodriguez reported from San Francisco. Associated Press writer Rachel Lerman in San Francisco and AP Radio reporter Shelly Adler in Washington, D.C., contributed.
John Antczak And Olga R. Rodriguez, The Associated Press
CP NewsAlert: Sources say Alberta Premier Jason Kenney to replace health minister
EDMONTON — Sources say Alberta Health Minister Tyler Shandro is soon to be out of the job.
The sources have told The Canadian Press that Premier Jason Kenney is expected to replace Shandro with Labour Minister Jason Copping as the new health minister at a ceremony later today.
Shandro and Kenney have been facing sharp criticism for their handling of the COVID-19 crisis that has pushed the provincial health-care system to the brink of collapse.
COVID-19 cases and hospitalizations have been soaring for weeks, leading to the mass cancellation of surgeries and doctors being briefed on how to decide, if necessary, who gets life-saving help and who does not.
Kenney is also facing internal backlash from his own party rank and file and caucus members over his handling of the pandemic.
Alberta's chief medical officer of health has said the current spike was ignited when Kenney lifted almost all COVID-19 health restrictions on July 1, faster than any other province.
The Canadian Press
Everything old is new again after election returns virtually identical Parliament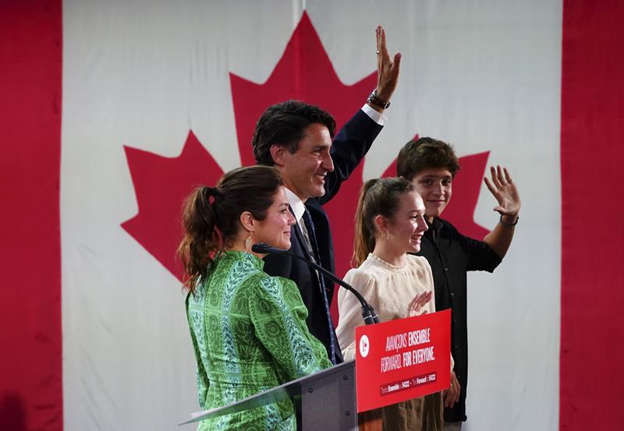 OTTAWA — Prime Minister Justin Trudeau will be returning to Ottawa without the majority government mandate Liberals had hoped for when he called the early election last month.
Early Tuesday, the Liberals were hovering between 155 and 157 seats. The former is the number they had when Trudeau called the election in August, and the latter is what they won in 2019.
The Conservatives were teetering on 121 or 122 seats, after winning 121 less than two years ago.
They will remain the official Opposition, with leader Erin O'Toole promising the "changed" party he leads will speak for all Canadians from all walks of life.
The Bloc Québécois and NDP will bring up the rear, each individually potentially holding the balance of power in the minority House of Commons, both also within a few seats of their 2019 tallies.
With more people voting by mail than ever before, the final result in some ridings might not be known for days.
Elections Canada will start counting more than 780,000 mailed-in ballots Tuesday, and it expects most to be finished by Wednesday, but officials did warn some ridings could take up to four days for final counts.
Some extremely close races in Vancouver Granville, Edmonton Centre, and Davenport in Toronto were still going back and forth between parties as votes were counted well into the night.
Trudeau attempted a conciliatory tone in his acceptance speech, promising Canadians that he knows all they want is to finally get back to normal after the pandemic. He says the government they elected will do just that.
O'Toole said that in his concession phone call, he warned Trudeau off calling another early election to make a grab for a majority government.
"I told him if he thinks he can threaten Canadians with another election in 18 months the Conservative party will be ready," O'Toole said at his election night event in Oshawa, Ont.
NDP Leader Jagmeet Singh, who two years ago was chided for dancing and celebrating at an election night party despite losing 20 seats, delivered a very short, more subdued speech from Vancouver, even though this time his party did make some gains.
Most election parties were smaller and quieter than usual, with pandemic restrictions keeping crowd sizes to a minimum.
The People's Party of Canada more than doubled its share of the popular vote and might have played spoiler to the Conservatives in some ridings by drawing away right-of-centre voters, but failed to elect a single MP.
The Green Party's pre-election turmoil left it with less than half the vote share it achieved in 2019, following a campaign where Leader Annamie Paul finished fourth in her own riding, and was asked not to visit many others by her own candidates.
No leaders stepped down Monday, but the future is murky for many, including Trudeau, who failed to secure a majority mandate after triggering the early election.
O'Toole was clearly sending the message in his speech he has no intention of stepping down.
This report by The Canadian Press was first published Sept. 21, 2021.
Mia Rabson, The Canadian Press