France fries: Record heat hits tourists, schools, hospitals
PARIS — Schools are dousing kids with water and nursing homes are equipping the elderly with hydration sensors as France and other nations battle a record-setting heat wave baking much of Europe.
Several people have died around the continent in incidents that authorities are linking to the exceptional weather. A major wildfire raged Friday in Spain, sparked when a pile of chicken dung spontaneously combusted in the heat.
Several countries have reported record temperatures this week, and France hit its all-time heat record Friday: 44.3 degrees Celsius (111 F) in the southern town of Carpentras, according to French media.
The French national weather service activated its highest-level heat danger alert for the first time, putting four regions around Marseille and Montpellier in the south of the country under special watch Friday.
Those schools that stayed open worked to keep kids cool. Teachers at the Victor Hugo Primary School in Colombes near Paris abandoned suffocating classrooms and are keeping children outside all day, spraying them with water and organizing quiet activities in the shade.
"I make them go in the playground with books, in the shade, they must stay seated," said teacher Valerie Prevost. "We tell them to dampen their caps, to drink regularly."
About 4,000 schools closed because they couldn't ensure safe conditions, and local authorities cancelled many end-of-school-year carnivals.
Some criticized the government for going overboard, but Prime Minister Edouard Philippe defended the efforts after 15,000 people died in a heat wave in 2003 that woke France up to the risks.
"This heat wave is exceptional by its intensity and its earliness," he told reporters.
"Measures have been taken for the most vulnerable people," he said "But given the intensity of the heat wave, it's the entire population who must be careful today … both for oneself and for loved ones and neighbours."
Italy put 16 cities under alerts for high temperatures, and civil security services distributed water to tourists visiting famed sites around Rome under a scorching sun.
Heat was blamed for the deaths of two people in Spain, private news agency Europa Press reported Friday.
An 80-year-old man collapsed and died in the street in Valladolid, in northwest Spain, the agency said, and a 17-year-old boy died in the southern city of Cordoba after diving into a swimming pool and losing consciousness.
Four people have drowned so far in France this week, and a 12-year-old girl drowned in a river near Manchester, England. France's health minister and British police warned people to swim only in authorized areas.
France has also seen an uptick in so-called street-pooling, or illegally opening fire hydrants. A 6-year-old child is in life-threatening condition after being hit by water shooting from a cracked-open fire hydrant in the Paris suburb of Saint-Denis, broadcaster France-Info reported.
More than 600 firefighters and six water-dropping aircraft were battling the worst fire in two decades in the Catalonia region Friday, as Spain is forecast to endure the peak of its heat wave, with temperatures expected to exceed 40 degrees Celsius (104 Fahrenheit).
In Berlin, a police unit turned water cannons — usually used against rioters — on city trees, to cool them down.
___
Barry Hatton in Lisbon, Danica Kirka in London and Catherine Gaschka in Colombes, France, contributed.
Angela Charlton, The Associated Press
CP NewsAlert: Sources say Alberta Premier Jason Kenney to replace health minister
EDMONTON — Sources say Alberta Health Minister Tyler Shandro is soon to be out of the job.
The sources have told The Canadian Press that Premier Jason Kenney is expected to replace Shandro with Labour Minister Jason Copping as the new health minister at a ceremony later today.
Shandro and Kenney have been facing sharp criticism for their handling of the COVID-19 crisis that has pushed the provincial health-care system to the brink of collapse.
COVID-19 cases and hospitalizations have been soaring for weeks, leading to the mass cancellation of surgeries and doctors being briefed on how to decide, if necessary, who gets life-saving help and who does not.
Kenney is also facing internal backlash from his own party rank and file and caucus members over his handling of the pandemic.
Alberta's chief medical officer of health has said the current spike was ignited when Kenney lifted almost all COVID-19 health restrictions on July 1, faster than any other province.
The Canadian Press
Everything old is new again after election returns virtually identical Parliament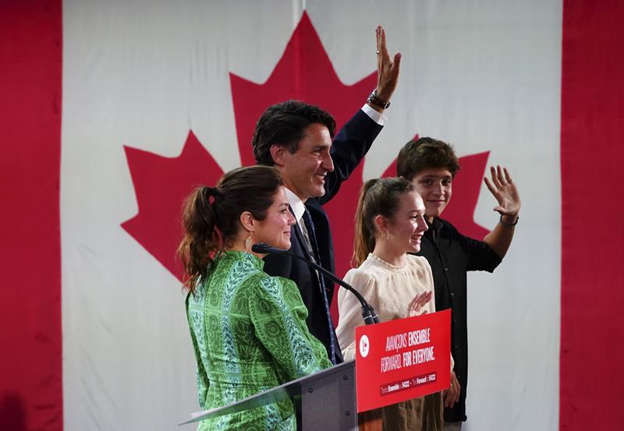 OTTAWA — Prime Minister Justin Trudeau will be returning to Ottawa without the majority government mandate Liberals had hoped for when he called the early election last month.
Early Tuesday, the Liberals were hovering between 155 and 157 seats. The former is the number they had when Trudeau called the election in August, and the latter is what they won in 2019.
The Conservatives were teetering on 121 or 122 seats, after winning 121 less than two years ago.
They will remain the official Opposition, with leader Erin O'Toole promising the "changed" party he leads will speak for all Canadians from all walks of life.
The Bloc Québécois and NDP will bring up the rear, each individually potentially holding the balance of power in the minority House of Commons, both also within a few seats of their 2019 tallies.
With more people voting by mail than ever before, the final result in some ridings might not be known for days.
Elections Canada will start counting more than 780,000 mailed-in ballots Tuesday, and it expects most to be finished by Wednesday, but officials did warn some ridings could take up to four days for final counts.
Some extremely close races in Vancouver Granville, Edmonton Centre, and Davenport in Toronto were still going back and forth between parties as votes were counted well into the night.
Trudeau attempted a conciliatory tone in his acceptance speech, promising Canadians that he knows all they want is to finally get back to normal after the pandemic. He says the government they elected will do just that.
O'Toole said that in his concession phone call, he warned Trudeau off calling another early election to make a grab for a majority government.
"I told him if he thinks he can threaten Canadians with another election in 18 months the Conservative party will be ready," O'Toole said at his election night event in Oshawa, Ont.
NDP Leader Jagmeet Singh, who two years ago was chided for dancing and celebrating at an election night party despite losing 20 seats, delivered a very short, more subdued speech from Vancouver, even though this time his party did make some gains.
Most election parties were smaller and quieter than usual, with pandemic restrictions keeping crowd sizes to a minimum.
The People's Party of Canada more than doubled its share of the popular vote and might have played spoiler to the Conservatives in some ridings by drawing away right-of-centre voters, but failed to elect a single MP.
The Green Party's pre-election turmoil left it with less than half the vote share it achieved in 2019, following a campaign where Leader Annamie Paul finished fourth in her own riding, and was asked not to visit many others by her own candidates.
No leaders stepped down Monday, but the future is murky for many, including Trudeau, who failed to secure a majority mandate after triggering the early election.
O'Toole was clearly sending the message in his speech he has no intention of stepping down.
This report by The Canadian Press was first published Sept. 21, 2021.
Mia Rabson, The Canadian Press