Schools to offer on-site vaccination, August 16 measures extended to September 27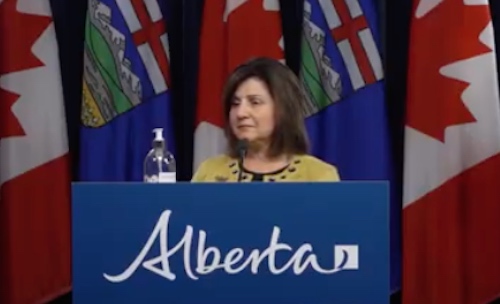 Health guide, tool kit and on-site vaccination ensure safe school year ahead
New health guidance will ensure students' safety and help school officials prepare for the new school year.
The Guidance for Respiratory Illness Prevention and Management in Schools document will help schools to reduce respiratory illness and infection in schools. A back-to-school tool kitprovides information for parents and school staff on what to expect when students head to their classrooms.
Consistent with the extended timelines for easing COVID-19 measures, students and school staff should screen daily for symptoms using the Alberta Health Daily Checklist, and must isolate if they test positive or have the core COVID-19 symptoms. A detailed 2021-22 School Year Plan contains two contingency scenarios for continuing student learning if there is a significant change in the COVID-19 situation in the fall.
To further promote a safe school year, all eligible Albertans, including students, teaching staff, parents and guardians, are strongly encouraged to get vaccinated with both doses before the school year begins.
With these measures in place and climbing vaccination rates, students and parents can look forward to in-person classes, with no restrictions on in-person learning or extracurricular activities. However, masking will be required on school buses.
"Thanks to the power of vaccines, I'm pleased that students can return to a normal school year in September. The safety of students and staff remains our number one priority, and we have a detailed plan that includes contingency scenarios for continuing student learning if there is a significant change in the COVID-19 situation. We will continue to follow the expert advice of Alberta's chief medical officer of health and are ready to make changes if needed."
"Making sure Alberta's schools are safe is one of our government's top priorities. I am confident that this guidance will help keep students and staff safe, and our province's children and youth can go on to thrive in the upcoming school year."
Vaccines in schools
To increase accessibility to COVID-19 vaccines, immunizations will be available through temporary clinics in schools for students in grades 7 to 12 as well as teachers and staff. Starting on September 7 students, teachers and staff can receive whichever dose they are eligible for in school.
Parent or guardian consent for students will be required through consent forms.
Students in grades 7 to 12 do not need to wait for an in-school clinic to be vaccinated. Bookings for first and second doses are available provincewide. Albertans can book appointmentsthrough AHS online, by calling 811 or through participating pharmacies. First-dose walk-in clinics are available at multiple locations.
"Vaccines are the most important protective measure for students, teachers, parents and guardians as we prepare for back to school. I encourage parents and guardians to arrange vaccine appointments for themselves and their children as soon as possible. This will help further strengthen protection in schools and benefit all youth, whether or not they can be immunized yet."
AHS will continue to support schools to manage outbreaks of respiratory illnesses.
Alberta's government has contingency scenarios to continue student learning if there is a significant change in the COVID-19 situation — similar to those implemented in the previous school year.
2021-22 school year plan and health guidance highlights
Students, families and school staff should continue to screen daily for symptoms using the Alberta Health Daily Checklist and get tested if they are symptomatic.
The Guidance for Respiratory Illness Prevention and Management in Schools builds on public health practices used to reduce the spread of respiratory viruses, such as COVID-19, influenza and other infections in school settings.
Best practices to reduce the risk of transmission of COVID-19 and other respiratory illnesses will continue, including:

Students and staff who have any new signs of illness should stay home and not attend school until they are feeling well.

If a student or staff member has any of the following core COVID-19 symptoms (new, or worsening and not related to other known causes), they are required to isolate for 10 days from onset of symptoms, or until they receive a negative COVID-19 test result, as per provincial guidelines:

Fever
Cough
Shortness of breath or difficulty breathing
Loss of sense of smell or taste
Sore throat (adults only)
Runny nose (adults only)

Cleaning and disinfecting high touch surfaces.
Promoting frequent hand hygiene and good respiratory etiquette.
Schools are encouraged to have a plan for students and staff who develop symptoms to wait in a separate area until they can go home.

Masking is not provincially required in school settings for any age group, except on school buses.

AHS, through a zone Medical Officer of Health or their designate, may recommend masking to manage an outbreak and prevent more widespread transmission of a respiratory illness.
Zone Medical Officers of Health and their designates may also recommend additional measures if a school experiences a respiratory illness outbreak including screening for symptoms and cohorting.

School authorities have the ability and the corresponding accountability to put in place local measures, such as physical distancing, cohorting, and masking requirements, that may exceed provincial guidance.
Quick facts
As of August 12, 65 per cent of 12 to 14 year olds have received one dose in Alberta and 54 per cent are fully protected with two doses.
As of August 12, 67 per cent of 15 to 19 year olds have been partially vaccinated in Alberta with one dose and 56 per cent are fully protected with two doses.
'I knew the challenges': Lethbridge police chief aware of problems before taking job
LETHBRIDGE, Alta. — It's been a particularly tough year for the police chief of Alberta's third-largest city
But Lethbridge Police Chief Shahin Mehdizadeh says he was fully aware of the problems before he took the top job in July 2020.
"I knew the challenges in this department and in this city, and a lot of these events that are bringing a lot of bad press to this department," Mehdizadeh said in a sit-down interview with The Canadian Press. "I didn't come to this with blind eyes."
The police service has faced numerous controversies in recent years.
Last year, two officers were temporarily demoted after a review determined NDP provincial legislature member Shannon Phillips, while environment minister in 2017, was surveilled and photographed at a diner. The officers involved were concerned about changes Phillips was making regarding off-highway vehicles at nearby wilderness areas.
Separately, five officers and one civilian were investigated on allegations of conducting improper database searches on Phillips while she was in cabinet.
The force was also criticized in May 2020 for the violent takedown of a citizen wearing a "Star Wars" storm trooper costume and brandishing a toy laser blaster. An independent review said the officers had not acted inappropriately.
"There were some events that have really put a lot of negative publicity on this organization," said Mehdizadeh, "but a lot of these events … range from 2016 to 2018, and any recent allegations are being tied to the historic events.
"As a result we have many investigations."
Alberta Justice Minister Kaycee Madu ordered the Lethbridge Police Service to clean up its act or risk being dissolved. He demanded an action plan to address everything from recruiting to oversight to changing the department's internal culture.
"If I concluded that the leadership of the force and the commission were not serious about fixing the problem, I was prepared to do what was necessary to fix the problem," Madu said earlier this week.
"They came back to me with an action plan that was acceptable and I approved."
Madu said he will wait to see what a public inquiry by the Alberta Law Enforcement Review Board turns up before he decides how successful the changes have been.
He noted that he doesn't blame the current chief.
"Let me be blunt … I think it stems from the previous leadership there," said Madu. "I am very sympathetic to the current chief.
"He was brought in during the midst of these problems. None of these problems are part of his watch. This is a problem that he inherited."
The president of the Lethbridge Police Association said the problems that became public were years in the making.
"It's been miserable for us for more than the past year. I think what most people don't understand is what they're seeing now is predicated on things that came before. Nothing happens in a vacuum," said Jay McMillan.
"Many of our own internal issues were born of an era where there was different leadership in place, or a lack of leadership. It sort of created a culture here that was not healthy and probably not able to withstand any external pressures."
McMillan said most of the controversies don't reflect the service now. He supports the changes outlined in the provincial action plan, he said.
"You're able to look in the mirror as an organization or an individual and identify some things you can do a little bit better," he said.
"A lot of the things in that action plan were things that were set up to take place already, so it wasn't in response to the public attention. It wasn't in response to the justice minister … the organization had already realized there were some changes that needed to be made."
Mehdizadeh said his job is to "fix these things."
"This is very historic stuff and it wasn't fair to really judge the organization based on what went on a few years ago," he said.
"I don't have the authority to make arbitrary decisions to get rid of people or fire people. There are legal processes that we have to adhere to, that we have to be respectful of and compliant to move forward."
Sanctions have been taken against a number of officers as a result of the circulation of inappropriate images, reportedly including pictures of senior staff pasted onto the bodies of characters from the animated "Toy Story" movies.
This report by The Canadian Press was first published Dec. 4, 2021.
Bill Graveland, The Canadian Press
Federal minister to provide money to fight aquatic invasive species in mountain parks
BANFF, Alta. — Federal Environment Minister Steven Guilbeault is expected to announce funding today to fight aquatic invasive species in five mountain national parks in Alberta and British Columbia.
Guilbeault, who is scheduled to be in Banff, Alta., plans to make almost $15 million available over the next five years to prevent and manage invasive species in Banff, Jasper, Kootenay, Waterton Lakes and Yoho national parks.
The money is to be used for both prevention and education programs.
Environment and Climate Change Canada says the parks are vulnerable to non-native species of mussels as well as the parasite that causes whirling disease in fish.
Invasive species can be spread by people enjoying mountain rivers and lakes.
The work is also expected to support the recovery of species at risk, including westslope cutthroat trout, Athabasca rainbow trout and bull trout.
Guilbeault is in Banff after spending Friday in Calgary meeting with oil industry representatives and Alberta Environment Minister Jason Nixon.
This report by The Canadian Press was first published Dec. 4, 2021.
The Canadian Press