Why Alberta Oil and Gas? There is no credible alternative for complex industrialized economies.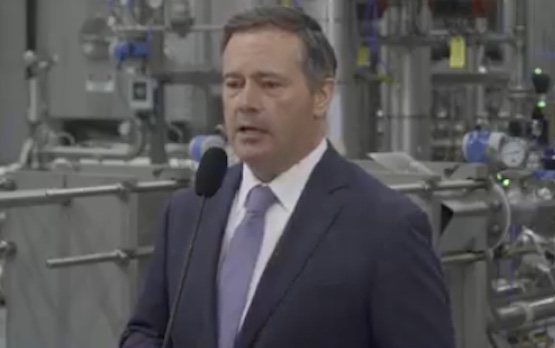 It's been an incredible week on the world stage when it comes to energy production and the environment.
Monday the International Panel on Climate Change released its latest update. The Secretary General of the United Nations called the situation a "Code Red" and strongly urged people around the world to immediately adopt a new "inclusive and green" economy. Most interpret that as a call to end our dependence on fossil fuels as soon as possible.
Thursday a news reporter asked Premier Kenney why Alberta bothers to continue with fossil fuels. Premier Kenney launched into this common sense response.
Politicians raise concerns about carbon pricing benefits given to oilsands companies
EDMONTON — Federal and provincial politicians are raising questions about Alberta government support provided to profitable oilsands companies that say carbon pricing hurts their competitiveness.
A recently released Alberta government document lists oilsands producers that have benefitted from a 2018 program designed to soften the blow of carbon pricing for companies whose competitors don't pay those costs.
The program allows successful applicants to meet reduction targets through a greater emphasis on offsets, apply for emissions reduction grants or simply emit more carbon.
The document shows the only company that has benefitted from the program every year between 2018 and 2020 is Canadian Natural Resources Limited, which declared more than $2 billion in profits in the third quarter of 2021.
Alberta New Democrat environment critic Marlin Schmidt says the province must be more transparent, pointing out the document doesn't say what benefits CNRL received, how big they were or how they were justified.
Federal Environment Minister Steven Guilbeault says his office is looking into how the program was used.
He says if problems are found, it could have an effect on the agreement between Alberta and Ottawa on carbon pricing.
This report by The Canadian Press was first published Dec. 8, 2021.
The Canadian Press
Kenney touts 'Alberta is back' in first speech to Calgary Chamber since 2019
CALGARY — Premier Jason Kenney used his first address to the Calgary Chamber of Commerce since the start of the pandemic to tout the recovery of Alberta's economy amid high energy prices.
Saying that 'Alberta is back', he noted that in the first quarter next year the provincial GDP is expected to finally surpass the level it was in 2014 before a crash in oil prices pushed the province into recession.
He says that is a sharp turnaround from the early days of the pandemic when unemployment hit 25 per cent and for close to 10 weeks the province was unable to sell an Alberta government bond.
Kenney says the recovery has been helped by an increase in demand for oil and gas, but argues that it's not part of a roller-coaster in commodities because rising prices show the continued importance of energy.
He used the address to emphasize his United Conservative government's strategy of low taxes to attract investment, noting that the province accelerated its corporate tax cut to make it the lowest in Canada.
Kenney also says his government is focused on attracting more people to the province to boost its labour pool through initiatives like rapid certification programs.
This report by The Canadian Press was first published Dec. 8, 2021.
The Canadian Press