RDC Curling Teams Earn Medals At National Championship!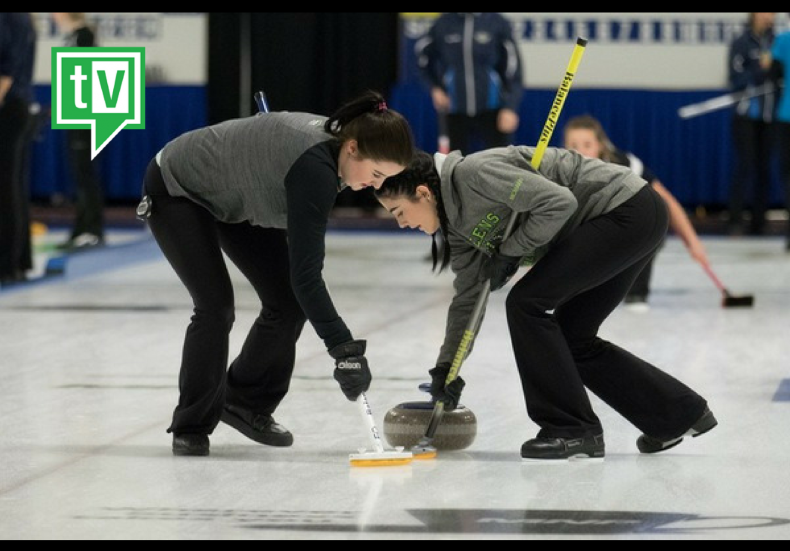 Saturday, was the final day at the Canadian Collegiate Athletic Association (CCAA) Curling National Championships in Camrose and both Red Deer College Curling teams were in the hunt for a medal. The Red Deer College Women's Curling team (Brett Day, Katie Primrose, Sara McMann, Marla Sherrer and Taylor Konschuh) peaked at the right time. After a strong Alberta Colleges Athletic Conference (ACAC) Curling Championships where the group earned silver, the women's team elevated their game, defeated top seeded Fanshawe in the semi-finals and then won over the ACAC gold medal winners, Concordia, to earn a CCAA Women's Curling National Championship. After a morning setback, the RDC men (Jordan Smith, Austin Kelts-Larsen, Ty Parcels, Ryan Dahmer and David Austin) showed persistence and picked up a bronze medal in the afternoon.
On sheet 3 at 9:30 a.m., the RDC Queens played well in the semi-finals, defeated the 1st place Fanshawe Falcons 7-5 and earned an opportunity to play for national gold. Concordia defeated NAIT 8-7 to set up a showdown between the 2 ACAC squads for the national title.
In the men's morning semi-finals, the Mohawk Mountaineers defeated the RDC Kings 8-1. The Fanshawe Falcons won 13-5 over the Humber Hawks in the other semi-final. This set up a Fanshawe and Mohawk matchup for gold, while RDC and Humber faced each other for bronze.
In the medal games, RDC Curling Head Coach Brad Hamilton had both RDC teams well prepared and they came away with some hardware. At 2:30 p.m., the Red Deer College women faced a familiar opponent, the Concordia Thunder. Even though the Thunder won ACAC gold it didn't faze the Queens. The RDC Women's Curling team was sharp, defeated Concordia 7-6 and claimed a national gold medal. The Fanshawe women picked up bronze after they won 8-7 over NAIT. At the same time, the RDC Men's Curling team soundly defeated the Humber Hawks 10-3 and earned a CCAA Curling National bronze medal. The Fanshawe men's team won gold after they defeated Mohawk 7-4.
Once the RDC women's team found their groove it was difficult for other teams to beat them.
"The women got off to a slow start but got on a roll to qualify for the playoffs," said Hamilton, who was named the CCAA Women's Curling Coach of the Year. "They saved their best for the playoffs and had two huge wins to take gold. Brett Day was named the CCAA Women's Curling Tournament All-Star Second."
Hamilton liked the ability of the RDC Men's Curling team to persevere for a national medal after a setback in the semi-finals.
"The men had a great week winning the round robin," said Hamilton. "Unfortunately, they struggled in the semi-finals but rebounded with a great game to win the bronze medal. Ryan Dahmer was named the CCAA Men's Curling Tournament All-Star Skip."
The RDC women last won CCAA gold in 2014 in Sault Ste. Marie, Ontario. In 2012, the Red Deer College men's team last picked up a national medal when they earned silver in Peterborough, Ontario.
2017 CCAA Women's Curling Medals
Gold – RDC
Silver – Concordia
Bronze – Fanshawe
2017 CCAA Men's Curling Medals
Gold – Fanshawe
Silver – Mohawk
(Photo courtesy of Tony Hansen)
"A Really Special Place" – Why the Wild Rose Motocross Track is One of a Kind
This summer, as you wander between the breweries and activity centers located in southeast Calgary, pause for a moment – if you listen closely, you may hear the distant rumble of motocross engines as bikes of all sizes careen over jumps and around corners at the Wild Rose Motocross Track.
Located just off Blackfoot Trail in Southeast Calgary, the 88-acre park is backed by the Calgary skyline, a prime piece of land located just minutes from downtown. Founded in the 1960's as the Blackfoot Motorcycle Park, the track has deep roots in the city of Calgary, and according to WRMA board member David Pinkman, "Few sagas can compete with the wild west history of Calgary's Wild Rose Motocross Association and its hard-core motocross lovers." 

Photo Credit Eden Schell 
In 1984, The Wild Rose Motocross Association (WRMA) was officially formed, and the Blackfoot Motorcycle Park became the Wild Rose. Acting as a major host for a number of national motocross events since the 70's and nurturing some of Canada's best professional riders to date, Pinkman argues the "course of Canadian motocross history may not have been the same but for this unique piece of dirt and hills."
With 7 tracks available including the full-sized Main, East and Hill Tracks, as well as the Extreme Beginner, Mini, Pee Wee, and Enduro Tracks, Wild Rose welcomes riders of all ages and skill levels. "This is the only track of its kind in Canada," says Michelle McCarthy, newest member of the WRMA board, "It's right in the centre of the city; it's got 3 big bike tracks, the smaller tracks and the enduro park. This is a really special place."
Whether it be your first time on a bike or the day you're finally going to clear that 15-foot tabletop, the track encourages everyone to come out and ride. "People want to see new riders," says McCarthy, "they want to see the community flourish. Plus, dirt biking is really, really fun," she laughs.  

Photo Credit Eden Schell 
Like countless other Canadian businesses, the Wild Rose Track has taken a hit due to COVID-19, with day pass riders and memberships being significantly down. Open year round – weather permitting – the track normally sees up to 30,000 visits per year. However, due to the pandemic, numbers are currently far lower as the park operates within capacity limits. 
As a recreational park on city property, track management wanted to set an example for taking action to reduce the spread of COVID-19, responding rapidly to Alberta Government guidelines by implementing a number of new precautions and preventative measures. This includes constructing wash stations at every track, implementing paperless transactions and COVID-19 symptom screening upon entry to the park, as well as establishing an online scheduling system to limit the number of riders at the track at one time.  
In the midst of the new normal, the park remains committed to growing and supporting the motocross community in Calgary and beyond, staying on top of updates that will allow them to return to racing and regular operation as soon as possible. While all spring and summer race series have been cancelled by COVID-19, the WRMA is actively monitoring pandemic updates with the goal of hosting a successful race series this coming fall. 
To learn more about the Wild Rose Motocross Association, visit https://www.wildrosemx.com.
For more stories, visit Todayville Calgary.
Alberta Juniors Choose Positive Path
Alberta Juniors Choose Positive Path
Everywhere there is gloom. Well, almost everywhere.
A welcome exception is the 15-team Alberta Junior Hockey League, which lost much of its gate revenue due to the coronavirus pandemic arrival at playoff time, and now waits for permission from Hockey Canada and Alberta Health Services to go ahead with its 2000-2001 season.
President Ryan Bartoshyk confirmed on Monday that his league is "in the process of drawing up our schedule right now. We're aiming (to have teams on the ice) by Sept. 1 and we hope to get the season started by Sept. 18." Any and all final decisions must meet with at least two levels of official approval, of course, but operators have expressed their confidence by agreeing to put in the work, recognizing that later starts (or no start) are still possibilities.
To an outsider, the clearest declaration of league independence is this: the schedule, with various possible opening dates pencilled in, is being drawn up for all 15 teams. This is most impressive when it is known that several franchises – no names provided by president Bartoshyk or any team spokesman – have expressed serious concern about the cost of business in the coming season.
We have lost at least one league camp for tryouts," said a spokesman. "We know we're going to lose more."
Not included are the Blackfalds Bulldogs, who will replace the former Calgary Mustangs at the start of the 2021/2002 season. Bartoshyk was pleased to say "work on the new arena for Blackfalds is due to start this month."
Among the established teams reported to have mentioned their problems outside of league meetings are the Canmore Eagles, but the team's two captains and a pair of assistants have already been named for the coming season. At least a couple of promising signings have also been announced. As a result, pessimism has shrunk a great deal.
Also optimistic about the coming season are the Olds Grizzlys, whose attendance averaged well over 1,500 a game when they dominated Junior A ranks several years ago but dropped to about 600 a game last year. "This is a great sports community, a great place to be," said club governor and vice-president executive Trent Wilhauk. "We know the fans will come back; they love their Grizzlys."
Population of the community is slightly more than 10,000. "It's a happening place when the team is going good."
After wiping out last year's playoffs and destroying some of the regular post-season increases at the gate, COVID-19 has continued to harm the AJHL, just as it has damaged so many other areas of the economy. "We have lost at least one league camp for tryouts," said a spokesman. "We know we're going to lose more."
Those financial setbacks may have been dwarfed by the loss of some appealing playoff matchups. "Some of the teams that drew above-average numbers for us (Okotoks Oilers, Brooks Bandits, Sherwood Park Crusaders) didn't have a playoff game before we had to stop," Bartoshyk said. "They all had byes in the first round."
Other teams with relative season-long success at the gate also missed money-raising opportunities. "It's obvious that our league relies on corporate sponsorship and support at the gate," Bartoshyk added, mentioning a handful of promising pending post-season clashes — Drayton Valley and Sherwood Park, the Whitehorse Wolverines and the Spruce Grove Saints, Camrose Kodiaks and Drumheller Dragons – that could not take place.
At this point, the day's general feeling that the AJHL future remains bright surfaced again.
Said Bartoshyk: "We're ready. We'll do what is necessary."

https://www.todayville.com/edmonton/hundreds-of-young-athletes-grow-more-anxious-by-the-day-acac-season-a-series-of-options/