Questions people ask about RDC
by Joel Ward, President, RDC
In my role at Red Deer College, I have the opportunity to connect with people from across central Alberta. Whether this is at events hosted by RDC or at other activities in the community, I always enjoy speaking with students, alumni, parents, partners and interested citizens. A great many people are connected with RDC, and what I've found through my conversations is that they truly care about what's happening here.
Over the years, people have asked me a variety of questions about our College, and today I'm happy to provide you with a sample of the commonly asked questions and my thoughts on each.
How many students attend RDC, and where are they from?
On any given day, we have about 7,500 students on our campuses. When I look back at our information from 2016-17, I see that 65% of our students came from central Alberta, with 15% from northern Alberta, 13% from the southern part and 7% coming from outside of our province. These students come from across Canada and from 16 countries around the world.
What is all the construction about?
We are fortunate to be in a time of growth and development at Red Deer College, and each new facility taking shape across main campus is the result of many years of careful and strategic planning. It's hard to believe the preliminary site work for the Gary W. Harris Canada Games Centre/Centre des Jeux du Canada Gary W. Harris began back in the fall of 2015. Each day, we are moving closer to its completion and, in September 2018, we will welcome our first group of students to this teaching and learning centre. Not long after, the building will be a huge part of the 2019 Canada Winter Games. Our second construction project, the Alternative Energy Lab, demonstrates our commitment to the exploration and demonstration of new environmental technologies. The lab will provide learning and research opportunities for students and businesses to explore alternative energy solutions. Our third project, a new Residence, is under construction and is visible from 32nd Street. This unique facility incorporates solar panels on three sides and includes apartment-style studio suites, access for those with mobility challenges and short-term accommodation for our Apprenticeship students. All three new buildings support RDC's goal of reducing our carbon footprint through energy efficient technologies.
What can I take at RDC?
We offer more than 100 programs, and these include everything from collaborative degrees, where students can take all of their courses at RDC, to university transfer programs, where they take their first year or two at RDC and complete at another institution. We also offer skilled trades, diplomas and certificates. This fall, we launched two new programs – the Human Resources Management Graduate Certificate and the Instrumentation Engineering Technology Diploma.
What new programs are on the horizon?
Looking ahead, our senior administrators and faculty are always looking for ways to develop new programs that will offer students the real-world information they need for today's jobs. One example of this is happening right now in the School of Creative Arts, with two proposed cutting-edge programs – the Bachelor of Applied Arts in Film, Theatre, and Live Entertainment, and the Bachelor of Applied Arts in Animation and Visual Effects. Once we have approval from the government, we intend to launch these programs in the fall of 2018, offering students one-of-a-kind opportunities in the ever-growing film and special effects industries.
When will we be able to complete our degrees at RDC?
We continue to work with our government partners to achieve our goal of RDC becoming a degree- granting institution. If people didn't have to leave to complete their degrees, as I described above,
Red Deer College | 100 College Boulevard | Box 5005 | Red Deer | AB | Canada | T4N 5H5 | www.rdc.ab.ca
then it would have a huge, positive impact on students, families and even the economy of central Alberta. We will continue to strive to make this goal a reality for our future students.
These questions provide a snapshot of what's happening here at RDC, and they show how we are always growing and evolving to better serve you, our students and partners and communities. As we continue to grow, I look forward to sharing this information with you – in this column and when we meet in the community.
Joel Ward is President & CEO of Red Deer College
Read more from Todayville.
DeSantis to expand law critics call 'Don't Say Gay' into HS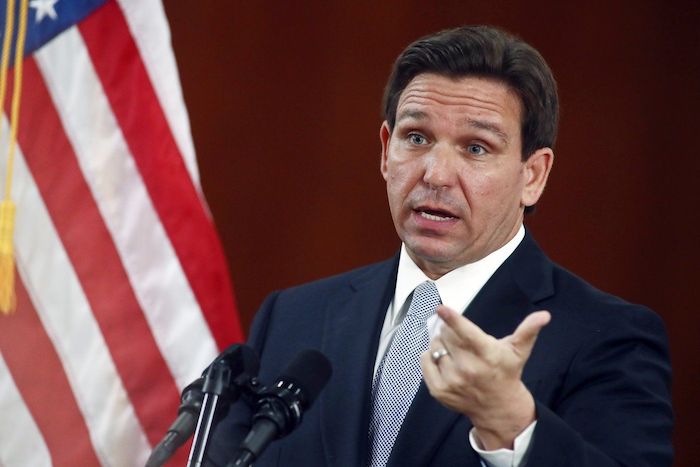 Florida Gov. Ron DeSantis answers questions from the media in the Florida Cabinet following his State of the State address during a joint session of the Senate and House of Representatives, Tuesday, March 7, 2023, at the state Capitol in Tallahassee, Fla. DeSantis' administration is moving to unilaterally forbid classroom instruction on sexual orientation and gender identity in all grades, expanding the controversial law critics call "Don't Say Gay" as the Republican governor continues a focus on cultural issues ahead of his expected presidential run. (AP Photo/Phil Sears, File)
By Anthony Izaguirre in Tallahassee
TALLAHASSEE, Fla. (AP) — The administration of Florida Gov. Ron DeSantis is moving to forbid classroom instruction on sexual orientation and gender identity in all grades, expanding the controversial law critics call "Don't Say Gay" as the Republican governor continues a focus on cultural issues ahead of his expected presidential run.
The proposal, which would not require legislative approval, is scheduled for a vote next month before the state Board of Education and has been put forth by state Education Department, both of which are led by appointees of the governor.
The rule change would ban lessons on sexual orientation and gender identity from grades 4 to 12, unless required by existing state standards or as part of reproductive health instruction that students can choose not to take.
DeSantis has leaned heavily into cultural divides on his path to an anticipated White House bid, with the surging Republican increasingly pursuing a conservative agenda that targets what he calls the insertion of inappropriate subjects in schools.
Spokespeople for the governor's office and the Education Department did not immediately return an emailed request for comment.
The measure comes after DeSantis championed a law last year that prohibited instruction on gender identity and sexual orientation in kindergarten through third grade.
The law drew widespread backlash nationally, with critics saying it marginalizes LGBTQ people, and kicked off a feud between the state and Disney, which publicly opposed the law.
At the governor's request, the Republican-dominated Legislature voted to dissolve a self-governing district controlled by Walt Disney World over its properties in Florida, and eventually gave DeSantis control of the board in a move widely seen as a punishment for the company opposing the law. The board oversees municipal services in Disney's theme park properties and was instrumental in the company's decision to build near Orlando in the 1960s.
The rule change was first reported by the Orlando Sentinel.
School library book bans are seen as targeting LGBTQ content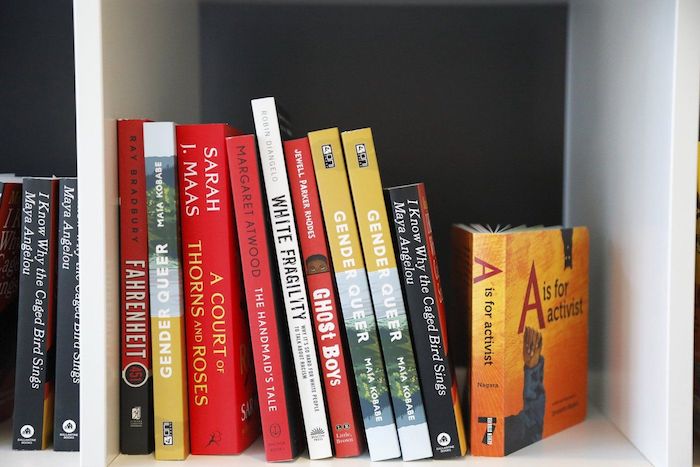 Books are displayed at the Banned Book Library at American Stage in St. Petersburg, Fla., Feb. 18, 2023. In Florida, some schools have covered or removed books under a new law that requires an evaluation of reading materials and for districts to publish a searchable list of books where individuals can then challenge specific titles. (Jefferee Woo/Tampa Bay Times via AP)
By Scott Mcfetridge, Anthony Izaguirre And Sara Cline in Des Moines
DES MOINES, Iowa (AP) — Teri Patrick bristles at the idea she wants to ban books about LGBTQ issues in Iowa schools, arguing her only goal is ridding schools of sexually explicit material.
Sara Hayden Parris says that whatever you want to call it, it's wrong for some parents to think a book shouldn't be readily available to any child if it isn't right for their own child.
The viewpoints of the two mothers from suburban Des Moines underscore a divide over LGBTQ content in books as Republican Gov. Kim Reynolds pushes an especially sweeping crackdown on content in Iowa school libraries. The bill she's backing could result in the removal of books from school libraries in all of the state's 327 districts if they're successfully challenged in any one of them.
School boards and legislatures nationwide also are facing questions about books and considering making it easier to limit access.
"We're seeing these challenges arise in almost every state of the union," said Deborah Caldwell-Stone, director of the American Library Association's Office for Intellectual Freedom. "It's a national phenomenon."
Longstanding disagreements about content in school libraries often focus this year on books with LGBTQ themes as policymakers nationwide also consider limiting or banning gender-affirming care and drag shows, allowing the deadnaming of transgender students or adults in the workplace, and other measures targeting LGBTQ people.
The trend troubles Kris Maul, a transgender man who is raising a 12-year-old with his lesbian partner in the Des Moines area and wants school library books to reflect all kinds of families and children. Maul argued that those seeking to remove books take passages out of context and unfairly focus on books about LGBTQ or racial justice issues.
LGBTQ people are more visible than even five years ago, Maul said, and he believes that has led to a backlash from some who hope limiting discussion will return American society to an era that didn't acknowledge people with different sexualities.
"People are scared because they don't think LGBTQ people should exist," Maul said. "They don't want their own children to be LGBTQ, and they feel if they can limit access to these books and materials, then their children won't be that way, which is simply not true and is heartbreaking and disgusting."
In Louisiana, activists fear a push by Republican Attorney General Jeff Landry to investigate sexually explicit materials in public libraries — and recently proposed legislation that could restrict children and teens' access to those books — is being used to target and censor LGBTQ content.
Landry, who is running for governor, launched a statewide tip line in November to field complaints about librarians, teachers, and school and library personnel. Landry released a report in February that listed nine books his office considers "sexually explicit" or inappropriate for children. Seven have LGBTQ storylines.
In Florida, some schools have covered or removed books under a new law that requires an evaluation of reading materials and for districts to publish a searchable list of books where individuals can then challenge specific titles.
The reviews have drawn widespread attention, with images of empty bookshelves ricocheting across social media, and are often accompanied by criticism of Gov. Ron DeSantis, a Republican expected to run for president.
The state's training materials direct the reviews to target sexually explicit materials but also say that schools should "err on the side of caution" when selecting reading materials and that principals are responsible for compliance.
Florida's largest teachers union is challenging the law, arguing its implementation is too broad and leading to unnecessary censorship. An education department spokesperson did not immediately comment.
DeSantis said the state has not instructed schools to empty libraries or cover books. He said 175 books have been removed from 23 school districts, with 87% of the books identified as pornographic, violent or inappropriate for their grade level.
The Iowa legislation comes amid efforts there to keep a closer eye on public school curriculums and make taxpayer money available to parents for private school tuition. Reynolds, the governor, has made such proposals the core of her legislative agenda, telling a conservative parents group that their work was essential to guarding against "indoctrination" by public school educators.
Under a bill backed by Reynolds, the titles and authors of all books available to students in classrooms and libraries would be posted online, and officials would need to specify how parents could request a book's removal and how decisions to retain books could be appealed. When any district removes a book, the state Education Department would add it to a "removal list," and all of Iowa's 326 other districts would have to deny access to the book unless parents gave approval.
At a hearing on Reynolds' bill, Republican lawmakers, who hold huge majorities in both legislative chambers, said they might change the proposal but were committed to seeing it approved. The bill has passed a Senate committee and is awaiting a floor vote.
"The parents are the governing authority in how their child is educated, period," said Sen. Amy Sinclair. "Parents are responsible for their child's upbringing, period."
Patrick, a mother of two, expressed befuddlement about why anyone would want to make sexually explicit books available to children.
"I have to believe that there are books that cater to the LGBTQ community that don't have to have such graphic sexual content in them," said Patrick, a member of a local chapter of Moms for Liberty, a conservative group that has gained national influence for its efforts to influence school curriculum and classroom learning. "There are very few books that have ever been banned and what we're saying is, in a public school setting, with taxpayer-funding money, should these books really be available to kids?"
Hayden Parris, a mom of two from a suburb only a few miles away, understands the argument but thinks it misses the point.
"A kindergartner is not wandering into the young adults section and picking out a book that is called like, "This Book is Gay," said Hayden Parris, who is leading a parents group opposed to Iowa's proposed law. "They're not picking those books, and the fact that they can pick one out of several thousand books is not a reason to keep it away from everyone."
Sam Helmick, president of the Iowa Library Association, said communities should decide what's in their libraries and that it's important for children to have access to books that address their lives and questions. Helmick didn't have that ability as a child, and students shouldn't return to that time, she said.
"Can we acknowledge that this will have a chilling effect?" Helmick asked. "And when you tell me that books about myself as an asexual, nonbinary person who didn't have those books in libraries when I was a kid to pick up and flip through, but now publishing has caught up with me and I can see representation of me — those will be behind the desk and that's not supposed to make me feel less welcome, less seen and less represented in my library?"
___
Izaguirre reported from Tallahassee, Florida, and Cline from Baton Rouge, Louisiana.