Questions people ask about RDC
by Joel Ward, President, RDC
In my role at Red Deer College, I have the opportunity to connect with people from across central Alberta. Whether this is at events hosted by RDC or at other activities in the community, I always enjoy speaking with students, alumni, parents, partners and interested citizens. A great many people are connected with RDC, and what I've found through my conversations is that they truly care about what's happening here.
Over the years, people have asked me a variety of questions about our College, and today I'm happy to provide you with a sample of the commonly asked questions and my thoughts on each.
How many students attend RDC, and where are they from?
On any given day, we have about 7,500 students on our campuses. When I look back at our information from 2016-17, I see that 65% of our students came from central Alberta, with 15% from northern Alberta, 13% from the southern part and 7% coming from outside of our province. These students come from across Canada and from 16 countries around the world.
What is all the construction about?
We are fortunate to be in a time of growth and development at Red Deer College, and each new facility taking shape across main campus is the result of many years of careful and strategic planning. It's hard to believe the preliminary site work for the Gary W. Harris Canada Games Centre/Centre des Jeux du Canada Gary W. Harris began back in the fall of 2015. Each day, we are moving closer to its completion and, in September 2018, we will welcome our first group of students to this teaching and learning centre. Not long after, the building will be a huge part of the 2019 Canada Winter Games. Our second construction project, the Alternative Energy Lab, demonstrates our commitment to the exploration and demonstration of new environmental technologies. The lab will provide learning and research opportunities for students and businesses to explore alternative energy solutions. Our third project, a new Residence, is under construction and is visible from 32nd Street. This unique facility incorporates solar panels on three sides and includes apartment-style studio suites, access for those with mobility challenges and short-term accommodation for our Apprenticeship students. All three new buildings support RDC's goal of reducing our carbon footprint through energy efficient technologies.
What can I take at RDC?
We offer more than 100 programs, and these include everything from collaborative degrees, where students can take all of their courses at RDC, to university transfer programs, where they take their first year or two at RDC and complete at another institution. We also offer skilled trades, diplomas and certificates. This fall, we launched two new programs – the Human Resources Management Graduate Certificate and the Instrumentation Engineering Technology Diploma.
What new programs are on the horizon?
Looking ahead, our senior administrators and faculty are always looking for ways to develop new programs that will offer students the real-world information they need for today's jobs. One example of this is happening right now in the School of Creative Arts, with two proposed cutting-edge programs – the Bachelor of Applied Arts in Film, Theatre, and Live Entertainment, and the Bachelor of Applied Arts in Animation and Visual Effects. Once we have approval from the government, we intend to launch these programs in the fall of 2018, offering students one-of-a-kind opportunities in the ever-growing film and special effects industries.
When will we be able to complete our degrees at RDC?
We continue to work with our government partners to achieve our goal of RDC becoming a degree- granting institution. If people didn't have to leave to complete their degrees, as I described above,
Red Deer College | 100 College Boulevard | Box 5005 | Red Deer | AB | Canada | T4N 5H5 | www.rdc.ab.ca
then it would have a huge, positive impact on students, families and even the economy of central Alberta. We will continue to strive to make this goal a reality for our future students.
These questions provide a snapshot of what's happening here at RDC, and they show how we are always growing and evolving to better serve you, our students and partners and communities. As we continue to grow, I look forward to sharing this information with you – in this column and when we meet in the community.
Joel Ward is President & CEO of Red Deer College
Read more from Todayville.
Alberta premier defends new rules on in-person learning, no mask mandates in schools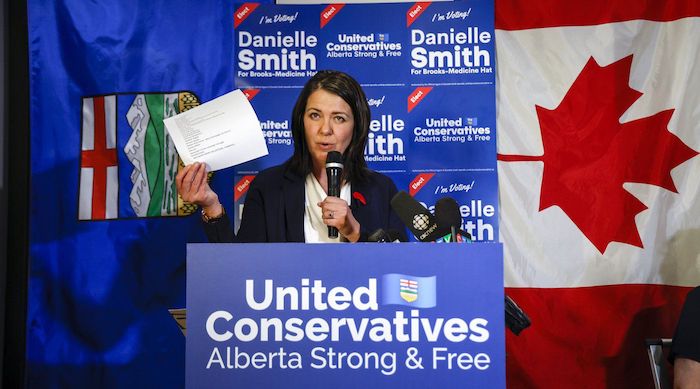 By Dean Bennett and Colette Derworiz
Alberta Premier Danielle Smith is defending new rules ordering schools to provide in-person learning during the current wave of viral illnesses, saying a clear, measured response is crucial for students and parents.
"We need a normal school environment for our children, and we need to make sure that the classrooms stay open to be able to support our parents," Smith said at a news conference in Medicine Hat on Friday.
"That's why we made the decision that we did — to give that clear direction."
Her comments came a day after she announced regulatory changes saying school boards must provide in-person learning. Schools also can't require students to wear masks in school or be forced to take classes online.
The changes take effect immediately.
"Anyone is welcome to wear a mask if they feel that that is the right choice for them, but we should not be forcing parents to mask their kids, and we shouldn't be denying education to kids who turn up without a mask," Smith said.
She has said mask rules and toggling from online to in-person learning adversely affected the mental health, development and education of students during the COVID-19 pandemic and strained parents scrambling to make child-care arrangements when schools shut down.
That's over, Smith said.
"We're just not going to normalize these kind of extreme measures every single respiratory virus season," she said.
School boards have been asking for more direction as a slew of seasonal respiratory and gastrointestinal illnesses, along with some COVID-19 cases, have led to high classroom absentee rates and have jammed children's hospitals.
In Edmonton, Trisha Estabrooks, board chair for Edmonton Public Schools, said the decision provided the clarity that the board was seeking.
"All Albertans now understand that it's not within the jurisdiction, and nor should it ever have been within the jurisdiction of individual school boards, to make decisions that belong to health officials," said Estabrooks.
She said the province has made it clear that any future public health order would supersede the new rules.
The in-person learning change applies to grades 1-12 in all school settings, including public, separate, francophone, public charter and independent schools.
The masking change applies to those same grades and schools, but also to early childhood services.
The Opposition NDP criticized the new rules, saying it's unrealistic to force schools to be all things to all students while also handling a wave of viral illnesses and not providing additional supports to do it.
Jason Schilling, head of the Alberta Teachers' Association, said the government needs to work with school boards to figure out how to make this work.
"You have schools that are struggling to staff the building, (they) can't get substitute teachers, teachers are sick, they're covering each other's classes, principals are covering the classes," Schilling said in an interview.
"And then to say if you go online, you are to still offer the same programming in person — we just don't have the people to do that."
Wing Li, communications director for public education advocacy organization, Support our Students, said it will be difficult for schools to offer hybrid learning without any additional resources.
"There are no teachers," Li said in an interview. "Pivoting online was mostly due to staffing shortages, which is worse now three years in."
Li said online learning is challenging for students but, when temporary and supported, can keep schools and communities safe from spreading illness.
"This is a quite aggressive use of the Education Act to enshrine an ideology," she said.
This report by The Canadian Press was first published Nov. 25, 2022
Alberta education minister says she will listen to top doctor about masks in schools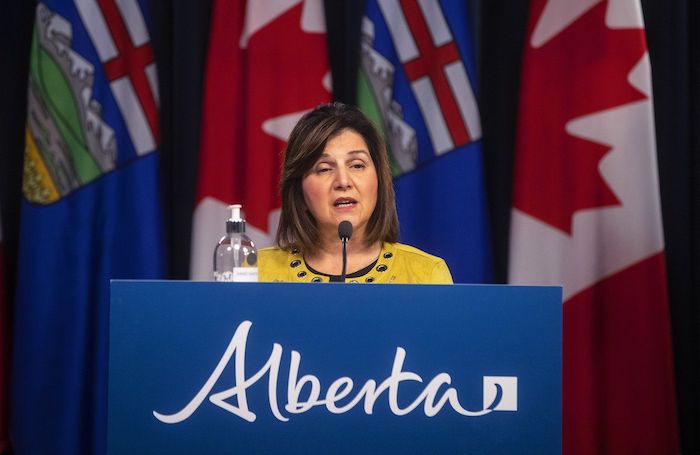 By Colette Derworiz and Dean Bennett
Alberta's education minister says she will take advice from the province's new chief medical health officer on whether to allow school boards to bring in mask mandates in schools with respiratory illness outbreaks.
The Edmonton public school board has asked Alberta Health and Alberta Education whether it can require masks as schools deal with a wave of viral illnesses that is sending thousands of students home sick and straining hospitals.
Education Minister Adriana LaGrange was asked about the request multiple times during a news conference about additional mental health supports for students.
"There is not a one-size-fits-all for this situation," LaGrange said Wednesday.
"We are going to continue to monitor the situation and, of course, we will take guidance from the new chief medical officer of health. Beyond that, we will continue to ensure our schools and our staff members are protected."
LaGrange said students and staff are welcome to wear masks but "the premier was very clear recently that we do not anticipate having a mask mandate in place."
Dr. Mark Joffe, who was appointed chief medical officer of health earlier this week, said in a statement later Wednesday that Alberta is seeing an early rise in seasonal infections such as flu, respiratory syncytial virus and COVID-19.
"The province continues to transition back to long-standing practices to manage respiratory infections in general," he said. "That includes local public health officials notifying schools of outbreaks and giving them advice and support as needed."
Joffe said Albertans can take simple, daily actions to help prevent the spread by staying up to date on vaccinations, wearing a well-fitting, high-quality mask and avoiding close contact with people who are sick.
"Albertans should be supported regardless of their choice to mask or not," he said.
Premier Danielle Smith has been critical of mask rules in schools, saying they adversely affected the mental health, development and education of students during the COVID-19 pandemic.
Edmonton school board chair Trisha Estabrooks said Tuesday there are also mental health concerns with the current situation.
"Missing school and being worried about getting sick also have an impact on our children's mental health," said Estabrooks.
"A blanket statement of no more mask mandates ever in schools, I believe, is short-sighted. We can't predict where the next stage of the pandemic will go."
In Edmonton, Opposition NDP Leader Rachel Notley said parents and school boards are seeking leadership and guidance from Smith's United Conservative government but are getting chaos.
"What we've got here is nothing but confusion and distraction and an abdication of responsibility by our provincial government," said Notley.
She said Joffe is doing his job on top of his existing responsibilities as a senior leader with Alberta Health Services.
"(Joffe's) not actually even being paid to do the job and he's still doing his other complete job, so that sounds to me like we've got a government that doesn't really value that role."
Notley said while Joffe is officially tasked with setting public health policy, Smith is assembling a parallel team of medical professionals to advise her on public health.
Smith recently said she wants to hear from Dr. Paul Alexander, a controversial COVID-19 critic who has argued for herd immunity and has called COVID-19 vaccines a "bioweapon."
"What the UCP, therefore, has created is a mess and a vacuum (of authority)," said Notley. "Danielle Smith seems most interested in talking to conspiracy theorists."
This report by The Canadian Press was first published Nov. 16, 2022.