Province spending $36 million to free up hospital space for Covid patients
More funding to increase health-care capacity
Up to $36 million in new funding will improve wages and create additional workforce capacity to allow more Albertans to receive care outside of hospitals and free up resources to treat COVID-19 patients during the fourth wave.
Improving home care and facility-based continuing care will mean more Albertans will get the care they need in their homes and communities. This will help reduce pressure on all parts of the health-care system, namely acute care, during a time when hospitalizations are increasing due to COVID-19.
More than 400 Albertans are currently waiting in hospitals to move into continuing care facilities, with many more waiting to return to their homes outside of facility-based care with the support of home care services.
"We know that home care agencies are experiencing staffing challenges. Increasing the pool of available staff will mean we can move additional patients from hospitals to their homes when it is safe to do so. This is a benefit to patients who would rather get the care they need in the comfort of their own homes. It also benefits hospitals as they manage the increasing number of patients who need beds because of COVID-19 complications."
"Supporting home care agencies recruit and retain staff will enable more patients to receive high-quality care in their homes, improving capacity in our hospitals and allowing more patients to stay close to their loved ones."
Wage increases for health-care aides
Contracted home care agencies will receive $22 million over two years in additional funding to provide wage increases to their certified health-care aides. The additional funding will provide a pay increase of $2 an hour for the next 13 months for health-care aides working in home care agencies contracted with Alberta Health Services. The purpose of providing this increase in funding rates is to help retain current and recruit additional staff, which will allow more Albertans to be cared for in their own homes. There are currently hundreds of vacant health-care aide positions in the home care system.
Alberta Health Services is also increasing home care hours authorized for agencies; the funding increase will help the agencies meet these hours. This supports the shift to more care in the community, as recommended in the facility-based continuing care review.
Expanding the home care workforce
An additional $14 million is being provided to expand workforce capacity to support home care and continuing care facilities on a short-term basis until March 31, 2022. There is a need to be able to respond quickly to new health system pressures arising from COVID-19. Similar to the comfort care aide program that provided a staffing pool for continuing care facilities, this additional funding will support a variety of innovative approaches to mobilize existing or new staff to where they are most needed for short periods of time.
"The Alberta Continuing Care Association welcomes this additional funding to improve Alberta's continuing care system as a whole. Our members provide care and services for over 13,000 individuals in long-term care and designated supportive living settings and over 5.2 million hours of home care to Albertans."
"Our caregivers provide exceptional client-focused home support services and go the extra mile to make our clients feel special, comfortable and safe. This additional funding will help to sustain the home care sector and our dedicated staff who deliver high-quality care to Albertans every day."
"We thank the Alberta government for their recognition and support of the ever-important work our home care health-care aides provide to keep our clients safe and well in their homes. This announcement is a positive step forward to developing a sustainable funding model to make home care a desirable career choice."
Quick facts
A Canadian Institute for Health Information (CIHI) study found that a growing number of seniors in Canada could have been supported in their homes through home care, helping to delay or avoid admission to continuing care residences.
There are more than 132,000 Albertans who receive home care services annually and nearly 28,000 Albertans residing in continuing care facilities.
The $22 million for the health-care aide wage increase will be provided over two years; $12 million in 2021-22 and $10 million in 2022-23.
The home care aide salary increase is for staff working in contracted home care agencies. This increase does not apply to Alberta Health Services or Covenant Health home care staff.
Graffiti artist completes world's tallest mural in downtown Calgary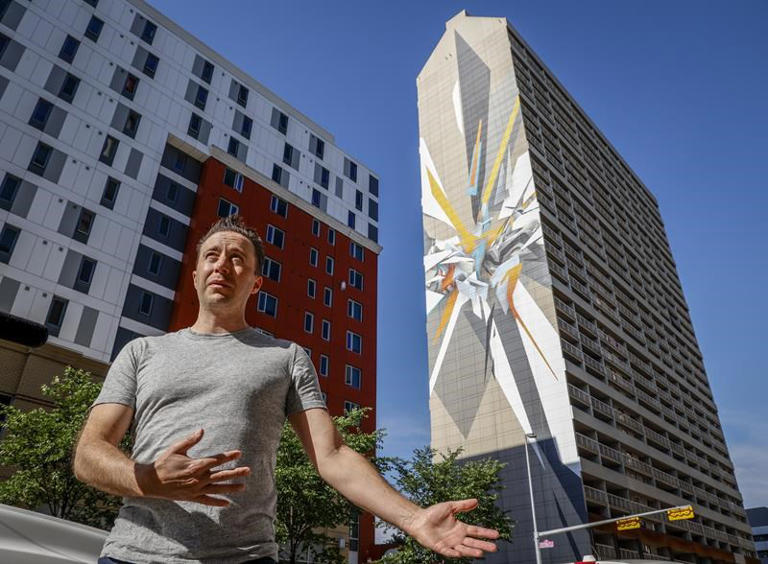 CALGARY — It looms on the edge of downtown a stone's throw from the Calgary Tower, a splash of colour amid aging buildings, railway tracks, parkades and a steady stream of traffic.
It's billed as the world's tallest mural, painted by one of the globe's top graffiti artists, and is part of a project to turn an austere area of downtown into an expansive open-air urban art gallery.
"The brutalism and dystopian look of this area with the giant parkades and the spiral ramps and stuff — it feels like Gotham. So turning this wall from concrete nothing to this is really fun," said Peter Oliver, president of the Beltline Urban Murals Project, or BUMP.
The mural is an abstract painting in various shades of orange, black, grey, blue, white and yellow and is the creation of DAIM, an internationally renowned German artist. DAIM, whose real name is Mirko Reisser, has been creating public artworks for more than 30 years.
"DAIM's work is rooted in graffiti art. It's abstract and he was actually the very first graffiti artist to start exploring three-dimensional works. So his work kind of obeys the laws of light and shadow but defies the laws of gravity," Oliver said.
"I think his work really marries well with the brutalism of this building and it's just a massive flat wall of concrete. It's the very first prefabricated concrete building in Calgary, built in 1980."
The mural is 95 metres high, making it the tallest mural in the world "by a long shot," said Oliver.
He said most cities don't have giant concrete walls available, with the majority being glass, steel or aluminum. So this was a perfect marriage.
DAIM, who was assisted by three local artists, spent over three weeks painting and went through more than 500 cans of spray paint after a base coat was added to the bare concrete. It is to be a permanent addition to the area and, as of last week, was awaiting a coat of UV sealant to make it complete.
Facing toward the east, it can be seen from a long way away.
"If you've got the window seat on the airplane, you can see it on the approach into the airport," Oliver said.
"I think what we're really doing with BUMP is re-architecting the identity of this city."
The project will be unveiling about 60 new murals during its annual festival, which runs from Aug. 1 to 28. Before that, the new art work can be viewed by visitors at the annual Calgary Stampede, which begins this week.
"If you're coming down, I'd check this out over the parade any day," Oliver said with a chuckle.
This report by The Canadian Press was first published July 4, 2022.
Bill Graveland, The Canadian Press
Beehives and goat farms: Lacombe school shortlisted in global environmental contest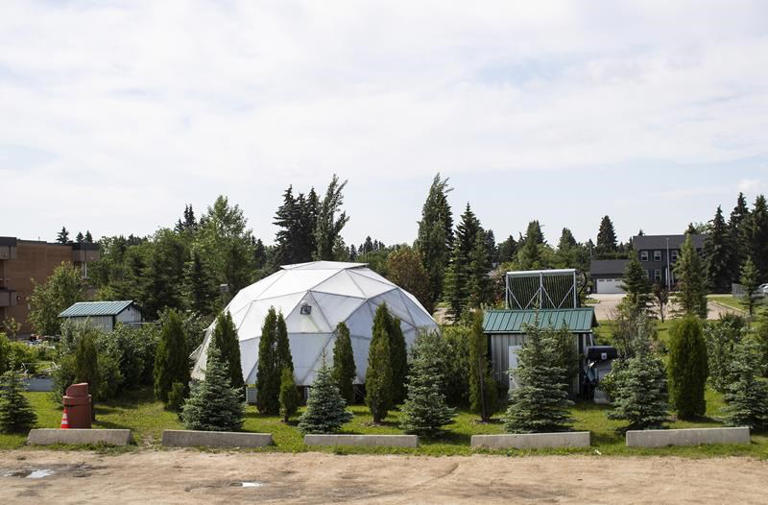 Taylor Perez says she learned more about her passions while tending beehives, goats and fruit trees at her central Alberta high school than sitting through lessons in a classroom.
"These are all skills we don't learn in regular classes," says the 18-year-old student at Lacombe Composite High School.
"You're not going to learn how to collaborate with community members by sitting in a classroom learning about E = mc2."
Perez and her classmates are buzzing with excitement after their school's student-led beekeeping program, goat farm, fruit orchard, tropical greenhouse and other environmental projects were recognized in a global sustainability contest among 10 other schools.
It's the only North American school to be shortlisted by T4 Education, a global advocacy group, in its World's Best School Prize for Environmental Action contest.
"The projects are coming from the students' own hearts and passion for taking care of the environment," says Steven Schultz, an agriculture and environmental science teacher who has been teaching in Lacombe since 1996.
"They are going to be our community leaders — maybe even our politicians — and for them to know what the heartbeat of their generation is (is) extremely important."
Schultz says the projects are pitched and designed by students in the school's Ecovision Club, to which Perez belongs, and he then bases a curriculum around those ideas.
The school of about 900 students began reducing its environmental footprint in 2006 when a former student heard Schultz say during a lesson on renewable energy that "words were meaningless or worthless without action," the 56-year-old teacher recalls.
"She took that to heart and a year later she came back and told me that she wanted to take the school off the grid."
Schultz and students watched a fire burn down solar panels on the school's roof in 2010, an event that further transformed his approach to teaching.
"As their school was burning, my students gathered in tears. That day I realized that students really care about the environment and they really care about the projects that they were involved in."
Since then, 32 new solar panels have been installed, and they produce up to four per cent of the school's electricity. After the fire, students also wanted to clean the air in their classrooms so they filled some with spider plants, including one in the teachers' lounge.
More recently, students replaced an old portable classroom on school property with a greenhouse that operates solely with renewable energy. It's growing tropical fruits, such as bananas, pineapples, and lemons, and also houses some tilapia fish.
Two acres of the school are also covered by a food forest made up of almost 200 fruit trees and 50 raised beds where organic food is grown.
The school also works with a local farm and raises baby goats inside a solar-powered barn that was built with recycled material.
"They breed and milk them at the farm because there are really tight regulations," says Schultz.
"We take the excrement from the goats and the hay and use it as mulch and fertilizers for our garden. The goats also chew up the grass and allow us not to have to use lawn mowers and tractors"
Perez said her favourite class is the beekeeping program with 12 hives that produce more than 300 kilograms of honey every year.
"I love that they have different roles in their own little societies," Perez says of the bees.
She says while working with local businesses and groups as a part of her curriculum, she learned she's passionate about the environment and wants to become a pharmacist so she can continue giving back to her community.
James Finley, a formerly shy Grade 10 student, says the Ecovision Club and environment classes have helped get him out of his comfort zone.
"I made friends, which was a hard thing for me in the beginning. But now I have, like, hundreds," says the 16-year-old, who enjoyed the lessons he took on harvesting.
"Taylor and Mr. Schultz were the main people that made me stay."
Schultz says the winners of the contest are to be announced in the fall.
A prize of about $322,000 will be equally shared among five winners.
This report by The Canadian Press was first published Sunday, July 3, 2022.
—
This story was produced with the financial assistance of the Meta and Canadian Press News Fellowship.
Fakiha Baig, The Canadian Press