Province setting up Alberta Parole Board to decide on early release for sentences less than two years
From the Province of Alberta
Protecting Albertans from repeat offenders
Alberta's government is introducing legislation to create an Alberta Parole Board to ensure our province has a fairer, faster and more responsive justice system that reflects the values of Albertans and meets the needs of our communities.
If passed, Bill 18, the Corrections (Alberta Parole Board) Amendment Act, would create the Alberta Parole Board. A provincial parole board would better protect Albertans, their loved ones and their property from repeat offenders, including parolees. The government is fulfilling a commitment to Albertans to better hold criminals responsible to protect public safety.
"Albertans expect, and deserve, a faster, fairer and more responsive justice system that holds criminals responsible. Our government's platform committed that we would ensure repeat offenders, including parolees, are not able to re-victimize them. This is an important part of getting a fair deal for Alberta, and of getting more Alberta and less Ottawa."
"Our government has heard loud and clear that Albertans want us to do everything we can to protect them, keep our communities safe and prevent people from being victimized. By creating an Alberta Parole Board, Alberta is taking control of a key component of the administration of justice in this province. It will help end the 'revolving door' justice system and will be more in touch with the current realities facing law-abiding Albertans who are frustrated with a justice system that does not make them feel secure and protected."
"RMA has consistently expressed concerns regarding the impacts that repeat offenders have on police services and the justice system in rural Alberta. The creation of the Alberta Parole Board is intended to offer solutions to the current 'catch and release' system, contributing to increased safety for our rural communities through responsive oversight."
The Alberta Parole Board would determine parole or early release eligibility for those serving sentences in provincial correctional facilities, which are sentences less than two years. Currently, Alberta contracts with the federal government to have the Parole Board of Canada make these determinations.
The Alberta Parole Board would also supervise provincial parolees through:
Community probation officers, with localized knowledge and ties to the community in which they work, who will closely monitor offenders released on parole from provincial correctional facilities.
Provincial correctional centre caseworkers and probation officers who will continue to do much of the same work for the Alberta Parole Board that they already do for the federal parole board.
If passed, the government plans to have the Alberta Parole Board in place and operating starting Jan. 1, 2021.
Quick facts
The Government of Alberta will appoint Alberta Parole Board members for provincial parole decisions.
Alberta would be joining Ontario and Quebec, which have had their own provincial parole boards since 1978. As with the Alberta plan, their boards make parole decisions for applicants serving a sentence of less than two years in provincial correctional facilities.
Police looking for these 3 suspects after Super 8 Motel in Innisfail robbed early Monday morning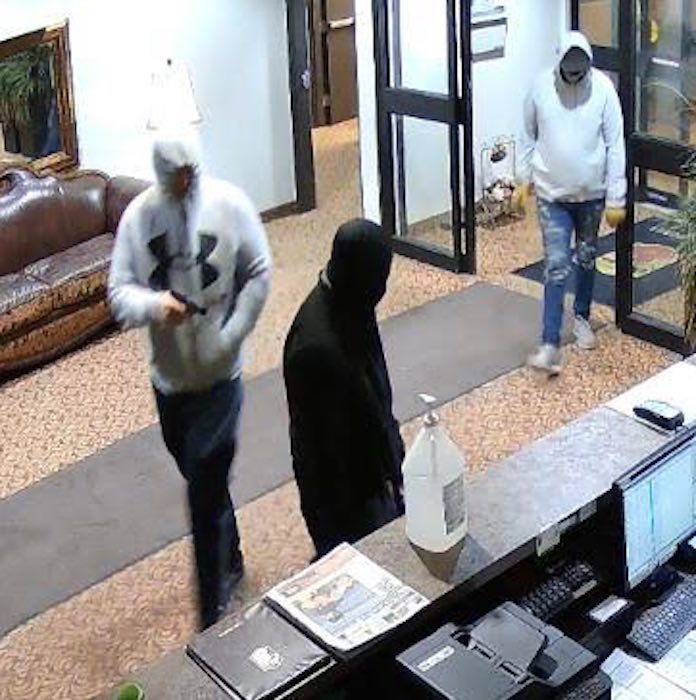 Innisfail RCMP investigate robbery
Innisfail Ala. – On May 29, 2023, at approximately 4:10 a.m., the Super 8 motel in Innisfail was the victim of an armed robbery. Three male suspects entered the hotel, two of which had firearms. Money was demanded from the manager. All three left the motel in a vehicle which is described as:
Chevrolet Dura Max truck
Sliver
Lifted
The suspects are described as:
Suspect #1: Caucasian male, tall and muscular. Wearing jeans and a grey Under Armour hoody. He was carrying a pistol.
Suspect #2: Caucasian male, short. Wearing all black. He was carrying a sawed off shotgun
Suspect #3: Caucasian male tall with a chubby belly. He was wearing a grey hoody, jeans and a black ball hat.
If you have information about this incident, please call the Innisfail RCMP at 403-227-3341 or call your local police. If you want to remain anonymous, you can contact Crime Stoppers by phone at 1-800-222-8477 (TIPS), by internet atwww.tipsubmit.com, or by SMS (check your local Crime Stoppers www.crimestoppers.ab.ca for instructions).
'Tragic accident' blamed for recent death of giraffe at Calgary Zoo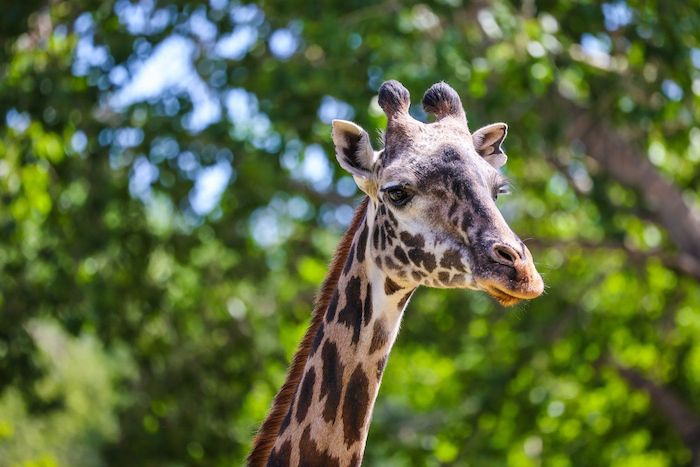 The Wilder Institute/Calgary Zoo says a "tragic accident" led to the recent death of an adult Masai giraffe. A statement from the zoo says the female giraffe named Emara died May 19 after tangling one of her horns on a cable surrounding her enclosure. THE CANADIAN PRESS/HO-Wilder Institute/Calgary Zoo-Sergei Belskey
Calgary
The Calgary Zoo says a "tragic accident" led to the recent death of one of its adult Masai giraffes.
A statement from the zoo says a female giraffe named Emara died May 19 after tangling one of her horns in a cable surrounding her enclosure.
The statement says a necropsy revealed Emara fell against the enclosure fence and died almost instantly of a broken neck.
Emara, who had just turned 12, came to Calgary from the San Diego Zoo in 2016.
The statement says she was a treasured member at the zoo and was known for her cautious yet curious personality and gentle nature.
The zoo says it is checking fencing within its African Savannah Yard enclosure to see if changes are needed to better protect the other giraffes and animals that share the space.
Doug Whiteside, interim associate director of animal care and welfare at the zoo, said Emara was in her prime and was in excellent health when she died.
"Major life changes such as this not only affect our people but can affect our animal residents as well," Whiteside said in the statement Monday.
He said the zoo's remaining giraffes, Nabo and Moshi, are doing well.
Grief counsellors are being made available to Emara's caregivers and other zoo staff.
This report by The Canadian Press was first published May 29, 2023.