Protecting vulnerable Albertans this winter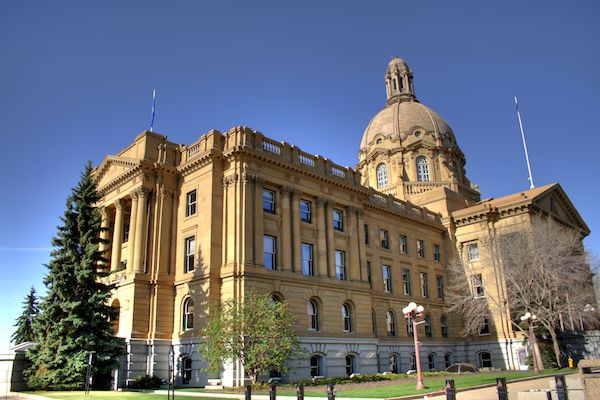 Alberta's government is investing an additional $21.5 million for Albertans experiencing homelessness and family violence.
The pandemic continues to have a large impact on vulnerable people, and this funding will ensure access to services like 24-7 emergency shelter and support for victims of domestic violence while keeping clients safe.
The government announced this additional support at the Hope Mission at the Herb Jamieson Centre. Alberta's government fulfilled a platform commitment with $4 million for the centre's recent construction. This announcement furthers those efforts to support vulnerable people in Alberta.
Alberta's government is also providing $1.5 million to activate up to 200 additional shelter beds at Commonwealth Stadium and will support on-site overdose prevention and treatment services.
"As we continue to navigate through COVID, one of our top priorities is to make sure all Albertans have a safe place to stay and access to the support they need. Together with the $78 million previously announced by Alberta's government, this additional funding will help organizations on the front lines deliver the services vulnerable Albertans need."
"Our community partners are critical to making sure people experiencing homelessness and domestic violence have safe places to stay and where they can still access the supports they need. This funding will go a long way to ensure shelters are providing Albertans with critical supports in a healthy environment."
"A quick look outside the window, and you'll see how important this announcement is to the houseless Edmontonians who were looking for a warm place to sleep during this winter. We have identified the shelter gap in recent meetings with the Premier and his ministers, and they have responded by providing emergency funding for the Spectrum shelter, three needed southside shelters and our enhanced capacity emergency shelter at Commonwealth Stadium. We welcome this support and look forward to building on this collaboration to find more permanent and sustained solutions to end houselessness in Edmonton."
"The Calgary Drop-In Centre has been on the front line of the COVID-19 pandemic, working with our community partners to decrease the spread within our city's homeless population. We are grateful to our partners at the Government of Alberta for the additional funding, which will support medical staff and overflow spaces to meet the increased demand at our main shelter."
"This funding will allow us to maintain extra capacity during the critical winter season. With the unpredictability of COVID-19, we will be able to keep people safe and socially distanced. Thank you to the provincial government for equipping us with extra capacity to serve everyone who needs safe, warm shelter during the cold of Alberta's winter."
The $21.5-million funding package will be distributed as follows:
$13 million for emergency homeless shelters
$6.5 million for isolation facilities
$2 million for emergency women's shelters
Emergency homeless shelters
Funding will support 14 expanded homeless shelter facilities to meet physical distancing requirements. Funding will also support, where possible, 24-7 access to regular meal service, showers, laundry services and connection to addictions and mental health services and housing.
Isolation facilities
Funding will support about 285 isolation spaces in 10 communities. These facilities are a critical component of the shelter pandemic response, and help alleviate pressure in the public health system by helping shelter clients who contract COVID-19 isolate and receive medical care if hospitalization is not required. Additional capacity may be added in some rural communities as needed.
Emergency women's shelters
This funding will support service delivery adjustments at emergency women's shelters. Due to the pandemic, there has been an increase in domestic violence across Alberta. This funding will help shelter operators offer more support through community outreach and virtual service delivery as well as hotel isolation, and adjust in-shelter services to align with public health orders.
Quick facts
This funding guarantees these supports will be in place until March 2022.
This funding is in addition to $78 million announced in 2020.
Funding will support emergency homeless shelters in Edmonton, Calgary, Red Deer, Grande Prairie, Medicine Hat, Lethbridge, Lloydminster, Drayton Valley, Leduc, Slave Lake and Wetaskiwin.
The 10 isolation sites are located in Calgary, Edmonton, Fort McMurray, Grande Prairie, Lethbridge, Medicine Hat, Red Deer, Wetaskiwin, Peace River and Lac La Biche.
With the additional capacity at Commonwealth Stadium, up to 1,280 emergency shelter beds will be available in Edmonton this winter.

The shelter is anticipated to be operational in early December once an operator has been selected.
Infant formula crisis another symptom of North American 'managed trade,' experts say
WASHINGTON — The White House says it is treating the shortage of infant formula as a top priority — a crisis experts say is one more symptom of North America's new era of "managed trade."
And there is growing concern that Canada could be side-swiped by the rush to action in the United States.
Over the weekend, military transports ferried more than 35,000 kilograms of prescription-grade formula into the U.S. from Europe, with more shipments on the way.
And President Joe Biden has invoked the Defense Production Act, a 1950s-era military procurement law, to ensure U.S. manufacturers can get the necessary raw materials to ramp up production.
The shortage was triggered by the shutdown in February of a key plant in Michigan, but international trade experts say the real issue is that the U.S. industry is controlled by only a handful of major players.
Brian Deese, director of the White House National Economic Council, says too few U.S. companies wield too much control over the supply chain.
"Right now, our focus is on getting that formula out to the families that need it," Deese told CNN on Monday.
Prime Minister Justin Trudeau says Ottawa is monitoring the situation closely for fear that the U.S. efforts could end up making the shortage in Canada even worse.
"We need to make sure that we're looking for solutions here in Canada," Trudeau said last week.
Canada's largest formula manufacturing plant is the Chinese-owned Canada Royal Milk facility in Kingston, Ont., but 100 per cent of its output is exported for domestic sale in China.
This report by The Canadian Press was first published May 24, 2022.
The Canadian Press
Farms in B.C. and Alberta latest to have confirmed outbreaks of avian influenza
VANCOUVER — The Canadian Food Inspection Agency has confirmed two more outbreaks of avian influenza in small flocks — one in southern British Columbia and the other in southeastern Alberta.
A statement from the agency says the H5N1 strain of highly pathogenic avian influenza was identified Saturday in the flock in Cypress County, Alta., and on Sunday among birds in the Regional District of Okanagan-Similkameen in B.C.
The B.C. case came one day after 4,000 turkeys on a Fraser Valley farm were due to be euthanized as avian flu was verified last week on two commercial poultry farms in B.C.'s poultry producing hub of Abbotsford.
Data from the food inspection agency shows the outbreak is the 12th recorded in B.C. since the province's first case on April 13.
The infection in Cypress County, near Medicine Hat, is the 29th in Alberta but the first in more than a week.
The agency warns that the so-called bird flu is spreading globally and outbreaks have been confirmed in every province except Prince Edward Island.
However, only B.C., Alberta, Saskatchewan, Ontario and Quebec have recorded new cases in May.
Poultry owners are being advised to use strict infection control measures and to take precautions to keep their flocks separate, secure and unable to mix with wild birds, which are believed to be carrying the virus.
A wildlife centre in central Alberta said last week that it was caring for four young foxes that likely picked up avian flu after eating carcasses of birds that died of the illness, and there was concern more scavengers could become ill.
The food inspection agency said no human cases of avian flu have been detected.
This report by The Canadian Press was first published May 24, 2022.
The Canadian Press