Premier Kenney Goes Ballistic on President Biden and PM Trudeau in defence of Keystone XL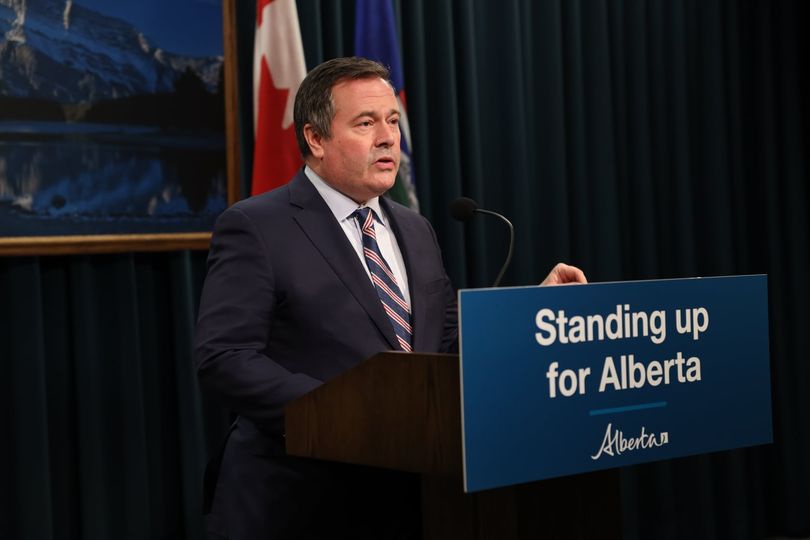 The day before President Biden's inauguration, the incoming government announced the President would rescind the Presidential permit for the Keystone XL Pipeline.  True to his word, one of the first actions of the new President was to retroactively cancel the pipeline which is partially owned by the Canadian Government.
Considering the massive investment by the Province of Alberta which would leave Alberta taxpayers also on the hook for about a billion dollars, Premier Jason Kenney has been speaking out loudly and aggressively.   Premier Kenney has used strong language including "This is not now you treat a friend and ally."
Regarding Canada's response (The federal government is a part owner of the pipeline) Kenney is also calling on Prime Minister Trudeau and the federal government to stand up and retaliate with statements such as. "When the former Trump administration slapped punitive tariffs on Ontario and Quebec steel and aluminum in 2018, the Trudeau government imposed $16 billion worth of countervailing tariffs on U.S. goods the very same day.  By contrast, when Alberta oil was attacked on Wednesday: nothing."
Here are statements Premier Kenney has released over the last three days in full:
January 19
"Canada should be President Biden's first priority in re-establishing U.S. energy security. Canada is the environmental, social and governance (ESG) leader among global energy powers.
Alberta's oilsands, once a source of carbon intensive barrels, has reduced carbon intensity by over 20 per cent in the past nine years. The average barrel produced in Canada is now cleaner than one produced in California.
Canada leads the world in key environmental categories like methane regulation, water use, and innovations like carbon capture and sequestration; and individual Canadian firms hold the top ESG scores in the industry.
TC Energy, the builder of KXL, has also committed to being net zero by 2030, ahead of its US peers, and hire a U.S. union workforce.
You won't get those commitments from Venezuelan shippers.
Canada's oil reserves are vast at 170 billion barrels, making Alberta's oilsands the third largest supply in the world, holding more oil than Russia, China and the USA combined. Keystone XL secures access to this strategic supply for purpose-built U.S. refining capacity in the Gulf.
On environmental and strategic grounds this should be far preferable to carbon-intensive rail transit — or alternate supply from Venezuelan tankers."
January 20
The United States is our most important ally and trading partner. Amongst all of the Canadian provinces, Alberta has the deepest economic ties to the United States with $100 billion worth of exports, and strong social connections that go back over a century.
As friends and allies of the United States, we are deeply disturbed that one of President Biden's first actions in office has been to rescind the Presidential permit for the Keystone XL Pipeline border crossing.
My thoughts are with the 2000 people who lost their jobs today, and all those who are coping with the devastating consequences of this decision.
The US State Department's own exhaustive analysis conducted under President Obama's administration concluded that Keystone XL would actually reduce emissions, as the alternative will be to move this energy by higher emitting and less secure rail transport.
The Government of Canada has more ambitious emissions goals than the new US Administration, and our provincial government is investing billions of dollars in the development of emissions reductions technology.
This means that Alberta, Canada, and the Keystone XL pipeline are part of the solution in the energy transition.
For months we've been told that the Biden transition team would not communicate with foreign governments on this or other issues. And now a decision has been made without even giving Canada a chance to communicate formally with the new administration.
That's not how you treat a friend and ally.
We will continue to fight for Alberta's responsible energy industry, and for the 59,000 jobs that this project would create.
Alberta's government calls for the federal government and Prime Minister Trudeau to immediately enter into talks with the Biden administration on their cancellation of the Keystone XL pipeline in the context of a broader agreement on energy supply and climate action.
Failing an agreement with the American government, we call on the Government of Canada to respond with consequences for this attack on Canada's largest industry. We are not asking for special treatment, simply the same response that Canada's government had when other areas of our national economy were under threat from the US government.
January 21
"He has been so anti-oil himself during his five-plus years in office (including not objecting loudly to the Obama administration's first cancellation of Keystone in 2015), that the incoming Biden administration must have known our Liberals wouldn't put up much of a stink if it killed Keystone.
When the former Trump administration slapped punitive tariffs on Ontario and Quebec steel and aluminum in 2018, the Trudeau government imposed $16 billion worth of countervailing tariffs on U.S. goods the very same day.
By contrast, when Alberta oil was attacked on Wednesday: nothing.
Also, Trudeau can be blamed for making the death of Keystone matter so much. Had Trudeau not killed two other all-Canadian pipelines — Energy East and Northern Gateway — the end of Keystone wouldn't be such a crippling blow."
From January 20
Alberta announces next phase of COVID vaccinations, doses for about 437,000 residents
EDMONTON — Alberta's health minister says 437,000 people can soon begin booking appointments for the next round of COVID-19 vaccinations.
Tyler Shandro says those aged 65 to 74 and First Nations, Inuit and Metis people aged 50-plus can begin booking March 15.  
The province has been able to accelerate vaccinations due to a third one being approved by Health Canada, the Oxford-AstraZeneca vaccine.
Shandro says the first 58,000 doses of AstraZeneca will available starting March 10.
The National Advisory Committee on Immunization has said while AstraZeneca is just as effective as the others, due to incomplete data it recommends it not be given to those over 64.
Shandro says for that reason, the AstraZeneca vaccine will be offered to adults 50 to 64 who don't have a severe chronic illness.
This report by The Canadian Press was first published March 4, 2021.
The Canadian Press
Parkland blames pandemic as Q4 profits and revenue slide on lower fuel sales
CALGARY — Parkland Corp. is reporting lower fourth-quarter earnings and revenue as affects of the COVID-19 pandemic lockdowns continue to erode fuel sales.
The Calgary-based convenience store operator and fuel retailer says it had net earnings of $53 million in the last three months of 2020 on revenue of $3.47 billion, down from $176 million on revenue of $4.78 billion in the same period of 2019.
It says it sold 5.4 billion litres of fuel and petroleum products in the fourth quarter, a decrease of seven per cent compared with the year-earlier period.
It says lower volumes were offset by strong per unit fuel profit margins in Canada and in its international operations, as well as robust company convenience store same-store sales growth in Canada of around eight per cent and a healthy 90 per cent utilization of its Burnaby, B.C., refinery.
Parkland says it will hike its dividend by two per cent, its ninth consecutive annual increase.
The company says it plans growth capital spending of between $175 million and $275 million in 2021, along with between $225 million and $275 million in maintenance capital spending, including about $40 million of work deferred from 2020.
"In 2021, we will strengthen our customer offerings and continue our organic growth initiatives, advance our disciplined acquisition strategy and deepen our commitment to providing customers with low-carbon fuel choices as part of our broader sustainability efforts," said CEO Bob Espey.
This report by The Canadian Press was first published March 4, 2021.
Companies in this story: (TSX:PKI)
The Canadian Press