Masterful storyteller spins yarns on The Bothy
A good story well-told is a beautiful gift. May we suggest treating yourself to The Bothy Storytelling Podcast?
Host Calum Lykan makes his living as a storyteller, and you may even have seen him in real life at a festival, library or school near you, sometimes in his kilt, always in his delightful Scottish brogue.
On his podcast, he shares a mix of captivating tales from the Gaelic and Viking traditions, as well as his own experiences as an immigrant to Canada and an entrepreneur in a creative field. You'll be entertained, inspired and informed.
Let's learn a little more about the voice of The Bothy:
Q. What will people get out of listening to your podcast?

A. A good story and fun. I'm Scottish and charming.
Q. What podcasts do you listen to?

A. Anything storytelling-related, such as The Moth and podcasts from guys like Bill Burr. I love the spoken word.

Q. If you could have any guest on your show, who would you ask?

A. Billy Connolly. No explanation required.
Q. Why do you think people enjoy podcasts?


A. They're easy to access, there's a good variety, and they offer a change from music.
Q. Write your own epitaph — what would it say?
A. Finally he has shut up.

Q. What has been your favourite episode so far?

A. Viking Storm. It was fun to record.
Be sure to connect with Calum and his podcast on Twitter, Facebook and Instagram.
Over the next several weeks, Todayville will introduce you to members of the Alberta Podcast Network, so you can invite even more Alberta-made podcasts into your ears! You can find The Bothy Storytelling Podcast and dozens of other shows at albertapodcastnetwork.com.
About Alberta Podcast Network
The Alberta Podcast Network, powered by ATB, is on a mission to:
Help Alberta-based podcasters create podcasts of high quality and reach larger audiences;

Foster connections among Alberta-based podcasters;

Provide a powerful marketing opportunity for local businesses and organizations.
Alberta Podcast Network Ltd. is pursuing this mission with funding from ATB Financial and support from other sponsors.
Alberta Premier Danielle Smith says conservatives must learn to win in 'big cities'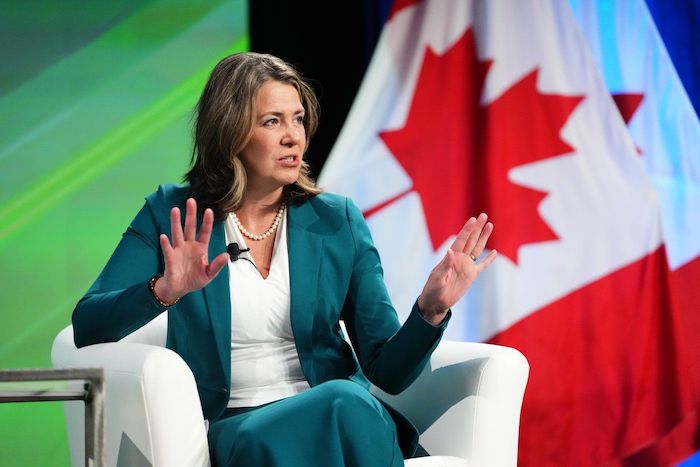 Alberta Premier Danielle Smith speaks at the Canada Strong and Free Network in Ottawa on Thursday, March 23, 2023. THE CANADIAN PRESS/Sean Kilpatrick
Ottawa (CP) – Alberta Premier Danielle Smith says conservatives must learn how to win in "big cities."
Smith made the comment to a room of conservatives gathered in Ottawa for the annual conference of the Canada Strong and Free Network, formerly called the Manning Centre.
With Albertans set to go the polls in a provincial election this year, Smith says the United Conservative Party has more ground to gain in the province's two largest cities: Calgary and Edmonton.
Smith replaced Jason Kenney as party leader and premier last fall, after he resigned following a leadership review where he received only 51 per cent support.
Kenney faced considerable backlash leading up to that vote for his handling of the COVID-19 pandemic, and Smith told today's crowd that the party had lost "a lot" of its base.
Smith's belief that conservatives must make inroads in large cities is shared by the federal Conservatives, with Leader Pierre Poilievre spending many of his weekends in Metro Vancouver and the Greater Toronto Area — areas where his party has struggled to gain ground in the past several elections.
This report by The Canadian Press was first published March 23, 2023.
Alberta Sheriffs receiving additional officers and more powers with new funding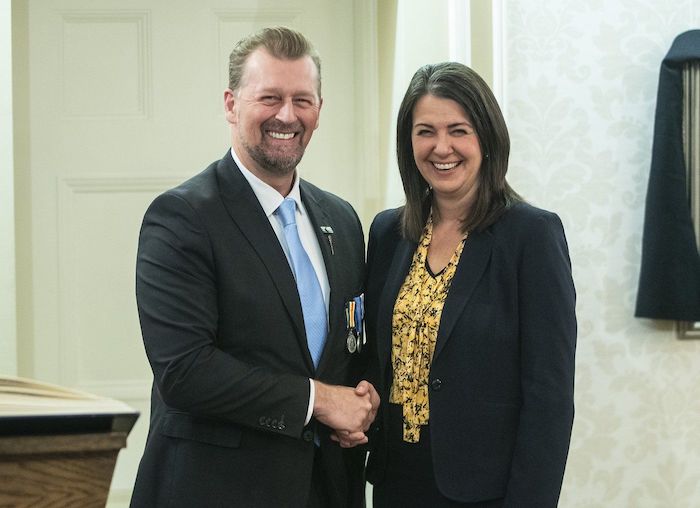 Mike Ellis shakes hands with Alberta Premier Danielle Smith after being sworn into cabinet as minister of public safety in Edmonton, Monday, Oct. 24, 2022. Alberta sheriffs will have expanded powers and play a bigger role in combating rural crime with new funding, the provincial government said Friday. THE CANADIAN PRESS/Jason Franson
St. Paul, Alberta
The Alberta Sheriffs Branch will have expanded powers and play a bigger role in combating rural crime with new funding, the provincial government said Friday.
Public Safety Minister Mike Ellis said $27.3 million will go to new positions and for rural crime initiatives, including two plain clothes teams that will help RCMP with criminal surveillance.
The announcement comes as Alberta continues to mull over whether to create a provincial police service to replace the RCMP.
"There has been some misleading commentary about this investment in the Alberta sheriffs, namely that it's the way of laying the groundwork for establishing a provincial police service by some other means," Ellis said Friday in St. Paul, Alta., 200 kilometres northeast of Edmonton.
"I'd like to remind people that the provincial government hasn't made any decision about an Alberta police service."
Ellis said although the RCMP has its own surveillance teams, most of the efforts are focused on major investigations. He said the new sheriff teams will fill a gap by helping the RCMP detachments with local investigations.
"I've heard countless stories about home invasions being committed by prolific offenders or thefts from farms. Every property owner has the right to feel safe in their home and the right not to wake up and find their equipment gone or fuel siphoned from vehicles," he said.
"These really are the type of cases that keep Albertans up at night."
The sheriffs will also get funding to add 20 investigators to the Safer Communities and Neighbourhood unit, which uses civil enforcement to target problem properties where illegal activities take place.
There is also money for the Sheriff Highway Patrol to train and equip its members to help RCMP with emergencies and high-priority calls.
"We will provide all members of the Alberta sheriffs with full powers to arrest under the Criminal Code," Ellis said.
"Some members of the sheriffs already have Criminal Code authorities, but we believe the public will be better served with consistency throughout this province."
The head of the Alberta RCMP said he welcomes the additional help from the sheriffs.
"These additional resources for the Alberta Sheriffs will improve our combined ability to suppress criminal activity in rural Alberta," said Deputy Commissioner Curtis Zablocki in a statement.
Farooq Sheikh, the chief of Alberta Sheriffs, called it a proud day.
"While our members have a visible presence in many functions they perform such as highway patrol, fish and wildlife enforcement, security in our provincial courts … the sheriffs perform a lot of important work to keep communities safe that's outside of the public eye."
This report by The Canadian Press was first published March 24, 2023.