Making money matter to Alberta students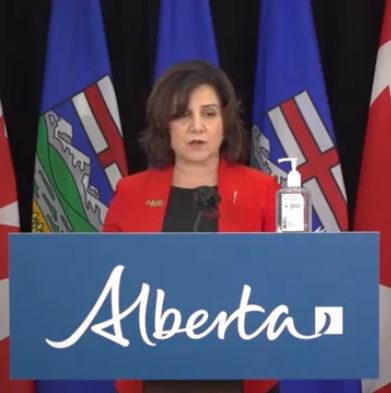 Alberta's government is getting students the training they need to better understand saving, budgeting, spending and investing.
To make sure junior and senior high students have the financial knowledge for today's world, Alberta's government is releasing a call for grant proposals totaling $1 million. The successful organization, or group of organizations, will work with schools to provide financial literacy programming to students starting in fall 2021.
Students will study financial concepts such as costs, interest, debt, investing, insurance and how the economy affects their lives. This call for grant proposals will expand learning opportunities to students in classrooms across the province.
"For the first time in a meaningful way, financial literacy is being addressed across multiple subjects and grades in an age-appropriate way in our province. Understanding how money works will help students gain confidence, solve practical problems and prepare them for the future."
"Strong financial management is the foundation of a successful economy. Likewise, it's an essential life skill that can add immense value to one's personal endeavours. This is why I'm proud of the $1 million investment in financial literacy education, which will support our youth transitioning into adulthood and better equip them for personal and professional success."
"Integrating financial literacy concepts across multiple grades will help to ensure we don't just prepare students for a successful career, but for a successful life. Teaching financial literacy will empower countless Alberta students with the foundational tools needed not only to manage their finances, but to build their own business. These are essential skills for our changing economy."
"It's never too early to become financially literate. The ability to understand finances, in terms of budgets, income, expenses, saving, borrowing, credit – this is knowledge, skills and practices that will not only last one's entire life, but enable young Albertans to set themselves up for success and to lead a prosperous life. Students are Alberta's future entrepreneurs – future business owners, restauranteurs, innovators, creators – all roles that require sound knowledge and insight into finances and budgets. I applaud the Government of Alberta for investing in the financial literacy of Alberta's next generation."
This call for grant proposals builds on successful current financial literacy programs, including those offered by Enriched Academy and Junior Achievement in the 2020/21 school year. These organizations have been working with 39,000 students in Grades 4 to 12 in the past year – in urban and rural communities.
"Normally, the seriousness involved in personal financial literacy can be overlooked when you're 15 or 16. But through this training, my students and I have been able to have meaningful, quality conversations about investing, credit, debt and so much more."
"Before joining Junior Achievement, all I knew was that companies pay their employees, and people have to budget their own money. However, after joining, I learned that there are so many more steps and so much effort goes into this. I've also learned all about making decisions that financially benefit a business or individual – break-even points, budgeting, investing, financial management and so many more financial skills. This program has made a change in my life for the better."
By focusing on financial literacy, Alberta's government aligns with the Ministerial Order on Student Learning released last fall. Developed following consultations with parents, teachers and education experts, it calls for students to acquire competence in managing personal finances.
Financial literacy was also among recommendations from Alberta's independent curriculum advisory panel. In their report, the panel noted students may leave Grade 12 without the basic skills necessary to transition successfully into life after high school. They recommended financial literacy, work readiness, wellness and goal-setting to enhance student learning.
As part of the work to refocus on essential knowledge in Alberta's elementary schools, financial literacy is also a key component of Alberta's draft kindergarten to grade 6 curriculum, under the theme of practical skills. In the draft, all students will study financial literacy in all subjects and grades – from counting coins to creating a budget.
Quick facts
WestJet signs code share agreement with Dutch airline KLM
CALGARY — WestJet Airlines has expanded an existing code-share agreement with KLM Royal Dutch Airlines. 
The Calgary-based airline says it will now be able market flights operated by KLM, which it says means WestJet travellers will be able to easily transfer through Amsterdam's Schiphol Airport to 18 European cities. 
WestJet says the code-share agreement builds on the airline's new non-stop service between Calgary and Amsterdam, operating twice weekly beginning Aug. 5 and increasing to three times weekly on Sept. 9.
The new flights to Amsterdam are part of the airline's Boeing 787 Dreamliner program, which started flights to Europe in 2019 with routes to Paris, London and Dublin.
Code-share agreements allow airlines to sell tickets to places they don't fly to on flights operated by a partner airline, and they allow airlines to increase their market presence and make it more convenient for travellers to fly with them.
KLM already had a code-share agreement with WestJet that allowed the Dutch airline to sell tickets on flights operated by WestJet in Canada.
This report by The Canadian Press was first published July 26, 2021.
The Canadian Press
Brookfield Asset Management completes privatization of Brookfield Property partners
CALGARY — Brookfield Asset Management Inc. says it has closed a deal to acquire the remaining stake in Brookfield Property Partners.
The previously announced deal to buy the stake in the firm it already owns will also take the real estate firm private. 
Under the deal, unitholders have a choice of US$18.17 in cash, 0.4006 of a Brookfield Asset Management class-A limited voting share or 0.7268 of a BPY preferred unit, with limits for each category.
Brookfield Property REIT Inc. says it is redeeming all of its outstanding 6.375% Series A cumulative redeemable preferred stock on Aug. 19 for $25 per share cash, plus all accumulated and unpaid dividends for total proceeds of more than $25.21.
The agreement was overwhelmingly approved on July 16 by Brookfield Property Partners minority unitholders.
Brookfield Property Partners owns or operates a wide variety of properties. including office buildings, shopping malls and other properties across the world.
This report by The Canadian Press was first published July 26, 2021.
Companies in this story:(TSX:BPY.UN, TSX:BAM.A)
The Canadian Press