Learning at home? Here's a list of links to take you on a "Virtual Field Trip"
Here's an interesting list of Virtual Field Trips posted by a teacher from Ohio.
San Diego Zoo

The San Diego Zoo has a website just for kids with amazing videos, activities, and games. Enjoy the tour!

Yellowstone National Park Virtual Field Trip

Mud Volcano, Mammoth Hot Springs, and so much more.

MARS!!!

Explore the surface of Mars on the Curiosity Rover.

They are updating from WEBVR to WEBXR now, but 360 Mode offers a digital view!

Animal Cameras

Live Cams at the San Diego Zoo

Virtual Farm

Tour

This Canadian site FarmFood 360 offers

11 Virtual Tours of farms from minks, pigs, and cows, to apples and eggs.

U.S. Space and Rocket Museum in Huntsville, AL

See the Saturn 5 Rocket on YouTube and more on this tour thanks to a real father/son outing.

Discovery Education Virtual Field Trips

A few of the field trip topics include

The Louvre

Travel to Paris, France to see amazing works of art at The Louvre with this virtual field trip.

The Great Wall of China

This Virtual Tour of the Great Wall of China is beautiful and makes history come to life.

Boston Children's Museum

Walk through the Boston Children's Museum thanks to Google Maps!

This virtual tour allows kids to explore 3 floors of fun.
Have fun learning at home!
-Mrs. Fahrney
School library book bans are seen as targeting LGBTQ content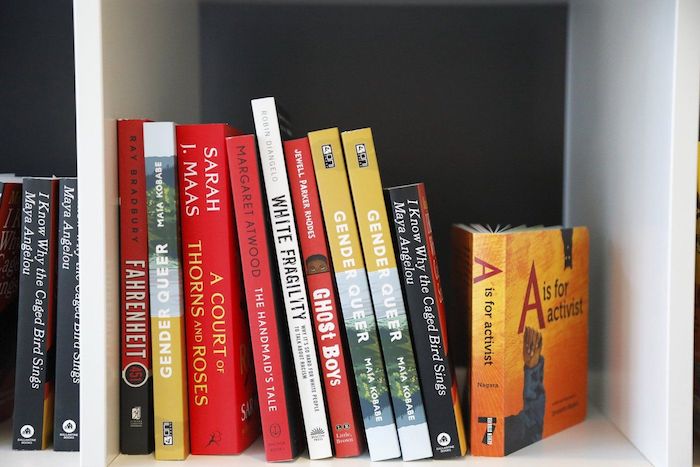 Books are displayed at the Banned Book Library at American Stage in St. Petersburg, Fla., Feb. 18, 2023. In Florida, some schools have covered or removed books under a new law that requires an evaluation of reading materials and for districts to publish a searchable list of books where individuals can then challenge specific titles. (Jefferee Woo/Tampa Bay Times via AP)
By Scott Mcfetridge, Anthony Izaguirre And Sara Cline in Des Moines
DES MOINES, Iowa (AP) — Teri Patrick bristles at the idea she wants to ban books about LGBTQ issues in Iowa schools, arguing her only goal is ridding schools of sexually explicit material.
Sara Hayden Parris says that whatever you want to call it, it's wrong for some parents to think a book shouldn't be readily available to any child if it isn't right for their own child.
The viewpoints of the two mothers from suburban Des Moines underscore a divide over LGBTQ content in books as Republican Gov. Kim Reynolds pushes an especially sweeping crackdown on content in Iowa school libraries. The bill she's backing could result in the removal of books from school libraries in all of the state's 327 districts if they're successfully challenged in any one of them.
School boards and legislatures nationwide also are facing questions about books and considering making it easier to limit access.
"We're seeing these challenges arise in almost every state of the union," said Deborah Caldwell-Stone, director of the American Library Association's Office for Intellectual Freedom. "It's a national phenomenon."
Longstanding disagreements about content in school libraries often focus this year on books with LGBTQ themes as policymakers nationwide also consider limiting or banning gender-affirming care and drag shows, allowing the deadnaming of transgender students or adults in the workplace, and other measures targeting LGBTQ people.
The trend troubles Kris Maul, a transgender man who is raising a 12-year-old with his lesbian partner in the Des Moines area and wants school library books to reflect all kinds of families and children. Maul argued that those seeking to remove books take passages out of context and unfairly focus on books about LGBTQ or racial justice issues.
LGBTQ people are more visible than even five years ago, Maul said, and he believes that has led to a backlash from some who hope limiting discussion will return American society to an era that didn't acknowledge people with different sexualities.
"People are scared because they don't think LGBTQ people should exist," Maul said. "They don't want their own children to be LGBTQ, and they feel if they can limit access to these books and materials, then their children won't be that way, which is simply not true and is heartbreaking and disgusting."
In Louisiana, activists fear a push by Republican Attorney General Jeff Landry to investigate sexually explicit materials in public libraries — and recently proposed legislation that could restrict children and teens' access to those books — is being used to target and censor LGBTQ content.
Landry, who is running for governor, launched a statewide tip line in November to field complaints about librarians, teachers, and school and library personnel. Landry released a report in February that listed nine books his office considers "sexually explicit" or inappropriate for children. Seven have LGBTQ storylines.
In Florida, some schools have covered or removed books under a new law that requires an evaluation of reading materials and for districts to publish a searchable list of books where individuals can then challenge specific titles.
The reviews have drawn widespread attention, with images of empty bookshelves ricocheting across social media, and are often accompanied by criticism of Gov. Ron DeSantis, a Republican expected to run for president.
The state's training materials direct the reviews to target sexually explicit materials but also say that schools should "err on the side of caution" when selecting reading materials and that principals are responsible for compliance.
Florida's largest teachers union is challenging the law, arguing its implementation is too broad and leading to unnecessary censorship. An education department spokesperson did not immediately comment.
DeSantis said the state has not instructed schools to empty libraries or cover books. He said 175 books have been removed from 23 school districts, with 87% of the books identified as pornographic, violent or inappropriate for their grade level.
The Iowa legislation comes amid efforts there to keep a closer eye on public school curriculums and make taxpayer money available to parents for private school tuition. Reynolds, the governor, has made such proposals the core of her legislative agenda, telling a conservative parents group that their work was essential to guarding against "indoctrination" by public school educators.
Under a bill backed by Reynolds, the titles and authors of all books available to students in classrooms and libraries would be posted online, and officials would need to specify how parents could request a book's removal and how decisions to retain books could be appealed. When any district removes a book, the state Education Department would add it to a "removal list," and all of Iowa's 326 other districts would have to deny access to the book unless parents gave approval.
At a hearing on Reynolds' bill, Republican lawmakers, who hold huge majorities in both legislative chambers, said they might change the proposal but were committed to seeing it approved. The bill has passed a Senate committee and is awaiting a floor vote.
"The parents are the governing authority in how their child is educated, period," said Sen. Amy Sinclair. "Parents are responsible for their child's upbringing, period."
Patrick, a mother of two, expressed befuddlement about why anyone would want to make sexually explicit books available to children.
"I have to believe that there are books that cater to the LGBTQ community that don't have to have such graphic sexual content in them," said Patrick, a member of a local chapter of Moms for Liberty, a conservative group that has gained national influence for its efforts to influence school curriculum and classroom learning. "There are very few books that have ever been banned and what we're saying is, in a public school setting, with taxpayer-funding money, should these books really be available to kids?"
Hayden Parris, a mom of two from a suburb only a few miles away, understands the argument but thinks it misses the point.
"A kindergartner is not wandering into the young adults section and picking out a book that is called like, "This Book is Gay," said Hayden Parris, who is leading a parents group opposed to Iowa's proposed law. "They're not picking those books, and the fact that they can pick one out of several thousand books is not a reason to keep it away from everyone."
Sam Helmick, president of the Iowa Library Association, said communities should decide what's in their libraries and that it's important for children to have access to books that address their lives and questions. Helmick didn't have that ability as a child, and students shouldn't return to that time, she said.
"Can we acknowledge that this will have a chilling effect?" Helmick asked. "And when you tell me that books about myself as an asexual, nonbinary person who didn't have those books in libraries when I was a kid to pick up and flip through, but now publishing has caught up with me and I can see representation of me — those will be behind the desk and that's not supposed to make me feel less welcome, less seen and less represented in my library?"
___
Izaguirre reported from Tallahassee, Florida, and Cline from Baton Rouge, Louisiana.
Following feedback Alberta Education to release new curriculum this fall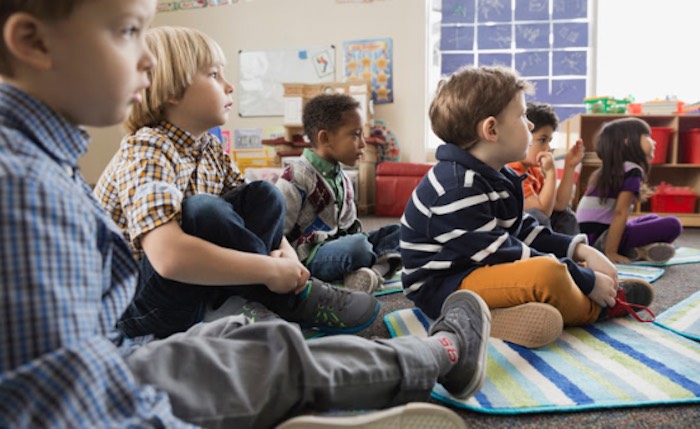 French and science curriculums ready for classrooms
Elementary students and teachers will benefit from updated K-6 curriculums and resources in classrooms this fall.
Alberta's government is continuing to take a balanced and measured approach to kindergarten to Grade 6 (K-6) curriculum renewal, based on advice from the Curriculum Implementation Advisory Group. All K-3 students will learn from new French First Language and Literature, French Immersion Language Arts and Literature and Science curriculums this September. School authorities will also have the option to implement new curriculum in these three subjects for grades 4 to 6 if they choose.
Alberta's government is delivering on its commitment to provide updated curriculum with essential knowledge and skills to better prepare students for the future.
"Curriculum renewal is essential to help prepare our students for a rapidly changing labour market, which is placing an ever- increasing premium on adaptability and transferable skills. To ensure successful implementation, we are making significant investments to provide teachers with the resources they need to support students in transitioning to the new curriculum."
In response to feedback on the original draft, changes across the three K-6 subjects have been made to address areas of concern with content load, age appropriateness and wording clarity. Subject-specific changes include:
Strengthening French First Language and Literature content by adding spelling rules and specifying which types of texts are studied in each grade.
Enhancing French Immersion Language Arts and Literature content to align with the principles of learning an additional language and developing students' creative writing skills.
Strengthening Science content to promote understanding of agricultural practices in Alberta and align with previously implemented subjects. In the new K-6 Science curriculum, students in Grade 3 will examine how layers of Earth's surface, including the discovery and location of dinosaur fossils, hold information about the past. In Grade 6, students will examine abstractions, coding structures and the impact of computers and technology.
Alberta's government has listened to all feedback from classroom piloting and engagement activities to make final updates to the K-6 French First Language and Literature, French Immersion Language Arts and Literature and Science curriculums. In the 2022-23 school year, 47 school boards across the province piloted the draft curriculum, including 941 teachers and 22,000 students. The updated curriculums align with top-performing jurisdictions in Canada and globally and with new curriculum previously implemented across the province. Albertans can access the final curriculum online to see what has changed.
"For this school year, we had 60 teachers from K-6 participate in the French Immersion Language Arts and Literature (FILAL) pilot. Teachers are impressed with how condensed and clearly laid out the curriculum is as well as the consideration that has been given to age-appropriate sequencing of learning outcomes. Teachers are looking forward to implementing this curriculum next school year and to receiving a list of curated Alberta Education resources to support with implementation."
"The FCSFA appreciates the willingness to listen and the cooperation of Alberta Education. We are committed to continue this cooperation with the province to be able to offer a French First Language and Literature curriculum which meets the needs of our francophone students."
"The CASS board of directors appreciates the ministry's responsiveness to feedback and supports phased implementation that provides school authorities flexibility to implement new curriculum based upon local contexts."
Supporting successful curriculum implementation
Alberta's government is committed to ensuring the curriculum implementation process is as successful and practical as possible for elementary teachers this September. In 2023-24, approximately $47 million is being invested in teacher professional learning as well as learning and teaching resources to make sure teachers and students are equipped for the updated K-6 curriculum in classrooms.
"Professional development and timely access to resources are essential to ensure educators and the system are fully prepared to implement new curriculum. The Alberta School Boards Association looks forward to continuing to engage with our member boards, and to collaborate with the government and education partners on required supports to ensure the success of all students."
"The Calgary Board of Education shares the government's goal of providing a quality curriculum that prepares students for future success. Together, we are committed to ongoing effective implementation."
As part of this investment, Alberta Education is working with the province's four largest school authorities to develop science resources. This collaboration will ensure resources are accessible to all school authorities to support student learning and the successful implementation of new K-6 Science curriculum.
"Through our pilot process, Edmonton Catholic Schools has worked closely with Alberta Education to provide feedback to ensure quality learning experiences for all students. An updated curriculum, including Computer Science, will help students develop skills and aptitudes for the future."
"Edmonton Public Schools is committed to creating resources and support materials that will help K-6 teachers across the province implement the new Science curriculum."
To help teachers across the province prepare for the upcoming school year, Alberta's government is providing a variety of supports and resources online, including:
the final K-6 French First Language and Literature, French Immersion Language Arts and Literature and Science curriculums
the Provincial Resource Review Guide, with guidelines for selecting learning and teaching resources aligned with the new curriculums
bridging resources to assist with transitioning from the current curriculums to the new curriculums
videos and support documents with an overview and orientation to the new curriculums
tools that support teacher planning, collaborating and sharing
information about flexible professional learning opportunities
Alberta Education will provide school authorities with additional details to facilitate planning and implementation for September. School authorities will also continue to have flexibility to select resources to support curriculum implementation in their classrooms.
Next steps for implementation, piloting and engagement
Alberta's government is continuing to take a balanced, phased approach to K-6 curriculum renewal based on advice from the Curriculum Implementation Advisory Group.
More information on curriculum implementation, further piloting opportunities and engagement will be shared online as details become available.
Quick facts
More than 240,000 students will be learning from the new K-3 French First Language and Literature, French Immersion Language Arts and Literature and Science curriculums during the 2023-24 school year.
As announced in March 2022, school authorities will also implement grades 4 to 6 English Language Arts and Literature and Mathematics curriculums this fall.
In 2023-24, approximately $47 million has been allocated for the K-6 implementation process. This includes funding for school authorities:

$45 on a per-student basis to purchase additional curriculum resources to support implementation of new K-6 curriculum in three subject areas.
$800 on a per-teacher basis to support professional learning.
In addition, Alberta Education will retain funding to purchase, license and develop high-quality learning and teaching resources aligned with the new curriculum.

Between March 2021 and February 2023, Alberta's government provided many opportunities for Albertans to share feedback on the draft K-6 curriculum:

More than 34,000 online surveys were completed.
More than 1,100 attendees participated in virtual information sessions hosted by Alberta Education.
Nearly 600 Albertans shared diverse viewpoints on each subject area at 31 virtual engagement sessions.
Twelve partner organizations were provided $800,000 in grants to help them engage with their communities and report their unique perspectives.
In the 2021-22 school year, about 360 teachers piloted draft K-6 Mathematics, English Language Arts and Literature, Science, Physical Education and Wellness, Social Studies and Fine Arts curriculums with about 7,800 students.
In the 2022-23 school year, 941 teachers are piloting draft K-6 French First Language and Literature, French Immersion Language Arts and Literature and Science curriculums with 22,000 students in 47 school authorities across the province.

The 12-member Curriculum Implementation Advisory Group had balanced representation from across the education system to help ensure the best interests of the entire education system inform the group's advice and recommendations.