Larger outdoor gatherings, indoor seating at restaurants – gyms, theatres, museums, libraries allowed to open Thursday
Stage 2 of Open for Summer Plan begins June 10
Alberta will take a big step towards safely returning to normal as fitness centres, libraries and movie theatres reopen and large outdoor gatherings resume.
Beginning June 10, Stage 2 of the Open for Summer Plan will take effect, two weeks after 60 per cent of Albertans age 12-plus received at least one dose of vaccine and with COVID-19 hospitalizations well below 500 and still falling.
"With more than 67 per cent of eligible Albertans vaccinated with a first dose, a fully reopened Alberta is within our sight. We are putting the worst of this pandemic behind us for good and moving into a bright summer and an even brighter future. If you haven't booked your appointment yet, please arrange to get your first dose today so we can be fully open for summer."
"I am pleased that we continue to strike a safe balance between easing restrictions and preventing the spread of COVID-19. Together, we can continue to keep transmission low as we reopen our province."
"We continue to be able to reopen thanks to Albertans who protect each other every day. We can keep up this progress if Albertans continue to book their first and second-dose appointments and follow public measures, such as masking, maintaining a safe distance and staying home when feeling even slightly unwell."
Officials will continue to monitor the progress of Alberta's vaccine rollout while keeping a close eye on hospitalization numbers and COVID-19 transmission in the province.
Restrictions eased in Stage 2 of the Open for Summer Plan, effective June 10
Outdoor social gatherings increase to 20 people, with distancing.
Indoor and outdoor wedding ceremonies may occur with up to 20 attendees. Receptions are permitted outdoors.
Indoor and outdoor funeral services remain unchanged with up to 20 people permitted. Receptions are permitted outdoors.
Restaurants may seat tables with up to six people, indoors or outdoors.

Dining parties are no longer restricted to households only.
Physical distancing and other restrictions still apply.

Retail capacity increases to one-third of fire code occupancy.
Capacity for places of worship increases to one-third of fire code occupancy.
Gyms and other indoor fitness facilities open for solo and drop-in activities with three-metre distancing between participants and fitness classes may resume with three-metre distancing.
Indoor settings may open with up to one-third of fire code occupancy, including indoor recreation centres. This includes arenas, cinemas, theatres, museums, art galleries and libraries.
Indoor and outdoor youth and adult sports resume.
Youth activities, such as day camps, overnight camps and play centres, may resume.
Personal and wellness services can resume walk-in services.
Post-secondary institutions can resume in-person learning.
The work-from-home order is lifted but still recommended.
Outdoor fixed seating facilities (e.g., grandstands) can open with one-third seated capacity.
Public outdoor gatherings increase to 150 people (e.g., concerts/festivals).
Indoor masking and distancing requirements remain in place throughout Stage 2. Some restrictions continue to apply to activities within each step.
Stage 3 is expected to begin in late June or early July. This is dependent on all Albertans continuing to get vaccinated and following the public health measures in place.
Albertans can track the province's vaccination progress on alberta.ca.
Alberta's government is responding to the COVID-19 pandemic by protecting lives and livelihoods with precise measures to bend the curve, sustain small businesses and protect Alberta's health-care system.
'Flared back up': Alberta town of 8,400 evacuated for second time due to fire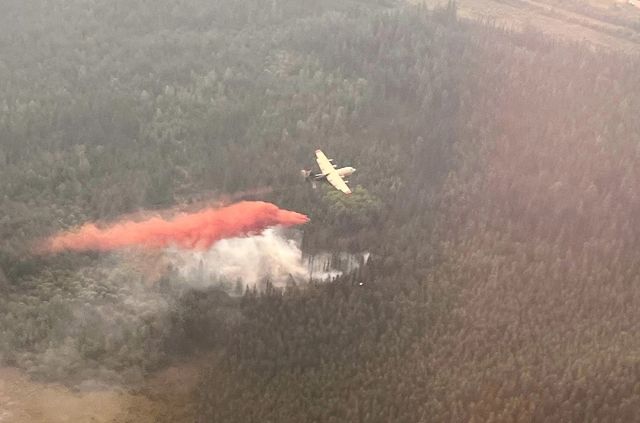 Airtankers work on a wildfire near Edson, Alta., in a Friday, June 9, 2023, handout photo. The town was evacuated Friday night due to an out-of-control wildfire. THE CANADIAN PRESS/HO-Government of Alberta Fire Service
Edson
A town in western Alberta was under an evacuation order late Friday due to an out-of-control wildfire — its second such order this spring.
Local officials issued the evacuation for Edson and parts of Yellowhead County.
"We're still evacuating the community and evacuating the hospital," said Edson mayor Kevin Zahara.
"All things considered, so far so good — but the next 72 hours are going to be critical for us. We have a lot of warm temperatures in the forecast and it's windy here right now.
"It's going to be dependent on those winds and the weather on how this fire behaves."
Alberta government officials said the fire burning near the community of about 8,400 jumped fire guards and moved closer to populated areas, including the town. They warned that there could be impacts to roads and highways if the fire crossed the guards and blocks evacuation routes.
"Because that fire is so out of control, some of the forestry crews have had to back off," said Luc Mercier, chief administrative officer for Yellowhead County, in a video statement on one of the town's Facebook pages. "They can't fight that fire."
Mercier said the fire could threaten Highway 16, the main east-west route in the area.
"We have significant concerns with egress along Highway 16 in the coming days," he said. "The next 36 hours will be paramount with the winds coming forward."
An update issued at 11 p.m. said live embers and flames were seen in Willmore Park, meaning the fire had crossed the river. The notice said if people had not left the area yet, "now is the time." Officials said emergency crews were busy with fire operations and would not be able to respond if people needed help.
The Edson area, about 190 kilometres west of Edmonton, saw four new fire starts on Friday, said Mercier.
An unprecedented start to the wildfire season led Alberta to bring in a provincewide state of emergency on May 6. At one point, about 29,000 people were out of their homes in various communities.
The state of emergency was lifted last week.
On Friday afternoon, before the evacuation order was issued for Edson and the surrounding area, about 3,500 Albertans remained out of their homes.
Evacuation buses were leaving from three points in Yellowhead County and five in Edson. An evacuation centre was being set up in Edmonton's Expo Centre.
Zahara said there had been little threat in the area as recently as four days ago. Hot weather and high winds put a stop to that.
"This fire has flared back up," Zahara said.
"It's really important people adhere to the evacuation order."
He said no services, including fire and medical, would be available in Edson until further notice.
Edson was evacuated for three days in early May by another wildfire.
Zahara said at the time that he thought there was a good chance the town would be lost to the flames.
That evacuation took a heavy financial toll on townspeople through loss of income and unexpected expenses such as hotel rooms, he said.
— By Bob Weber in Edmonton
This report by The Canadian Press was first published June 9, 2023.
A look at Alberta Premier Danielle Smith's new cabinet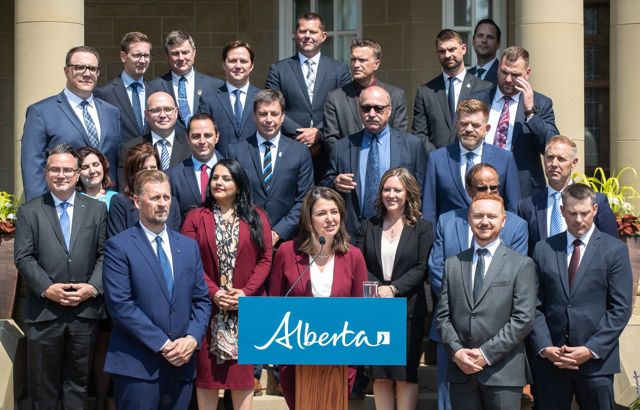 Premier Danielle Smith introduced her cabinet Friday, the second one since taking over as United Conservative Party leader in October. Here are the changes at a glance:
Second in command: Mike Ellis retains his Public Safety and Emergency Services portfolio but is also now deputy premier.
Big promotions: Mickey Amery moves from Children's Services to Justice; Nate Horner moves from Agriculture and Irrigation to Finance; Adriana LaGrange already had a heavyweight title in Education but now takes on enormous responsibilities in Health.
New faces: RJ Sigurdson joins cabinet for the first time in Agriculture and Irrigation; Searle Turton is new in Children and Family Services; Dan Williams gets his first cabinet seat in Mental Health and Addiction.
Returning vets: Jason Nixon, the environment minister and government house leader under former premier Jason Kenney, is back in cabinet handling the Seniors, Community and Social Services post. Ric McIver, dropped from Smith's first cabinet, returns in his old job of Municipal Affairs. Muhammad Yaseen, a former associate minister of immigration, now has full cabinet rank as minister of Immigration and Multiculturalism; Tanya Fir, former economic development minster under Kenney, is back in Arts, Culture and Status of Women portfolio.
Same faces, new jobs: Rebecca Schulz (Environment and Protected Areas), Brian Jean (Energy and Minerals), Nathan Neudorf (Affordability and Utilities), Joseph Schow (Tourism and Sport), Demetrios Nicolaides (Education), Rajan Sawhney (Advanced Education), Matt Jones (Jobs, Economy and Trade), Peter Guthrie (Infrastructure).
Same faces, same jobs: Nate Glubish (Technology and Innovation), Dale Nally (Service Alberta and Red Tape Reduction), Devin Dreeshen (Transportation and Economic Corridors), Todd Loewen (Forestry and Parks).
This report by The Canadian Press was first published June 9, 2023.