It's playoff time! Rebels open up at home against Hitmen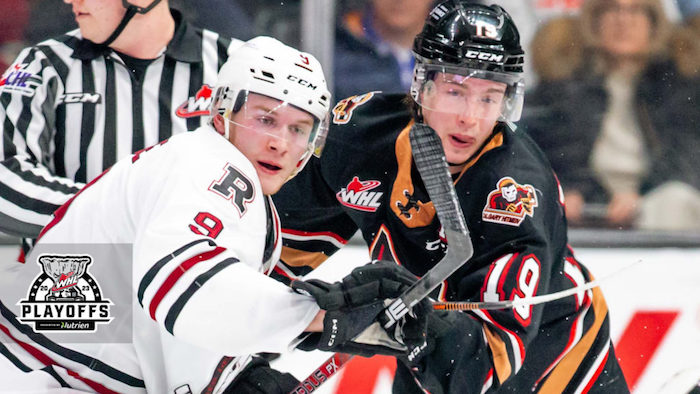 Rebels captain Jayden Grubbe picked up the 2022/2023 Players Award. In this photo by Rob Wallator, Grubbe battles against first round opponent Sean Tschigerl.
From the Red Deer Rebels
REBELS THIS WEEK
PLAYOFFS EDITION – MARCH 27, 2023
BRING ON THE HITMEN!
The Red Deer Rebels take on the Calgary Hitmen in round one of the 2023 WHL Playoffs presented by Nutrien.
The Rebels were 6-1-1-0 versus the Hitmen during the regular season. This will be the seventh playoff series between the two clubs with Red Deer having won four of the first six.
WHL Eastern Conference Quarterfinals – #2 Red Deer Rebels vs. #7 Calgary Hitmen
Game One Friday, March 31 7 p.m. Peavey Mart Centrium, Red Deer
Game Two Saturday, April 1 7 p.m. Peavey Mart Centrium, Red Deer
Game Three Monday, April 3 7 p.m. Scotiabank Saddledome, Calgary
Game Four Wednesday, April 5 7 p.m. Scotiabank Saddledome, Calgary
Game Five* Friday, April 7 7 p.m. Peavey Mart Centrium, Red Deer
Game Six* Sunday, April 9 2 p.m. Scotiabank Saddledome, Calgary
Game Seven* Tuesday, April 11 7 p.m. Peavey Mart Centrium, Red Deer
* If necessary
Single-game tickets for all Rebels home playoff games at the Peavey Mart Centrium can be purchased through Tickets Alberta. Playoff packages are available at reddeerrebels.com.
UCHACZ SCORES 50 GOALS
Centre Kai Uchacz is the sixth player in Rebels history to score 50 goals in a season. It's also the first time the Rebels have had a 50-goal scorer in back-to-back seasons since 1992-93 and 1993-94.
Player Season Goals
B.J. Young 1996‑97 58
Kyle Wanvig 2000‑01 55
Ben King 2021‑22 52
Craig Reichert 1993‑94 52
Dean Tiltgen 1992‑93 50
Kai Uchacz 2022‑23 50
YEAR-END AWARDS
The Rebels have handed out their annual year-end awards for the 2022-23 WHL Regular Season. Kai Uchacz took home four awards — the Three-Star Award, Hampton Inn and Suites Top Scorer, Bearcom Most Valuable Player and ATB Humanitarian of the Year. Christoffer Sedoff was honoured as the team's Top Defenceman. The Players' Award was presented to captain Jayden Grubbe. Jace Isley was honoured as the Darcy Robinson Most Underrated Player, Ollie Josephson picked up the Pattison Media Rookie of the Year award, and Carson Birnie was the recipient of the Telus Scholastic Player of the Year award.
THE JACKPOT IS OVER $14000 AND THE WINNER WILL TAKE HALF!!!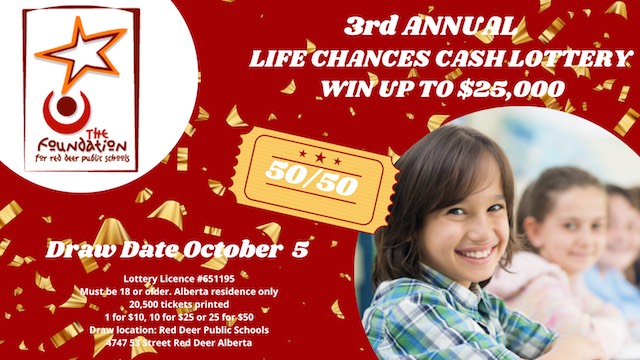 GET YOUR 50/50 TICKETSTODAY!!!! Winner could take home up to $25,000!!!
The Foundation for Red Deer Public Schools supports programs that have a significant impact on the LIFE CHANCES of students across the Division. By purchasing a ticket to support our 50/50 cash lottery you are giving students opportunities to have better life chances.
From giving kids a Bright Start to school to reconnecting with students so they graduate and cross the Finish Line, the Foundation helps students who face challenges in school and makes things better. We motivate struggling students and inspire them to read and write through Reading College. For students who come to school without basic needs, we give them that needed Step Up.
With the support from the Foundations 50/50 Life Chances Raffle, you are providing a student with opportunities that will improve their life. They can't always control the situations they're in but with your help students will continue to have these chances.
Don't miss your chance, CLICK HERE to buy your tickets today – Draw will be held on October 5! Good luck!
NOTE: This raffle is open to all community members in Alberta and over the age of 18.
Russell Peters at Peavey Mart Centrium Sunday, September 17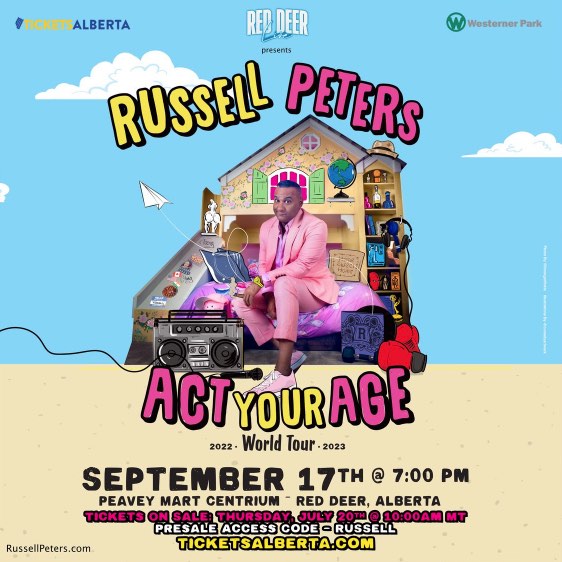 RUSSELL PETER'S WILL BE ON STAGE AT WESTERNER PARK IN 2 WEEKS
Tickets to see the ICONIC Russell Peters Are On-Sale NOW!!!
ACT NOW!
THIS IS YOUR ONLY CHANCE TO CATCH THE SHOW IN ALBERTA THIS SUMMER
Red Deer, Alberta…
this IS a laughing matter!
SUNDAY, SEPTEMBER 17th, 2023.
The global comedy-icon brining his 'Act Your Age' World Tour to Red Deer –the only Alberta-stop on the tour this summer.
Russell Peters was recently named as one of Rolling Stone's 50 Best Comics of All Time. He started doing stand-up at the age of nineteen at open mics in his native Toronto, and spent the next fifteen years honing his craft at clubs across Canada and the UK. In 2004, Peters gained critical and global recognition for his CTV "Comedy Now!" special and soon became the first comedian to sell-out Toronto's Air Canada Centre in 2007. Peters went on to set attendance records at venues from Madison Square Garden to The Sydney Opera House to London's O2Arena – where he broke the UK attendance record for highest number of tickets sold for an individual comedy show.
Russell Peters

Act Your Age

SEPTEMBER 17, 2023

PEAVEY MART CENTRIUM, RED DEER, ALBERTA