If You Don't Hear From Me, It's Because I Don't Hear From You.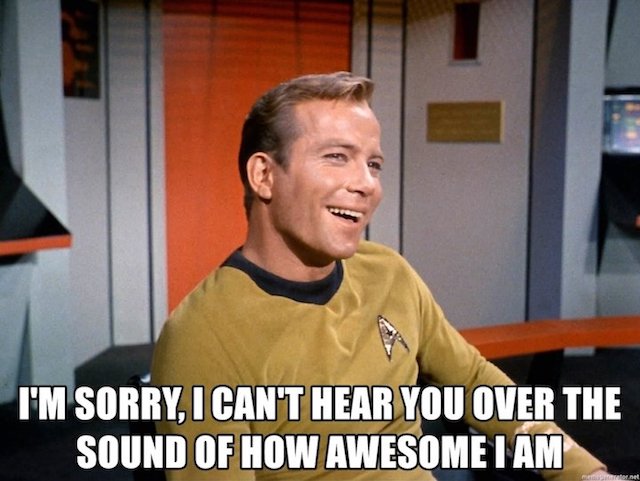 In his memoir, former BMO CEO Tony Comper recalled the press conference to announce a merger between two Japanese automobile corporations. Everything was going swimmingly until someone at the presser asked how long would it be before the two corporate cultures fully merged?
One of the CEOs replied without hesitation. "Forty-three years."
Forty-three years? Why forty-three years? he was asked.
"Because that's how long it will be until the executives who made this deal are all dead."
Yes, there are stubborn business cultures. But there are also political cultures that persist against all efforts to convince them they are deluded. People find it hard to change their ways— particularly when they've defended them publicly for years. The New Left's ironclad resistance to reason and debate is a feature, not a glitch. How to reach them in a friendly, inclusive manner?
Good luck. The Right's challenge is thinking these people will respond to shame or being corrected. Can't be done. Won't be done. They're like Japanese soldiers fighting WW II on a deserted island 25 years after armistice. They'll die repeating the Donald Trump Bleach meme to themselves.
This Gallup poll sheds light on how American (and Canadian) cultures can be blissfully unaware of some huge stories and obsessed by other narratives that fit their mindset. It shows that from 1972-2022 that GOP trust of media has plummeted from 41 percent to under 10 percent, while independents have gone from 53 percent to under 36 percent trust. IOW, their former favourite news sources don't jive with their everyday reality.
But Democrats in the poll have vaulted from 64 percent to 76 percent in trust of media. Why? One reason probably lies with being told the narratives that please them. That give them comfort. These consumers allow legacy media's fact checkers to sort out what they should know from "disinformation" without getting their hands dirty with the original story.
How pervasive was the scrubbing? The recent Missouri v. Biden recognized that federal government officials had been interfering with social media companies that digressed from the "accepted" line. An appeals court ordered them to stop. In another case, FBI was bribing reporters and scientists to change their opinions on the origin of the Covid-19 virus, sanitizing stories before they are doled out to the Woke.
"The Science" is supposed to be an ongoing vigorous debate with few settled laws. Yet, most cult scientists refuse debate, preferring to dismiss opponents as conspiracy nuts or— as they did with vaccines— dangers to society. When Al Gore allows himself to be cornered by questions, he rolls his eyes, sighs theatrically and asks his followers how anyone could deny The Science.
Gore's climate apocalypse culture has morphed within a generation from the few fighting pollution to a global dogma of CO2 poisoning nature . Attempts to talk sense on carbon emission obsession, plastics prohibitions, aversion to the nuclear option, Greta Thunberg beatification have all proven futile in the face of an End Oil Now cult that makes Scientology look like the Boy Scouts.
It was the same for the #RussiaHoax, #FinePeopleHoax, #BleachHoax and now Hillary Clinton's "real war on truth, facts, and reason". These liberal road-tested canards persists to this day. Here's Biden on a rare cogent day this summer repeating the #FinePeople hoax that has been debunked years before. Even the Washington Post has had enough, listing Biden's Top 100 fabulist claims since becoming POTUS.
The latest cult cleansing is Biden's patently false denial of any contact with son Hunter Biden's Shakedown scheme. The denial is awarded first position beside #climateemergency on search engines and nightly newscasts. Famously, 51 former security directors and officials claimed, without evidence, that Hunter's infamous laptop was Russian disinformation. Case closed, said MSNBC. No wonder so many consumers of legacy media in this echo chamber can blithely claim there is no substance to any of the Hunter stories documented by the competition and chronicled on his own hard drive.
The Canadian equivalent of denial culture came with the magic "cure-all" vaccines. Rather than publicly confront the Truckers Convoy on their refusal to take Covid-19 vaccines (which are now accepted as being flawed ), Trudeau hid in the Rideau Cottage calling truckers "an insult to science". To make sure they never got a chance to question him he sent the cops after them, arrested them, suspended their civil liberties and finances and subjected them to show trials.
And he was supported by the purchased Canadian media who vilified the protesters— for lack of armed insurrection or rioting— for staying too long in their protest. Many promoted false stories of arson and foreign financing of the convoy. This media Trudeau then tried to reward with Bill C-18— designed to make Meta, Google and other large tech sources pay to prop up failing Canadian media. In response, Meta has blocked all news links in Canada and cancelled existing deals with Canadian news outlets. The blocked links cover both Canadian and foreign news in light of Bill C-18.
And the same newspaper lobby that largely gave him a free pass on declaring a national emergency now wants the $595 million "temporary" bailout to be extended with double the subsidies (seeking government tax credits equal to 35% of labour costs.) The bailout meant to aid transition to digital is now instead a Trudeau lifeline in the Toronto Star's bankruptcy. In the meantime, writes Michael Geist, "investment in the publishing sector has ground to a halt, Canadians have lost access to news on social media, and small and independent media are particularly hard hit. Avoiding the Canadian outcome is a now a top policy priority in other countries looking at media legislation."
All this as the federal government prepares an online hate speech law— hate to be defined by themselves.
Many are just hoping that a Liberal loss in the next election will cease the encircling madness. That sanity will prevail. But the Japanese car manufacturers are telling us not to get our hopes too high. Trudeau Nation is quite prepared to got to its grave before ever admitting its copious mistakes.
Sign up today for Not The Public Broadcaster newsletters. Hot takes/ cool slants on sports and current affairs. Have the latest columns delivered to your mail box. Tell your friends to join, too. Always provocative, always independent. https://share.hsforms.com/16edbhhC3TTKg6jAaRyP7rActsj5

Bruce Dowbiggin @dowbboy is the editor of Not The Public Broadcaster A two-time winner of the Gemini Award as Canada's top television sports broadcaster, he's a regular contributor to Sirius XM Canada Talks Ch. 167. Inexact Science: The Six Most Compelling Draft Years In NHL History, his new book with his son Evan, was voted the seventh-best professional hockey book of all time by bookauthority.org . His 2004 book Money Players was voted sixth best on the same list, and is available via http://brucedowbigginbooks.ca/book-personalaccount.aspx
Could AI Make Yesterday Into Today For Culture, Sports & Politics?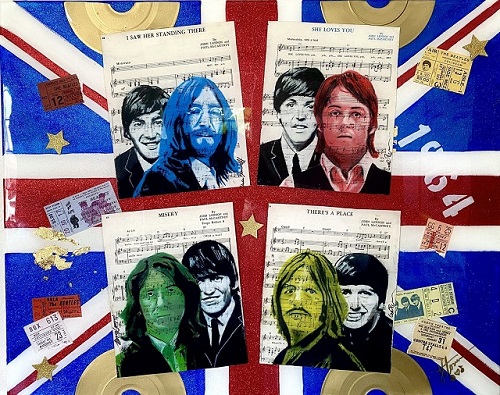 On a recent trip to the Fredericton Playhouse to see PEI's splendid The East Pointers we couldn't help but notice amongst the coming attractions an appearance by the Glenn Miller Orchestra. As far as we know, Miller disappeared over the British Channel in 1944 on his way to play a concert for the troops post D-Day.
Since then a succession of people have carried his musical heritage under the Miller name. Most of them have joined Miller in the great bandstand in the sky. It is safe to say that the number of people who heard anything by Miller himself live are virtually nil. Still, someone is still buying tickets to hear A String of Pearls, Pennsylvania 6-500, Chattanooga Choo-Choo and In The Mood.
Perhaps it was serendipity but seeing that Miller was still a thing came shortly after the arrival of a final Beatles song "Now and Then". It's not as long ago as the final Glenn Miller original cut, but "Now and Then" is the first original Beatles music since the 1970s. Which is when this lacklustre John Lennon composition was born from a demo cut by Lennon.
Its provenance has been talked about by Beatles obsessives ever since. Frankly they'd be excited to hear Lennon/ McCartney read the Liverpool phone book. (Which won't be any less underwhelming than this song.) Now And Then stayed out of the public realm, probably because George Harrison (d. 2001) hated it, and the recording was scratchy at best.
But thanks to the officious Paul McCartney cleaning it up in the studio and AI producing a catchy video to accompany the song "Now and Then" is on the Billboard chart with a bullet. Where it will probably stay for a while. No doubt this artful dodge will put the idea of reviving other dead musical icons into the heads of their colleagues and supporters.
The AI variations already extend past music. "@ilumine_ai This has been my first test of an experiment I'm doing, which is why it might feel a bit rough. It might not seem like it, but this video shows a single, uncut take at normal speed, where I move through a 3D stage that I am generating at will and in real time."
Can some clever soul use AI to create a new Humphrey Bogart movie using previous material? What about reviving Katherine Hepburn from her many films? Could Glenn Miller suddenly emerge from the mists to lead his band in Fredericton? We already know about The Beatles.
There ramifications, says cartoonist/commentator Scott Adams.. "If you let ChatGPT answer without constraints, it gives you the "approved narrative," also known as bullshit. In other words, you can use AI to give you any answer you want on political questions by manipulating the allowed "experts."
No wonder the Screen Actors Guild went on strike this year to protect the properties of stars dead and alive. What security will they have if AI makes them redundant? AI is, in the words of Hunter S. Thompson, "a cruel and shallow money trench, a long plastic hallway where thieves and pimps run free, and good men die like dogs. There's also a negative side."
To say nothing of the AI implications for sports. Can AI replicate the greatest of the past? Already there's a slightly cheesy commercial running in which present-day Wayne Gretzky counsels 18-year-old Wayne Gretzky on the future. But could AI create a better NHL mixing Gretz, Gordie Howe, Bobby Orr and Bobby Hull with the best of today? A league with no injuries, no travel fatigue, no bad coaching? Ditto for the other leagues. An NFL with Joe Montana, an NBA with Michael Jordan, an MLB with Barry Bonds?
In Canadian politics AI could revive Pierre Elliot Trudeau to assist his dimwitted son ("Interest rates are at historic lows," PMJT, 2020). Bill Davis could bring back the days of Blue Ontario. Ralph Klein could recreate the Alberta Advantage. If someone younger and more charismatic pops up you can use them in the present. With an AI figure waiting in the wings for when the real politicians eventually screw up.
In the US-AI, the leading candidates for U.S. president in 2024 are creakingly old. Democrats are in a lather over Joe Biden's decrepit state as he hit 81 this week (he'd be 87 when a possible second term ended). Polls show Americans are not fooled by the grinning Amphetamine Joe staggering up the stairs of Air Force One.
Republicans are alternatively exhilarated and exhausted by the prospect of loopy 78-year-old Donald Trump carrying their banner next November. With Trump it's less age than instability. Were he remotely stable he'd be leading Biden by 15 points in the polls.
In the Senate and House of Representatives octogenarian and nonagenarian members are literally dying at their desks for want of term limits. Across the political spectrum voters and media are asking, "Is this the best we can do?" Some recall the movie Dave where Kevin Kline plays a doppelgänger for a comatose U.S. president. Maybe that might work?
Or what if AI could revive JFK or Ronald Reagan in their primes? Or John McCain and Ruth Bader Ginsberg? "Now and Then" would be an appropriate slogan for re-inserting these tried & true political figures into the present, using their former selves to re-craft today's arguments. (We've seen how it might work since most believe that Biden is simply the conduit for a third Obama term.)
Anything has to be better than two old guys who could've heard "I've Got A Gal In Kalamazoo" when it was originally released by Glenn Miller in 1942.
Sign up today for Not The Public Broadcaster newsletters. Hot takes/ cool slants on sports and current affairs. Have the latest columns delivered to your mail box. Tell your friends to join, too. Always provocative, always independent. https://share.hsforms.com/16edbhhC3TTKg6jAaRyP7rActsj5
Bruce Dowbiggin @dowbboy is the editor of Not The Public Broadcaster A two-time winner of the Gemini Award as Canada's top television sports broadcaster, he's a regular contributor to Sirius XM Canada Talks Ch. 167. Inexact Science: The Six Most Compelling Draft Years In NHL History, his new book with his son Evan, was voted the seventh-best professional hockey book of all time by bookauthority.org . His 2004 book Money Players was voted sixth best on the same list, and is available via http://brucedowbigginbooks.ca/book-personalaccount.aspx
Political Football: The Always-Barking Dog of Bilingualism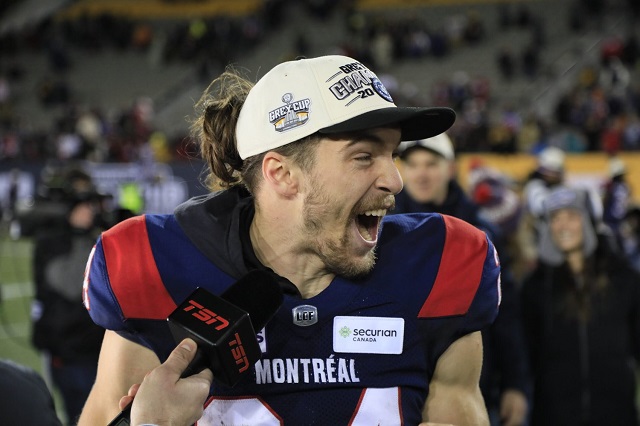 "But you know what, man, keep your English, because we're grabbing the Cup, and we're bringing it to Montreal, and we're bringing it to Quebec, and we're bringing it home!"— from the French rant by Montreal Alouette Marc-Antoine Dequoy
While the 110th Grey Cup win by Montreal over favoured Winnipeg was a classic comeback, it's now being tainted by an issue that's much older than 110 years. Canada's bilingualism/ biculturalism debate. Having already relegated the game to cable-only TSN/ RDS the CFL must have decided that— who cares— we are in Hamilton, Ontario. Why bother with all that annoying bilingual signage?
After all, no one cares that the American band Green Day is playing at halftime of the game when any number of Canadian acts are available for the gig. Who's going to bitch about a few advertisements? Reality check, aisle three. Language grievance is always in season in Québec.
As the French media covering the game noted in the days before the game the signage around the stadium was exclusively English-only. Didier Orméjuste of RDS observed en français, "The CFL is supposed to be a bilingual league but there is not one Coupe Grey sign in the stadium. Can't say I'm surprised."
The league crest at centre field read CFL only. Not LFC. Considering the efforts the CFL has made prostrating itself before the federal policy of bilingualism (for which it receives public money) it was inexcusable. It was a firing offence. Caught with their pants down the CFL rustled up a few signs around Tim Horton's Field and led PA announcements with French. But the damage was done.
Which led to the impassioned rant by Als player Marc-Antoine Duquoy in the moments after the Als' dramatic comeback win. He has since backed off a bit on his comments, saying "I just felt disrespected for me and for my province and for my heritage." Since then Québec media has pummelled the league for its obtuse behaviour.
Anglo Quebecker Andrew Potter wrote, "The message it sends to Quebecers is this: If the rest of Canada can't be bothered, why should they?" Memo to Potter: Not sure where you have been, but the rest of Canada dropped cultural football a while ago as a remnant of another time. They don't care.
Let's be honest, the official bilingual policy we've had was a dry run for the Carbon Tax. It has been a multi-billion dollar sinkhole foisted on the country by Justin Trudeau's daddy. Like all top-down policies it is permanent and immutable. And useless at its stated goal. Quebec clearly doesn't need it. The ROC resents it.
In cloistered Ottawa it still has a political status that far outstrips its usefulness to the nation. While the Trudeau/ Singh cabal are slashing defence spending, no one dares divert a dime from chasing a failed dream of cultural harmony. At these prices, who needs bilingual postal workers in Moose Jaw? Or Anglo bureaucrats in Granby?
It currently serves as a fig leaf to protect the Liberal strongholds of Anglo Quebeckers and Francophone minorities in the Maritimes and Manitoba. In Québec at least, the majority francophones have steadily eroded any sense of language fairness in the province's education, business or cultural sectors. The latest is a crushing tuition hike for out-of-province (read: Anglo) students.
The harried Anglos remaining in the province after decades of diaspora are like the white Rhodesians, voting against their best interests in the faint hope that the Liberals will save their dwindling numbers and make it Expo 67 again.
Living in Quebec, Duquoy can be forgiven for thinking that ROC is as obsessed with B&B as are the hyper-vigilant tongue troopers in Québec, who turn every slight into an excuse for more cultural purity. In fact, the ROC is far more concerned with Québec's permanent dependency on equalization money at the expense of the energy industry it works so fervently to destroy.
The quid pro quo that underpinned the 1960s dreams of B&B— that acceptance of French everywhere would still Québec's drive for sovereignty— is now Alberta and Saskatchewan pointing out the double standards in the current federation while asking, "Why can't we make like Québec with a pension plan, police force and control over immigration?"
Hate to break it to Potter and Duquoy, but most in the West would gladly negotiate a new deal with Québec to re-shape the hollow dream that is Trudeau's Canada. Keep hockey, but work out a deal the way Czechia and Slovakia did to live peaceably in their own way. Make Québec pay for its vanities while ROC hashes out a new working arrangement that reflects the current zeitgeist.
Yes, the CFL booted their Grey Cup presentation. From a business point of view insulting a significant part of your base was capotée. But in its ineptitude the league held up a mirror to the country that thinks you can make this potage of Canadian denial and American cultural pre-eminence still work.
Now, if we can just get Randy Ambrosie and his pals to drop Trudeau's Diversity delusion from its values we might be onto something really valuable.
Sign up today for Not The Public Broadcaster newsletters. Hot takes/ cool slants on sports and current affairs. Have the latest columns delivered to your mail box. Tell your friends to join, too. Always provocative, always independent. https://share.hsforms.com/16edbhhC3TTKg6jAaRyP7rActsj5
Bruce Dowbiggin @dowbboy is the editor of Not The Public Broadcaster A two-time winner of the Gemini Award as Canada's top television sports broadcaster, he's a regular contributor to Sirius XM Canada Talks Ch. 167. Inexact Science: The Six Most Compelling Draft Years In NHL History, his new book with his son Evan, was voted the seventh-best professional hockey book of all time by bookauthority.org . His 2004 book Money Players was voted sixth best on the same list, and is available via http://brucedowbigginbooks.ca/book-personalaccount.aspx