Best of 2022: How Kevin Bieksa Conquered HNIC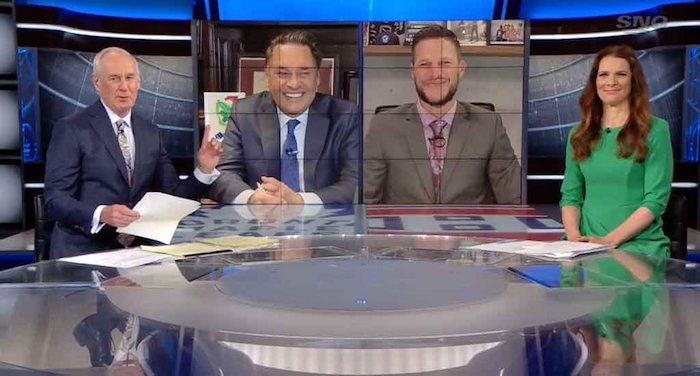 The recent news that the NHL is contemplating an 84-game regular season is testament to the bankruptcy of ideas at NHL HQ in New York City. Perhaps they felt it necessary after the shellacking the league absorbed for its "non-binary" proclamation. See here. And its inept handling of sexual abuse scandals the past few years. Here.
A little red meat perhaps for those who still tune in to watch the hockey, not the Woke lectures? Whatever. If adding a few more meaningless regular season contests to what is already an interminable winter slog is all they've got you have to wonder if anyone has turned the calendar on the 21st century Chez Gary.
The league's principal TV mouthpiece has also contracted a case of intersectional fever. Hockey Night In Canada is fully vested in the latest progressive talking points from trans inclusion to equity pay arguments. Like all Canadian broadcasters it purports to be a good corporate citizen by toting up WEF bonafides.
But the venerable TV franchise has changed for the better in the past couple of ears with the addition of former NHL defenceman Kevin Bieksa. As we wrote here last April, the irreverent product of Grimsby, Ont., has made the show about him— not vice versa. The only problem might be that he gets bored of the format or flying back-and-forth to California all the time.
Like Ozymandias lying stolidly for centuries in the windswept desert, Hockey Night In Canada has endured. Okay, maybe not that long. But it seems like the format, the tone, the zeitgeist of the program has been locked in for as long as memory serves.
That tone was serious, sombre, even a touch grim. As the technology of the show soared and danced, the editorial drift was rooted on the spot. Levity? Humour? Irony? Nope. In part, this was due to the lengthy reign of Don Cherry and Ron Maclean over the editorial. It was Grandpa Simpson's fierce-old-man-cursing-clouds leavened with a highly-sentimental-pensioner.
If there were any levity it escaped our attention. But there is evidence that with Cherry gone and Maclean playing Goodbye Mr. Chips that a sea change is occurring on at least two fronts. One is the emergence of former Canuck Kevin Bieksa as the new tone-setter of the editorial.
Bieksa— whom Cherry always malapropped as Bieska— was a good quote for years in the dressing rooms of the Canucks and Ducks. Among the many gems that filled reporters' notebooks was this one on the sex appeal of the Sedins: "Two good looking red heads with goatees, how can you resist?"
But as we've seen too often to count, locker-room wit can melt like the snow under the hot lights of TV. Yet Bieksa has been a moveable feast. His insouciance with media has become his ragging on the fellow panelists during intermissions that used to be as much fun as skating in July. (Wait, they're doing that this year!)
In particular, Bieksa's ongoing banter over reporter Elliotte Friedman's garish wardrobe and hockey experience are must-watch. (Friedman gets in his own shots.) What he says is rarely as important as how he says it. Lippy, sarcastic, sardonic, disruptive.
Bieksa told journalist Lisa Dillman that his inexperience might be a bonus. "I feel like I came out of the gate, raw and almost naïve to everything, but I thought that really helped me. I don't know if that makes any sense… You don't get sucked into the everyday lingo and what other people are doing."
The former Canuck is also good on the whiteboard stuff, although the panels have others who can talk shop. He talks the Cherry Code of honour without any of the accompanying blood lust. Sunday he was on point showing how the Rangers lulled Tampa's Alex Killorn into cheating in the defensive zone, leading to a New York goal.
There's no going back since Bieksa joined the crew in 2020. The younger iteration of the crew has moved it into less formal territory. HNIC is no longer a church, it's a supper club. Bieksa is now the must-watch for his hockey insight, but even more so for his "what will he say now?"quality.
That candour might frighten some in the upper reaches of management— who carefully guard the brand as a 1960s artifact. But it means that for the first time since Cherry left the show has a reason to stay tuned in for intermissions.
Sign up today for Not The Public Broadcaster newsletters. Hot takes/ cool slants on sports and current affairs. Have the latest columns delivered to your mail box. Tell your friends to join, too. Always provocative, always independent.
Bruce Dowbiggin @dowbboy is the editor of Not The Public Broadcaster (http://www.notthepublicbroadcaster.com). The best-selling author was nominated for the BBN Business Book award of 2020 for Personal Account with Tony Comper. A two-time winner of the Gemini Award as Canada's top television sports broadcaster, he's also a regular contributor to Sirius XM Canada Talks Ch. 167. His new book with his son Evan Inexact Science: The Six Most Compelling Draft Years In NHL History is now available on http://brucedowbigginbooks.ca/book-personalaccount.aspx
Your Trash, My Treasure: Playing The GM Shuffle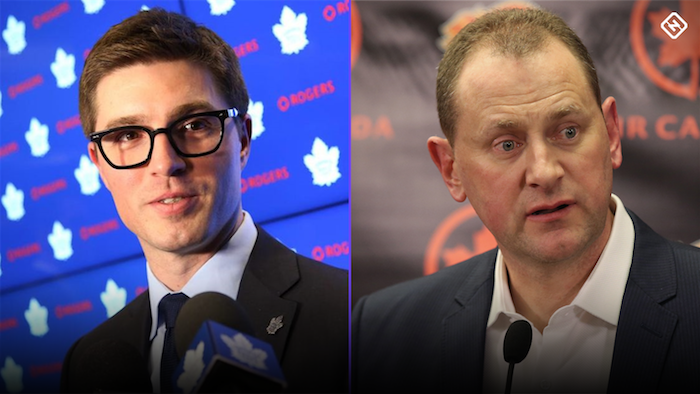 "One man's treasure is another man's trash/ One man's landing is another man's crash"—Guy Clark
At the end of a season that saw his Calgary Flames fall from Pacific Division champions in 2022 to out of the playoffs in 2023, general manager Brad Treliving went to ownership of the club. Tired of seeing each Darryl Sutter ignore the products of Calgary's development system in favour of aging veterans, Treliving wanted a fundamental change of direction for 2023-24. Get younger.
The problem for Treliving is that he had no contract past 2023 while Sutter had two years left at $4M per year on the extension Flames ownership had given him for the 2021-22 performance fuelled by Matthew Tkachuk and Johnny Gaudreau. For the parsimonious Flames the answer was obvious about the coach who'd once led the teams to the Stanley Cup Final in 2004. Sutter and his contract won out.
While the choice of retaining Sutter might have satisfied ownership, it was a non-starter for Treliving, a number of core players on the roster and the fan base— who were bitterly watching Tkachuk lead Florida to the 2023 Final. Treliving was gone from the team he'd run for nine seasons and five playoff appearances. With the implicit defection of some key players, ownership then had president Don Maloney fire Sutter.
Was Treliving the best GM in the league? Maybe not, but his work in turning the departure of Tkachuk into real assets (ones Sutter seemed to waste) was indicative of skill. In the end the Flames had made a choice that cost them both their options. Now they're left with former hero Craig Conroy making his maiden appearance as an NHL GM. And possibly their AHL coach being promoted. Did we say the Flames are cheap?
Meanwhile in Toronto, wunderkind GM Kyle Dubas had gone from youngest genius in the NHL to shopworn object of scorn to Toronto's roiling fan base. After seeing his heralded teams win just one playoff series (2023) since 2017, Dubas became the scapegoat for frustrations that go back to 1967. Loaded with costly, flashy stars such as Auston Matthews, William Nylander and Mitch Marner, Toronto seemed to have peaked.
So after some aborted contract talks, Maple Leafs ownership and president Brendan Shanahan said buh-bye Dubas. A hiring committee went in search of a new GM to handle the thorny contract issues Toronto faces under the current CBA. (Namely, would Matthews sign an extension this summer or would he do a Gaudreau and bet on himself in a contract year.)
Meanwhile, the 40-year-old Dubas said he was going to take some time off to consider his options. As holidays go it was a short one. No sooner had the Leafs decided that Calgary's trash was their treasure, inking Treliving as their new GM, Dubas' rumination ended with his being named as GM in Pittsburgh on a seven-year deal. What? Next thing you're going to tell us is that Mike Babcock is coming back after his paid holiday from the Leafs (where Dubas and Shanahan had fired him).
You guessed it. The two-time Stanley Cup winning coach— the winningest coach in Red Wings history— once thought too mean by all the young dudes in the T-Dot was named head coach in Columbus, where he'll try to motivate Gaudreau— who once found Sutter too abrasive. Go figure.
Fans hoping that new GMs and coaches making bold moves will bring sunny days in 2023-24 will be sorely disappointed as the crunch from Gary Bettman's vaunted Escrow System will mean a meagre $1M bump in the salary cap for next season. Because of money lost by owners during the Covid Bubble seasons, players are working off an estimated $1.1B debt they owe owners under the terms of the glorious salary-cap capitulation by shutting down the 2004-05 season.
Of course, part of that loss in revenues can be attributed to Bettman's Folly, aka the Arizona Coyotes, who've been a drag on the NHL's revenue streams even as other clubs make out like bandits. (See: small-market Ottawa Senators estimated to be going for a billion dollars.) In addition there is probably as much as $70M in "dead" money from ill-fated contracts stuck in the works. BTW, not one player in the socialist republic of Bettman made a max salary in 2022-23 under this scheme accepted by players who cratered in 2004 and fired Bob Goodenow.
With an estimated $6M bump in the cap on July 1, 2024, there will be a lot of kicking the can down the road this summer should Treliving and the Leafs pony up the max salary to keep Matthews. They might also be able to tread water on a few other costly contracts if they trade Matthews south to a U.S. destination.
As we've written lately , trying to keep American stars in cold Canadian cities where they're in a fish bowl 24/7 is becoming an issue. Many will look at Tkachuk appearing as a guest on the NBA Playoffs broadcast as indicative of what can happen if they move to a tax-free state like Texas, Tennessee, Nevada, Florida and yes, Arizona.
So the GM faces may be new in Calgary, Toronto and Pittsburgh, but the problems are same old/ same old in Gary Bettman Land. Cap gymnastics, TV cord-cutting, market disparities and the collapse off international play, among many. Expect a replay of the GM shuffle this time next year.
Sign up today for Not The Public Broadcaster newsletters. Hot takes/ cool slants on sports and current affairs. Have the latest columns delivered to your mail box. Tell your friends to join, too. Always provocative, always independent. https://share.hsforms.com/16edbhhC3TTKg6jAaRyP7rActsj5
Bruce Dowbiggin @dowbboy is the editor of Not The Public Broadcaster A two-time winner of the Gemini Award as Canada's top television sports broadcaster, he's a regular contributor to Sirius XM Canada Talks Ch. 167. Inexact Science: The Six Most Compelling Draft Years In NHL History, his new book with his son Evan, was voted the seventh-best professional hockey book of all time by bookauthority.org . His 2004 book Money Players was voted sixth best on the same list, and is available via http://brucedowbigginbooks.ca/book-personalaccount.aspx
Inherit The Wins: Hockey Has Its Privileges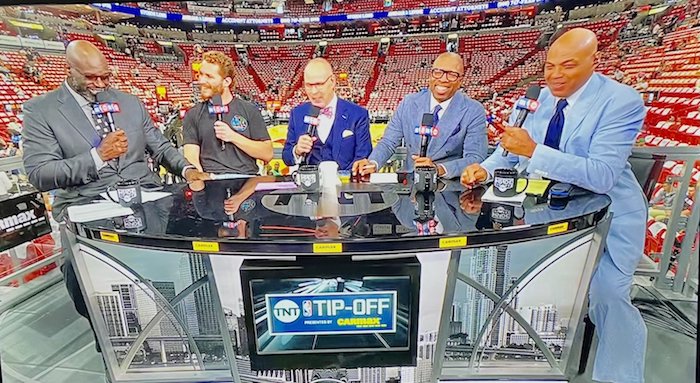 It might not have exactly been Neil Armstrong setting foot on the moon, but Florida Panthers glitter boy Matthew Tkachuk sitting in with the TNT NBA panel of Shaquille O'Neal, Charles Barkley and Kenny Smith might have been close that magnitude of collision between cultures.
Tkachuk has become the NHL poster boy in the U.S. by leading the sad-sack Panthers to the Final. In his casual Elbo Room T-shirt he was the epitome of the Fort Lauderdale hip cross-over star as he met the panel. While Barkley has become a hockey-fan-of-the-moment, Shaq professed total, wilful ignorance of the sport beyond its fighting. Smith was not much more puck savvy.
The highlight of the chat was Sir Charles suggesting he'd like to play hockey just once because he could only get a two-minute penalty for slugging Shaq. The two men did a little faux-theatre for the cameras to promote TNT's coverage of the NHL Final.
The other nugget from the chat was the revelation that Tkachuk went to high school in St. Louis with Celtics star Jason Tatum, whose team was about to force Game 7 against the local Heat. Talk about a sports hothouse. Host Ernie Smith also showed pictures of Tkachuk with his legendary father Keith and his brother Brady of the Senators, marvelling at the genes involved in a 527-goal scorer siring two NHLers..
It's both a wonder— and a concern— for the NHL, as we wrote in August of 2021. Because the brothers Tkachuk are part of a trend away from random selection and more to expensive grooming of elite athletes in the sport. Is equal outcome a lost cause?
"The NHL faces a question of opportunity at the moment. But this is not a racial or gender issue. The question facing a league renowned for its blue-collar roots is 'has hockey become a rich person's sport, a league where being an insider has extra clout?'
Are today's superstars a product of more than talent? Are they also the products of an expensive, exclusive grooming process that leaves the Gordie Howe farm boy archetype in the dust?
One hint of the benefits of having access to resources and people within the hockey industry is the annual spate of sons of former NHLers now being drafted each summer. In the recent draft, there was a plethora of progeny selected, many at the very top of the draft. No other league has such a high percentage of sons being selected.
There have always been a few NHL father/ son duos. Gordie Howe's boys and Bobby and Brett Hull spring to mind. But they were not as pervasive in the league as they are today. Witness the just-passed (2021) Draft that saw a host of familiar family names getting new surnames.
Cole Sillinger (Mike), Tyler Boucher (Brian), Josh Doan (Shane), Redmond Savage (Brian), Ryan St. Louis (Martin); Shane Lachance (Scott); Nick Malik, Marek), Justin Robidas, (Stephane), Jackson Blake (Jason) and Chase Stillman (Cory) were among the sons of famous fathers drafted. Others were signed as free agents.
It was no fluke. A glance around the NHL shows many sons of former stars getting steady work. Matthew and Brady Tkachuk (Keith), Kasperi Kapanen (Sami), Brandon Sutter (Brent), William and Alex Nylander (Michael), Sam Reinhart (Paul), Max Domi (Tie), Samuel Poulin (Patrick), Tag Bertuzzi (Todd), Ryan Johnson (Craig), Tyson Barrie (Len), Landon Ferraro (Ray), Marcus and Nick Foligno (Mike), Nolan Foote (Cal), Ryan MacInnis (Al) Brendan Lemieux (Claude), Ryan Donato (Ted), Daniel Audette (Donald) and Dominic Turgeon, (Pierre) are just a sampling of the direct relationship between father and sons..
The hockey pipeline is full of young men whose fathers could give them a hockey education but who also knew many of right people to tap into. The sophisticated training and arduous diet regimes are getting more like Tom Brady and less like Gump Worsley. And they're expensive— even in Howe's home nation of Canada which honours its roots.
This discipline and access is reflected in the United States where the boom in hockey participation is resulting not in farm boys and rink rats but in privileged sons and daughters of highly paid NHL stars getting an inside track on make the league or the Olympics.
NHL veterans in both the U.S., Europe and Canada know the inner workings of agents, independent training academies and skill trainers to help their sons past some of the highest hurdles in development. If they handled their millions properly they also have the funds to open doors for young stars."
Author Malcolm Gladwell popularized the notion of taking 10,000 hours to translate talent into the finished product of a genius. It takes money to allow a young person that time, money that only a select number of families can provide. If you are a child in a single-income home or in a remote part of the country away from facilities, equipping and training a young prospect quickly gets out of the reach of parents of modest means.
Perhaps the most telling development story was that of Montreal goalie Carey Price, whose father bought a $13,000 four-seat Piper Cherokee plane to fly young Carey back and forth 320 kilometres to hockey practices all winter in northern B.C.
Where the NHL was predominantly players from blue-collar backgrounds till the Euros arrived in the 1970s, today it is often constituted of young men from families of means and education. Often, like Tkachuk, they're in training academies with future stars in other sports. The idea of the farming
In that way, through no fault of Walter Gretzky, the super coach, hockey has become a sport for families of means or friends with means. He taught parents that the proper training and equipment was imperative. And that doesn't mean simply the rink in your backyard. With a new pair of skates costs $500, a stick costs $125 or a set of goalie equipment runs into a few thousand dollars you are losing a segment of the population to financial costs. And so Walter's legacy of training development is forever tied to a big price tag.
To say nothing of the progeny of NHL stars like Keith Tkachuk helping give their kids a hand-up in making it to the league and its vast piggy bank.
Sign up today for Not The Public Broadcaster newsletters. Hot takes/ cool slants on sports and current affairs. Have the latest columns delivered to your mail box. Tell your friends to join, too. Always provocative, always independent. https://share.hsforms.com/16edbhhC3TTKg6jAaRyP7rActsj5
Bruce Dowbiggin @dowbboy is the editor of Not The Public Broadcaster A two-time winner of the Gemini Award as Canada's top television sports broadcaster, he's a regular contributor to Sirius XM Canada Talks Ch. 167. Inexact Science: The Six Most Compelling Draft Years In NHL History, his new book with his son Evan, was voted the seventh-best professional hockey book of all time by bookauthority.org . His 2004 book Money Players was voted sixth best on the same list, and is available via http://brucedowbigginbooks.ca/book-personalaccount.aspx