Graven Images: The Greening Of Calgary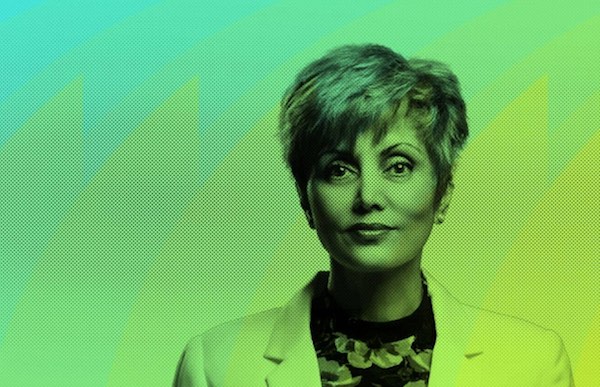 The city of Calgary this week elected the first woman mayor in its history. This is a source of great satisfaction to those citizens who cringe at Calgary's image as part buckaroo/ part bitumen cowboy. The fact that Jyoti Gondek is of Pashtun origin only deepens the sense of accomplishment for the urban elite of Calgary.
How giddy are the wokesters? A CBC reporter illustrated the story with a tweet showing a long series of emoji men followed by a single emoji of a woman. Because journalistic objectivity at the national broadcaster demands a clever tweet. "Look what we've done, world! Woman! Punjabi! Now we can hold our heads up in the polite society of the urban hives."
The new mayor has a PhD in urban sociology which "furnishes understanding of the complex as well as profound meaning of every urban reality, notably the territorial stabilization of social life, the rise of a space symbol system and culture, and the origin and evolution of human settlements."
Which sounds like the sort of convoluted stuff that Wokesters toss around when they're trying to distance themselves from the Stampede crowd. What it means in reality is that Gondek will commit $250 K to declare a climate emergency in Calgary as her first priority as mayor. As this photo below shows, it's not a moment too soon.
Can she tame the city's transit snarls and stare down a council bent on destroying the budget? Who knows? Who cares? The natural gas/ petroleum bastards will now have to take a knee to the symbolism of her outreach to Big Climate. And that's enough.
Okay, it's just a mayor in a mid-sized Canadian city, but you have to start with small dreams if you're going to make the world a progressive paradise. Especially when, like Gondek, you spend every working day cloying with guilt over how Calgary's energy industry is ravaging Mother Earth.
The big Green virtue dreams are the ones about to be dreamt in Glasgow in the next weeks as the world's guiltiest liberals— aka the IPCC— convene to reconstitute the world economy by killing fossil fuels. If this all sounds familiar it's because the Al Gores and Neil Youngs have been hard at this project for decades, sending thunderbolts of doom via a captive media. (Sample: 1987: NASA's James Hansen predicts world 3C warmer by 2020. Reality: average temp only 0.44C higher.) And lots more faceplants.
No matter. The evolution of Green is a litany of half-baked predictions and salacious slanders. Even as European governments scramble to replace their sacred renewable dreams with the realities of nuclear power or, gasp, Russian natural gas, the pious will still party like it's 1999— when all things seemed possible. There's a revolution of purity happening here, folks, and a few inconvenient facts isn't going to harsh the vibe.
The vibe, of course, is not climate change or even first women mayors. The vibe is victim culture, re-fitting Marxism so the uncouth and intemperate opposition can be permanently rendered inert. If Marx's wealth re-distribution is to happen equity— not just equality— must be achieved. Any weapon at hand— climate, gender, victimization— will serve to get there.
The old Commie's theories just need a new coat of victim's paint to make them current. Author Chris Rufo explains how the Left is making the quick flip after their Cold War dreams died in the '70s at the altar of capitalist riches. : "… rather than abandon their political project, Marxist scholars in the West simply adapted their revolutionary theory to the social and racial unrest of the 1960s. Abandoning Marx's economic dialectic of capitalists and workers, they substituted race for class and sought to create a revolutionary coalition of the dispossessed based on racial and ethnic categories."
Suddenly, it's all victims, all the time.
Thus the new liturgy, funded by Big Tech oligarchs such as Mark Zuckerberg and Bill Gates. Capitalist roaders are failed humans. Writes Christopher Chantrill: "Today's elites are totally down as Allies of the Oppressed Peoples. Their political power is justified by their untiring support of and advocacy for The Victims."
Andrea Widburg describes the role reversal in The American Thinker: "In its new iteration, Whites are irredeemably racist and evil. Equality is a trap because White societal dominance means that the other races (and sexualities) will never be able to catch up. Forced equity is the only answer, and one way to pave the way for that to happen is to force Whites to remove themselves from society, from the economy, from politics, and from any other area in which they can be seen to have an advantage."
Celebrating the ascent of symbolism, not the skill-set of politicians such as Barack Obama (and the removal of statues) is how whites willingly remove themselves from the economy and society. As Rufo tweets, "@LockheedMartin, the nation's largest defense contractor, sent key executives to a three-day white male reeducation camp in order to deconstruct their "white male culture" and atone for their "white male privilege."
To the surprise of the Marxists, their old enemies on Wall Street are enthusiastically taking the bait. Now they have only the rump opposition of libertarians and stubborn conservatives left to hammer into shape and the Bernie Sanders revolution, begun in the '60s, will be complete.
Calgary will be so proud.
Bruce Dowbiggin @dowbboy is the editor of Not The Public Broadcaster (http://www.notthepublicbroadcaster.com). The best-selling author of Cap In Hand is also a regular contributor to Sirius XM Canada Talks Ch. 167. A two-time winner of the Gemini Award as Canada's top television sports broadcaster, his new book with his son Evan is called InExact Science: The Six Most Compelling Draft Years In NHL History is now available on http://brucedowbigginbooks.ca/book-personalaccount.aspx
Elks down Tiger-Cats 29-25 for first win of CFL season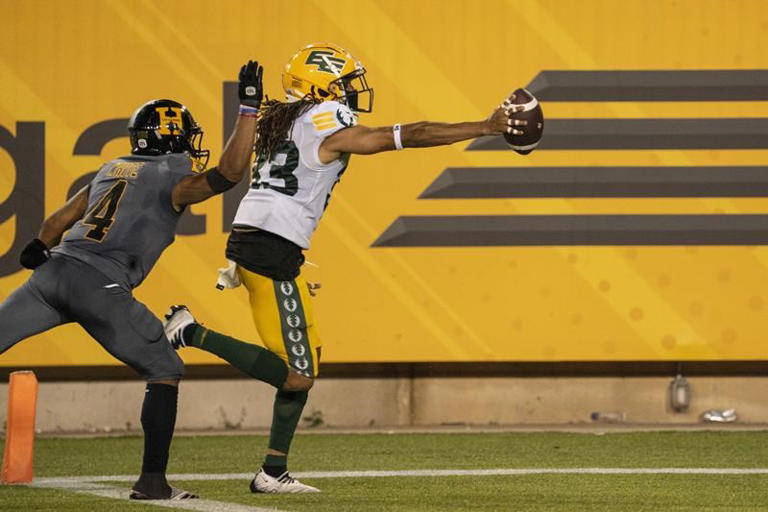 HAMILTON — Tre Ford was in his happy place Friday in Hamilton.
The Edmonton Elks quarterback got a win in his first career CFL start 30 minutes down the Queen Elizabeth Highway from his hometown of Niagara Falls, Ont.
The Elks came from behind to beat the Tiger-Cats 29-25 in front of 20,233 at Tim Hortons Field.
"To come back to Hamilton and have all my family watching me get that first start and that first win has been fantastic," Ford said.
Among Ford's supporters were his wife, parents, sister, sister-in-law and mother-in-law, his high school football coach from A.N. Myer Secondary, his University of Waterloo head coach Chris Bertoia, eight of his former university teammates and more friends.
Ford was shaky at times as the Elks trailed by 13 points early in the second half.
But the 2021 winner of the Hec Crighton Trophy winner that goes to the most outstanding Canadian university football player threw a game-tying touchdown pass to Kenny Lawler early in the fourth quarter.
The winning play for the Elks (1-3) arrived with 1:38 remaining when defensive back Scott Hutter tackled Hamilton quarterback Dane Evans and knocked the ball loose.
Jalen Collins recovered for a 14-yard touchdown.
"I saw him tackle him and thought, 'please punch the ball out," Collins said. "All we needed was an opportunity to close the game out. We were fighting all night. It was ugly."
The winless Tiger-Cats opened a season with four straight losses for the first time since 2017 when they started 0-8.
"I want to apologize to all the guys. I put both home losses on me," Evans said. "I just have to take care of it, and we win the game."
Evans was 20-for-31 in passing for 197 yards and a touchdown throw. He was intercepted twice.
Ford's numbers didn't sparkle, although he did rush for 61 yards on six carries. The 24-year-old competed 15 of 26 passes for 159 yards and a touchdown. He was intercepted once.
Edmonton's defence helped out with interceptions by Sheldon Brady and Matthew Thomas, as well as the pivotal late-game recovered fumble by Collins.
"A big shout out to the defence," Ford said. "They won us that game. They made what, three or four turnovers? They did super well.
"I have room for improvement. I'm not going to complain because we did win. But I'm going to hit the film room to see what I can critique and where I can get better."
Hamilton went after the rookie with various blitzes in the first half.
"My legs are going to open things up for my arm," Ford said.
Ford credited teammate and quarterback Nick Arbuckle, who started in Edmonton's three losses this season, for advising him during the game on defensive reads.
"He's been like that since day one, even though we're competitors for the position," Ford said.
He admitted to early jitters as Hamilton led 16-6 after the first quarter and 19-9 at halftime.
"I always get nervous for the first play of every game," Ford said. "I think it's a good thing because it means I care and that I want to win."
Evans hit Steven Dunbar for a 21-yard strike, and Lawrence Woods returned a kickoff of 72 yards for Hamilton's first-half touchdowns.
Edmonton's Kai Locksley scored on a one-yard plunge.
Elks kicker Sergio Castillo made two of his three field-goal attempts, while Hamilton counterpart Michael Domagala nailed his three and gave the Ticats at lead with a 33-yarder with 3:10 remaining in the game
"We're not good enough right now," Hamilton head coach Orlondo Steinauer said. "We're not executing at the level which needs to happen. We're just not making those plays we need to make."
This report by The Canadian Press was first published July 1, 2022.
Tim Wharnsby, The Canadian Press
Calgary Stampede receives $10M from federal government to aid recovery from pandemic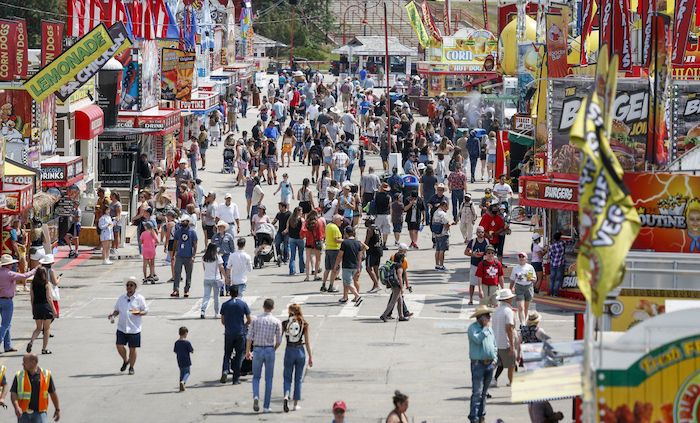 Calgary – The Calgary Stampede has received more than $10 million from the federal government to help it bounce back after last year's event was scaled down due to the COVID-19 pandemic.
A report to the city this week showed the Stampede had an operating loss of $8.3 million in 2021.
Last year's Stampede ran at half capacity because of COVID-19 public health measures and was cancelled all-together the year before.
Daniel Vandal, the federal minister for Prairies Economic Development Canada, says the money aims to support a full-scale Stampede to deliver the "authentic western experience" this year.
He says it would also help to reignite Alberta's visitor economy.
The 2022 Stampede is set to run from July 8 to 17.
"Festivals large and small were hard hit during the pandemic," Vandal said in a news release. "They are events where families and friends come together and take in the exciting atmosphere.
"The tourism industry is facing a strong comeback providing quality jobs across the country, showcasing stunning landscapes and offering exciting experiences right here in Alberta."
The federal government also provided about $1.8 million for four other tourism projects in southern Alberta: Charmed Resorts, Cochrane Tourism Association, Heritage Park and Tourism Calgary.
This report by The Canadian Press was first published June 30, 2022.