Fully vaccinated with negative tests in hand, Calgary mom and daughters forced into quarantine on return to Canada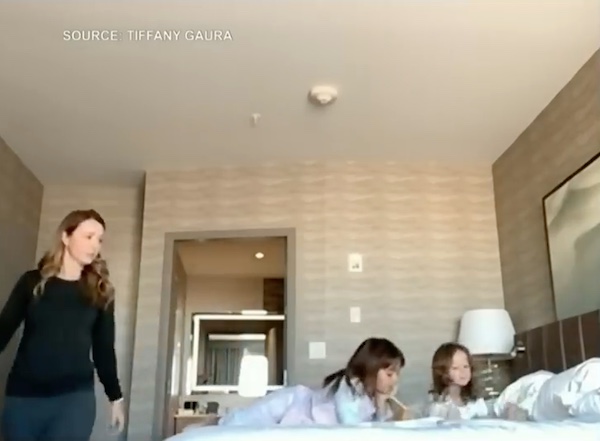 This article consists of the facebook posts of Calgary mother Tiffany Gaura. Tiffany and her two daughters happened to be travelling home from a visit with her husband who is working in Cairo, when the Canadian government announced strict travel restrictions against those traveling from 'some' countries where the new Omicron virus has been found. Gaura has given us permission to use her posts in this article and has filled in a few small gaps for us. She's hoping Canadian officials will show more flexibility, especially considering they've established restrictions on travellers coming from only a select few of the countries where Omicron has turned up. Gaura is especially frustrated since Omicron is already in Canada and travellers from Europe and the United States are not quarantined on arrival.
Day 1 – Dec 4, 6:37 PM – Shock and Awe
This is a tough post for me. Today we traveled back to Canada from Cairo. We came early to complete the new quarantine requirement given Egypt has been listed as a "Country of Concern". I am FULLY VACCINATED. We had PCR tests in Cairo and Frankfurt. We have an empty home to go to here in Calgary.
Upon arrival in YYC, we were taken by CBSA (Canadian Border Services) to PHAC (Public Health Canada) screening. It was a 15 minute interrogation about my history with Covid (none), my plans in Canada and my testing and vaccination. They read me my rights and told me I was entitled to a lawyer. They told me the fine for breaking quarantine is up to $750,000. We had a dedicated escort throughout, ensuring we weren't escaping. Secondary unexplained screening at customs, and a PCR on arrival. We weren't allowed to make any stops or get anything to eat or drink. The whole process took about 2 hours.
We were transported in a dedicated vehicle to the Westin Airport Hotel in Calgary. The Government of Canada as contracted the entire hotel as a "secure quarantine location". The parking lot is blocked with No Trespassing signs. We were met by the Red Cross of Canada employees in HazMat suits.
We were processed and taken to an isolation floor. We cannot go outside. We cannot leave our room. We cannot get deliveries or packages. We cannot consume anything from offsite. We only get the meals they send us (it's now 6:30pm and we have not had anything to eat or drink since we landed at 3pm). They have no cups for water in the room. I requested some but to no avail. Once we get our test results (presumably negative, and can take up to 72 hours) we must contact the Red Cross who will coordinate with Quarantine Officers for our release, that can take 48 hours (they say). They will provide us dedicated transport to our quarantine location (our home) where we must complete our 14 days in isolation. We must also take another test on Day 8.
This is happening, right now, in Canada, two years into a pandemic to vaccinated individuals. I don't have the words to express this well. I waver back and forth between rage, embarrassment and disbelief. This will change my life, I have no doubt.
Day 2 – Dec 5, 11:17 AM = Frustration sets in
Next time you think about making a donation to the Canadian Red Cross, keep in mind that your donation dollars are going to things like supervising fully vaccinated travellers in mandatory government quarantine facilities. I'm sure there are other organizations that could use your money.
Day 3.- Dec 6. 11:22 AM = Canadian Quarantine for Fully Vaccinated Travelers With Negative Covid Tests
– We still have no PCR results, because apparently in Canada it takes 72 hours to get results in 2021. Or maybe they just want us to stay here longer.
– The food is horrible. It arrives cold and has limited nutritional value. It's not FoodSafe for sure. I may call public health.
– No fruits or vegetables (aside from potatoes). No beverages are offered, so it's tap water for the win. No wait, I did get some coffee filters and packaged creamer. It's gross.
– The hotel gives a number for people to call so they can speak to us BUT they won't actually put any calls through to our room. When you call they just say they will pass the message on to the Red Cross who will send us the message
– The kids are going stir crazy. No fresh air, no physical activity. We are doing yoga and school work, I brought a few card games, but that can only fill so many hours of the day with no space or freedom to roam.
– We have only one bed in the hotel room so we all sleep together.
– I asked for tampons, it took 24 hours to receive them.
– We have a window to nothing. Can't see the parking lot or any coming and goings from the site. I wonder if they give rooms that have a view to that.
This interview was conducted by the CBC while Tiffany and her children were still in quarantine.
Day 4 – Dec 7 – Third Negative Test Results Finally Come After More Than 3 Days.
4 days in quarantine. We left when we got our results. I made a choice to leave after I was unable to contact anyone at either PHAC or the Red Cross who could give us any information about being released by a quarantine office.
This interview was conducted by the CTV in the hours after Tiffany and her children returned home after 4 days in quarantine.
Central Alberta city to close homeless camp as future plans unknown
WETASKIWIN, Alta. — A central Alberta city is closing a homeless encampment with help from Mounties because of safety risks it says will persist if it remains open.
Wetaskiwin voted last week to close "tent city" as most, if not all, people who were living there are now using the nearby warming shelter run by the Mustard Seed or the Samson Cree shelter.
Local fire services say they attended multiple fire-related calls to the camp since it opened in August, including one severe structure fire where "the possibility of death was very imminent," and two instances where people sustained serious burns after falling into flames.
RCMP say they attended 37 calls related to assault, robbery, weapons and arson.
At one point, up to 60 people lived rough in the camp after the city forced the closure of its only shelter, but numbers dwindled with frigid temperatures and hindered social agency supports.
Provincial funding for the temporary shelter, which is a stone's throw from the camp, is in place until March with no clear plans by the city on what happens if or when it closes.
This report by The Canadian Press was first published Jan. 28, 2022.
The Canadian Press
Second-degree murder charge laid after 'unprovoked' attack at southern Alberta prison
DRUMHELLER, Alta. — RCMP say a man at a medium-security federal prison in southern Alberta has been charged in the death of a fellow inmate.
Mounties say officers responded to a call Wednesday of a serious assault at Drumheller Institution.
They allege an assault on 34-year-old Jeffrey Ryan of Parkland County, Alta., was unprovoked.
RCMP say Ryan sustained serious injuries and later died in hospital.
Ashley Baird of Nanaimo, B.C., who is 38, has been charged with second-degree murder and is to appear in Drumheller provincial court on Feb. 11.
Police say an autopsy has been ordered by the Office of the Chief Medical Examiner and will be performed in the coming days.
This report by The Canadian Press was first published Jan. 28, 2022.
The Canadian Press