From Nazis to hippies: End of the road for Volkswagen Beetle
FRANKFURT — Volkswagen is halting production of the last version of its Beetle model this week at its plant in Puebla, Mexico. It's the end of the road for a vehicle that has symbolized many things over a history spanning eight decades since 1938.
It has been: a part of Germany's darkest hours as a never-realized Nazi prestige project. A symbol of Germany's postwar economic renaissance and rising middle-class prosperity. An example of globalization, sold and recognized all over the world. An emblem of the 1960s counterculture in the United States. Above all, the car remains a landmark in design, as recognizable as the Coca-Cola bottle.
The car's original design — a rounded silhouette with seating for four or five, nearly vertical windshield and the air-cooled engine in the rear — can be traced back to Austrian engineer Ferdinand Porsche, who was hired to fulfil Adolf Hitler's project for a "people's car" that would spread auto ownership the way the Ford Model T had in the U.S.
Aspects of the car bore similarities to the Tatra T97, made in Czechoslovakia in 1937, and to sketches by Hungarian engineer Bela Barenyi published in 1934. Mass production of what was called the KdF-Wagen, based on the acronym of the Nazi labour organization under whose auspices it was to be sold, was cancelled due to World War II. Instead, the massive new plant in what was then countryside east of Hanover turned out military vehicles, using forced labourers from all over Europe under miserable conditions.
Re-launched as a civilian carmaker under supervision of the British occupation authorities, the Volkswagen factory was transferred in 1949 to the Germany government and the state of Lower Saxony, which still owns part of the company. By 1955, the millionth Beetle — officially called the Type 1 — had rolled off the assembly line in what was now the town of Wolfsburg.
The United States became Volkswagen's most important foreign market, peaking at 563,522 cars in 1968, or 40% of production. Unconventional, sometimes humorous advertising from agency Doyle Dane Bernbach urged car buyers to "Think small."
"Unlike in West Germany, where its low price, quality and durability stood for a new postwar normality, in the United States the Beetle's characteristics lent it a profoundly unconventional air in a car culture dominated by size and showmanship," wrote Bernhard Rieger in his 2013 history, "The People's Car."
Production at Wolfsburg ended in 1978 as newer front drive models like the Golf took over. But the Beetle wasn't dead yet. Production went on in Mexico from 1967 until 2003 — longer than the car had been made in Germany. Nicknamed the "vochito," the car made itself at home as a rugged, Mexican-made "carro del pueblo."
The New Beetle — a completely retro version build on a modified Golf platform — resurrected some of the old Beetle's cute, unconventional aura in 1998 under CEO Ferdinand Piech, Ferdinand Porsche's grandson. In 2012, the Beetle's design was made a bit sleeker.
The end of the Beetle comes at a turning point for Volkswagen as it rebounds from a scandal over cars rigged to cheat on diesel emissions tests. The company is gearing up for mass production of the battery-driven compact ID.3, a car that the company predicts will have an impact like that of the Beetle and the Golf by bringing electric mobility to a mass market.
The last of 5,961 Final Edition versions of the Beetle is headed for a museum after ceremonies in Puebla on July 10 to mark the end of production.
___
AP photo blog about the last Volkswagen Beetle: https://bit.ly/32bXuMx
David McHugh, The Associated Press
Ford says EV unit losing billions, should be seen as startup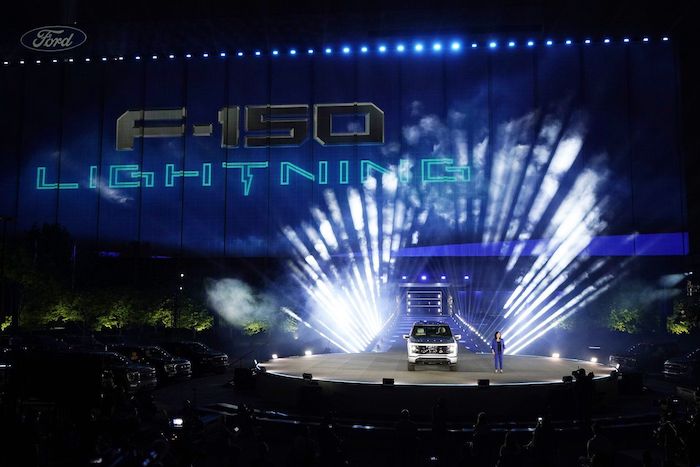 Ford's Chief Executive Engineer Linda Zhang unveils the Ford F-150 Lightning on May 19, 2021, in Dearborn, Mich. Ford Motor Co. announced Thursday, March 23, 2023, that their electric vehicle business has lost $3 billion before taxes during the past two years and will lose a similar amount this year as the company invests heavily in the new technology. (AP Photo/Carlos Osorio, File)
By Tom Krisher in Detroit
DETROIT (AP) — Ford Motor Co.'s electric vehicle business has lost $3 billion before taxes during the past two years and will lose a similar amount this year as the company invests heavily in the new technology.
The figures were released Thursday as Ford rolled out a new way of reporting financial results. The new business structure separates electric vehicles, the profitable internal combustion and commercial vehicle operations into three operating units.
Company officials said the electric vehicle unit, called "Ford Model e," will be profitable before taxes by late 2026 with an 8% pretax profit margin. But they wouldn't say exactly when it's expected to start making money.
Chief Financial Officer John Lawler said Model e should be viewed as a startup company within Ford.
"As everyone knows, EV startups lose money while they invest in capability, develop knowledge, build (sales) volume and gain (market) share," he said.
Model e, he said, is working on second- and even third-generation electric vehicles. It currently offers three EVs for sale in the U.S.: the Mustang Mach E SUV, the F-150 Lightning pickupand an electric Transit commercial van.
The new corporate reporting system, Lawler said, is designed to give investors more transparency than the old system of reporting results by geographic regions. The automaker calculated earnings for each of the three units during the past two calendar years.
Model e had pretax losses of $900 million in 2021 and $2.1 billion last year, and it is expected to lose $3 billion this year. In the past two years Ford has announced it would build four new battery factories and a new vehicle assembly plant as well as spending heavily to acquire raw materials to build electric vehicles.
By the end of this year, the company based in Dearborn, Michigan, expects to be building electric vehicles at a rate of 600,000 per year, reaching a rate of 2 million per year by the end of 2026.
Ford Blue, the unit that sells internal combustion and gas-electric hybrid vehicles, made just over $10 billion before taxes during the last two years. Ford Pro, the commercial vehicle unit, made $5.9 billion during those years, the company said.
For this year, Ford expects Ford Blue to post a $7 billion pretax profit, modestly better than last year. Ford Pro is expected to earn $6 billion before taxes, nearly double its earnings last year, Lawler said.
Ford was to present the new structure, announced last March, to analysts and investors on Thursday. Other business units include corporate, Ford Credit and Ford Next, a new business incubator. Shares of Ford rose 1.8% in Thursday morning trading ahead of the presentation.
Lawler said the company is changing the way it does business, not just doing an accounting exercise.
"After 120 years, we've essentially re-founded Ford," he said. "We're embracing technology and competitive disruption in our industry, fundamentally changing how we're thinking, how we're making decisions, and how we're running the company."
GM to stop making the Camaro but a successor may be in works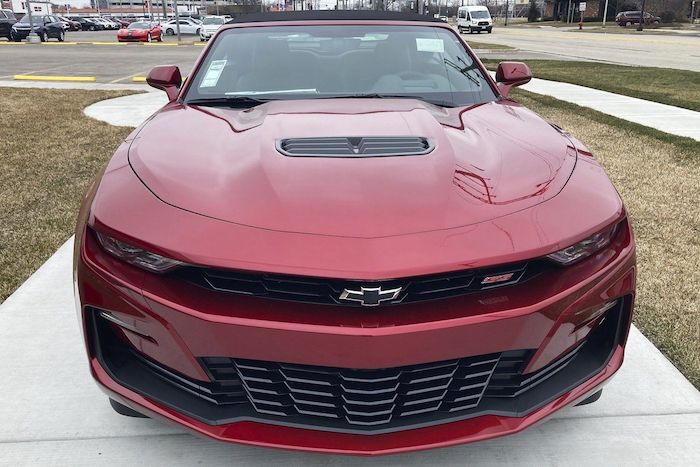 Justin Allgaier takes his Camaro through its paces as he drives in the NASCAR Xfinity Series auto race at Pocono Raceway, July 23, 2022, in Long Pond, Pa. The Chevrolet Camaro, for years the dream car of many teenage American males, is going out of production. General Motors, which sells the brawny muscle car, said Wednesday, March 22, 2023, that it will stop making the current generation early next year. (AP Photo/Matt Slocum)
DETROIT (AP) — The Chevrolet Camaro, for decades the dream car of many teenage American males, is going out of production.
General Motors, which sells the brawny muscle car, said Wednesday it will stop making the current generation early next year.
The future of the car, which is raced on NASCAR and other circuits, is a bit murky. GM says another generation may be in the works.
"While we are not announcing an immediate successor today, rest assured, this is not the end of Camaro's story," Scott Bell, vice president of Chevrolet, said in a statement.
The current sixth-generation Camaro, introduced in 2016, has done well on the racetrack, but sales have been tailing off in recent years. When the current generation Camaro came out in 2016, Chevrolet sold 72,705 of them. But by the end of 2021 that number fell almost 70% to 21,893. It rebounded a bit last year to 24,652.
GM said last of the 2024 model year of the cars will come off the assembly line in Lansing, Michigan, in January.
Spokesman Trevor Thompkins said he can't say anything more about a future Camaro. "We're not saying anything specific right now," he said.
The company, he said, has an understanding with auto-racing sanctioning bodies that the sixth-generation car can continue racing. GM will have parts available and the Camaro body will stay on the race track, he said.
NASCAR said that because the Generation 6 Camaro was in production when GM originally got permission to race, it remains qualified to race in NASCAR Cup and NASCAR Xfinity Series races.
GM will offer a collector's edition package of the 2024 Camaro RS and SS in North America, and a limited number of high-performance ZL-1 Camaros. The collector's edition cars will have ties to the first-generation Camaro from the 1960s and its GM code name "Panther," the company said without giving specifics.
GM's move comes as traditional gas-powered muscle cars are starting to be phased out due to strict government fuel economy regulations, concerns about climate change and an accelerating shift toward electric vehicles.
Stellantis, will stop making gas versions of the Dodge Challenger and Charger and the Chrylser 300 big sedan by the end of this year. But the company has plans to roll out a battery-powered Charger performance car sometime in 2024.
Electric cars, with instant torque and a low center of gravity, often are faster and handle better than internal combustion vehicles.
Stellantis, formed in 2021 by combining Fiat Chrysler and France's PSA Peugeot, earlier this week announced the last of its special edition muscle cars, the 1,025 horsepower Dodge Challenger SRT Demon 170. The company says the car can go from zero to 60 mph (97 kilometers per hour) in 1.66 seconds, making it the fastest production car on the market.