Free admission to see incredible country music stars at CFR!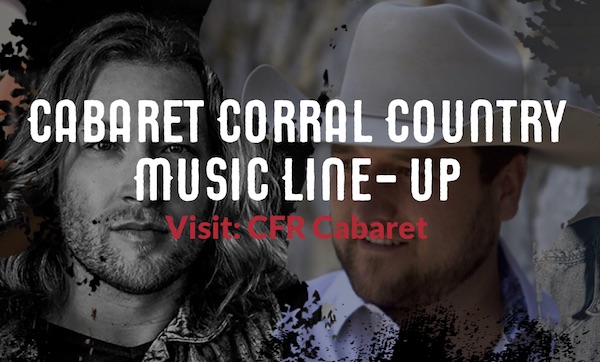 "Cabaret Corral" All-Canadian Country Music Line-up
Wednesday, November 3 – Saturday, November 6
FREE for all ages to attend!
Doors open at 2:00pm Wednesday, Thursday & Friday, and 11:30am Saturday.
The rodeo is live streamed in the Cabaret Corral at performance times.
From 8:30 pm to 9:30 pm, enjoy live music from our CFR All Star Band, featuring a different guest singer each night. This will be followed by the Buckle Presentations, then the Headliner act takes the stage at 10:30pm.
We are excited to announce an all-new "Cabaret Corral" country music entertainment lineup. This year features all Canadian artists on the TD Cabaret Stage, FREE for all ages to enjoy, including:
---
Aaron Pritchett's legacy continues to be unstoppable. His authentic desire to connect with his fans, whether it be onstage, via his digital platforms, in person or through his music, has sustained and grown a robust and loyal fanbase for 2 decades. Pritchett has charted anthems like "Dirt Road In 'Em" (CERTIFIED GOLD), "Let's Get Rowdy," "Hold My Beer (Certified GOLD)," and also appealed to the softer side with powerful hits like "Done You Wrong," and his top 5 smash – "When A Momma's Boy Meets A Daddy's Girl." Pritchett's single "Better When I Do" hit #1 on the Canadian Country radio charts, and the brand new single 'Not Enough You' is available on all streaming platforms now.
Cory Marks' debut album 'Who I Am' has been garnering tremendous attention here in Canada and across the globe for its signature blend of hard-hitting anthems and deep, soulful, tracks – and along with over 100 million streams world-wide, it has now been nominated for CCMA 'Alternative Country Album of the Year.' The album also features the stand-out track 'Drive,' which Billboard coined 'the feel-good country hit of the summer,' and current single now making noise on the Canadian Country Charts, 'Blame it on the Double.'
Alberta-based, the award-winning country artist Trevor Panczak has gained friends and supporters through his two top-50 hits from his full length album 'Where I Go to Come Back.' The popular and critically acclaimed single 'Cheap Shades', and the upbeat and affectionate 'For a Girl' both represent Trevor's affinity for material that is simple, but not simplistic – songs that are laden with the sort of sentimental imagery that makes any listener smile with a sense of familiarity and recognition.
Dan Davidson exploded onto the Canadian country scene to became arguably the Indie story of 2016/2017 as his single 'Found' rocketed up the charts and he became the #1 charting Indie artist in Canada. Dan has created undeniable momentum in the last few years, with 6 CCMA nominations, 10 ACMA awards, a gold record, a number 1 selling Canadian song and record, top 20 charting numbers and hundreds of performances.
"Cabaret Corral" All-Canadian Country Music Line-up
Alberta extends electricity rebate program until December at a cost of about $600M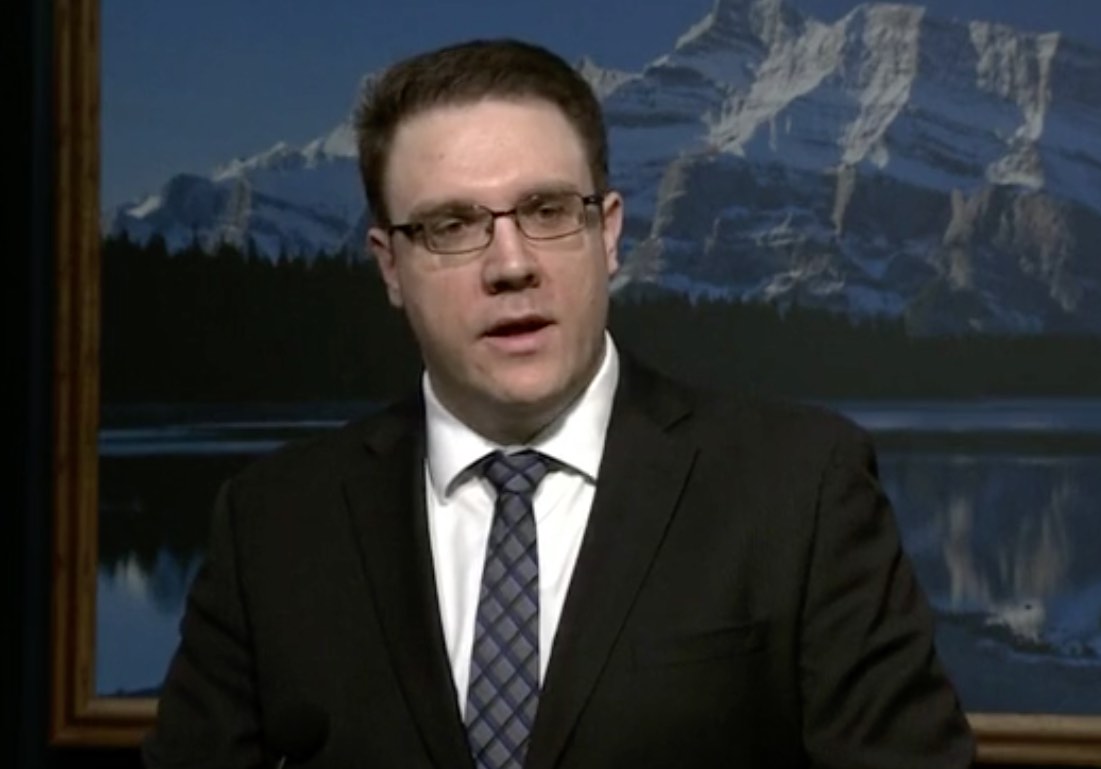 Edmonton – The Alberta government says it will extend its electricity rebates until the end of the year as the cost of living continues to rise.
Dale Nally, who's the associate minister of natural gas and electricity, says the United Conservative government is doubling the rebate to help reduce the financial burden on Albertans.
The government says the electricity rebate program will now offer about $600 million in relief through 2022.
It says the program will provide nearly two million homes, farms and small businesses with a monthly $50 bill credit each month from July until December.
The government says it will also provide a natural gas rebate to millions of Albertans starting in October, which will continue until March 2023 if prices remain high.
Last week, Finance Minister Jason Nixon announced a $3.9-billion surplus for the 2021-22 fiscal year ending March 31.
This report by The Canadian Press was first published July 6, 2022.
Telus Corp. marks opening of Telus Sky in downtown Calgary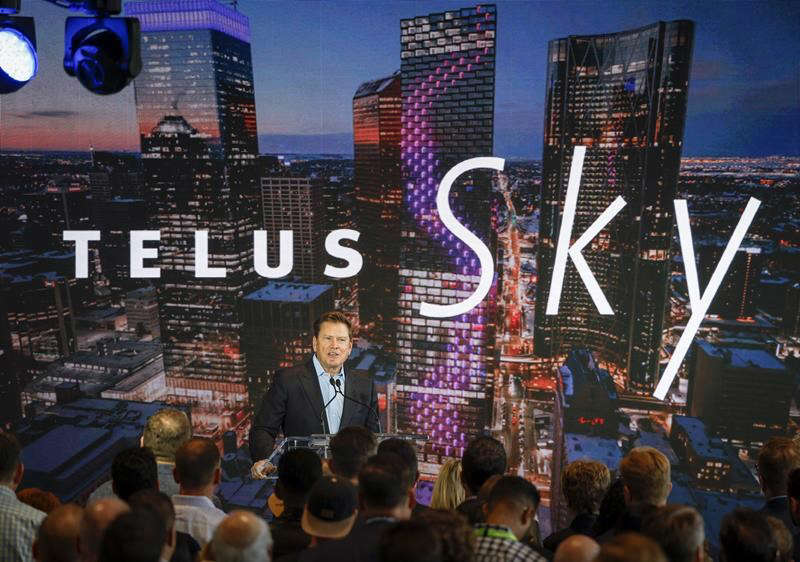 CALGARY — Telus Corp. marked the opening of its new 60-storey Calgary headquarters on Wednesday.
The new $400-million skyscraper, Telus Sky, has been in development for nine years and is now the third-tallest building in downtown Calgary. It features 750,000 square feet of office and retail space as well as 326 rental homes.
The building's eye-catching design, by architects Bjarke Ingels Group (BIG) and Dialog, along with developer partner Westbank and Allied, starts with a rectangular floorplate and then gradually twists as it rises.
Integrated into the facade of Telus Sky is Canada's largest public art display. "Northern Lights" by Canadian author and artist, Douglas Coupland, creates a light show across the building's exterior.
Telus Sky will be home to more than 1,600 Telus employees. It joins TELUS Garden in Vancouver, TELUS Harbour Toronto, TELUS House Ottawa, and Place TELUS Québec as one of the company's LEED (Leadership in Energy and Environmental Design) Platinum-certified buildings.
Among the building's environmental features is a storm water management system that recycles rainwater for use in washroom toilets, reducing the building's municipal water demand by 70 per cent.
This report by The Canadian Press was first published July 6, 2022.
Companies in this story: (TSX:T)
Amanda Stephenson, The Canadian Press