Free admission to see incredible country music stars at CFR!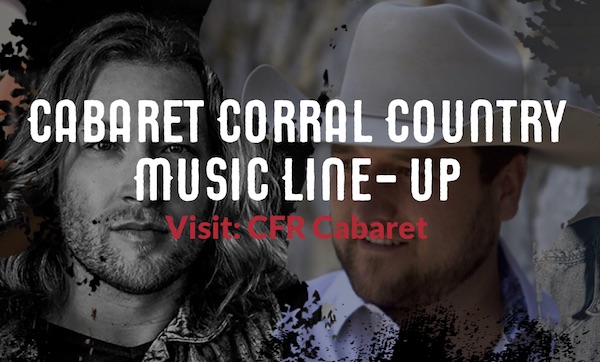 "Cabaret Corral" All-Canadian Country Music Line-up
Wednesday, November 3 – Saturday, November 6
FREE for all ages to attend!
Doors open at 2:00pm Wednesday, Thursday & Friday, and 11:30am Saturday.
The rodeo is live streamed in the Cabaret Corral at performance times.
From 8:30 pm to 9:30 pm, enjoy live music from our CFR All Star Band, featuring a different guest singer each night. This will be followed by the Buckle Presentations, then the Headliner act takes the stage at 10:30pm.
We are excited to announce an all-new "Cabaret Corral" country music entertainment lineup. This year features all Canadian artists on the TD Cabaret Stage, FREE for all ages to enjoy, including:
---
Aaron Pritchett's legacy continues to be unstoppable. His authentic desire to connect with his fans, whether it be onstage, via his digital platforms, in person or through his music, has sustained and grown a robust and loyal fanbase for 2 decades. Pritchett has charted anthems like "Dirt Road In 'Em" (CERTIFIED GOLD), "Let's Get Rowdy," "Hold My Beer (Certified GOLD)," and also appealed to the softer side with powerful hits like "Done You Wrong," and his top 5 smash – "When A Momma's Boy Meets A Daddy's Girl." Pritchett's single "Better When I Do" hit #1 on the Canadian Country radio charts, and the brand new single 'Not Enough You' is available on all streaming platforms now.
Cory Marks' debut album 'Who I Am' has been garnering tremendous attention here in Canada and across the globe for its signature blend of hard-hitting anthems and deep, soulful, tracks – and along with over 100 million streams world-wide, it has now been nominated for CCMA 'Alternative Country Album of the Year.' The album also features the stand-out track 'Drive,' which Billboard coined 'the feel-good country hit of the summer,' and current single now making noise on the Canadian Country Charts, 'Blame it on the Double.'
Alberta-based, the award-winning country artist Trevor Panczak has gained friends and supporters through his two top-50 hits from his full length album 'Where I Go to Come Back.' The popular and critically acclaimed single 'Cheap Shades', and the upbeat and affectionate 'For a Girl' both represent Trevor's affinity for material that is simple, but not simplistic – songs that are laden with the sort of sentimental imagery that makes any listener smile with a sense of familiarity and recognition.
Dan Davidson exploded onto the Canadian country scene to became arguably the Indie story of 2016/2017 as his single 'Found' rocketed up the charts and he became the #1 charting Indie artist in Canada. Dan has created undeniable momentum in the last few years, with 6 CCMA nominations, 10 ACMA awards, a gold record, a number 1 selling Canadian song and record, top 20 charting numbers and hundreds of performances.
"Cabaret Corral" All-Canadian Country Music Line-up
Flames bounce back with 5-1 victory over Ducks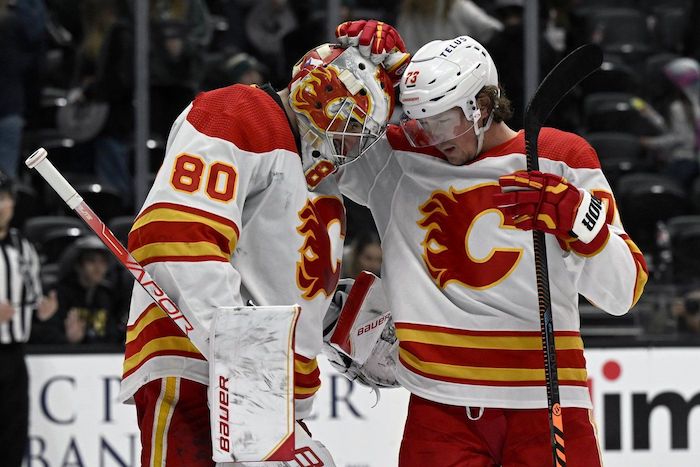 Calgary Flames right wing Tyler Toffoli (73) celebrates with goaltender Dan Vladar (80) after the Flames defeated the Anaheim Ducks in an NHL hockey game in Anaheim, Calif., Tuesday, March 21, 2023. (AP Photo/Alex Gallardo)
By Joe Reedy in Anaheim
ANAHEIM, Calif. (AP) — Tyler Toffoli had three assists, Calgary scored twice on the power play and the Flames bounced back from a six-goal loss one night earlier with a 5-1 victory over the Anaheim Ducks on Tuesday.
Toffoli has nine points in the past four games, including six assists.
Nick Ritchie, Troy Stecher, Rasmus Andersson, Elias Lindholm and Andrew Mangiapane scored Calgary's goals. Mikael Backlund had a pair of assists and Dan Vladar stopped 19 shots for the Flames, who rebounded from an 8-2 defeat Monday night in Los Angeles.
"We just wanted to put that game behind us. And there's no better way to put it behind you than to just go out there and play right away," said Mangiapane, who scored on a breakaway with less than five minutes remaining for his 12th of the season. "I think the first period set the tone for us. We wanted to come out strong and hard and just keep building off of that."
The win kept Calgary four points behind Winnipeg for the final wild-card berth in the Western Conference with 10 games remaining after the Jets beat Arizona 2-1.
"As a coach it is really simple: I just want to keep every game meaningful," Flames coach Darryl Sutter said.
Frank Vatrano scored Anaheim's lone goal. John Gibson made 38 saves, facing more than 40 shots for the 20th time this season.
"We knew that they were going to be a little ornery after their game last night against L.A., and other than a few spurts in the second period, maybe for about six minutes in the second, we couldn't sustain much. Every time we turned, they were in our face," Ducks coach Dallas Eakins said.
Calgary has 12 goals with the man advantage over the past month, which is fifth best in the NHL.
Andersson put Calgary up 3-0 less than three minutes into the third period on a one-timer off Toffoli's pass. It was Andersson's 11th goal and his third in the past six games.
The Flames grabbed the lead 37 seconds into the game when Ritchie put in the rebound after Gibson made a pad save on Noah Hanifin's shot from the point. Ritchie's 12th of the season marked the sixth time Calgary has scored in the opening minute.
Stecher broke a 90-game goal drought at 16:50 of the first with a snap shot from the right faceoff circle to the high side of the far post. Stecher — whose last goal was on Feb. 17, 2022 — has three points (one goal, two assists) since being acquired from Arizona at the trade deadline.
Anaheim got on the board five minutes later when Vatrano lifted a wrist shot over Vladar's shoulder on his glove side. Vatrano's 17th marked only the second goal in Anaheim's last 15 power-play opportunities.
Lindholm scored his 21st and gave Calgary a 4-1 lead 46 seconds into the third on a one-timer.
NOTES
Hanifin extended his point streak to six games with the first assist on Ritchie's goal. He has six points (two goals, four assists) during that span. … Calgary defenceman Chris Tanev was scratched an hour before the game due to an upper-body injury. … Anaheim forward Nikita Nesterenko made his NHL debut. Nesterenko was acquired from Minnesota in the John Klingberg trade at the deadline. Nesterenko played three seasons at Boston College and signed a two-year, entry-level contract last Wednesday.
UP NEXT
Flames: Open a three-game homestand against the Vegas Golden Knights on Thursday.
Ducks: Host the Winnipeg Jets on Thursday.
2022 World Senior Men's gold medalist rink and Cheryl Bernard among teams at Senior Curling Championships at Red Deer's Pidherney Centre this week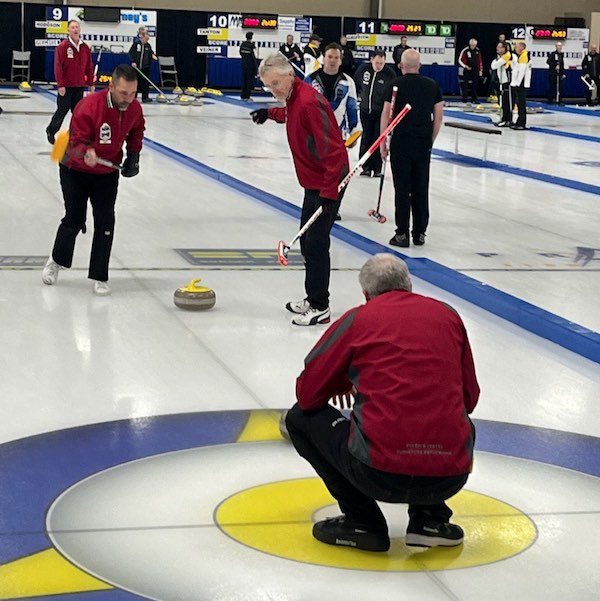 The 2023 Alberta Servus Credit Union Senior Men's and Women's Championships will take place at Red Deer's Pidherney Centre on March 21 to 26.
Thirty-three rinks are on hand to vie for the right to represent Alberta at the Men's and Women's Canadian Championships next fall.
The 2022 World Senior's gold medalists, Team Wade White looks to add yet another championship title to his name alongside teammates, third Barry Chwedoruk, second Dan Holowaychuk and lead George White. While defending Alberta champion, Team Pahl will keep the pressure on to represent Alberta once again.
Other noteworthy names on the men's side include, Mickey Pendergast; Master's Provincial Champion and former teammate of local legend, Rob Armitage, and 2017 Senior's Champion, Glen Hansen.
The talent continues on the women's side with nine of the top senior women's teams in the province.
The star studded line-ups include Olympians, Cheryl Bernard, Carolyn McRorie, Sandra Jenkins and Shannon Kleibrink forming a team under Bernard, and Glenys Bakker and Atina Ford-Johnston skipping their own rinks, with Cory Morris joining Ford-Johnston as lead.
With defending champion, Diane Foster, out of the race, it truly is anyone's title to claim.
Draws run throughout the week with the semi-finals of both the women and men at 9 am on Sunday March 26 followed by the finals at 2 pm.
Admission is free thanks to support from Servus Credit Union.