Far From The Madding Covid Crowd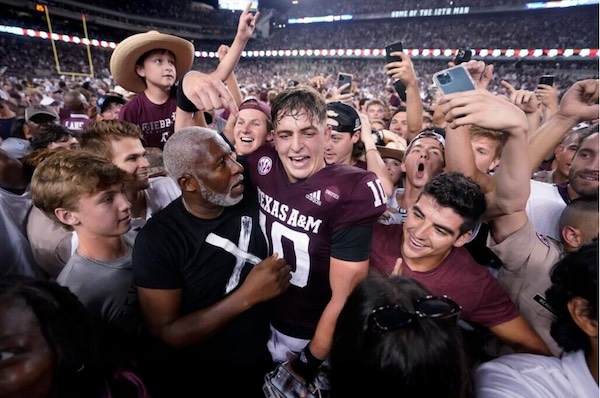 "The pandemic will end not when some arbitrary government mandated goals are met. It will end when people decide it should end. Texas has decided". Dr. Eli David
There's a Terminator quality to the mandatory-vaccine resistance movement. Ridiculed, fired, forbidden from dining, prohibited from flying… they abide. The often-imitated but never-duplicated Media Party has demonized them, while police strong-arm them at the mâitre 'd table.
And yet. Saturday there were 106,000 people gathered for the Alabama/ Texas A&M football game in College Station, Texas. Oblivious to the admonishments about masking, distancing, vaccinations and relentless PSA pounding they were in full-throated rapture about being jammed together like Hebrew National frankfurters.
They weren't alone. The NFL featured a huge crowd in London, England, for the Jacksonville/ Atlanta neutral-site game. And now the NHL opens its schedule (with some vaccination restrictions) this week to largely open arenas— with the NBA on the way.
You'd almost think they'd been lied to about Covid-19 being stopped by hand sanitizer (never!) . What is going on here? Do they not understand this is risky behaviour according to Dr. Fauci? Haven't they seen the un-vaxxed regretting their behaviour on TV from a hospital bed?
Or the texts that ask why Scotiabank Arena can host 16,000 screaming fans while families are told by the always-helpful Liberal shill Patty Hajdu to stay at home for Thanksgiving, tell the family not to come over and, egad, don't travel to see Grandma and Grandpa. What a bunch of yokels they must be.
In fact, despite the attempts to portray them as Pappy Yokums, almost all these people are now cognizant of the risks. Despite Big Tech censoring opposing viewpoints, they grasp the data. But they have had enough of the pandemic mentality. Specifically, they've turned off the righteous and moral wrath of the expert class. They want their lives back.
They have had their fill of being told by the knowledge industry how dumb they are with their online "prohibited claims". They're not worrying every moment about a 99 percent chance of surviving the virus with nothing more than a scratchy throat or a blocked sinus. They've seen too many deadlines come and go.
As Nate Silver of FiveThirtyEight observed, "Low-probability risks are hard for our brains to compute, period. And after a year+ of having our brains rewired by (often legitimately very scary) COVID risks, it's even harder now." Author/ cartoon list Scott Adams notes, "Dear government, What level of virus risk do we need to reach before ending all mandates and restrictions? If you don't have a target, don't expect compliance."
Right now they only see word salads about certainty from laptop experts and disgraced politicians. And so the football fans in Texas are deciding the next move in the pandemic progress.
Or perhaps it's the employees of Southwest Airlines— whose work-to-rule campaign this week in protest of the mandatory vaccine policy of the airline— who have decided (United Airlines employees are said to be replicating the walkout). Or what look to be longshoremen unions and employee groups who resent being the whipping post for authoritarian behaviour. They are threatening to grind the economy to a near-halt to convince Biden to cease his demonization of anyone who has a different opinion.
It's a demonization that targets Biden's critics, says author Steven Pinker. "There is a myth that 'cancel culture' is a myth. But literally hundreds of scholars have been targeted, & a majority of the attacks result in punishment, often firings." To say nothing of Biden celebrating the firings of airline, rail and automobile industry workers in his latest tele-prompter ramble.
The crisis he's inviting, in case you didn't know, is caused by just 775 people in Canada who have serious or critical Covid-19 infections. And that, in a country of 38 million, has crippled our healthcare system. Here's Canada "overflowing with Covid" situation: 96,000 hospital beds; 2,700 allegedly with Covid-19. Ergo, 2.8 percent of hospital beds in Canada are reportedly Covid patients.
This is a Healthcare® fail not a virus problem. And Patty Hajdu, whose government can't sell ice cream in the desert, wants you to shelter in place. Fans in football stadiums are united in saying "stuff it".
Apparently the public has computed the unreliability of the media, and— like MLB hitters turning down the shift to accept the easy bunt—are taking steps to reclaim their lives from the Fear Merchants. As long as fear won, the entrenched interests sought to exploit the observation of Canadian psychiatrist J.T. MacCurdy. "We are all of us not merely liable to being afraid. We are also prone to being afraid of being afraid."
What we now are— perhaps— seeing is an epidemic of people casting off fear. It might be the most healthy thing they've done since March of 2020Bruce Dowbiggin @dowbboy is the editor of Not The Public Broadcaster (http://www.notthepublicbroadcaster.com). The best-selling author of Cap In Hand is also a regular contributor to Sirius XM Canada Talks Ch. 167. A two-time winner of the Gemini Award as Canada's top television sports broadcaster, his new book with his son Evan is called InExact Science: The Six Most Compelling Draft Years In NHL History is now available on http://brucedowbigginbooks.ca/book-personalaccount.aspx
Trudeau's Pandemic Accord: Selling Canada By The Pound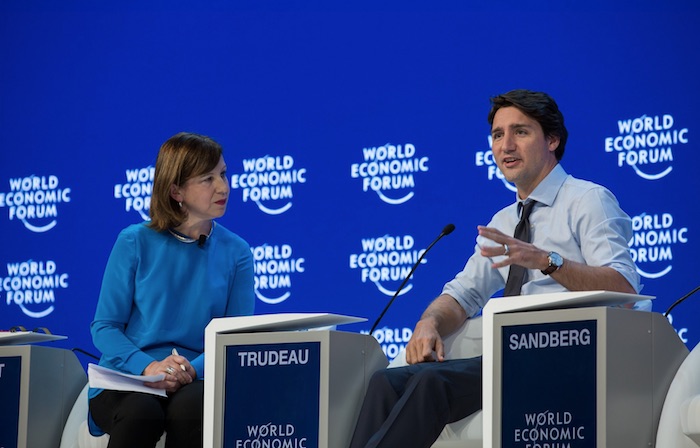 "The #PandemicAccord process is at the very beginning of a multiyear Member State led negotiation, which will only be finalised in 2024 after multiple public hearings around the world. And all voices will be heard"–@DrTedros WHO
Some are born great. Some have greatness thrust upon them. Then there's Justin Trudeau, the Trust Fund Fruit-Loop. You know you're out of your depth. Worse, you know that everyone else knows you're out of your depth. You know that they know you have a resumé thinner than consommé. You have multiple skeletons hidden back at the ski chalet. They only want you for your name.
So what do you do to win respect? You rent yourself out to the fashionable, the witty wind therapists, the glib retainers of the media. The unelected armies of NGOs and Davos cowboys who live off free money and private jets. The positively furious grad-school Marxists.
"Make me into a man," cried Pinnochio. "Not this wooden son of Margaret Trudeau that I am now." So his handlers got to the work of making chicken salad from chicken… er, stuff.
Making the Pinocchio conversion much easier was how a tattered Liberal Party, the party his father had helped to crater, was looking around for something, anything, to retrieve their hustle from the dread Stephen Harper. So Trudeau literally threw himself into the arms of the calculating Cape Breton fixer Gerald Butts and a coterie of Kinsey-style influencers and leeches.
Using Justin's coming-out performance as the sobbing son at Papa Pierre's casket, they put him on a trajectory to dominate Instagram and eTalk. The urban hives of Vancouver, Toronto, Ottawa and Montreal were tired of apologizing to their progressive pals elsewhere for a leader who wore sans-a-belt pants and gloried in policy. The Hill Media Party wanted someone with a little sizzle.
His fixers' only instruction? "Shut you mouth and keep your hands to yourself." This proved difficult for Justin. But an acquiescent media corps buried his sexual faux pas faster than Hunter Biden burying his meth lab.
So Justin boxed the hapless Patrick Brazeau to firm up his macho bonafides. He did cupcake photo apps with his soon-to-be-estranged wife in glossy U.S. periodicals. He stopped openly dreaming of the Communist Chinese government model. Voilà. Trudeau the Younger won the prize.
Ensconced as PM, Justin resorted to his entitled past, taking free trips from the Aga Khan, getting jiggy with a female reporter, calling off the Mounties' investigating Quebec's SNC Lavalin. And sucking up big time to the global elites by destroying Canada's energy industry. Always protected by media he'd paid off in advance.
To make up for lost Liberal seats in future elections he recruited the hapless Jagmeet Singh and his NDP faculty club into a non-aggression pact. He was free to embrace all the fashionable frippery of the Woke radicals. With another term— and Singh— in hand it came time last fall to pay off his real constituents: the Reset Regime. The suits who give him gravitas. Luminaries such as WEF honcho Klaus Schwab, who bragged at having "penetrated" Trudeau's cabinet.
Enter the WHO's wildly ambitious Pandemic Accord. Never heard of it?
According to WHO director-general Dr. Tedros, the Chinese puppet running the WHO, the Pandemic Accord is an urgent project. "The last few years have taught us about our own collective fragility and the threat to economies and security of not working together… The essence of the proposed #PandemicAccord is to improve cooperation, coordination, and the sharing of data, information, biological materials and lifesaving tools."
If you're looking to parse that word salad, rest assured that the Pandemic Accord will not be consulting local knowledge the next time a virus rolls through. It will be "one size fits all" lockdowns, vaccines and travel restrictions mandated in Europe. And the funding for the Accord will be a sinkhole, not unlike the current UN.
(If you're thinking this surrender of sovereignty is just a Justin thing, 154 other sheep nations have also signed up for this "1984" tribute. Australia's PM Scott Morrison sums up the enthusiasm for Covid Kool-Aid on the pandemic treaty: "The WHO should have those powers and authorities," he announced. For an intellectual non-entity like Trudeau this is a train he needs to get on board. He'll get to hang with the big guys.)
Now if you haven't heard of the Pandemic Accord, you're not alone. Because it has the power to upset naïve citizens, the arrival of this monstrosity has been covered up by the war in Ukraine. Wondering if the Bono was why Trudeau kept flying to Ukraine? In part, yes.
But he was also meeting with European leaders and global financiers about the Accord and handing over sovereignty to unelected suits. And how he can get a piece of the action when he leaves the PMO. You didn't know his stint as PM was simply a job application to hanging with the globalist crowd? What are you, a trucker? Shame on you.
While Skippy is burnishing his CV in Europe, in his home province the Quebec government has decided now is the time to squeeze non-Francophones again. "Bill 96 would impose tougher language requirements on small businesses and companies in federally regulated industries, such as banking and telecommunications, as well as governments and schools.
If passed, companies with 25 employees or more would be subject to "francization" — government certification that use of French is generalized in the workplace — down from 50 currently. The bill also assigns new powers to the French language watchdog and sets tighter language rules for professional orders.
The cost for a roughly 50-employee company would range between $9.5 million and $23.5 million, according to estimates from the Canadian Federation of Independent Business. The bill is expected to pass before the legislature breaks for the summer."
It'll all be fuelled by a snitch culture that turns neighbours against each other and on companies. To help Premier François Legault navigate any legal or Charter issues, the PM has said they'll move the deck chairs so it can pass without a problem.
But that and soaring gas prices is all just a sideshow for Trudeau. The big action— and respect— lies in Europe. And he can't wait for you to give him a lucrative send-off.
Bruce Dowbiggin @dowbboy is the editor of Not The Public Broadcaster (http://www.notthepublicbroadcaster.com). The best-selling author was nominated for the BBN Business Book award of 2020 for Personal Account with Tony Comper. A two-time winner of the Gemini Award as Canada's top television sports broadcaster, he's also a regular contributor to Sirius XM Canada Talks Ch. 167. His new book with his son Evan Inexact Science: The Six Most Compelling Draft Years In NHL History is now available on http://brucedowbigginbooks.ca/book-personalaccount.aspx
We Have Met The Goalies, And The Goalies Have Won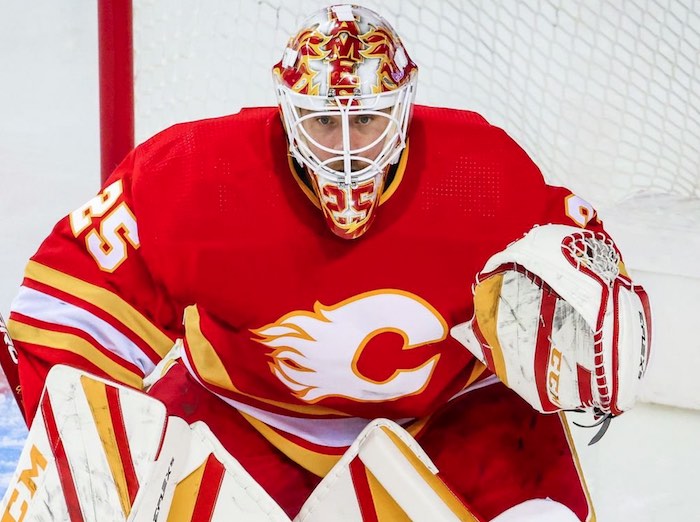 The NHL's problem, Boston Bruins GM legend Harry Sinden told us years ago, is that there are 30 teams. But just one Stanley Cup. That makes for a lot of disappointment.
As Toronto fans can now attest, that disappointment stings worst when you have a team with a likely Hart Trophy winner and an impressive regular season. By rights a healthy Leafs squad should have disposed of the defending champions from Tampa Bay, who finished five points below them in the standings.
But the NHL is no place for favourites. Analytics have found that, generally, you'd have to play a best-of-51 series before the higher-seeded NHL team would have the advantage. (The NBA is much more favourable to the chalk.) So, given enough time Toronto would have outlasted the Lightning. It could/ would have taken till August to do so, however.
Why? Because the NHL— despite fitful attempts to redress this discrepancy— has created a Frankenstein playoff model that allows lesser teams to clog the ice, funnel shots from bad angles and get away with fouls that wouldn't stand in the regular season. Using the rules today, a defensive-minded team can clog the front of the net, blocking as many shots as does their goalie.
In Toronto's Game 7 loss to Tampa, the Leafs directed 57 shots at impenetrable goalie Andrei Vasilevsky. He stopped 30 of 31 that reached him. His defence almost matched him, blocking 26 shots. (Toronto blocked 13 shots while goalie Campbell stopped 20 of 22 shots that rewashed him.)
Toronto buzzed the scoring zone, dominating puck possession. They dominated faceoffs, winning 61.8 percent. In the end it meant zilch, be cause Vasilevsky was a brick wall.
It was the same for the Pacific Conference champion Calgary Flames against 23-year-old goalie Jake Oettinger and the Dallas Stars— who only snuck over .500 on the final day of the season. In Game 7 Calgary sent 129 shots toward the net, with Oettinger making 64 saves into OT. And his defence blocked 32 Calgary shots on Sunday.
On average the Flames outshot the Stars (272 shots) by over 20 shots in each of the seven games. Yet the lower-rated Dallas almost escaped with the series win, because Oettinger was otherworldly. It took a bad-angle goal from Johnny Gaudreau in OT to propel the favoured Flames to a Round 2 Battle of Alberta with Edmonton.
The NHL shows no inclination to reward hight-ranked teams, preferring to lionize the grinders and bangers by letting them hit opponents late and charging guys along the boards. If there were a goal that epitomized this credo it has to be Gm.4 of the Kings/ Oilers series when Carl Grundstrom slid on his belly into goalie Mike Smith, pushing the puck under the Oilers goalie with a two-handed shove. Ugly? Yes, but effective against the massive goalies.
Of course, what are scorers to do when faced with 6-foot-5 goalies like Smith and his towering peers blotting out the sun? The epidemic of skilled giants wearing huge equipment has led to teams not shooting till they can screen the goalie or knock in a rebound. It was something we wrote about in February of 2021 following publication of an article by Ken Dryden in The Atlantic entitled "Hockey Has a Gigantic-Goalie Problem".
"The problem isn't the game. The problem is the goalie, who is changing the game", declared Dryden. "This game, one that allows for such speed and grace, one that has so much open ice, is now utterly congested… Never in hockey's history has a tail so wagged the dog."
Dryden reviews the evolution of the position from goalies' bodies protruding above the cross bar to having their entire body below it. "Pads that had been made of heavy leather, deer hair, and felt were replaced with nylon, plastic, and foam rubber. These lighter materials, which made the pads less awkward to move around in and less tiring to wear, could then also be made bigger. And bigger equipment, covering a body now in position below the bar, filled even more space."
Dryden explains how a properly positioned 6-foot-3 or taller goalie can now block all avenues for the puck— from his knees. "But really, in that equipment, with those body strategies, why get up? Why move? What better puck-blocking position could he take?"
The response from coaches and shooters? "Rush the net with multiple offensive players, multiple defensive players will go with them, multiple arms, legs, and bodies will jostle in front of the goalie, and the remaining shooters, distant from the net, will fire away hoping to thread the needle, hoping the goalie doesn't see the needle being threaded, because if he does, he'll stop it
It's not a formula Dryden likes. "All the players' amazing skills, developed in hours of practice, visualizing and dreaming in basements, on roads and local rinks, in drills with coaches and expert teachers, their minds and hands now able to move as fast as their feet, to find and use all the open ice that is there. But with so little open ice where open ice matters, for what?"
He contrasts how basketball solved its size problem: introducing the three-point line to open up scoring in what was becoming a stalemate beneath the hoop. "If a big guy can't pass and shoot, there's no place for him. With big guys dispersed and away from the basket, little guys now even get rebounds. All 10 players are involved. All 10 players can have a role. All 10 players, on the best teams, and on even better teams in the future, need to have a role to win. This NBA game, played on a much smaller surface than a hockey rink, is now far more open, much less congested."
Dryden's solution is a reluctant one. "The clever cat-and-mouse game between goalies and shooters has run its constructive course. The goalies, by winning, have changed the game." So the net must be made bigger. "Maybe only six inches or a foot wider, maybe only six inches higher. And only for those in junior and college leagues and above."
Whether the NHL can see beyond its cherished myths of grinders and role players to admit it has a problem is the question. A question that, as long as Gary Bettman is commissioner, will never be answered.
Bruce Dowbiggin @dowbboy is the editor of Not The Public Broadcaster (http://www.notthepublicbroadcaster.com). The best-selling author was nominated for the BBN Business Book award of 2020 for Personal Account with Tony Comper. A two-time winner of the Gemini Award as Canada's top television sports broadcaster, he's also a regular contributor to Sirius XM Canada Talks Ch. 167. His new book with his son Evan Inexact Science: The Six Most Compelling Draft Years In NHL History is now available on http://brucedowbigginbooks.ca/book-personalaccount.aspx