Canada's largest fireworks show of the year set for Calgary, Edmonton, Lethbridge, and Red Deer to celebrate the Stampede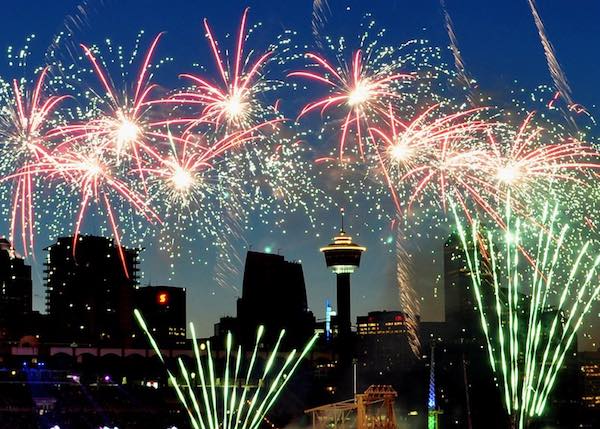 News Release from The Calgary Stampede
Calgary Stampede to Light up the Night Sky Across Alberta!
The Calgary Stampede is proud to celebrate the resilience and determination of our great province through a province-wide fireworks display on Friday, July 9. The Fireworks Spectacular presented by Bell, will take place in Lethbridge, Red Deer, Edmonton and Calgary and we invite all Albertans to join together in celebration as we light up the night sky in recognition of our shared goals and bright future for our province. This incredible display will be a must-see, as the largest and most sophisticated firework event produced in Canada this year.
Since 1912, fireworks have played an important role in Stampede celebrations. Taking place in coordination with the fireworks of the Calgary Stampede Evening Show performance on the first night of Stampede 2021, the sparkling world-class display will occur simultaneously in all four participating cities to a synchronized musical soundtrack.
"This is our way of lighting up the Alberta skies and providing the opportunity to celebrate together," says Steve McDonough, President & Chairman of the Stampede Board. "Thousands of Albertans will be able to view this amazing firework show from their own neighbourhood at the same time, with the same soundtrack on July 9th."
"On behalf of Lethbridge City Council, we congratulate our friends in Calgary for their creativity and collaboration on this fireworks spectacular. We look forward to helping celebrate the beginning of the Calgary Stampede with what is sure to be a brilliant display of fireworks for residents and visitors to enjoy," says Mayor Chris Spearman of the City of Lethbridge.
"The Calgary Stampede is leading the way in the return to community life in our province. Red Deer is honoured to be a part of this initiative to celebrate our Western heritage together," says Red Deer Mayor, Tara Veer. "Albertans have been hit hard by the pandemic, but together we can rebuild and demonstrate our resilience on July 9th."
The pyro-technical experts from Fireworks Spectaculars Canada, an Alberta based company, are familiar with all four cities, and bring their award winning and awe-inspiring team together across the province to create this magical moment to kick-off the 2021 Stampede.
"At this stage, we have to think about how we get major events up and running again. The Calgary Stampede is leading the way and, one by one, other events will follow. As Explore Edmonton takes over management of K-Days in Edmonton, we are watching and learning from our friends at the Stampede. This will mark the beginning of recovery for the events sector and it marks a milestone moment for Alberta as we emerge from the pandemic," says Maggie Davison, Interim CEO, Explore Edmonton
"As we move hopefully into our post-pandemic future, this fireworks display will allow us to safely honour what we've been though, to express our gratitude to all the essential workers who gotten us through, and to look forward with optimism," says Calgary Mayor Naheed Nenshi
The Fireworks Spectacular presented by Bell will feature four identical, world-class firework displays in each city – Calgary, Edmonton, Red Deer and Lethbridge – starting at 11 p.m. on July 9. Albertans are invited to participate in this in this free, family-friendly celebration with specific viewing locations and information available at CalgaryStampede.com. It will also be broadcast live on CTV Calgary, CTV2 and CTVNews.ca beginning at 11 p.m., so that you can watch from the comfort of your own home. Tune in as we light up the night sky to celebrate Stampede Spirit across Alberta. We thank our community partners Explore Edmonton, The City of Red Deer, Westerner Park and Lethbridge & District Exhibition. This is a celebration of our province, and at the Calgary Stampede we believe we are Greatest Together.
Watch in person from your seat at the 2021 Calgary Stampede Evening Show! Evening Show and Rodeo tickets are now available and include admission into Stampede Park the day of the show. New in 2021, a VIP, full-service, outdoor experience that will put you in the heart of the action on the Grandstand tarmac. Reserve a table for your group of four or six people to enjoy the experience in a brand-new way! To book your Evening Show, Rodeo or VIP Tarmac tickets, or to purchase general Park admission for days you are not attending the Evening Show or Rodeo, go to CalgaryStampede.com
About the Calgary Stampede
The Calgary Stampede celebrates the people, the animals, the land, the traditions and the values that make up the unique spirit of the west. The Calgary Stampede contributes to the quality of life in Calgary and southern Alberta through our world-renowned Stampede, year-round facilities, western events and several youth and agriculture programs. Exemplifying the theme We're Greatest Together, we are a volunteer-supported, not-for-profit community organization that preserves and celebrates our western heritage, cultures and community spirit. All revenue is reinvested into Calgary Stampede programs and facilities.
Alberta's chief medical officer says most of 11 Omicron COVID cases were vaccinated
EDMONTON — Alberta's total number of Omicron variant COVID-19 cases remains at 11, but the province's chief medical officer of health expects that number to grow.
Dr. Deena Hinshaw also says seven of the 11 people were fully vaccinated, two were partially vaccinated and two were unvaccinated.
Alberta Health is still gathering data on the effects and spread of Omicron, but Hinshaw says early indications are those who contract the variant can avoid severe outcomes if vaccinated.
She also reported 240 new cases of COVID-19 for a total of about 4,100 active cases.
There are 373 people in hospital with the illness, including 76 in intensive care.
Hinshaw says more than 60,000 youngsters between the ages of 5 to 11 have received a first dose of the COVID-19 vaccine.
This report by The Canadian Press was first published Dec. 7, 2021
The Canadian Press
Calgary researcher to lead study on E. coli infection in children
CALGARY — A University of Calgary researcher will lead a North American study examining a new way to treat E. coli infections that can cause kidney failure in children.
Professor and pediatrician Stephen Freedman will oversee the 26-site project, set to include more than 1,000 kids and run six years beginning in September 2022.
The university says the U.S.-based National Institutes of Health is providing more than $11 million for the investigation, meant to stop disease from progressing from bloody diarrhea to kidney shutdown and neurologic complications.
The Alberta Children's Hospital Research Institute is also providing funds.
The study will focus on Shiga-toxin producing E. coli, or STEC, which is commonly found in cattle and can spread to humans. The University of Calgary says Alberta has one of the highest rates of STEC infection in the world given its abundance of cattle, sloped terrain, food crops and use of well water.
Freedman says the study will be the first in 20 years to evaluate a treatment focused on stopping disease progression.
He says it will consider the value of "early and aggressive intravenous rehydration," a rarity in early stages of the illness. The approach calls for large volumes of intravenous fluids early-on in a bid to maintain blood flow to the kidneys.
Infected children in the study will be hospitalized before any complications occur, even if they appear relatively well, Freedman said Tuesday in a release.
"What often happens is infected children will recover from the diarrhea and may look well but in nearly 20 per cent of children, unbeknownst to their parents and sometimes doctors, their kidneys are in the process of failing," Freedman said.
The Centers for Disease Control and Prevention estimates that nearly 100,000 high-risk STEC infections occur annually in the United States.
More than 60 per cent of these infections are in children, half of whom are younger than five years old. Young children are at the highest risk of complications, which can include renal failure, strokes and in rare cases, death.
This report by The Canadian Press was first published Dec. 7, 2021.
The Canadian Press