Canada should 'shout from the rooftops' its ability to reduce emissions with LNG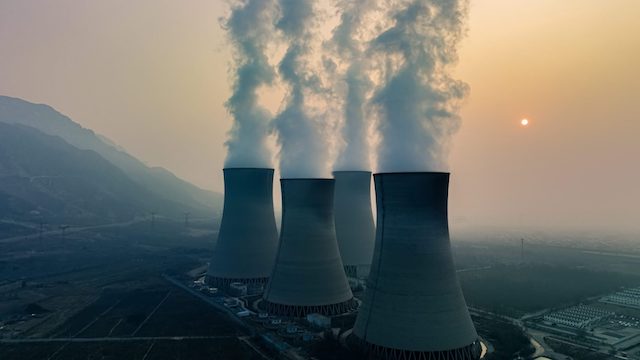 Morning view of a coal-fired power station in China. Getty Images photo
By James Snell and Deborah Jaremko
Canada should work with its allies and potential customers to receive credit for the global emissions reduction benefits of exporting liquefied natural gas (LNG), says a prominent Canadian energy advocate.
The equivalent of all Canadian GHG emissions could be eliminated by helping Asia switch 20 per cent of its coal fired power stations to natural gas, says Shannon Joseph, chair of Energy for a Secure Future, citing a recent report published by the Canadian Chamber of Commerce.
"Canada could help deliver 680 megatonnes of emissions reductions, and that's more than our whole country," she says.
"We should do it and shout it from the rooftops. We should move forward with LNG as an energy and emission solution."
Receiving credit for lowering emissions with LNG could come through what's known as Article 6 of the Paris Agreement, but Joseph says Canada need not wait for these carbon accounting rules to be settled before pressing forward.
"We need to assert, confidently, the environmental value we would be delivering to the world," she says.
Shannon Joseph, chair of Energy for a Secure Future. Photo by Dave Chidley for the Canadian Energy Centre
Article 6 conceptually allows countries to collaborate with each other on emissions reduction goals by trading carbon credits. In theory, for example that could allow Canada receive credit for emissions reductions achieved in China by using Canadian LNG to displace coal.
The Paris Agreement signatories have not yet agreed on the rules to make Article 6 a reality. Meanwhile, driven by Asia, last year the world consumed more coal – and produced more emissions from that coal – than ever before, according to the International Energy Agency (IEA).
The IEA says switching from coal to natural gas for electricity generation reduces emissions by half on average. LNG from Canada can deliver an even bigger decrease, reducing emissions by up to 62 per cent, according to a June 2020 study published in the Journal for Cleaner Production.
Even before Russia's invasion of Ukraine, world LNG demand was expected to nearly double by 2040. The market has become even tighter as countries work to exclude Russian energy, says a report by Energy for a Secure Future.
Japan and South Korea, as well as Germany have asked Canada to step up LNG development to help mitigate the energy crisis.
With or without Article 6, Energy for a Secure Future is calling on Canada to work with its potential customers in Europe and Asia to recognize and credit the environmental benefits of Canadian LNG displacing higher emitting energy.
"Canada's allies have come here asking for energy, and we should work directly with them to find a way to have our environmental contributions recognized," says Joseph, adding the U.S. has moved ahead without credits, more than doubling LNG exports since 2019.
Canada has yet to export significant volumes of LNG after years of regulatory delay and cancelled projects – but things are changing.
LNG Canada in Kitimat B.C. will be the first major export facility to operate, starting in 2025. Woodfibre LNG near Squamish begins construction this fall with the aim to start operating in 2027. Other proposed projects include the Indigenous-led Cedar LNG facility in Kitimat and Ksi Lisims LNG near Prince Rupert.
LNG Canada CEO Jason Klein stands atop a receiving platform overlooking LNG processing units called trains that are used to convert natural gas into liquefied natural gas at the LNG Canada export terminal under construction, in Kitimat, B.C., on Wednesday, September 28, 2022. CP Images photo
Meanwhile, India, China and Japan remain consumers of Russian oil and gas, according to the 2023 Statistical Review of World Energy.
"We are trying to help our allies meet the challenges they are facing. One of these is ensuring that their populations – sometimes of over a billion people – can even access modern forms of energy," Joseph says.
"If Canada wants to be relevant and to lead, we have to come to the table with solutions to this question, alongside the environmental one. LNG is our biggest card."
India will have the world's largest population by 2028 – climbing to 1.45 billion and rising to 1.67 billion people by 2040, according to the United Nations Population Fund.
"Currently India is the fourth largest importer of LNG [in the world] and demand is expected to grow massively as 270 million people move up the socioeconomic ladder," says Victor Thomas, CEO of the Canada-India Business Council.
Canada's potential to deliver LNG to India "just makes good sense when you look at the geopolitical fractures that have occurred since 2022," he says, noting the U.S. has recognized the opportunity and is taking action to form new business relationships in India.
Burning wood and other biomass for heat and cooking is still common in the South Asian country, while coal produces around three quarters of India's electricity. According to the IEA, by 2040 India's total energy demand will be 70 per cent higher than it was in 2019.
"Transitioning from wood burning to LNG is a massive emissions reduction," says Thomas. "It's a safe and reliable opportunity. People are looking for a country like Canada to be able to provide that."
Report outlines how Canada can get credit for reducing emissions in Asia with LNG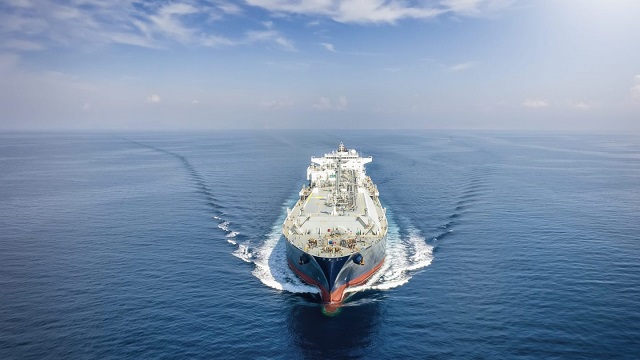 By Cody Ciona and Deborah Jaremko
Sharing emissions reductions through Article 6 is possible when LNG replaces coal in power generation
With Asian countries continuing to rely on coal to fuel their growth, Canada can provide a cleaner alternative while having its efforts to reduce emissions recognized by the global community, says a new report.
Canada is getting closer to exporting some of the lowest-emitting liquefied natural gas (LNG) on the planet, with the first terminal nearing completion in British Columbia.
A Canadian think tank argues providing a significantly cleaner alternative to coal should merit credit for helping Asian countries reduce emissions under a global climate treaty.
"Sharing emissions reductions through Article 6 [of the Paris Agreement] is possible when LNG replaces coal in power generation," writes Jerome Gessaroli, a senior fellow with the Macdonald Laurier Institute.
"New LNG projects within British Columbia are amongst the least carbon-intensive sources of LNG in the world. BC's LNG exports could lower global carbon emissions by displacing coal power, particularly in the Asia-Pacific region."
Adopted by the United Nations Framework Convention on Climate Change in 2015, the Paris Agreement was ratified by Canada on October 5, 2016. This agreement set forth the worldwide effort to mitigate the effects of climate change.
Article 6 outlines that countries may pursue "voluntary cooperation" with others to implement their nationally determined efforts to reduce emissions.
Coal use and coal plant construction are increasing each year in Asia as countries look to grow their economies.
The increase in coal-fired power has ostensibly created a significant challenge to meeting climate targets as emissions from announced and planned plants alone are expected to be over 1,415 million tonnes of CO2 equivalent.
"Just over half of LNG Canada's Phase 1 production capacity in British Columbia would result in approximately 1.2 Mt CO2e emissions annually," Gessaroli writes.
"Using the same production capacity to replace coal for power generation in Asia has the potential to significantly reduce emissions, ranging from 14.9 to 35.2 Mt CO2e per year. Such outcomes underscore the importance of international collaborative efforts."
Studies have concluded that LNG from Canada can provide a net benefit in emissions reduction when switching from coal.
Last year, global energy research and consultancy firm Wood Mackenzie found that Canadian LNG could reduce net emissions in northeast Asia by an average of 188 million tonnes per year between 2022 and 2050.
That's three times the emissions of the entire province of B.C., which were 62 Mt in 2021, according to the provincial inventory.
"If Article 6 is used, the assertion that British Columbia's pursuit of LNG production would prevent the province from meeting its emission reduction becomes inaccurate," Gessaroli said, noting Canada should announce its intent to use Article 6 as a tool to help meet its emissions reduction targets.
"These are complex issues, but we can learn from other countries that have already established processes for managing such projects."
Indigenous trade mission to China highlights opportunity for B.C. LNG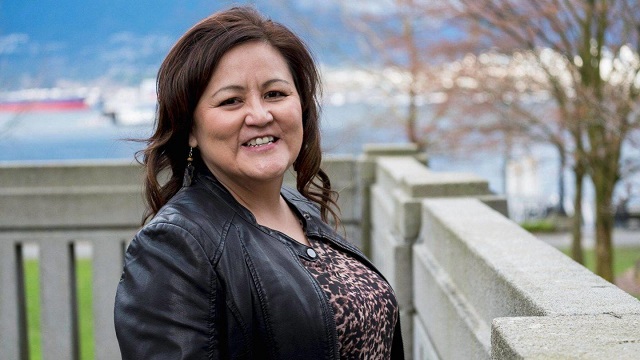 Karen Ogen is CEO of the First Nations LNG Alliance. Photo supplied to Canadian Energy Centre
By Will Gibson
First Nations LNG Alliance CEO Karen Ogen takes message of coastal nations to Beijing
Participating in a recent trade mission to China has strengthened Karen Ogen's view of the opportunity for B.C. liquefied natural gas (LNG).
For the CEO of the First Nations LNG Alliance, one of 10 Indigenous business leaders in the Canada China Business Council's trade mission to Beijing in late October, the opportunity was as obvious as the grey smog that blankets the air above China's capital city on most days.
"So much of the problem with smog and air quality stems from using coal-fired plants to generate electricity," says Ogen, a former elected chief and councillor of the Wet'suwet'en First Nation.
Researchers have found that switching Chinese coal plants to natural gas from Canada could reduce emissions by up to 62 per cent.
"The Chinese don't view LNG as a fossil fuel. They see it as an important part of moving towards carbon neutrality," Ogen says.
"There are huge opportunities for LNG in China and other Asian markets, especially for the coastal nations in British Columbia. The need is there, and the appetite is there. It's up to us to take advantage of it."
Ogen previously took trips to China between 2015 to 2018. The most recent trade mission was organized by the Canada China Business Council specifically for Indigenous businesses, organizations and leaders to build connections and partnerships to develop export markets and sources of investment to facilitate exports.
Ogen said the delegation gained valuable insights into new forces shaping China in the post-pandemic era, notably around using social media platforms such as TikTok as part of their marketing and e-commerce outreach to the Chinese market. But she remains struck by the appetite for LNG as a lever to lower emissions as energy demand rises.
"China produces 30 per cent of the world's greenhouse gas emissions — it's the world's largest emitter and they are committed to addressing that," Ogen says.
The U.S. Energy Information Administration projects natural gas demand in the Asia Pacific region will increase by 55 per cent in the next three decades, reaching 54 trillion cubic feet in 2050.
Canada can make a meaningful difference in helping reduce emissions by supplying Asian markets with LNG, she says.
"Converting coal-fired plants in China to LNG produced in Canada would make a bigger impact on greenhouse gas emissions than anything we do in Canada," Ogen says.
"Canada needs to think globally when it comes to climate change."
The United States already has seen this opportunity and is addressing it by aggressively expanding LNG exports. Already one of the world's largest LNG exporters, there are five new LNG projects being built in the U.S.
Canada's first LNG project is under construction with first exports targeted by 2025. Two Indigenous communities on the B.C. coast are advancing their own proposed terminals, Cedar LNG and Ksi Lisims LNG.
Ogen doesn't want to see Canada or B.C.'s coastal First Nations shut out of the opportunities she saw on the trade mission.
"The message we received from China's officials was very clear. They are prepared to do business with Canada and Canada's Indigenous business community. There are opportunities for investment," she says.
"But we need governments to work with us to realize those opportunities. If we pursue them seriously, there are real economic benefits for Canada and First Nations."
And the five-day trade mission has convinced Ogen about the need to address the barriers for Canadian LNG.
"We have a real opportunity to help address climate change while benefiting First Nations," she says. "It makes too much sense for us not to fight for this."