Alberta responses to federal energy stimulus package: A good start!
From the Province of Alberta
Federal energy stimulus package: Premier Kenney
Premier Jason Kenney issued the following statement on the federal government's energy stimulus package:
"How we come through this economic crisis will depend in large part on the survival and the successful recovery of our country's largest industry – the energy sector – on which some 800,000 Canadian jobs depend. We thank the federal government for taking this important first step to support the folks who work in our energy sector.
"The $1 billion partnership to address inactive wells aligns with Alberta's commitment to ensuring our resources are developed in an environmentally sustainable fashion. This funding will immediately save or create thousands of jobs, keeping energy service companies going during these devastating times. It will also help us bring sites back to their original condition, leaving a cleaner environment for future generations. The $200 million loan to the Orphan Well Association will also help these efforts, demonstrating our commitment to producing Canadian energy under the world's highest environmental standards.
"More support is needed to deal with the crisis in Canada's energy sector, but this is a great first step. Our energy sector is facing its biggest challenge ever, and we need to be sure that industry can access the capital it needs to survive and thrive in future years. When the auto sector and the banks were threatened during the global financial crisis a decade ago, the economic strength of Alberta, powered by the energy industry, ensured that Canada was able to provide the urgent support they needed. We will continue to work with the federal government to ensure that the energy sector now gets the support it needs as it faces its own threats from both the COVID-19 pandemic and the Saudi-Russia price war.
"This unprecedented disruption in the world energy markets will eventually recede. Better times for the industry are a matter of when – not if – but only if the industry survives the next couple of years. We need to make sure Alberta is prepared and ready for the global recovery when the time comes. Alberta's energy industry is the lifeblood of our provincial economy – and the largest subsector of Canada's economy, as well as one of its biggest employers. The energy sector helps some of our country's most important industries thrive, including health care, manufacturing and transportation.
"We are grateful for this job-creating initiative, and we will continue to work with the federal government until the energy sector has what it needs to survive and thrive for the benefit of all Canadians."
From the Alberta NDP Caucus
SCHMIDT STATEMENT ON FEDERAL SUPPORT FOR ENERGY INDUSTRY
Marlin Schmidt, NDP Environment Critic, issued the following statement regarding the federal government's aid package for Alberta's energy industry:
"Cleaning up oil and gas sites is good news for our energy sector workers, landowners, and our environment. From day one, we have been advocating for support to cleanup orphan wells. It will put thousands of Albertans back to work while supporting responsible resource development.
"The UCP government must use this money in a way that ensures polluters still pay for the cleanup of their sites. They must also set clear targets and timelines for well cleanup now and into the future. I also hope the UCP will ensure landowners and municipalities are compensated for wells on their land.
"While this is good news for our energy sector and landowners, there are still a lot of Albertans and businesses struggling to make ends meet. I wish Premier Kenney and the UCP would step up and provide real leadership to support all Albertans and all sectors of our province instead of constantly relying on the federal government to act first."
From the Alberta Federation of Labour
Alberta unions applaud federal support for oil and gas workers
"The money for orphan wells and methane reduction, announced by the federal government today, will help the environment and create jobs at a time when they're desperately needed," says the president of Alberta's largest worker advocacy organization.
"This is a classic win-win scenario," says Gil McGowan, president of the Alberta Federation of Labour. "The $1.7 billion being dedicated to orphan and abandoned wells can be put to use almost immediately. It will help address a problem that has been simmering in Alberta for years and, in the process, it will put literally thousands of people in the oil field service industry back to work. There is no doubt in my mind that this is one of the most constructive things that the federal government can do to help oil and gas workers at this time. It's greatly appreciated."
McGowan says he's also very happy with the work the federal government did to get input from a wide variety of stakeholders.
"Here in Alberta, we're used to our provincial governments consulting only with industry and then making a policy based on that narrow range of perspectives. But the federal government took a very different approach, consulting with workers, environmental groups, landowners and others, in addition to industry. It's very refreshing. And, I think it shows that you get better policy outcomes when you take the time to hear from a wider cross-section of people."
Of the $1.7 billion ear-marked for well remediation, $200 million will go directly to Alberta's Orphan Well Association and $1 billion will go directly to the Alberta government. Alberta will be required to address concerns about how the whole issue of orphan wells is managed going forward.
"That last point is really important to us," concluded McGowan. "This money won't just create jobs; it will also require the Alberta government to clean up its act when it comes to implementing and overseeing rules requiring oil and gas companies to clean up their acts. That's very good news for our province."
From the Progressive Contractors Association of Canada
PCA: Federal Aid Package for Oil and Gas Sector a Beginning
The $1.7 billion aid package announced today for the oil and gas sector is a welcome start, according to the Progressive Contractors Association of Canada (PCA) which has seen many of its member company operations in the oil sands sector scaled back, shut down or delayed, resulting in thousands of layoffs.
"It's a good day when thousands of jobs in Western Canada can be saved," said Paul de Jong, President of the Progressive Contractors Association of Canada (PCA). "However, with a record number of energy companies folding, it will take far more to stave off a full-scale collapse."
Prime Minister Trudeau announced $1.7 billion in funding to clean up orphaned oil wells in Alberta, Saskatchewan and British Columbia. The aid is expected to maintain as many as 5,200 jobs in Alberta alone.
"We're still waiting for a federal aid package that fairly reflects the value and importance of the oil and gas industry," added de Jong. "Given that this sector accounts for more than a tenth of GDP and employs tens of thousands of workers, the government still has a long way to go in demonstrating a real commitment to its survival."
Last week, PCA sent Trudeau a letter, urging his government to provide support to the oil and gas sector without further delay.
About the Progressive Contractors Association of Canada (PCA)  With offices in BC, Alberta and Ontario, PCA is the voice of progressive unionized employers in Canada's construction industry. Our member companies are responsible for 40 percent of energy and natural resource construction projects in British Columbia and Alberta and are leaders in infrastructure construction across Canada. PCA member companies employ more than 25,000 skilled construction workers in Canada, represented primarily by CLAC.
From the Canadian Association of Petroleum Producers
CAPP issues statement recognizing the Government of Canada's support for the oil and natural gas industry
"The Canadian Association of Petroleum Producers (CAPP) recognizes the Government of Canada's support for the oil and natural gas industry, and appreciates the initiatives announced today which will protect about 10,000 jobs across the country.
The $1.7 billion announced today, for the closure and reclamation of orphan and inactive wells in Saskatchewan, Alberta, and British Columbia, is welcome news. Reducing environmental liabilities is a priority for the oil and natural gas industry and this initiative will allow important work to accelerate, while supporting thousands of jobs.
The government also announced a $750 million emissions reduction fund which will help companies continue their progress to reduce methane emissions. Canada's oil and natural gas industry has committed to a 45 percent reduction of methane emissions by 2025, and the government is helping ensure that innovation and progress in this key area can continue during the economic crisis.
We are also encouraged by news that the government is working with the Business Development Bank of Canada and Export Development Canada to strengthen support for corporations who are most at risk. Liquidity is a real and immediate challenge for oil and natural gas producers and CAPP has been working with the federal government to identify urgent action needed to address the dire situation. We are awaiting additional details on the expansion of support — a critically important matter as companies try to weather the current crisis.
CAPP will continue to talk with all levels of government to ensure adequate support is in place to help businesses and jobs survive this unprecedented economic crisis. Survival of the energy sector will be crucial to Canada's economic recovery."
-Tim McMillan, President and CEO – Canadian Association of Petroleum Producers
From Cenovus, Brett Harris, Manager of Communications
We are appreciative that the federal government recognizes the dire situation the energy industry is in with the decrease in oil demand due to COVID-19 resulting in unprecedented low oil prices. The industry is in survival mode and needs the government to provide support to help companies preserve cash and access additional liquidity so they can still be here to help rebuild the economy once the immediate crisis passes.
We need more details about the federal aid for inactive and abandoned wells and methane emissions reduction. Cenovus has a strong history of addressing these areas of environmental responsibility and we will continue to take proactive actions so the government funding may help us progress these activities. Again, we still need to see the details.
The most important action the federal government can take to ensure the industry remains strong is by providing a temporary safety net in the form of increased access to liquidity. There are many options for this support to be delivered and we are urging the government to take swift action to pursue that.
Alberta's premier faces down restive United Conservative caucus over COVID-19 crisis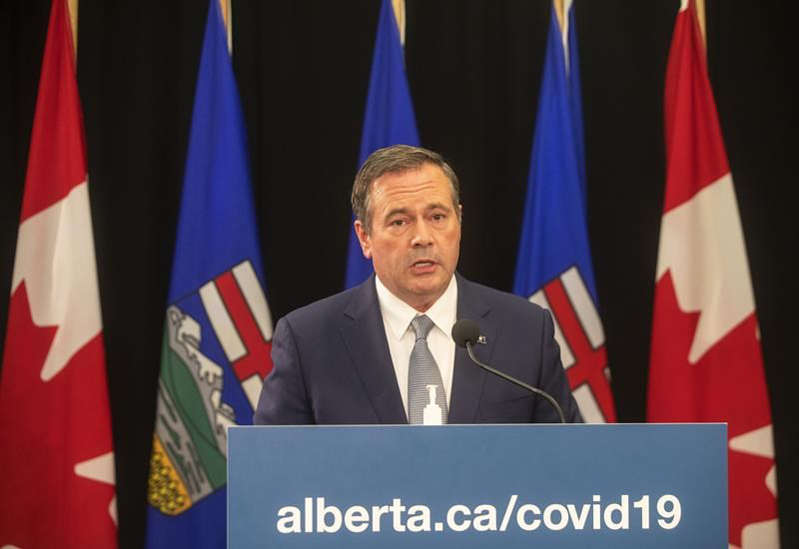 CALGARY — Alberta Premier Jason Kenney faced down a restive and divided United Conservative Party caucus Wednesday, focusing on COVID-19 while managing to avoid a straw vote on his leadership.
UCP backbencher Searle Turton said it was a wide-ranging caucus meeting, but there was no vote of confidence on Kenney's leadership.
He said the focus of the debate was the pandemic.
"There was discussion about the party, about unity, about how we got here, about COVID. Caucus is a robust place to do discussion in a confidential setting," said Turton, who represents Spruce Grove-Stony Plain.
"There were no votes by caucus. There was lots of robust discussion about the pandemic."
Kenney has been challenged by some of his legislature members for decisions on COVID, which has escalated into a crisis that has overwhelmed the provincial health system and forced Alberta to seek outside help.
Some of Kenney's caucus members have criticized his health measures as being too little too late, while others say he has gone too far and violated individual rights by imposing a form of voluntary vaccine passports.
Joel Mullan, the party's vice-president of policy, has already called for Kenney to resign and says enough constituency associations have signed on to force an early party review and vote on Kenney's leadership.
Kenney isn't slated to face a mandatory leadership review until late next year.
But Mullan has said 30 constituency associations have promised to pass resolutions to call for an earlier review. If that happens, Kenney could face a vote by the membership in about three months and would lose the top job unless he wins at least a simple majority.
Kenney has dismissed accusations of party infighting and calls to resign, saying Tuesday he's focused on the COVID crisis.
Alberta has more than 20,000 active cases of COVID-19 and its critical care facilities have already been pushed well past normal capacity.
There were 1,040 people in hospital Wednesday with the illness, including 230 in intensive care. There were 20 more deaths reported, for a total of 2,594. The province also announced its first COVID-19 death of a person under 20.
Kenney's government is looking to other provinces for critical care staff, particularly intensive care nurses and respiratory therapists. It is also working with the federal government to potentially have the military airlift some patients to other provinces.
Other medical procedures have virtually ground to a halt, with non-urgent surgeries cancelled to free up staff for COVID care. Doctors are being briefed on the criteria to use if resources run short and they must decide which critically ill patients get help and which do not.
The province has pinned its hopes on getting vaccination numbers up. Those numbers have improved since last Wednesday, when Kenney introduced a vaccine passport for non-essential businesses.
More than 81 per cent of eligible Albertans, those over age 12, are now fully vaccinated and almost 73 per cent of those eligible have had at least one shot.
Businesses that stick to the new passport can operate with almost no restrictions but must make sure patrons are double vaccinated.
Kenney's government has been criticized for leaving that decision up to businesses because it causes confusion and forces compliant businesses to face the wrath of anti-vaccination customers.
Other provinces have made it mandatory.
Calgary city council took matters into its own hands Wednesday, voting to make the passport — known in Alberta as a "restrictions exemption" — binding on non-essential businesses, with fines for violators. That new rule begins Thursday.
Elsewhere in Alberta, the passport is voluntary but non-essential businesses that do not comply face other restrictions, such as maximum one-third customer occupancy or, in the case of restaurants, outdoor seating only.
Also Wednesday, Alberta's Opposition NDP called for the reinstatement of contact tracing in schools and an early warning system for potential school closures.
NDP education critic Sarah Hoffman says action is needed immediately given that there are nearly 5,000 active cases among students, staff and families.
— With files from Dean Bennett in Edmonton
This report by The Canadian Press was first published Sept. 22, 2021.
Alanna Smith, The Canadian Press
Oilers goaltender Stalock likely to miss season due to possible heart condition
EDMONTON — Goaltender Alex Stalock will likely miss the season due to a possible heart condition said Edmonton Oilers GM Ken Holland on Wednesday.
Speaking on the opening day of Oilers training camp, Holland said the possible condition was detected when he returned home for more tests after the team's physical exam at the end of the 2020-21 season.
Holland said Stalock contracted COVID-19 before the start of the 56-game shortened season, but was later cleared to play and spent time on the Oilers' taxi squad after the team claimed him off waivers from the Minnesota Wild in March. 
He did not appear in a game with either Minnesota or Edmonton last season.
Holland said Stalock has seen "a couple" of cardiologists and is looking to get additional opinions.
Stalock, a 34-year-old from St. Paul, Minn., has a 61-49-18 record with a 2.61 goals-against average and a .909 save percentage in 151 career NHL games with San Jose and Minnesota.
This report by The Canadian Press was first published Sept. 22, 2021.
The Canadian Press